8 Best Places to Visit in CIS Countries
1. Almaty (Kazakhstan)
One cannot imagine Almaty without mountains. Almaty is the largest city and the best travel destination in Kazakhstan. Almaty is ultra modern and it offers plenty of adventure activities too. Almaty is like any other buzzing European city where you can have great time. You can do sightseeing, shopping and adventure sports.
How to Reach Almaty:
By Air: Nearest airport is Almaty International Airport. It takes about 30 minutes to reach the Almaty city center by car from the airport.
Ideal Duration:
4-5 Days
Things to do:
In Almaty you can do many exciting things. Talking about places to see in Almaty on your Almaty Tour Package you can visit Arasan baths, Kolsai lakes, Central state museum, St. Nicholas cathedral, Gorky Park and many other places. If you are a shopaholic then you will love it here as Almaty has has more bazaars than most cities in the country. The most popular among them is the Green Bazaar, which sells everything under the sun. Adventure lovers can visit Medeu Skating rink, Kolsai Lakes, Kok Tobe hill etc.
5 Natural Attractions in Almaty
|
Kok Tobe Mountain, Almaty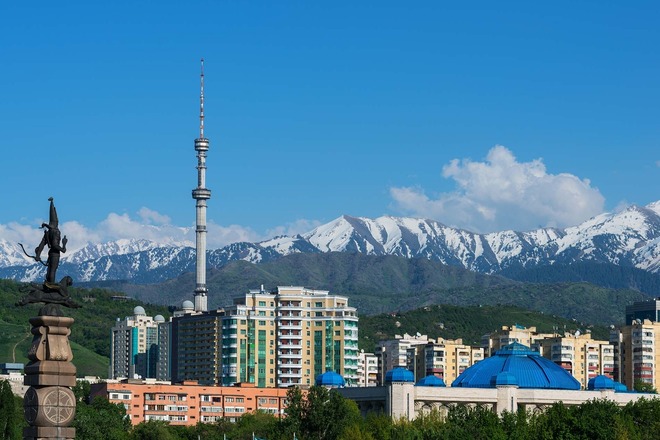 2. Tashkent (Uzbekistan)
Tashkent is the capital city and also the largest city in Uzbekistan. This is also the place where you land first on your Uzbekistan Tour Package. Tashkent is hub of Central Asia and this is the most exciting place in Uzbekistan to be. Tashkent has its own charm which mesmerizes the visitors. Visitors find Tashkent a great travel destination as the city has best restaurants, museums and lively nightlife to offer.
How to Reach Tashkent:
By Air: The main airport of the country is Tashkent International Airport. This is only 12 KM away from the city center.
Ideal Duration:
5-6 Days
Things to do:
On your Tashkent Tour Package you can do many exciting things in Tashkent. You will love Tashkent if you love the outdoors or you are an adventure aficionado. You have many options here like rafting, trekking, cycling, skiing and other outdoor activities you can try in Tashkent. Hiking lovers can enjoy hiking at the Pamir Alay range and through the woods on the slopes around the Angren River Valley. If you love to explore art and history then you can visit various museums in Tashkent. Apart from all these you must visit Chorsu Bazaar, the most famous market in Tashkent. From Chrosu you can buy clothes, jewellery and handicrafts at super economical price.
5 Points of Interest in Tashkent
|
Bazaars of Tashkent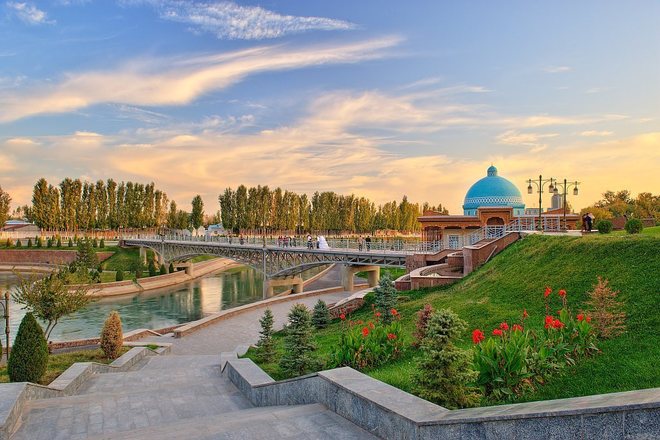 3. Bishkek (Kyrgyzstan)
Bishkek is the capital city of a beautiful country called Kyrgyzstan. Bishkek is a historical city where you can walk through the history of the country. This is because Bishkek is one of the oldest on the planet. Here you will get to see the great examples of old time architecture, culture, jewellery, art, clothes and much more when you land here on your Bishkek Tour Package. But on the other hand Bishkek is also ultra modern. The city offers an exciting nightlife to the visitors. You can have a great time in clubs and small cafes here along with the very friendly and hospitable people of Bishkek.
How to Reach Bishkek:
By Air: Manas International Airport is the main airport of the city which is only 25 minutes drive from the city center of Bishkek.
Ideal Duration:
4-5 Days
Things to do:
On your Bishkek Tour Package you can do lot of things. You have many Sights of attractions in Bishkek. You must visit Ala too square, State historical, Osh Bazaar, Abandoned Casino, Victory monument and Oak Park etc. For adventure lovers there is hiking and trekking the mountains outside but near of Bishkek. You will love it in the nature.
5 Places To See In Bishkek
|
Karakol Ski Base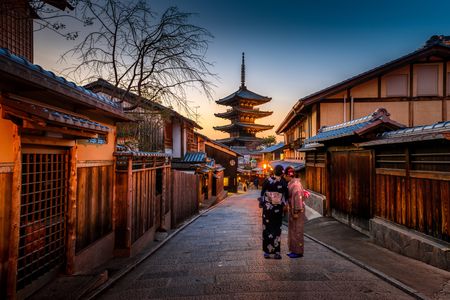 4. Baku (Azerbaijan)
Baku is a modern city of 21st century city and the capital city of Azerbaijan. But it has dynamic history as well. Baku is located on the shores of Caspian Sea. One who visits Baku can see the city in two parts. One is the downtown area and the other is old inner city. Little over 2 million population are living in Baku which is about 25% people in the Azerbaijan. On your Azerbaijan Tour Package you will observe that Baku is reaching new heights. You will also observe that Baku has amazing culture and people. You will realize this immediately in Baku. The city is also the scientific, cultural and industrial centre of Azerbaijan.
How to Reach Baku:
By Air: Heydar Aliyev International Airport is the main airport. This is only 25 KM away from the Baku city center.
Ideal Duration:
3-4 Days
Things to do:
Baku is the most famous travel destination in Azerbaijan. You can visit some popular sights here which include Icheri Sheher, Miaden Tower, Complex of Shrivan Shah's Palace, Baku Bulevard, Absheron Peninsula, Yanrdag, Ateshgah, and Qala Village etc. Apart from this you can also get some entertainment here at places such as National Opera and Ballet, Aqua Park, Luna Amusement park, AF beach club etc.
5 Places You Must See In Baku
|
Ateshgah - The Temple Of Fire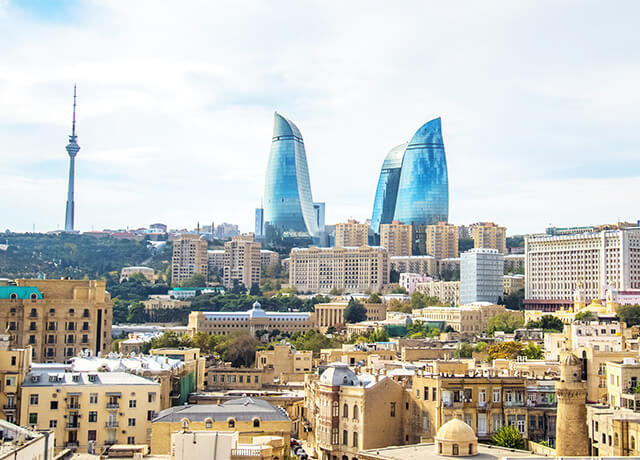 5. St. Petersburg (Russia)
St. Petersburg is the second largest city of Russia and an absolutely modern city. However the city also remains to be a custodian of the history of Russia. St. Petersburg has 36 historical architectural complexes which are listed as UNESCO world heritage sites. This simply means that you can buy a Russia Tour Package and enjoy a great cultural tourism and visit these sites on UNESCO list. St. Petersburg is full of life. You will get everything you expect in St. Petersburg. You will be surprised to know that St. Petersburg has more than 200 museums, 80 theaters, 100 concert organisations, 62 cinemas and almost 80 other cultural establishments. Festivals and carnivals are the charm of the city. More than 100 festivals and many carnivals are held in the city every year. In these events you can witness the art, culture and music which of the city. You can buy a Russia Holiday Package and enjoy lot more things in the beautiful city St. Petersburg.
How to Reach St. Petersburg:
By Air: Pulkovo Airport is the main airport of the city which is 20 KM south of the city center.
Ideal Duration:
4-5 Days
Things to do:
St. Petersburg has many attractions for tourists. Hermitage museum is its prime attraction. Other than this St. Petersburg has other great attractions like Russian museum, Peter and Paul Fortress, The bridges on the Neva, Museum of Artillery, Combat Engineers and Signal troops, Ethnographic museum, Alexander Nevskiy Monastery and Kirov's museum etc. In these sights you can see the St. Petersburg's historical and cultural elements on your Russia Tour Package from India. You can also experience world's best Ballet dance performances in the city. Along with Ballet dance, Opera is another beauty of the city culture. In Mariinsky Theatre a world class theater you can enjoy both ballet and Opera. In St. Petersburg you must take a tour of the canals by boat which is a great way to see the city in the summer.
St. Petersburg - A City With Rich Heritage
|
Sapsan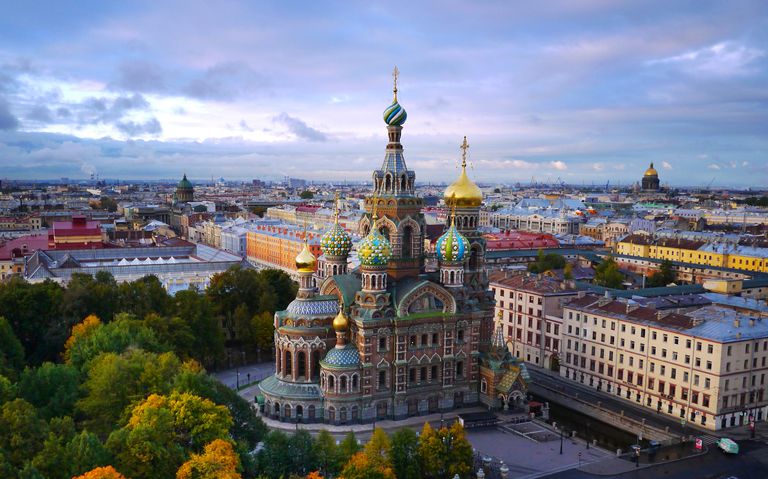 6. Kiev (Ukraine)
Kiev is the capital city of Ukraine. Kiev is also the cultural center of Eastern Europe. Famous for its golden domed churches and historical monuments, Kiev is the most fascinating and wide arrayed tourist place in Ukraine. You will instantly connect with people here who are kind and welcoming. On your Ukraine Tour Package, when you land in Kiev which is popular as Hidden Jewel of Europe, you get an opportunity to see more than 100 museums, many theaters, and ballet, opera along with art galleries. In Kiev you will never get tired of the city. On top of it all, Kiev offers you the diversity and quality of food with loads of yummy taste.
How to Reach Kiev:
By Air: Kiev has two international passenger airports. One is the Boryspil Airport which is located 30 kilometers away, and the other the smaller one is municipally owned Zhulyany Airport on the southern outskirts of the city.
Ideal Duration:
4-5 Days
Things to do:
Talking about things to do your first stopover should be Kiev-Pechersk Lavra. This is most significant tourist spot in Kiev. This is the oldest monastery and attracts so many pilgrims from all over the world. Another place to be is Kreshatyk and Independence Square. Kreshatyk is Main Street of Kiev you can sit gossip and drink here and on weekends you can also enjoy any ongoing event or music. Other Places to see in Kiev on your Ukraine Tour Package are Chornobyl museum, Open air museum of Folk Architecture and rural life, St. Sophia cathedral, Kiev TV tower, One street museum Mariyinski Palace and other such places. For recreation and entertainment you can go to Hidropark Island in the Dnipro River and enjoy lot of activities like swimming, beach volleyball or you can just soak up the sun there. You should also visit Dream town aqua park also, the biggest indoor water park in Europe. It has 14 different level of extreme slides, 2 wave pools, 3 current rivers, lagoon akvabarom 55 seats, Jacuzzi, swimming pool for water polo, children's area of approximately 3000 square meters accommodating up to 3,500 visitors at the same time.
5 Natural Places in Ukraine You Must See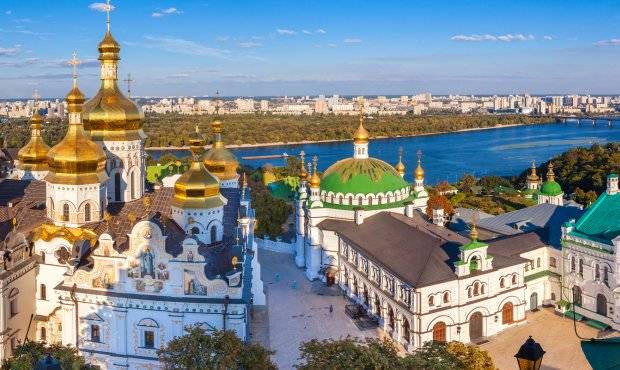 7. Tbilisi (Georgia)
Tbilisi is the capital city of Georgia. In this historical city one can see its architecture which is a mix of medieval, classical and Soviet structures. Tbilisi is located on the south-eastern edge of Europe. the city has always been point of interest for kingdoms in the past and countries in the present, because of Tbilisi's proximity to lucrative east-west trade route. But apart from being a strategic attraction for some countries Tbilisi is highly attractive tourist destination too. Tbilisi is surrounded by mountains on three sides. You can buy your Tbilisi Tour Package and visit the city anytime of the year because weather remains good here throughout the year. Warm hearted people of Tbilisi along with stunning countryside will take a place in your memory. Tbilisi's amazing nightlife will raise your heart beat. Tbilisi is unspoiled beauty shaped by rugged mountains. Within Tbilisi you can walk through little streets all over the city.
How to Reach Tbilisi:
By Air: Tbilisi International Airport is the main airport of the city which is 17 KM southeast of the city center.
Ideal Duration:
3-5 Days
Things to do:
On your Tbilisi Tour Package you can visit good number of museums and other exciting places in Tbilisi. Narikala Fortress is the most notable place to see. This is the symbol of Tbilisi's defence. You can visit popular museums like G. Chitaia Ethnographical open air museum, Numismatic Museum, Museum of art, Simon Janashia museum, Puppet museum and Galaktion Tabidze museum. If you love opera and ballet then Tbilisi opera and ballet theater is must for you. Fun activity lovers can take an aerial cable car as well which connects Rike Park on the bank of Mtkvari River with Narikala fortress. And those who love calmness and peace can walk through the lane of Old Tbilisi where you will see old style balconies, old time churches, winding streets and lot of charming shops around. And lake lovers can go to Turtle Lake. Located in hilly outskirts of Tbilisi Turtle lake is good hang out for families. You can enjoy the pedal boating along with great view of mountains as well as the city.
Tbilisi - A Beautiful Eurasian City
|
5 Major Attractions of Georgia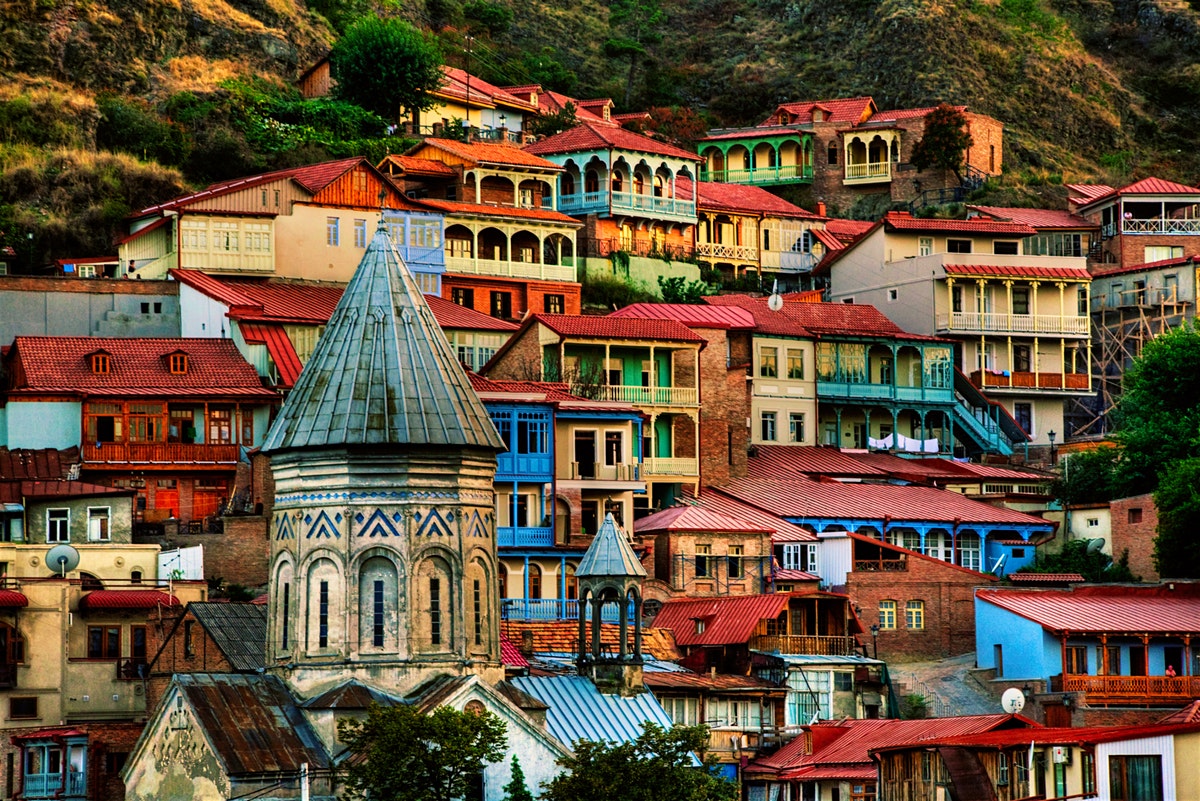 8. Armenia
Armenia is a country of mountains located in the southern part of South Caucasus region. Yerevan is the capital of Armenia. Armenia is a small country but it is quite rich in its beauty for tourists. Armenia has lot of natural beauty. There is wide range of mountains, volcanic uplands, rivers and forests. The highest point is Mount Aragats which currently falls in the territory of Turkey.
Armenia is also one of the oldest countries in the world. In this land locked country one can experience the rich heritage of great culture and ancient history. Along with historicity, this ancient and small land locked country offers you bright colors in all seasons. Snow white winters, mellow autumn, colorful spring and sunny summer gives you all the reason to visit Armenia. Armenia Tour Package is a must see place destination to enrich your lifetime travel experience.
How to Reach Armenia:
By Air: You can reach Yerevan, the capital city of Armenia. The main airport here is Zvartnots International Airport which is 10 KM west of Yerevan.
Ideal Duration:
4-5 Days
Things to do:
When you are on an Armenia Tour Package, you cannot miss the historical and cultural complexes. But adventure lovers have also lot of activities to do in Armenia. They can enjoy hiking in the countless mountains, hills, gorges and valleys of Armenia. You can enjoy Fishing in the lakes and rivers of Armenia which have rare and rich collection of fishes. There are some very popular and attractive lakes like Lake Sevan, Echmiadzin Lake, Spandaryan, Tolors and Shamb Reservoirs, Araks River, Alagyaz Lake, Mantash Reservoir which are homes to many species of fish. You can also enjoy horse riding and bird watching.
Armenia's Incredible Cultural Sites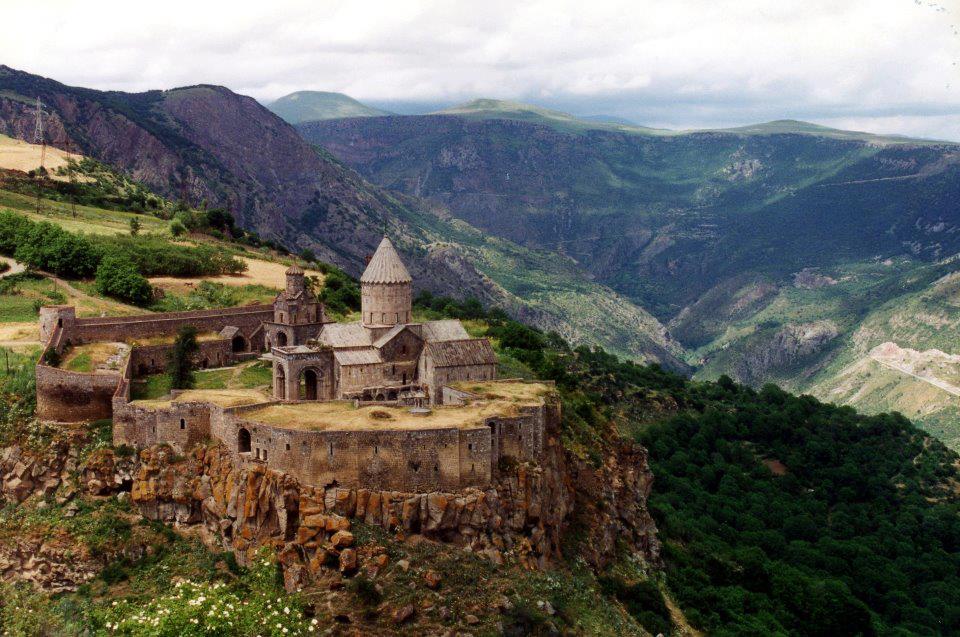 Talking about sightseeing in Armenia you have choices among museums, galleries, religious sites like monasteries, natural and scenic beauty to choose from. Some of the sights you can see while you are in Armenia are Echmiadzin, Dilijan National Park, Lake Sevan, Noravank Monastery, and Amberd Fortress.