Incredible journeys to South Africa with DOOK!
No matter your travel style, we have a South Africa package tailored for you
South Africa Tour Packages
Explore South Africa with DOOK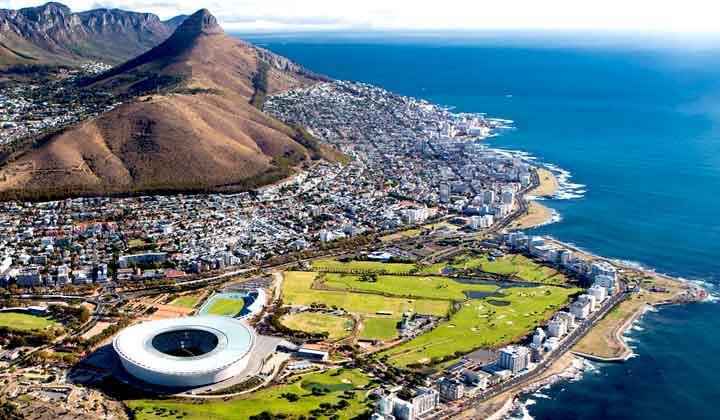 South Africa and its splendid gems!
Discover the magical shades of South Africa with Dook
Lying at the southern tip of Africa, South Africa is a vibrantly diverse country that is truly a rare find on the earth. With a mosaic of cultures and history, vast wildlife moments and raw natural beauty, adventure choices and sun-kissed beaches, there's no surprise why South Africa has earned itself a tag 'a whole world in one country'.
Since the country, over the recent years, has made tourism central to its overall progress, the designated board and the SA government made strenuous efforts to lift the veil on the niche experiences in South Africa. Unarguably, it has now become the most preferred and a must-visit on every traveller's bucket list. Add in a fascinating mix of off-beat places and culturally rich landscapes and it is easy to see why South Africa keeps luring the visitors year after year. As the official tourism website also states "It's breathtaking, it's captivating, it's bustling, it's endless… it's South Africa!" - It surely is spectacular as in every province and every corner of the town, there is a magical moment waiting to leave you stirred!
But this is just scratching the surface; we at Dook will be happy to help you plan what to do when you book your South Africa Tour Package. Have a look at one of our popular packages.
Capital: Pretoria (Executive), Cape Town (Legislative) and Bloemfontein (Judicial)
Languages: English, Zulu, Xhosa and Afrikaans
Currency: South African Rand (ZAR)
Driving Side: Left
Best Time to Travel: A year-round destination but it is best to visit between May to September
Explore South Africa
For the lucky lot who get to see the impressive gems of SA, they are sure to get rewarded. What sets it apart from the others is that you can choose from a huge and versatile portfolio of experiences that cater to every segment of travellers. You can either take a walk on the wild side in the Kruger National Park to spot the 'big five' (lion, buffalo, leopard, rhino, and elephant) or stop off at Hermanus to spot whales. You can ditch the city wonders and head off on a road trip to the Garden route or just bask in serenity at one of the sun-soaked coasts. Get awed by the rugged beauty of great gaping gorges or soak in the country's history at the famed museums. How can you miss the wine tasting tour to Stellenbosch wineries or feed your soul with Cape Malay cuisine.
With such an extensive and experience-rich variety, it's hard to name another holiday destination that offers so much awesomeness in one platter!
Dook Travels helps you book a trip that caters to your wanderlust. Take a look at one of our personalised South Africa Holiday Packages.
---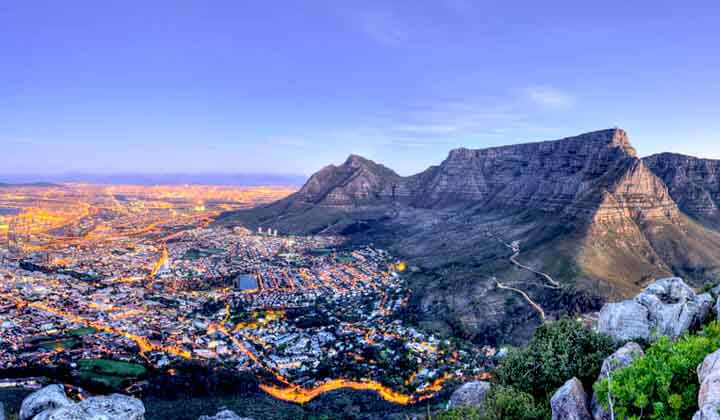 Cape Town: The real SA adventure begins here!
Sitting on one of the most spectacular natural settings with the iconic Table Mountain adorning its backdrop, Cape Town has always been one of the top favourite cities for travellers. Be it the whale-watching capital of Hermanus, rendezvous with Penguins on Boulders Beach, the finest food and wine tasting experiences, short and exciting road trips or exploring the colourful neighbourhood of Bo Kaap; the splendid South African journey sets off here!
The appeal of this pleasant city is apparent from the day you arrive. While the plethora of "must-see" places keep you excited all the time, the laid-back vibe holds you in no rush to explore. Cape Town has been an ideal getaway for just about anyone who is in a mood for a holiday- be it the honeymooners, leisure travellers or a family/group heading on a break. It is no wonder why this multi-faceted destination has long been the major drawcard in South Africa.
With our varied choices of places to travel to in Cape Town, we help you put together a perfectly planned South Africa Tour Package. Here's a sneak peek of our signature Cape Town itinerary.
On the wander-list: Table Mountain, Chapman's Peak, Boulders Beach, Cape Point, Robben Island, Camp's Bay, Castle of Good Hope, Bo-Kaap, V&A Waterfront, Muizenberg, Two Oceans Aquarium, Signal Hill and the Noon Gun, Kirstenbosch National Botanical Gardens, The Heart of Cape Town Museum.
Durban: Sparking the senses with adventure
Strategically set in KwaZulu Natal province while looking out upon the Indian Ocean, Durban welcomes visitors to a relaxed, outdoor vibe which is what any holiday-maker would wish for. While the city exhibits a blend of Zulu, European and Indian culture in its architecture and cuisines, the year-round warm weather, has played a significant role in making it the top tourist choice. Whether it's a laid-back holiday, an adventurous vacation, a gourmet trip, a thrilling city tour or a bit of each, Durban has you covered!
Surprisingly, Durban is also home to the largest Indian population outside of India. Don't be surprised if you find colourful barrels of Indian spices and bundles of fragrant incense sold by men in kurtas and women in Saris. For a feel-home shopping experience, head to Victoria Street Market which is the best place to pick up souvenirs, wood carvings, jewellery and aromatic Indian spices. Also if shopping is your favourite activity, the bucket list has to include visiting the upmarket suburb of Umhlanga in the north.
Durban also offers endless opportunities for adventure and entertainment. From an expansive promenade offering access for strolls and activities at the Golden Mile beach to a city-viewing SkyCar and bungee swing, from Moses Mabhida Stadium to uShaka Marine World, you cannot afford to miss an adrenaline-pumping moment spent in Durban.
On the wander-list: uShaka Marine World, Moses Mabhida Stadium, Golden Mile, The Valley of 1000 hills, Phezulu Safari Park, Umgeni River Bird Park, Suncoast Casino.
---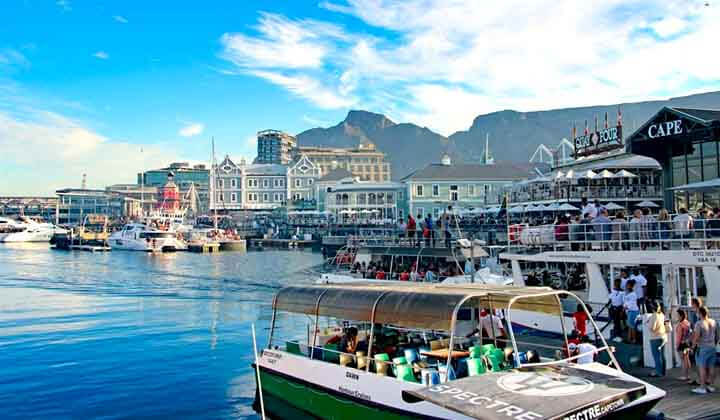 Johannesburg: Reflecting a mix of history and urban lifestyle
A quick respite for the travellers and a thumping heart of the country, Johannesburg or Joburg, is abundantly rich in rare tourism offerings and contrasting cultures. The city, being the largest in South Africa, is rapidly changing with the advancing world, thereby looking positively towards a thriving tourism future.
Because of its great nightlife and urban setting, Johannesburg is thoroughly enjoyed by the locals and foreigners alike. The city has also soaked in the rich history which can be experienced by visiting the top attractions like Apartheid Museum, Constitution Hill and the Soweto settlement.
Not many know but this city was once a deserted zone. Gradually, the landmark attractions were fully revamped, a face lifting infrastructure was put in place a couple of decades back and ever since, there is no stopping in terms of tourist inflow into Johannesburg, making it one of the tourism powerhouses in South Africa.
Definitely add Joburg to your South Africa Tour Package when you're visiting next to this beautiful country.
On the wander-list: The Apartheid Museum, Constitution Hill, Soweto and the Mandela Museum, Gold Reef City, Maboneng, Market Theatre.
Knysna: The jewel of the Garden Route
One of the top holiday destinations in the renowned Garden Route acclaimed for its sheer variety of tourism offerings, Knysna is a quaint and artistic town in Western Cape. It has quickly gained the repute of a not-to-be-missed destination in SA; thanks to its strategic location that stretches amidst the indigenous forests and the surrounding lagoon views.
Whether it's the family out for making memories, adventure seekers looking for thrill or solace lovers basking in the serene vibes of the placid Knysna Lagoon, this city is beyond impressive. For those who love shopping, Knysna offers many interesting shops tucked away around every corner ranging from arts and crafts to traditional products and handcrafted furniture made from indigenous timber. For those looking for oysters and seahorses, Knysna is a rare location too. The city also flourishes with a number of lavish accommodation options, making it an accessible centre for both business and leisure tourists.
Adding this experience to your itinerary is an effortless task with us. Take a glance here and book a similar South Africa Holiday Package.
On the wander-list: Brenton on Sea, The Garden Route, Buffalo Bay, Prince Alfred Pass, Featherbed Nature Reserve.
Stellenbosch: Wine lovers' retreat
While Stellenbosch is South Africa's second-oldest town, it is more famously known as the most inspiring wine, food, art and cultural destination or precisely as a 'heaven for wine lovers'. Friendly locals greeting you, a host of lively events and the valleys full of vineyards surround the town are common here.
Since Stellenbosch is home to hundreds of wineries, it is the most famous for its Pinotage reds and Chenin Blanc whites, but there's a whole range of different grapes and wine styles. The Stellenbosch Winelands here have something to please every palate, from discerning diners to those looking for an authentic farm-to-table experience, to award-winning wine estates and strawberry farms or relaxed, family-friendly picnic spots.
Apart from its famed wine land tours and exclusive dine-in experiences, this gourmet capital has also been a destination of choice for business tourism, conferences, weddings, lifestyle and other events.
On the wander-list: Waterford Estate, Spier Wine Farm, Jordan Wine Estate, Delaire Graff Estate, Eagle Encounters, Tokara Wine Estate.
---
Top Bucket-List Experiences
1. Rendezvous with Africa's 'Big 5'
Africa's most iconic wildlife creatures comprise elephant, buffalo, rhino, lion and leopard which are popularly known as the 'Big 5' across the continent. And South Africa is one of those very few places where you would be able to tick off sighting all the five in just one day. South Africa has been listed among the finest 'Big 5 safari destinations'; thanks to the country's lush foliage, hauntingly beautiful forests, vast wildlife and outstanding national parks. Kruger National Park, MalaMala, Lion Sands and Dulini, Phinda Game Reserve, Madikwe Game Reserve are just a few names where the Big 5 can be easily spotted.
While all the attention has been given to the 'Big 5', the tourism board of SA is now actively promoting the agenda of seeing 'Big 7' where Southern Right whales and Great White sharks are the interesting additions. And if you're looking to see the Big Seven in one outing, the Eastern Cape is the place to be at.
2. Discover the scenic trail of Garden Route
Along the country's southeast coast, the Garden Route, SA's popular holiday destination, runs for about 300 kilometres through some of South Africa's most breathtaking coastal scenery. The route which begins about four hours outside Cape Town stretches along the Indian Ocean and winds its way via the gorgeous towns of George, Knysna, Wilderness and Sedgefield.
It looks like entering into a dreamy fairyland where you are constantly accompanied by the rolling green hills, giant trees, lagoons, colourful birds and picturesque landscapes that are nothing but drop-dead gorgeous. The twisty trails are mostly followed by hikers while the forests surrounding the lakes and rivers here invite long drives.
Making your mind to road-trip through this mesmerising route? Book one of these South Africa Tour Packages with us and we guarantee you an unforgettable holiday experience.
2. Experience the medley of adventure and leisure at Mossel Bay
This bustling Garden Route town located near Cape Town is a favourite holiday spot and one of the ports of South Africa. Lying close to the towns of Plettenberg Bay and Knysna on the Garden Route, Mossel Bay has become an ideal retreat for travellers seeking adventure and respite. While water sports are enormously popular along with whale watching activities, its wide beaches and awesome cliffs of Cape St Blaize's southern shores have become the handpicked favourites in the itinerary. The jaw-dropping Outeniqua Mountains in the backdrop also make for a worthwhile stopover on the Garden Route.
3. Relish the beach holiday vibes at Benguerra Island, Mozambique
A luxury beach holiday destination situated off the coast of Mozambique, Benguerra Island is an island hideaway sitting peacefully on a protected lagoon. Disappear for a day on a romantic castaway picnic, sail the sapphire waters in a sunset dhow cruise or how about diving your way around the coral reefs, teeming with the school of rare fishes.
Benguerra Island over the recent years has gained importance due to various intimate lodging options coming into the picture and the variety of island experiences assuring a promise of deep relaxation. Once you visit this adventure haven surrounded by a hushed silence, you will be forced to choose between Benguerra and other beach destinations around the world.
4. Swim with the penguins at Boulders Beach
Boulders Beach or Betty's Bay has been the home of an African penguin colony since 1982, where tourists are able to observe the penguins up and close and enjoy the swimming. You will see these pretty little creatures splashing around in the water or basking in the sunlight on the boulders at the far end of the beach. What is interesting to note is that they are so used to humans that you won't see them rushing away or hiding; some of them come pretty close and even swim around you. While they may look cute, they are still the animals belonging to the wild so try to be careful around them and avoid feeding.
To get the best views, try to arrive before 11:00 am. Apart from the penguins, the Boulders Beach itself is quite gorgeous which makes it a photographer's delight too!
We fulfil your dream of an ideal South Africa getaway. Book with us today!
A trip to South Africa has something amazing in store for every ardent traveller, curious explorer and thrill-seeker. If you are willing to take up the ultimate adventure and soak in an abundance of wilderness, Dook is your handholding advisor.
Read More About South Africa & Its Cities
1. Walk on the Wild Side: The Best African Safaris for Travelers
Explore the wild, untamed lands of Africa and befriend the mighty beasts who live free. Read More: Popular Safaris in Africa
2. Metropolises of the Wild: 11 Cities to Explore in South Africa
Explore South Africa like a local and feel the enthralling vibe that breathes life into its bustling cities. Read More: Cities in South Africa