Incredible journeys to Thailand with DOOK!
No matter your travel style, we have a Thailand package tailored for you
Thailand Tour Packages
Explore Thailand with DOOK
Truly Thailand: Travel around 'the land of smiles' with DOOK
Through its diverse ways of life and a tempting Thai smile, the name of famed Thailand continues to appeal to millions of visitors from across the world, especially India. Not just the heart of the Southeast Asian mainland, Thailand is also one of the most visited countries in the region.
Since tourism is one of the major sources contributing to its economy, Thailand is a relatively easy country to travel to. It is one destination that is exotic, yet safe, cheap yet lavish and has something that fits with every preference and in any price bracket. While the tourists have abounded in Phuket and Bangkok over the years, the exotic gems, Koh Samui and Krabi, hold a soothing vibe like no other. One never tires of feeling awed by the remarkable sights of this exotic kingdom.
At Dook, we strongly believe in power of personalisation and therefore, as you decide your Thailand trip, Dook works on making it an unforgettable experience for you. Be it the strolls around the bustling Bangkok, food trips around the city, visits to glittering temples or a day off to spectacular beaches, a Thailand tour booked with Dook will never fail to surprise!
Capital: Bangkok
Languages: English, Thai language
Currency: Thai baht
Driving Side: Left
Best Time to Travel: Round the year destination but preferably best to visit between November to April
Explore Thailand:
A bucket-list destination for many people around the world, Thailand truly has it all. The chaotic charm of Bangkok, vibrant nightlife at Pattaya, family attractions, lush landscapes with picturesque views, appetizing street food and the endless palm-fringed beaches make it an ideal choice for all kinds of travellers.
The country does complete justice to its tag of being known as the energy and adventure capital of Asia as beyond Bangkok's exciting energy, the country has so much fabulousness to stick on the 'must-do' list.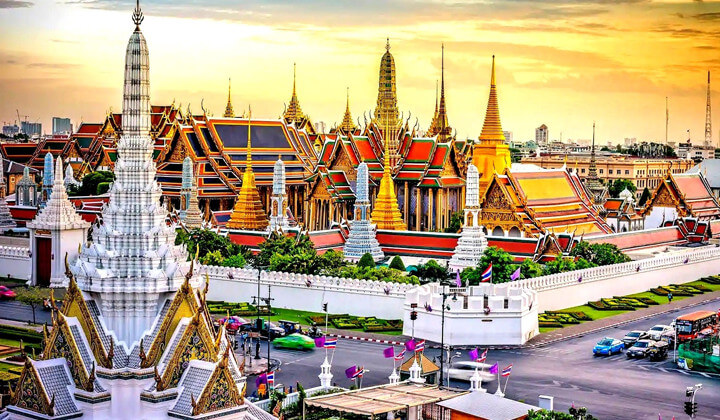 Bangkok: The bustling capital
An enthralling city full of contrasts and colours, Bangkok undoubtedly attracts numerous travellers from around the world. Once a small trading centre on the west bank of the Chao Phraya River, the capital city today is speeding with modern times and is certainly living up to its reputation of being one of the top travel hotspots in Southeast Asia.
The shimmering temples, colourful floating markets, delectable Thai street food and a thriving vibe of the city come together as a happy coincidence for the visitors. What is noteworthy here is the perfect balance created between the ancient and the contemporary. It is not just the largest and most developed city in Thailand but also manages to perfectly preserve its culture, historic architecture and traditions dating back to hundreds of years.
Bangkok is also easy to get around, thanks to an efficient and clean public transport system. Hence, the fear of travelling convenience and hygiene being compromised is out of the question. The more the Bangkok vibes seep into your heart, the more it leaves you longing for more.
On The Wander-List: The Grand Palace, traditional floating markets, Wat Arun, Chatuchak Weekend Market, Ayutthaya city, China Town, Sea Life Bangkok Ocean Park.
Pattaya: Where leisure is a priority
Stretching along Thailand's eastern coastline, the small yet lively city of Pattaya is recognized as one of the major tourist destinations. Whether you are hitting a bar or a beach, the vibes here in Pattaya are startling in every sense. This lively destination is located roughly 150 kilometres from Bangkok, comfortably accessible either by road or air.
The city is a delight for holidaymakers as there are abundant entertainment options to choose from, in terms of both accessibility and affordability. While the wild-child in you will find plenty of after the after-party opportunities, the families too can opt for a lively karaoke station or a lavish gourmet restaurant to enjoy their nighttime out. Also, you can enjoy Pattaya's must-see spectacles, the Alcazar Cabaret Show, where you can sit back and enjoy the vibrant performances by ladyboys dressed beautifully in colourful avatars.
It may have a reputation of being the least sophisticated but it also has earned the reputation of being the most developed and the most vibrant of all. And the bottom line is that nobody can get bored in Pattaya!
On The Wander-List: Nong Nooch Tropical Garden, Art in Paradise, the Alcazar Show, Four Regions Floating Market, Khao Pattaya View Point, Coral Island, Ripley's Believe It or Not, Big Buddha Temple, Sanctuary of Truth and Ramayana Water Park.
Dook handpicks and curates fun-filled itineraries that cover 9-10 days of absolute enjoyment and adventure. Check it out here.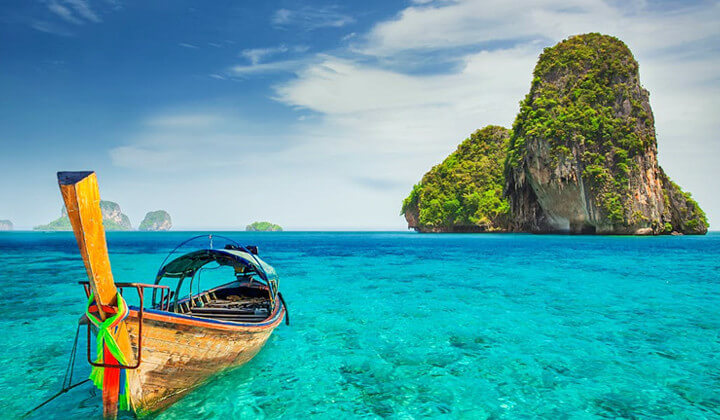 Chiang Mai: Concoction of the old and contemporary
Despite its relatively small size and historic connection retained through the past remnants, Chiang Mai is popular amongst tourists and pilgrims alike. Culturally 'very Thai' in essence, this beautiful city upholds the strong Buddhist traditions and simultaneously offers a spectrum of local experiences. Recognised as Thailand's fifth-largest city, Chiang Mai has expanded in all directions, especially from the tourism's point of view.
With a spectrum of unmissable tourism offerings, it has opened doors to all genres of travellers. While on one hand, the Buddhist temples with magnificent architecture make your jaw drop in wonder, an ecotourism homestay or a creatively made local artefact give you plenty of reasons to love Chiang Mai even more!
On The Wander-List: Doi Ang Khang, Lanna Folklife Museum, Doi Suthep, Wat Phra Singh, Bo Sang Umbrella Village, Chiang Mai Night Safari and the list is endless.
Phuket: Straight out of a tropical dream
Sitting peacefully on the Andaman Sea, Phuket is Thailand's largest island and perhaps the most famous. The province is synonymous with serene and golden sand beaches, spicy Thai cuisine, the charm of the old town and exceptional water sport activities that add to the appeal.
Being close to Thailand's superstar archipelago Phi-Phi Islands and offering numerous sunset/sunrise viewpoints, Phuket has taken an enormous chunk of traveller's allure. With over 30 beaches scattered over the province's magnificent coast, you will not have to worry about being stuck somewhere you will not like. Apart from the beaches that are an absolute love-at-first-sight, a popular Thai massage is what you must try before leaving for home.
On The Wander-List: Patong Beach, explore the Old Phuket Town, Phuket Trickeye Museum, Diving in Similan Islands National Park, Karon Viewpoint, visit Rawai village and more.
Krabi: The piece of paradise
Nestled along the Andaman coastline, this coastal province in the Southern part of Thailand is picture-perfect heaven. From towering limestone cliffs, emerald blue waters to exotic wildlife and caves— there is certainly no wonder why Krabi is indeed one of the 'must see' places in entire Southeast Asia.
While a stroll along the calm beaches of Ao Nang and Railay Beach is immensely satisfying, the dramatic natural landscapes and photogenic sunsets from a beachside bar are some things you cannot afford to miss! Snorkelling, rock climbing, jungle trekking while meeting the jungle elephants and scuba diving are among the most popular tourist activities in Krabi.
On The Wander-List: Railay beaches, the Emerald Pool, Koh Hong, Phi Phi Islands, Ao Luk mangrove and caves, Krabi Hot Springs (Klong Thom) and take Thai cookery classes.
Top Bucket List Experiences
1. The majestic vibes of Grand Palace:
Positioned in the heart of Bangkok, the Grand Palace, formerly the residence for King Rama I to King Rama V of the Rattanakosin Kingdom, is today used for hosting royal ceremonies. Since the founding of Bangkok as the Nation's capital, the Grand Palace has been an iconic symbol for The Thai Royal family.
The elaborate detailing and spotless architecture make the Grand Palace so special while the impressive interior and grand murals at display make it worth the visit. If you do not like waiting in the queues, advance tickets can be booked online.
2. Watch serenity coming to life at Koh Samui
Maintaining a broad appeal for different kinds of travellers, Koh Samui is an ideal beach destination and the first choice for those who believe in laid-back holidays. Koh Samui, being abundantly rich in flora and fauna, has developed its style of island heaven.
Be it a long and busy day at Chaweng, an adventurous visit to Koh Tao or a short, secluded visit to Choeng Mon or Angthong Marine National Park, there are exceptional experiences that satiate the traveller's appetite. When out for a stroll in town, be sure to try the Rambutan fruit and salted eggs.
Take a look at our experiential Koh Samui Itinerary.
3. Bring out the adventure junkie at Coral Island
If you are visiting Thailand with your friends or family, none of your itineraries are complete without a day trip to Coral Island in Pattaya. Truly a patch of paradise and a hub for thrilling water sport activities, Coral Island welcomes the tourists for the best of seasons and reasons.
Well, no doubt that the adventure activities in Coral Island are one of the best in Thailand, hands down. Many restaurants lined up along the shore add to the awesomeness of the island. Although it requires an entire day to explore the activities here, one may also choose to book a hotel/resort on the nearby beaches.
4. The Glitzy, Glamorous & Grand Alcazar Show
One of the most dazzling and undoubtedly the most famous shows in Thailand, Alcazar Cabaret is full of everything extravagant. What makes the show a unique spectacle is the lovely and lively performances given by all the lady boys wearing colourful costumes and accessories!
It is important to note that the Alcazar show, which has now been going around for years, is an entertaining evening suitable for people of all ages. While the show transitions smoothly backed by the state-of-the-art lighting and sound system, it simultaneously takes its audience through different countries and their cultures. The facilities at the theater are upgraded year after year to keep the performances fresh and entertaining.
5. A random stroll in Phetchaburi
A must-stop for all the culture fanatics, the south-central town of Phetchaburi is liberally sprinkled with temples and palaces. It is bordered by lush green jungles that have cave shrines and a share of serene beaches that further add to travellers' curiosity.
The best part is the fact that it is laid-back and not a touristy spot yet. There is relieving sleepiness in the relaxed markets, small teak shops in the streets and waterfront temples. So why ditch the idea of strolling down the lanes of this unexplored gem?
Discover, plan and book your Thailand trip with Dook
Thailand is worth all the hype and Dook helps you keep that excitement going. We tailor-make the most premium and personalised Thailand travel experiences that not just fill in your travelling appetite but also aim at bringing you back time and again.