Incredible journeys to Armenia with DOOK!
No matter your travel style, we have a Armenia package tailored for you
Armenia Tour Packages
Explore Armenia with DOOK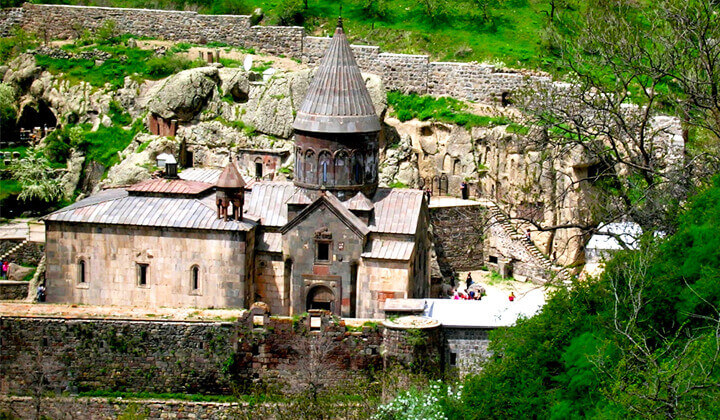 Explore The First Christian Country in The World

Armenia is a slowly but surely a growing travel hub in the world. This is one of the oldest countries on 3000 years old maps in the world. This landlocked country offers a great culture and ancient history to the visitors. Since 1990 the number of tourists visiting Armenia has been on rise and this made the country spend more on tourism. What makes Armenia special? Ancient and small land of Armenia has bright colours in all seasons. Snow white winters, mellow autumn, colourful spring and sunny summer attracts everyone to the country. The mountains and mountain valleys of Armenia create numerous of microclimates, landscapes changing from barren to green at the top of mountain ridge. Armenia Tour Package allows you to explore this and much more in this beautiful country. Armenia is a must see destination to enrich you with its history, famous monuments, captivating landscapes and warm hearted people.

Places to See in Armenia

In Armenia you have choices among museums, galleries, religious sites like monasteries, natural and scenic beauty to choose from. Armenia is small in size but it has 4 UNESCO World Heritage Sites. You can visit them on your trip to Armenia with Armenia Packages. They are Monasteries of Haghpat and Sanahin, The Cathedral and churches of Echmiadzin and Archaeological sites of Zvartnots and Monastery of Geghard and the upper Azat valley. Also you should not miss some other places of interests which include Tatev Monastery, Khor Virap, Matenadaran, and Old Khndzoresk cave village, Dilijan National Park, Lake Sevan, Noravank Monastery, and Amberd Fortress.

When it comes to cities then Yerevan, the capital city of Armenia is the first place to be in Armenia. You have plenty of sightseeing options in Yerevan. The most famous of all those in Yerevan is Lake Sevan. Armenia offers lot of adventure activities. Adventure lovers can explore sports Tourism in Armenia as well. On your Armenia Holiday Package you can enjoy hiking, fishing, mountaineering, camping, horse riding and bird watching. Ararat Mountain is the place for adventure in Armenia.
---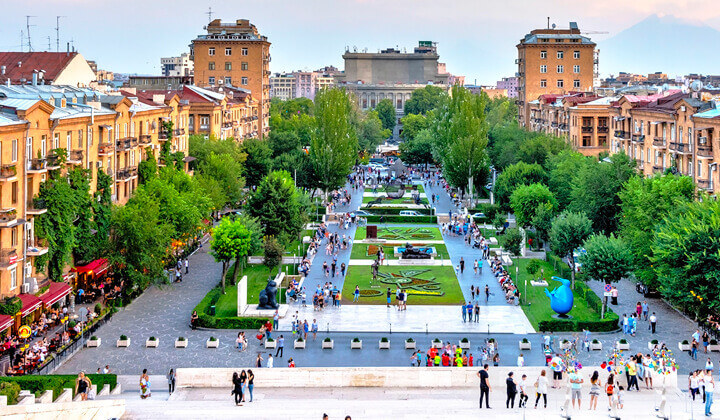 Yerevan Tour Packages - One of the Oldest Continuously Inhabited Cities in the World

Yerevan, capital city of Armenia is popularly known as pink city as well. This is because of the colour of the overall look of the city. You can notice this in the colour of the stones used in the building which resembles pinkish tone. So people today have given Yerevan a nick name - Pink City.

Yerevan is home to the largest Armenian community in the world. Yerevan is alive and is always full with people of all ages. Yerevan is full of various monuments and cafes. On your Yerevan Tour Packages you can do lot of exciting things. You can do sightseeing, go for adventure activities and not to forget, do lot of shopping as well.

Places to See in Yerevan

Most of the tourist sites in Yerevan are concentrated in the centre. Your itinerary in Yerevan with Yerevan Holiday Package should include Garni Temple, Ashtarak Churches, Khosrov Reserve via Garni and other places. Some of the places to visit in Yerevan are Erebuni Fortress, Republic Square, Abovian Street, The opera and few more. You can enjoy other actions here. You can attend music orchestra, Chill out in Yerevan Green Velt, Climb the Cascades and so on. You can buy lot of stuff when you are on Yerevan tour package.

You cannot forget to see Lake Sevan. You can immerse in the serene beauty of Lake Sevan a fresh water lake. This is home to a rich and rare collection of fish. Lake Sevan is home to rare species of fish including Salmon Trout or Prince Fish which is the signature fish of the lake. Lake Sevan is must watch for everyone.

Travel to Armenia with Dook International's Armenia Packages

When you buy your Armenia Tour Packages or Yerevan Tour Packages with Dook International, you get the best of Armenia and Yerevan to explore. Not just this you get the best travel experience when you choose us to go to Armenia.
---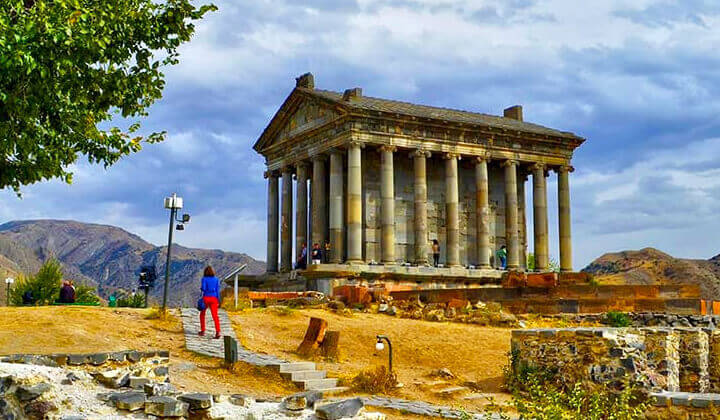 Armenia Travel Guide and Information:

Armenia - A Place For Every Traveller: Armenia is a country of mountains located in the southern part of South Caucasus region. If you love the mountains then Armenia is for you. Armenia is a country that boasts of natural beauty packed in small area with its range of mountains, volcanic uplands, rivers and forests. When you are here you cannot miss the historical and cultural complexes. And here is a list of some of activities that you can do and some places that you can see when you are in Armenia on your Armenia Tour Package. Read More

Armenia Diary I: Armenia is a small landlocked country on the south eastern edge of Europe and at the gateway to the Middle East and all of Asia. It is surrounded by Georgia on the north, Azerbaijan on the east, Turkey on the west and Iran on the south. Armenia is growing with its presence as a favorite travel destination in the world. Let's explore interesting facts about Armenia as a part of series - Armenia Diary. Read More

Armenia Diary II: Here we come with the 2nd installment of Armenia Diary. This time we are sharing some more interesting facts about Armenia that would fascinate you both as a traveler as well as information explorer. Let's explore in the 2nd installment some more insightful Travel Information about Armenia. Read More
Penny Wise Armenia: 'Penny Wise' will include prices of basic commodities, meals, transport, etc. to help you plan for local arbitrary expenses while 'Pocket and Counter' will help you budget for the ticket of monuments, show and other attractions. Read More
---
Why Travel To Armenia?

1. Accessibility: Armenia like any other place is easily accessible through air access, overland access and railway access.

2. Proximity: Armenia is very close to several countries, and many Armenian migrants are in Russia for its close proximity.

3. Affordability: Armenia as a travel destination is affordable and not overcrowded with tourists as of yet.

4. Family Oriented: Armenians live and do everything only for their families, and love big families.

5. Mild Climate: Armenia is often described as a sunny country with a temperature of 25°C. But it's also dry in some parts of the country, and reach to a temperature of 40°C.

6. The Hospitality: One of the highlights of the culture of Armenian people is Hospitality. They are hospitable to visitors from all over the world.

7. Ancient History and Rich Cultural Heritage: Armenia has a rich culture with ancient history, aspirations, lifestyle, and traditions.

8. Abundance of Natural Attractions: Armenia has many natural attractions such as Sevan Lake, Mount Aragats, Debed Canyon, Khosrov, Shikahogh and Lake Arpi.

9. Winter in Armenia: The cold winter's starts by December, January and February, and it's the coldest time of the year.

10. Vibrant and Modern Urban Landscape: The city is having a modern touch with clean edges with more modern landscapes like patios, concrete paths and even planters.

11. Diverse and Authentic Cuisine: The popular cuisine Dolma, Khash, Manti and many others are rich in vegetables, meat, and fish.

12. Medical and Wellness: The various resorts in Armenia offering all types of relaxation methods for every season-whether it's to escape the heat or the cold!

Top Tourist Cities of Armenia

1. Yerevan - The capital city of Armenia is has a rich cultural heritage where ancient sights and delicious food are in plenty to be discovered.

2. Gyumri (Shirak Marz) - Shirak is a province of Armenia. Its capital and largest city are Gyumri. It is as much semi-desert place with high mountain ranges surrounding the place.

3. Vanadzor (Lori Marz) – Vanadzor is the third largest city of Armenia. It was previously known as Gharakilisa. Vanadzor is famous for its exquisite beauty and old age.

4. Dilijan (Tavush Marz) – It's one of the major cities in Armenia with major protected forest. It's popularly known as Little Switzerland or Switzerland of Armenia.

5. Jermuk (Vayots Dzor Marz) – Vayots Dzor, a mountain spa town is a province of Armenia. It is famous for its mineral waters, spring hot water and a home to the spa town of Jermuk.

6. Tsaghkadzor (Kotayk Marz) – This is one of Armenia's famous ski destination. It's also very popular for its health resorts in Armenia.

Top Tourist Places in Armenia and Yerevan:

1. Khor Virap Monastery: Some places have unique history behind it. They are worth exploring as they carry significant element of historicity and excitement with it. Khor Virap is one of them, a monastery located in Ararat plain in Armenia. The monastery is in existence for centuries. This is quite right to say that when you are on your Armenia Tour and exploring some great places there, do include Khor Virap in your itinerary. Read More

2. Tatev Monastery: Armenia is considered the oldest Christian nation on the planet. A landlocked country Armenia has history probably longer than any other European country. Armenia is situated along the great Silk Road so it has been under numerous empires' cultural influences. So Armenia is full of Monasteries. Tatev Monastery is one of the oldest and most famous Monastery in Armenia is gifted with spectacular view around it. The monastery is located at the height of 1600 m in the mountains the Tatev Monastery gives you picture perfect view and it is guaranteed that you will never forget this scene in your life time. Read More

3. Monastery of Geghard: Monastery of Geghard is also set up in absolutely beautiful landscape and travelers just love to come and see this place. The scenery from top or from far looks stunning and from close there is quite to explore. It is one of the top tourist attractions in Armenia. Monastery of Geghard is located in Kotayk province of Armenia and it is listed as UNESCO world heritage site. Read More

4. Garni Temple: Garni temple is located in Garni village in the Kotayk Province of Armenia. Temple of Garni was made in first century AD and even today it is best known structure and symbol of pre Christian Armenia. The temple was dedicated to the sun of God called as Mihr. It is a major tourist attraction in Armenia. So it is apt to say that when you are on a Armenia tour visiting Garni and temple of Garni should be among top must see places in Armenia list. Read More

5. Matenadaran Museum: Yerevan is quite a historic city having deep roots of the past and home to some beautiful tourist sites. One of them is Matenadaran in Yerevan, which is a museum cum research centre. It has huge repository of ancient manuscripts. Matenadaran is a place to visit on your Armenia Tour Package. Read More

6. Khosrov Forest Reserve: Khosrov Forest Reserve is quite an interesting tourist place to be at because it's not just forest but also has hills and rivers in it. The Flora and fauna of Khosrov are overwhelming. Spread over 23000 hectares of mountain terrain it has over 1900 species of high vascular plants which includes 24 endemic species. Khosrov forest reserve also has over 280 animal species. If you love nature specially forests you should keep Khosrov Forest Reserves in your list when you are booking Armenia package. Read More

7. Republic Square, Yerevan: Republic square is the central town square in Yerevan. Republic square is a happening place in Yerevan and it has all the elements of a great place for the visitors. Locally it is known as Hraparak. Republic Square has two sections. One is an oval roundabout and another is a trapezoid shaped section in which there is a pool with musical fountains. This is also famously called 'Heart of Yerevan' and it is a favorite destination in Yerevan for the visitors. When you are in Yerevan on your Yerevan Tour you must be here at the Republic Square. Read More

8. Yerevan Cascades: Yerevan Cascade is a beautiful structure and unique one. Cascade is an example of unique architecture and a cool place to be at in Yerevan. The Cascade is a happening place for both youth and old for a good time. You can enjoy to have a cup of tea, coffee and eating a bite here. You can also enjoy the outdoor concerts here and have a great view of it from up on the Cascade staircase. Many events like Jazz, musical guitar and others take place here. Read More

9. Gnishik Canyon: A canyon is a great landscape, a deep gorge where a river flows along with it or a rift between two mountain peaks. Canyons may look dead but they if you go deep into them you will find great liveliness in those rocks. Gnishik in Armenia is nature's delight. First to get to Gnishik village from where you can trek to the canyon it would take around 2 hours drive from Yerevan. You should plan for Gnishik when you Travel to Armenia next time. Read More

10. Cultural Sites in Armenia: Armenia is said to be one of the earliest Christian civilisations, it's first church is said to be founded in as early as fourth century. So when we talk about such a country with impressive cultural influences it is bound to have some impressive cultural sites as well. Here are some incredible cultural sites of Armenia you should not miss when you are on Trip to Armenia. Read More

11. Wrestling in Armenia: Wrestling is one of most popular Sport in Armenia today among other popular sports like football, weightlifting, boxing and chess. Wrestling is said to have deep roots in Armenia. Armenia won its first silver medal in summer Olympics in 1992 in Barcelona when it participated under a unified CIS team. Read More

12. Yerevan Half Marathon: Yerevan Half Marathon is an international event that attracts every year more and more participants not only from Armenia, but also from other countries. The distance to cover in half marathon is 21.0975 KM or 13.1094 miles to be precise. Yerevan, Armenia hosted its first half marathon event in the month of October in 2015. Read More

Things to Do in Armenia

1. Hiking: Some of the best places to hike and trek in Armenia are Lastiver, Geghama Mountains, Dilijan National Park, Aragats, Khustup Mountain, Tsakhats Kar Monastery, Hin Halidzo, Hatis and Ara Mountains and many others.

2. Wind Surfing: Some of the best places for windsurfing in Armenia are Armavir Province, Lake Sevan, Vayots Dzor Province, Ararat Province, Lori Province, Tavush Province and many others.

3. Sun Baking: Some of the best places for sun baking in Armenia are Armavir Province, Lake Sevan, Vayots Dzor Province, Ararat Province, Lori Province, Tavush Province, Syunik Province and many others.

4. Camping: Some of the best places for camping in Armenia are Harsnadzor, Crossway Camping, Elsol Forest Camping 3Gs, Camping in Khustup, ARK Armenia Kapan Eco-Camp and many others.

5. Skiing: Some of the skiing places to explore in Armenia are Tsakhkadzor, Jermuk, Akhtamar – Sevan and Byurakan.

6. Monastery Shopping: Some of the places to shop in Armenia are Vernissage Market, Gumi Shuka, Homeland, City Market, Salt Sack and many others.

What to Buy in Armenia

Some of the most popular things people take home from Armenia are Armenian carpets, cognac, handicrafts and Soviet memorabilia. They are easily available in Vernissage, a flea market next to Republic Square which never seems to stop. You can also buy duduk, or traditional flute as a gift, as it is UNESCO's immaterial heritage.

Markets in Armenia

Vernissage - This is an open-air market that runs every Saturday near Republic Square. It's a great shopping place for tourists and locals alike. You can buy everything from traditional dolls, brass pot, ceramics, and a 300-year-old carpet to a 1970s Soviet phone. Read More

There's an underground book market, and for Armenian and Russian speaking tourist. It's located under Abovyan Street, close to the Metro station and the medical school with thousands of vendors selling thousands of books.

Armenian Cuisine and Drinks

What to Eat in Armenia?

1. Khorovats (BBQ) - It can be pork, lamb, chicken or beef and is flavoured with onions and other Armenian spices. Some tomatoes, eggplant (aubergine) and bell peppers are also added in the meal.

2. Khash - It is a traditional food and one of Armenia's festive dishes eaten mostly in a winter season. It is cooked in a highly sterilized way, and it's usually enjoyed in the morning time with some good additions of garlic and vodka to it.

3. Dolma - It is a family of stuffed grape leaves; a variety with vegetable to stuff in such as pepper, tomato, onion, garlic, zucchini and eggplant. It can be eaten as an appetizer or main dish.

4. Armenia produces a wide variety of fruits and vegetables. Some of its most common fruits are peach, apricot, pomegranate, grapes, etc that you can try out! Armenians love to include bread into their meals. There is a wide range of different types of bread, starting from black and white till lavash (a soft, thin flatbread) and matnakash.

Don't forget to try out the dairy products! One of Armenia's traditional dairy products that have been there for centuries of history is Matsun (yoghurt). It contains a number of natural microelements, which have high biochemical activity. The thick sour milk is a refreshing drink, especially during hot summers. Okroshka, a cold soup with cucumber, dill and kefir, is a dairy dish to try out.

The culture of hanging out in a Café is quite popular in Armenia, and sidewalk cafés are always the best to explore. Any place near the Opera is sure to keep you late on summer nights. There's a famous chain called the "Jazzve" which offers varieties of tea, coffee, cakes, deserts and many others.

Drinks in Armenia

Alcoholic: Some of the most popular hard drinks of Armenia are Vodka, tutti oghi , honi oghi Tsirani oghi local beer, wine and brandy which are made from a variety of fruits.

Other: Some of Armenia's popular drinks are Jermuk (mineral water), (yogurt combined with water and salt), chichkhani hyut (sea buckthorne juice), bali hyut (sour cherry juice), masuri hyut (rose hip juice), Armenian coffee, and herbal teas.