What is one place within a great tourist place you look for? Major sights to see, right! Yes, but when you are done with them you love to check out the local markets before you leave the place. You love to buy some stuff from the market and take it back with you. Without shopping there your journey is not complete. You always keep a separate budget for shopping, every time you travel to a place. So it is always better to know a bit about that bazaar or famous bazaar. Now the bazaar that we are going to explore in this article is Chorsu Bazaar. Chorsu Bazaar is in Tashkent, of Uzbekistan. Chorsu is a traditional Bazaar in the old town of Tashkent. What all you can expect and get from this market, let us see in detail.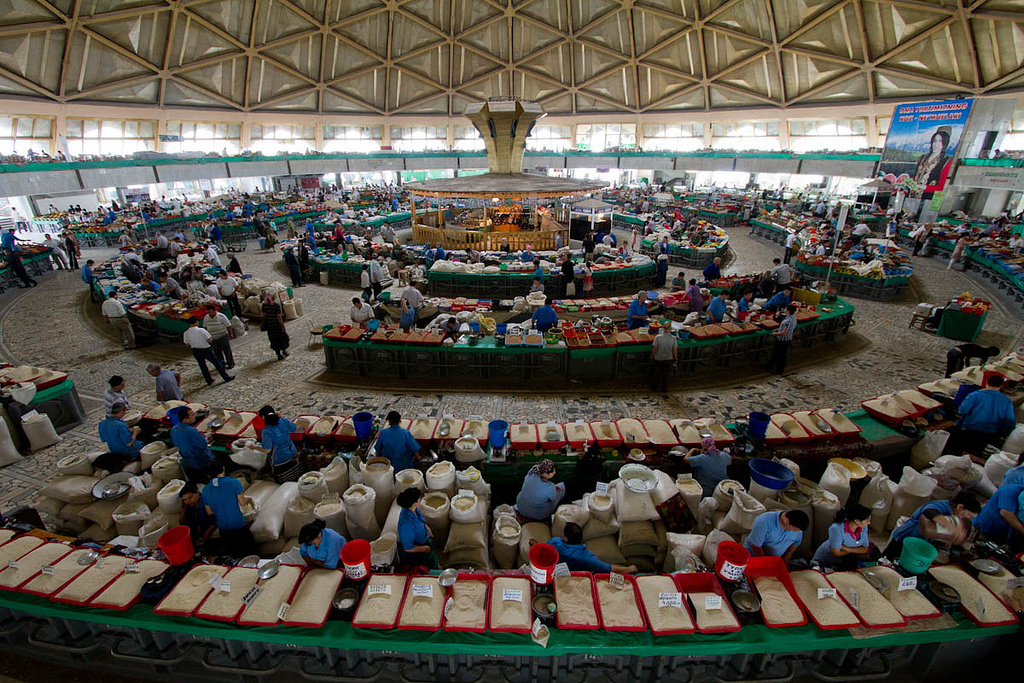 Chorsu Bazaar is hundreds years old. Chorsu Bazaar is a traditional bazaar with bright colors. Chorsu is biggest and oldest in Uzbekistan and in Central Asia. Located across the street from Chorsu Station of the Tashkent metro near Kukeldash Madrasah, in chorus all daily necessities are sold. Tashkent since oldest time was a trade center where from good came into and out of Tashkent. So a fair was set up where goods came into and went out eastward, westward, southward and northward caravan routes. It was called Chorsu which means crossroad. Since then despite lot of attacks on Tashkent, this oriental bazaar has lived through. Chorsu Bazaar like any oriental bazaar has played significant display of social life since beginning. People gathered, talked, shared their lives and so had great times. So chorus bazaar is not just a market place to buy goods but it enjoys great flavor of the orient.
Chorsu bazaar is located on the main square of the city Eski Juva. Though constant attacks on Tashkent saw old construction of this bazaar destroyed, however the traditional structure has remained same which is domed large premises. So the domed structure saves people from heat and dust. Today there are 7 huge domes with colored glazed tiles under which the bazaar exist. So after historical and bit of physical description, you would be curious to know what you get in Chorsu to see and buy. Well, first thing that welcomes you is aroma of spices. You get to see variety of spices. Red and black pepper, thyme and cloves, nutmeg and cardamom are few names of that variety of spices. Then you get rice, sugar, white balls of Kurts, dried cottage cheese. Apricots, Almonds, pistachios, walnuts and peanuts are other items for which salesmen shout loud and call you to check and buy them. Fruits and vegetables can be seen in abundance and of varieties. Summer and autumn are best times to display the fruits. The bazaar looks amazing with newly arrived fruits. Some of them are rosy apples and honeydew pears; pink and amber sweet grapes; furry peaches; prunes and yellow figs wrapped in green leaves; pomegranates with ruby seeds; reddish-orange persimmons, piles of huge watermelons and melons exuding a pineapple aroma. Then you can have a look at the goods of crafts. Jewelry, painted cradles, gold embroidery, quilted men's and women's caftans, national musical instruments and much more delicate goods.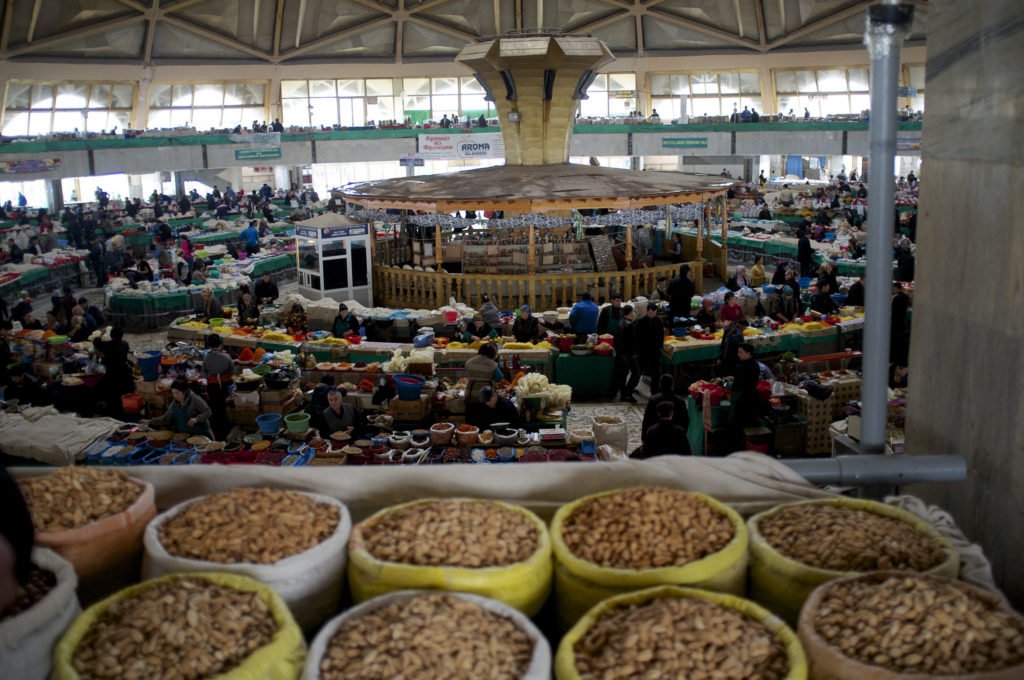 So it is obvious that you need to spend substantial amount of time here to check out the entire Chorsu bazaar and even more time to buy stuffs of your liking. Fruits, dry fruits and other items won't let you just pass by without having a look at them. You can check out the workshops of white smith and blacksmiths, carpenters and wood carvers. You will find designer carpets from different parts like Bukhara, Khiva, Samarkand, Turkey, Afghanistan and other places and you would surely like to check them out because they all make you remember that you are very much in the heart of the Silk Road.
Knowing the importance of this oriental market, Uzbek Govt. has put in efforts to modernize the old bazaar and constructing new bazaar in the capital city of Tashkent. All the modern facilities are available here. So if you are here you are going t have good time for sure. Next time when you take Uzbekistan travel package, do visit Chorsu Bazaar in Tashkent city.
Explore Uzbekistan Tour Packages with Dook International, check our Uzbekistan holiday packages as below –