Incredible journeys to Spain with DOOK!
No matter your travel style, we have a Spain package tailored for you
Spain Tour Packages
Explore Spain with DOOK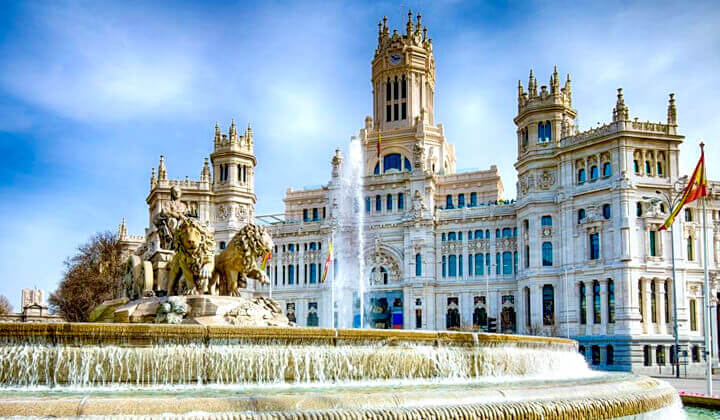 Spain: where life feels like a 'fiesta'

Discover the trails of this explorer's paradise with Dook's specialised Spain Tour Packages

Devoted to promoting a happy and relaxed life with its renowned concepts of 'Fiestas' (festivals & events) and 'Siestas' (short nap taken in the early afternoon), Spain is a magnificent country more diverse and dynamic than you ever imagined. Positioned in South Western Europe and bordered by the Mediterranean Sea, Spain enjoys an extremely charming ambience and impressive location which make it the best place to visit for all types of travellers – from city slickers to beach bums to the adventurous. This country is always high on spirits and buzzing with lively energy and is truly an arena of exotic experiences. No wonder why its love for art, its philosophy of a 'good life', the dynamic cities, cinematic coastlines, remarkable landscapes, architectural wonders and of course the culinary uniqueness make booking our online Spain Holiday Packages even more desirable.

Spain reflects an outstanding contrast of the exotic and the relaxed, wild and tame, historic and the modern and this perfect blend certainly makes it one of the best places that you must visit at least once in your lifetime. Whether it's the splendid sunshine and beaches for you to relax or the cultural diversity to take in, it's the famous lazy-day siestas or the full of life flamencos and festivals you take part in, delicious Spanish tapas you gorge on or the beautiful historic sites you soak in, the entire country of Spain is an open book of amazing experiences.

Start your adventure in the buzzing capital of the country, Madrid and take a private tour of the Prado Museum or the Royal Palace that are to-date the key attractions of the city or you can even choose Barcelona which is renowned for its energetic culture and happening nightlife and even for a relaxed sunbathing at the beach. Though many will usually turn their dancing feet towards the party destination of Spain – Ibiza, Valencia is not too far from its strong contender as the city is known to host some of the most famous discos of Spain. Other tourist hotspots that you should definitely add to your Spain Tour itineraries include Seville that is famous for its ornate Alcazar castle and the world-renowned flamenco dance; the city of Granada well-known for the Moorish Alhambra fortress; Segovia preferred for its fairy-tale medieval castle and Roman canal and these are just a few to start with.

Find your kind of adventure here and be enchanted to keep coming back here, again and yet again! At Dook, Spain Tour packages are thoughtfully created to provide you with a perfect trip to Spain because our idea of travelling and exploring is always reflected in every tour that we carry out for you, with you!

Capital: Madrid
Languages: English, Spanish & Catalan
Currency: Euro
Driving Side: Right
Best Time to Travel: Round the year destination but the country and its offerings can be best enjoyed between March to May and September to October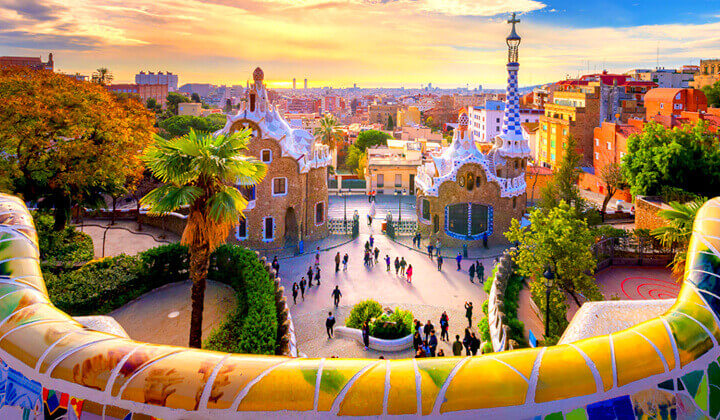 Explore Spain:

Travelling around this beautiful, colourful and passionate country is a treat to all the senses as it greets you with amazing architecture, sociable locals, lip-smacking Spanish delicacies, matchless landscapes and unmissable historic wonders. Here, it's hard not to fall in love with the bohemian vibes of Barcelona, the art-inspiring neighbourhood of Gracia and its foodie adventures, beach vibes in the cool Costa Brava and the much famed Canary Islands, the glorious nightlife of Madrid, the classic architecture of Valencia and so much more that make Spain the top favourite among all the world's bucket list destinations.

Willing to explore the lesser-visited trails? Visit the natural park of Cap de Creus that rewards you with spectacular nature sightings, the vineyards of Rioja, the Basque region which feels like being in an entirely different country, the great cities of Malaga, Cadiz, Seville and particularly Catalonia, that unbelievably has a language and culture of its own. What's more is that you can indulge in so many history-rich and UNESCO listed attractions, ranging from the desolate Roman ruins, cathedrals and unparalleled charms of Islamic, Catholic and Renaissance architecture and there's always room for more. Make the most of your visit and indulge in the real "fiesta time' of the country by participating and experiencing its world-famous festivals like La Tomatina, the bull runs in Pamplona and various shows and festivals that aren't worth a miss!

Browse our bespoke Spain Tour Packages from India and embrace the easy travelling life. Meanwhile, take a look below at the top Spain cities and various unmissable attractions and worthwhile experiences.

1. MADRID: Where Spain's heart beats with energy

Considered as one of Europe's most interesting cities and a lifetime experience, Madrid, the capital city of Spain has a distinctive character that is hard to find anywhere in the entire region. The city is the main centre of business and the political hub of Spain as well as the most popular region for exploring the cultural and artistic heritage and a vibrant nightlife and therefore, this dazzling capital wears 'many hats'. It has vibrant neighbourhoods, stunning parks, magnificent resorts, great shopping and food scenes and some of the most world-renowned museums including the Prado Museum and Thyssen-Bornemisza National Museum. To put it briefly, of all the cities in Spain, Madrid is the one that knows how to show travellers the best time.

Sharing an equal amount of popularity with its cousin city Barcelona, the capital Madrid, its lively walking streets, its cultural centres, its party-hard reputation and the food, have helped it attract millions of tourists and the numbers only show a surge with each passing year. When it comes to filling yourself with good food and a good mood, you will find plenty to choose from- traditional old bars serving the Spanish tapas or the ultra-modern restaurants and markets converted into chic gourmet spaces serving Spanish specialities and staples. However, the real fun begins for the city when the sun dips and the city turns livelier with thumping music enlightening the famed streets of Barrio de las Letras, Gran Vía and Malasaña to ensure you are happily wide awake all night. Don't skip the visit to the heart of the city Puerta del Sol, which is a large plaza serving as the scene of festivals, important gatherings and street performers.

If you're planning to spend a day or a week or even a month in Madrid, we can help you put together the perfect through our specialised Spain Holiday Packages.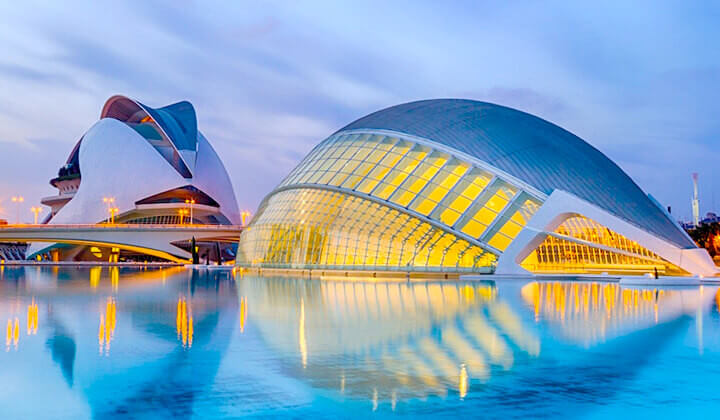 2. BARCELONA: Where everything is a little more 'extraordinaire'

While Barcelona may be one of the hottest and the most popular tourist destinations in Europe, it still stands as one of the most unique places to visit in Spain. Why? Simply, because it is brilliantly diverse and offers everything a traveller looks for in a European city- from easy access, favourable weather conditions, stunning beaches to surrounding mountains, vibrant nightlife and shopping options, exceptional local gastronomy and its roots steeped in culture and history. Barcelona also boasts a variety of museums, art galleries, theatres and flamenco shows and is a host to several festivals including the Monegros Desert Festival, one of Spain's largest electronic music events.

There are several architectural wonders that are unique to Barcelona including Spain's famous architect Antoni Gaudi's creation, Sagrada Familia and the Casa Batllo. Both of these are the top tourist attractions and are extraordinary structures featuring combinations of fascinating designs, shapes and shades. The assets and beauties of Barcelona do not end here - Ciutat Vella, the Old City is a must-visit along with La Placa Catalunya, the beaches of Barceloneta and Nova Icària, Nou Camp which is the largest football stadium in the world, the medieval charm of the Gothic Quarter, scenic trails of the colourful Park Güell, a series of streets lined with cafes and nightclubs in Las Ramblas and so much more.

3. VALENCIA: Where the old and new tie a knot in bliss!

Being one of the oldest cities in Spain and the fastest growing in terms of adapting to modern times, Valencia stands out for offering a little taste of both the old and the new. Here is where you'll get to experience the classic architecture at the Valencia Cathedral as well as discover the modern sites like the City of Arts and Sciences and the Valencia Institute of Modern Art. Though you can now easily experience a modern display of attractions with ultimate food and wine tasting fit for your liking and wander through the knot of little chic streets with cafes, the city has well maintained its unique portion of Spanish history over the years. Visit the majestic late-15th-century building Llotja de la Seda which is also a designated UNESCO site and get instantly entranced by its Gothic architecture. Get charmed by the green hues of Jardí Del Túria as you walk around its beautiful alleys.

After you've gotten your fill of the city, take a detour to the Albufera Natural Park or unwind at nearby shimmering gold beaches. If you're visiting in March, you are in for a fantastic visual treat and loads of fun as there are high chances of you attending the Las Fallas Festivals which is a UNESCO protected cultural heritage event. Expect thousands of people, the colour-filled atmosphere and some of the more extravagant falles you could see!

4. MALAGA: Where the beach and party vibes intermingle!

Located in the Southern chunk of Spain, Malaga is a culturally rich town intertwining with a sunny yellow-sand coast of the lively Costa del Sol and a robust metropolitan environment. Here you can hop on a plethora of beaches, dip your toes or swim in the azure blue waters of the sea while enjoying one of the city's chic bars and bustling restaurants where the nightlife knows no limit! The city is also the birthplace of world-famous artist Pablo Picasso and therefore, you'll see unique museums, gorgeous buildings and a fascinating history dedicated solely to him and his celebrated life. History fanatics are in for a treat here as you'll find plenty of attractions that are reminiscent of the bygone time. While on the charming cobbled streets of Old town you'll find surreal peace, there is a Moorish fortress of Alcazaba and Gilbralfaro castle which is like a pleasant sensation to your curious senses. Then there is a Roman Amphitheatre on a mountainside along with the Cathedral of Malaga and La Farola lighthouse that are the top tourist attractions too. Those looking to take in the exceptional city views can spare around an hour to hike up the nearby Mount Gibralfaro.

Top Bucket List Experiences in Spain:

1. Watch a flawless flamenco performance in Tablaos of Madrid

Undoubtedly, Spain is one country that lives very much in the present and there's a reason 'fiesta' is one of the best-known words in Spanish language because life itself is a fiesta here! You'll sense this feeling well once you have seen and relished a live flamenco show at one of the tablaos (flamenco bars). These energetic performances include the dancers tapping their feet in happiness or anguish to the rhythm of a guitar or a singer's fanatical cry. Whatever sort it is, these are always passionate and intense and the ones happening in the capital Madrid are definitely not worth missing as here you have a chance to see flamenco at its purest every evening while enjoying a fine meal or a drink.

2. Dance the night away in Ibiza

If you like the non-stop party action and beach fun is on your mind, there's no better place to go than Ibiza, a Balearic island situated off the southern coast of Spain. Summers are the best time to match the vibe of this tiny yet awesome town as the beautiful bays and beaches are shimmered with sunny rays, making it a great beach holiday destination. It is also the time when jam-packed clubs stay open through the night until dawn when the sun finally rises over the sea and exhilarating electronic dance sets maddens the crowds with their beats and super fun ambience. Is Ibiza tickling your wanderlust too?

3. Run with the Bulls in Pamplona

Looking to be part of Spain's most popular high energy and intense fiestas? Nothing can beat the heat of the SanFermines Running with the Bulls festival. Each year, hundreds and thousands of visitors flock to Pamplona to participate in an energetic run alongside 12 tons of running bulls (Toros Bravos) which are set free in the morning to run through a prepared route around Pamplona. The bulls then chase and hound the runners (mozos) until they all reach the bullring. It is one of the most exciting activities and definitely an experience that deserves a space on the bucket list.

4. Explore the sultry shoreline of the Canary Islands

You'd be right if you are comparing Spain's Canary Islands to a tropical paradise. Tucked like a jewel on the coast of Spain, the Canary Islands offers a mass of beaches where you can lounge under the sun, carry out water sports and discover the surprising shades of nature in the nearby natural parks. What is best is the favourable temperatures that make the Canary pleasant all year round inviting the visitors in huge numbers than expected. Once you are done with the beach hopping and sunbathing, take some time to stroll the neighbourhoods of Santa Cruz or Las Palmas to get a taste of local life.

5. Get lost in the medieval charm of Granada

A mid-sized city with a distinctive old-age charm, Granada makes for a perfect destination for history buffs as well as nature enthusiasts. While the rivers like Genil and Darro crisscrossing through the heart of the city make it blissfully blessed with fertile plains and awe-inspiring landscape, the stunning architecture and art encapsulating the Andalusian history make Granada swell with pride for possessing a rich history and heritage. Attesting to the city's eventful history and places teeming with Arabic influences are its most notable landmarks such as Granada Cathedral, the famous Alhambra which is a grand Moorish palace with luxurious gardens and Arab baths and Moroccan tea cafes.

6. Gorge on the soul soothing Spanish appetizers

A mecca for gourmands, a place where good food, good mood and mood food are never too far, a hub where the cuisine is fresh, a local treasure trove of traditional recipes, Spain surely has its way to make to your hearts and stomachs. During your Spain tour, make sure you try the hot favourites tapas and paella that are widely available across all cities while also not missing any chance on grabbing the specialities like garlic shrimps, Spanish Croquetas and Tortilla and Gambas Al Ajillo.

7. Spend a beachy vacation in San Sebastian

One of Spain's most attractive and sophisticated resort towns located on the coast of the Bay of Biscay, San Sebastian is a picturesque region surrounded by surreal beaches that attract visitors from far and wide and the locals alike. Chic architecture, impressive plazas and emerald-hued parks dotted throughout the city further add to its well-deserved label of "pearl" of the North of Spain. Apart from its terrific culinary offerings, the isolated spots along the ocean, between narrow calles and atop its famous hillsides, make San Sebastian feel like it's a place all your own.

8. Squish & hurl some tomatoes at the La Tomatina festival in Bunol

Taking place in Buñol, a little village near Valencia, Spain annually during the last Wednesday of August, the La Tomatina festival is a treat for adventure lovers. One of the bucket list events for travellers worldwide, La Tomatina attracts thousands of travellers, warriors and party lovers who gather to hurl tomatoes at each other. While it is called the fruit fight, it's a fight of fun and love (deep down). And you won't know the pleasure of hurling tomatoes until you've tried it; trust us you'll just love the experience.

Explore the wonders of this high-spirited land with Dook

Thinking about planning a vacation to Spain? Expect a lot of history, good food, plenty of sun and fiestas– all in healthy doses! Plan your trip to this awesome travel destination with our special Spain tour packages from India that are designed by our travel experts! With our Spain Tour Packages, you can choose your favourite places to visit in Spain and explore the best of everything in this incredible country.