Incredible journeys to Vietnam with DOOK!
No matter your travel style, we have a Vietnam package tailored for you
Vietnam Tour Packages
Explore Vietnam with DOOK
Versatile Vietnam

Visit the best, the unexplored and the burgeoning in Vietnam with Dook

You have probably seen it in the otherworldly backdrops of a popular movie- Kong: Skull Island or countless war movies but nothing else than an exploratory tour to Vietnam can prepare you for the impressive beauty of this country. With its stunning landscapes, lush rice terraces carved into steep hillsides, rapidly evolving cities, intriguing history, lip-smacking food, pagodas and temples, the high-on-energy vibes and so much more worth appreciating, Vietnam stirs up all your senses and pulls you into its magic from all the angles.

Adventurous and captivating, advancing yet crammed full of culture, visiting Vietnam feels like a trip you've never taken before and therefore, it tops many travellers' bucket lists. Another gem in the South East Asia, Vietnam was once a lesser-known destination but gradually, as its innovative cityscapes continued to grow and people started to take notice of the country's astonishing blend of natural highlights and cultural diversity, its popularity skyrocketed.

For all the backpackers and nature lovers out there, Vietnam will surprise you with an abundance of natural attractions. Its assortment in the nature portfolio includes the vast paddy fields of Sapa painted with every shade of green in the palette, limestone islands and seascapes in Halong Bay, the massive caves in Phong Nha Ke Bang National Park, the wild and rugged beauty of Ninh Binh and many more that doesn't afford to be skipped off your Vietnam Tour itinerary. For the history buffs, Vietnam today throws a distant shadow of its past with the cities, its attractions and mausoleums steeped in a war-torn history. To relive the country's ancient times, you must visit Hanoi's Old Quarter, find a wealth of war history at War Remnants Museum, see the Hoa Lo Prison and Ho Chi Minh Mausoleum, tour the city of Hue or go inside the Cu Chi Tunnels. Add to that the ever-delightful authentic Vietnamese food that has also fast gained popularity around the world and not to brag but you can find anything on your platter-the healthiest, freshest, most insanely delicious food right here.

Vietnam is full of surprises and is one of Southeast Asia's most fascinating tourist destinations. Why not explore its versatile gems before anyone else does? Our travel specialists at Dook can help you prepare your Vietnam Holiday Packages covering the list of must-visit places in this incredible country.

Capital: Hanoi
Languages: English, Vietnamese
Currency: Vietnamese dong
Driving Side: Right
Best Time to Travel: Round-the-year destination but spring (March to April) and winter (September to December) stand out as the best months to visit the country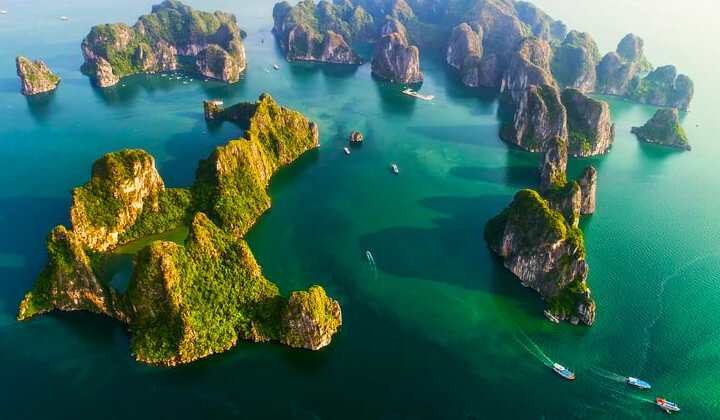 Explore Vietnam

Be it an enjoyable food tour in the capital Hanoi, seeing the spectacularly extensive rice terraces in Sapa, the picturesque limestone islands of Halong Bay, the huge karst mountains in the backdrop of Ninh Binh, the old imperial city vibes of Hue or the quaint mountain town of Dalat, Vietnam is a bundle of surprises and a country full of contrasts.

It is one extraordinary country where the bustling cities sit within a little distance of composed oceans and mounting limestone karsts. Where on one hand you will discover the cities that brim with tall skyscrapers and many museums that represent the glorious past, on the other authentically local front, you will see mopeds zooming through the roads, craft-making families selling items on the streets and the unmissable Vietnamese food exploding with many flavours. Leave the city bustle behind and you will be able to soak in the magic of the lush rice fields and coffee plantations which are indeed the 'must-discover' experiences on every bucket list out there.

Whatever is your reason to choose the stops you make on your Vietnam tour, the eclectic mix of the country's history, culture, landscapes and the 'oh-so-delicious' food make it so special and with Dook as your trusted travel mentor, you're sure to have an unforgettable trip.

1. Hanoi: where the streets rule!

Though the city of Hanoi is not the largest in the country, it still has been given the label of its capital which stands justified for all the good reasons. Nestled on the bank of the Red River, Hanoi is one bustling slice of Vietnam that has its one foot buried in an interesting past and the other striding ahead confidently towards the development. Here, you get to experience everything unique on the streets, be it the trains squeezing between rows of tiny old houses and cafes, the budding art scene, an array of food choices including a hearty bowl of sour crab noodle soup that will never disappoint or the addictive coffee culture that has lures many travellers from around the globe.

Out of all that makes Hanoi an authentic Vietnamese marvel, the Old Quarter and its food scenes stand out as the most favoured. This is one of the city's oldest areas, dating back to almost 2000 years. Here you'll see a perfect depiction of the local life in Hanoi represented well in the old houses, lining narrow alleys, locals transporting goods on the carrying and delicious street food and the aromas dominating every corner. While you may enjoy the fine dine at the growing band of cafes here, the real joy of having a steaming delicious bowl of Pho from a street stall is matchless. Bun Cha (made with barbecued pork) is another impeccable dish that is common only in Hanoi, so be sure to enjoy a few plates while in the city. And undoubtedly, the true rhythm of Hanoi life is reflected well in its leisurely coffee hours so sipping coffee, especially the signature egg coffee while in Hanoi, is highly recommended.

Beyond its fabulous food scenes, there is a lot to explore in Hanoi. Vietnam Holiday Packages booked with Dook let you travel around all the nooks and crannies in Hanoi that are worth discovering!

2. Ha Long Bay: the address to pure seclusion

Many who have seen the stunning seascapes of Vietnam on the internet will know these are synonymous with the impressive natural landscapes of Ha Long Bay. One of the famous and most coveted gems of the country and also a designated UNESCO World Heritage Site, Ha Long Bay is well-known for its limestone karsts and around two thousand islands dotting the turquoise-green waters. Cruises sailing across the emerald-hued waters among thousands of rugged islands and islets, making stops at the astonishing caves having centuries-old formations, the towering limestone karsts, seafood barbecues, kayaks going into the grottoes and lagoons - the mystical sights of Hạ Long Bay's beauty has made it a top bucket list attraction in Vietnam tour packages.

Though now a famous hotspot for travellers, Ha Long Bay also has some of the best-secluded corners that you can call your own. While around 40 are inhabited and most touristy such as the Cat Ba Island, the other islands remain uninhabited and covered in gorgeous lush vegetation, which makes them an ideal spot for hiking. Do try and visit the less crowded but equally spectacular Lan Ha Bay. Many of the islands are also home to famous caves where you can go on a thorough exploration tour. If following the usual tourist path isn't your thing, there are so many unique tour experiences to ensure you get to see the surreal beauty of the bay! There are a ridiculous number of options that give you an experiential trip around the bay– from having dinner in the caves, kayaking through the tiny tunnel to swimming on a secluded beach amidst the grottos, from biking past the rainforest on an island to squid fishing at night, the options seem endless. While you continue to dig in the wonders it comprises of and soak in its otherworldly beauty, Ha Long Bay will only leave you asking for more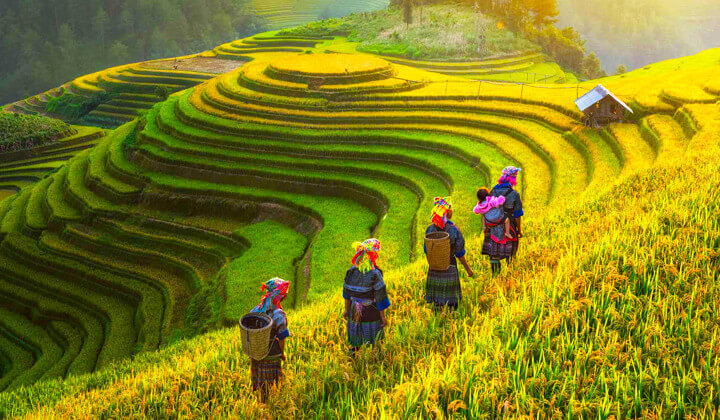 3. Sapa: Explore the scenic side of Vietnam

Situated in the northwest region of Vietnam, the small mountain town of Sapa is an absolute treat to visit. This "town of clouds", at a glimpse of an eye, effortlessly mesmerises the travellers with the beauty of the cascading terraced rice fields, plunging valleys, emerald mountains surrounding these impressive natural wonders and thick mist rolling across them.

Being blessed with splendid natural beauty, Sapa receives a diverse range of travellers. It is northern Vietnam's premier trekking base, from where hikers launch themselves into a surrounding countryside of lush rice terraces and tiny hill-tribe villages that seem a world apart. Once you've stepped out into these magnificent paddy fields, you'll understand the real charm of Sapa. Apart from being endowed by nature in abundance, what makes Sapa an alluring destination to visit is its fascinating cultural assortment. The tiny villages dotted upon the hillsides are home to a diverse array of ethnic minorities, each with their own rich culture and customs and these local hill tribes fill the town with nothing but lots of colour and warmth. This diverse combination of both cultural and natural essences packed into one tempting package called Sapa is worth experiencing while you are out on a Vietnam Tour.

4. Ho Chi Minh City: where the historic past abuts the dynamic present

Pulsating with energy, innovation and the iconic bits and pieces from the past–Ho Chi Minh City (previously called Saigon) is the main hub of the southern region and Vietnam's biggest city. This freewheeling metropolis on the move has a dynamic cityscape that draws together the old and new in a uniquely Vietnamese way while representing the city's past as well as its look into the future. Temples cluster amid the gleaming skyscrapers and designer shops; locals throwing bamboo fishing rods into Saigon River or slurping on the bowls of Pho, the tiny villages of the Mekong Delta give a glimpse into the usual local life flourishing well with development while the hotchpotch landscape of French colonial architecture exudes a European vibe.

Dive in deeper and you'll be rewarded with a wealth of history and culture, delicious food and vibrant nightlife at Bui Vien that ranges from chic street corners to classy cocktail lounges. What gives a fascinating push into the history is an array of exciting tourist attractions, ranging from the War Remnants Museum which is dedicated to educating visitors about the atrocities of the Vietnam War, captivating water puppet shows, the must-visit Cu Chi Tunnels, Reunification Palace and many more.

Check out our best in market Vietnam Tour Packages extensively covering Ho Chi Minh City and its marvels.

5. Hoi An: banking on the bygone charm

An ancient and beguiling riverside town with well-preserved buildings and temples that date back to the 17th century, Hoi An Town is an exceptionally preserved example of a Southeast Asian trading port with an alluring charm. It is the reason why Hoi An has been listed as a UNESCO World Heritage site. Its buildings and its street plan reflect the influences, both native and foreign, that have combined to create this unique heritage site.

Walk around the Ancient Town, cross the Japanese Bridge and you'll find plenty of shops, cafes and a well-preserved maze of shophouses and pagodas with colourful paper lanterns zigzagging from building to building that look like traditional old and yellow structures. It is gorgeous at any time of the day but at night, it turns into something completely magical! After marvelling at the paper lanterns and the ancient charm of the city, you may want to explore Hoi An Night Market which is a typical Asian night market selling street food, drinks and souvenirs. You can also choose to make your way towards the My Son Temple Complex which is a great day trip from Hoi An. Loads of backpackers tend to get stuck in the city because of its appeal and if the touristy scene gets too much for you, the town's outskirts and the pristine surroundings will have you covered.

6. Hue: brimming with history and culture

Despite the rapid urbanisation and cultural absorption that is erupting in other parts of Vietnam, Hue, on the contrary, takes pride in its extensive history, impressive temples, royal palaces and exceptional cultural traits that can hardly be found elsewhere in the country.

The former capital of Vietnam situated on the banks of the Perfume River, Hue is perhaps the easiest city to love and spend the time in-the justifiably famous cuisine, streets that are relatively traffic-free, art déco mansions, bright thriving markets, pretty vistas and so much more to draw your attention to. History buffs are in for a real treat as the city boasts a rambling ancient architecture, engaging museums and ancient tombs of former emperors which are dotted all over the city, providing you with an interesting insight into Hue from the ancient days.

Top Bucket List Experiences in Vietnam

1. Gaze in wonder at the sweeping natural landscapes of Ninh Binh

With a wild nature and divine 'straight-out-of-a-movie' landscapes, Ninh Binh is one of the most beautiful places in the country. Though lesser-explored than the other Vietnamese destinations, Ninh Binh sits inside jutting towers of limestone karst. One of the most charming and stunning karst sceneries in the world lies in Trang An Eco-tourism complex. You will be able to see a wide variety of hat-shaped limestone mountains that match Halong Bay well for a magnificent sight. Explore the natural and cultural heritage of Bai Dinh Pagoda, Tam Coc – Bich Dong, Van Long Nature Reserve, Hoa Lu or Stone Church of Phat Diem and you will be amazed by the versatility of this region.

2. Sapa's terraced rice fields are a must-visit!

When you travel to Vietnam, this experience is a must-do. Leisure travellers who opt to trek the mountainous Sapa region close to the Chinese border are rewarded with the captivating views of terraced rice fields that are hard to forget. Although these fields are man-made, the natural surroundings make the experience breathtaking. Once you soak in all the beauty of the rice fields, an opportunity to live like a local awaits you. The overall tripping experience here allows you to meet the ethnic minorities who still live an authentic way of Vietnamese life and live with them while you learn about their culture and cuisines in a fascinating home stay experience.

3. Eat like a local on the streets of Vietnam!

When visiting Vietnam, you shouldn't miss the opportunity to lose yourself in the street food scene here as it is lively as ever. Most people, when they hear Vietnamese food, the first word that pops in the mind is 'Pho'. It is a signature local daily staple, a soup broth dish prepared with rice noodles, fresh herbs and meat and there is nothing like starting your day with a hearty bowl of Pho. Spicy beef noodle soup is another hot sibling of Pho that is both tasty and addictive. But there is more to Vietnamese food than just these flavoursome bowls of happiness. A portion of equally popular street food includes Bánh mì, a Viet-style French baguette sandwich which has made a name for itself globally and you can find them abundantly on the streets of this food-loving country. You will also find sea snails, Hoi An noodles, gỏi cuốn (spring rolls) easily on the street food carts. If you want to try the specialties, do not forget to taste the smoky bun cha which is originally from Hanoi and of course, the egg coffee which itself makes the trip worthwhile.

4. Stopover at the idyllic Phu Quoc

Circled by azure waters, edged with the powdery beaches, known for its romantic sunsets and evergreen forests, Phu Quoc is truly the Vietnamese paradise sitting quietly in the far south of the country. Though it is relatively untouched due to its status as a UNESCO-listed national park, there are plenty of lavish resorts, funky bars and picturesque cafes lining along the southern coastline which makes it top the charts for an ideal holiday destination in Vietnam. From sipping in a seaside cocktail to grabbing a bike and hitting the roads to explore, from the local markets selling fresh seafood to street food and luxe bistros, from unblemished jungles to traditional villages, expansive nature parks and Buddhist pagodas, the various choices offered at Phu Quoc will make you go weak on knees.

5. Wind down or gear up for adventure in Da Lat

A hill station dating back to the French colonial period, nestled in the hills of the Central Highlands and a popular spot for tourists, Da Lat is ideal for both peace–seekers and adventure buffs. While a few choose Da Lat for its fresh mountain air, lakes, gardens and pure serenity dominating the environs, the others flock here to participate in a host of adventure sports like trekking that happen within a naturally attractive backdrop. Many people call it 'Le Petit Paris' and the town also features a mini-replica Eiffel Tower in its heart! If you want to explore a little further, the hills around the town are filled with traditional tribal villages, which you can explore and also visit the creatively titled palaces.

6. Fancy a sun-bathing break? Nha Trang is for you!

A modern high-on-energy Vietnamese resort town, Nha Trang is an idyllic place enjoying a dramatically beautiful setting- a choker of hills, a turquoise bay dotted with tropical islands and a sweeping white beach defining the shoreline. It is a haven for sun-loungers and solace-seekers who find their kind of relaxation in the town's main beach Tran Phu and its colourful beachside bars, seafood restaurants and vibrant nightlife. Though the beach vibing is an everyday thing in Nha Trang, you can also find a few traditional fishing villages in the area and impressive cultural sites to explore. What's more- Nha Trang is a famous hub for providing the best of mud baths where the tourists jump into the mineral-rich clay used to increase moisturisation as well as circulation and take in the therapeutic benefits.

7. Hop on a motorcycle and roam like locals!

So true to the fact that there is something about riding a two-wheeler freely that makes you feel alive again and given that the place you are exploring on two wheels is as beautiful as Vietnam, every minute of the ride is worth it! Whatever the highlight of your Vietnam Tour Package is, nothing beats the experience of winding through the alleys and stunning backdrops of the countryside from the back of a bike. It is easy here to become one among the locals, hop on a bike and go for an early morning ride through emerald rice paddies, down country lanes and over the spectacular Mountain passes or take a motorbike after dark for a romantic ride on the banks of the famed rivers.

8. Take a walk across the Golden Bridge in Da Nang

Nowhere in Vietnam is changing as fast as Da Nang; this third largest city has gained a reputation among the most visited by domestic and foreign tourists alike. Thanks to its spectacular attraction, Golden Bridge has taken a high ranking continuously on many architectural charts since the opening day and has eventually topped the charts as a must-go place for tourists. This curved golden bridge at Da Nang appears to be held up by two giant stone hands, which are constructed from fibreglass and wire mesh positioned around steel supports. What adds to its rugged and raw beauty is that the bridge's hands are purposely decorated with cracks and moss to make them look like aged stone ruins. More than just being a marvellous architecture piece, Golden Bridge has been affirming itself as a symbol of Da Nang's tourism since its opening in June 2018 and the influx is gladly ever-growing.

9. Kayak through the towering limestone karsts of Ha Long Bay

Out of all that's interesting and intriguing in the picturesque region of Ha Long Bay, the most adventurous is to take in the sights through kayaking. As you paddle between the towering karst cliffs, rocky islets and caves, it feels like gliding through another world. The vertical islands masked in the bonsai forests lead through a maze of calm waterways that eventually make the way to hidden lagoons and sea caves that are undeniably beautiful. Though the local people still believe in the fables of dragon gods still lurking in the water, the mysteriously attractive atmosphere itself makes the place top our bucket list experiences. Spare a day for the exploration and you won't return disappointed.

You can experience the majestic Halong Bay and its epic landscapes with Dook's bespoke Vietnam Holiday Packages. Book today!

Discover Vietnam's astounding landscapes with Dook

Vietnam is a country with its cities radiating the most beautiful views that you can have all to yourself. With the people as friendly as ever, food as scrumptious as ever, its history as alluring as ever and the bits of everything, Vietnam is waiting to be explored. What's holding you back? To help you plan an unforgettable trip to this versatile land, Dook offers the best assortment of highlights that are covered keeping your interests and preferences in mind.