Incredible journeys to Belgium with DOOK!
No matter your travel style, we have a Belgium package tailored for you
Belgium Tour Packages
Explore Belgium with DOOK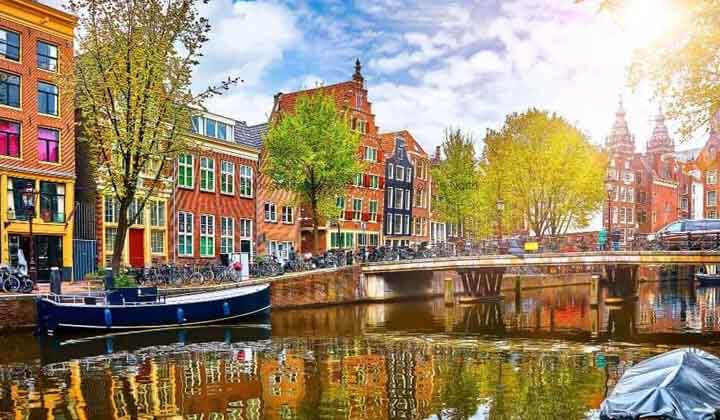 Belgium: a delight in disguise

Unveil its surprising treasures with Dook's Belgium Tour Packages

The peaceful canals of Bruges and its perfectly preserved medieval streets, battlefields of Flanders, Grand Place of Brussels, Antwerp's fashionable vibes, the decadent Belgian chocolate, belfries and beers, crazy carnivals and the renaissance architecture influenced by a mix of cultures- with everything incredible and extraordinary, how could anyone get bored of Belgium? Even a brief about this beautiful country situated in the Western part of Europe is fair enough to give you #travelgoals for your trip to Belgium. Situated between France and The Netherlands, Belgium is often known as the Essence of Europe and is one of the delightful destinations to visit, however, people booking a Belgium tour often restrict themselves to Brussels but there's a lot more to explore in this utterly surprising chunk of Europe.

Rich in art and culture, abundantly full of good food and beer, stunning architecture decorating the quaint cobblestone squares, high-spirited, carefree and elegant, Belgium is sinfully delightful as a country of welcoming connoisseurs. Among the many popular things to do in Belgium, tourists must visit the Bruges that gleams gloriously with its well-preserved medieval state streets filled with museums and chapels and no visit to Bruges is ever complete without taking a ride to cross its serene canals. Brussels, the capital city, has the most beautiful square called Grand Place which has scores of restaurants and ancient buildings and it definitely makes for a bucket list experience. Nearby towns such as Ghent and Mechelen also display an excellent picture of the architectural beauty of the country and are a must-visit. For the history buffs, there are hundreds and thousands of sites to explore while the ardent politics followers can find themselves busy digging in the history of the EU as the country is home to the European Union itself. But what most travellers find more interesting here are its beers, chocolates and fries. The beer aficionados will be in for a real treat as Belgian breweries here give intriguing insights into hundreds of world-famous Trappist beers and the people that make them. And then they have the Belgian chocolate that rivals those made in Switzerland, offering a hearty indulgence. The country also offers an incredibly wide range of leisure quests, including plenty of walking trails and footpaths across the Plateau des Fagnes fenland, cycling, theme parks, vintage fairs and flea markets along with a huge number of music festivals catering to all the preferences tastes.

There's much more to Belgium than just the beer and breweries, the history and heritage and you must head out to explore all its treasures! Read on to find out more about what makes the travellers tick Belgium in most of the bucket lists. If planning a tour soon, do get in touch with us to know more about our wide range of Belgium Tour Packages from India.

Capital: Brussels
Languages: Dutch, French, English
Currency: Euro
Driving Side: Right
Best Time to Travel: Round-the-year destination. But the preferable time is between mid-May to October. The best time to experience Belgian summers is between July to September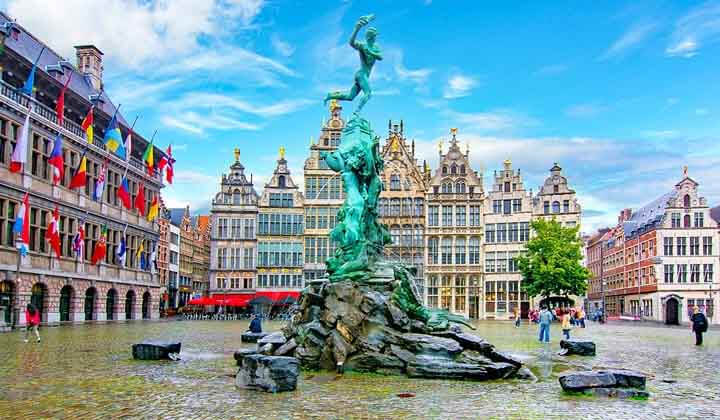 Explore Belgium:

For many years now, Belgium and its wonderful cities have attracted tourists from every sphere and of almost every age. While many of its lovely city centres are drenched well in history and art, with impressive cathedrals and castles dotting every nook and cranny, many little towns have become the loving home to Belgian specialties like beer, bonbons and chocolates along with a wealth of dining options and bars which cater to every taste bud out there. Tourists visiting Belgium will be welcomed with the buildings that have been standing there for almost a thousand years, with squares and parks that are a photographer's dream and with rolling hills and forests that look so surreal.

The country is split roughly across the middle by Flanders in the north and Wallonia in the south. While Flanders is proud of its medieval art cities of Antwerp, Bruges and Ghent, Wallonia is much famed for Ardennes, the castles and the towns of Liege, Namur and Tournai. Most of the tourists who love to follow the typical tourist trail will be happy to stroll the medieval streets of Bruges and take in the multicultural vibes of Brussels but someone who is badly bitten by the wanderlust bug will find something new to explore in the pounding nightlife of Antwerp, the colossal cliff-face of Dinant, sandy beaches of the north, forest-edged kayaking rivers, the early 20th-century Art Nouveau townhouses of Victor Horta and so much more that truly deserves to be on the bucket list.

The days you will spend here will be some of the best to recall and to make them truly memorable, you must book your Belgium Tour only with Dook and select from our wide range of Belgium Holiday Packages or get one personalised according to your travel needs.

1. Brussels: a mosaic of cultures and more…

Unlike any other Belgian city, Brussels, the thumping heart of the country, has a much different vibe all together- classic and vibrant with a small-town vibe. Apart from being the political hub of Belgium (home of the EU, NATO and other huge organizations) with a major role of the 'capital of European Union' credited to its name, Brussels has an international flavour in it, a rich assortment of cultures and languages that makes it a great place for even a learning French-speaker to get by without an issue and even for the gourmands looking for diverse flavours in the restaurants and cafes. Another undoubted highlight of the city is its architecture which is as extensive and dazzling as it is elegant; you'll find lovely art nouveau buildings giving way to extravagant mansions that are adorned with cartoons which shows an important side of Belgium's cultural heritage. Undoubtedly, there is so much to discover in this multicultural place and even though it is underrated, it definitely is worth a visit.

Among its topmost highlights, the one that is commonly chosen by the tourists is La Grand Place, a UNESCO World Heritage Site originally built in the 13th century. Also called the Grote Markt, this place is arguably the most beautiful square in the world and is home to medieval guild houses. Continue your walk along the Rue de l'Etuve and make your way to the city's other famous and amusing landmark, the Manneken Pis which small bronze statue of a little boy relieving himself while urinating. Are you an art fanatic? The city is home to Mont des Arts that includes the Museum of Ancient Art (Musée d'art Ancien) and the Museum of Modern Art (Musée d'art Modern); the Magritte Museum; and the BELvue Museum, which delves into the country's history. Love chocolates? Find your way to Place du Grand Sablon and drool over these sinful delights across the numerous chocolate shops. What's more? The city has a 19th century covered arcade for shopping, amazing dine-in cafes to taste the local delights, a Mini- Europe, the nine spheres of Atomium and lots more that we definitely do not want you to miss out on during the Belgium Tour. A sight a real treat here is (if visiting in August) when the city centre is filled with the Flower Carpet, made up of more than 700,000 cut begonias.

Book from our collection of Belgium Tour Packages today and get your favourites added to the itinerary.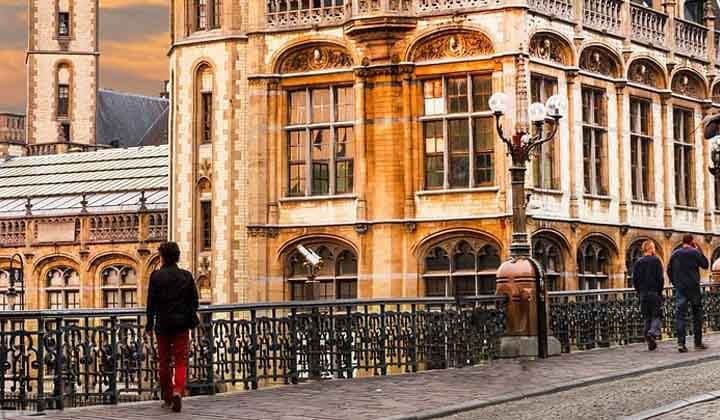 2. Bruges: the touristy "Venice of the North"

So rightly nicknamed as the "Venice of the North", this distinctly and perfectly preserved medieval old town is one of the prettiest sights in Belgium. While its picture-perfect narrow cobblestoned streets are dreamy to explore, Bruges' sleepy canals and café-lined squares lure the tourists around the year. Bruges is the capital of West Flanders and is at the top of most people's lists for must-see cities in Belgium; the reason why it can get overcrowded with tourists so it is better to visit here in the mid-week. The wealth of majestic buildings, beautiful architecture with a tinge of modernity makes the tourists choose to explore Bruges time and again.

If you wander around this lovely city, you'll find plenty of things that are usually quite tourist-friendly and even off-beat for the aficionados. While most of them find their portion of fun and peace in the chic bars and cafes hidden away amongst its alleys, others would definitely start their day at the Markt and Burg Square which are right at the heart of the historic district. The Markt's most famous feature is the Belfry, a medieval bell tower with a carillon of 47 bells that sits atop the Halle. If visiting the Burg, you will find yourself instantly enchanted by the Basilica of the Holy Blood, best known for having a flask of what is said to be Jesus' blood. And no trip to Bruges is ever complete without taking a tour through its popular canals that are a wonderful reminder of the city's bygone era. A stone's throw away from the city is the picturesque and historic town of Mechelen which is an ideal choice if you want to visit the less touristy trail.

3. Antwerp: the capital of 'cool and trendy'

The second-largest city in Belgium, Antwerp is known for its uber-cool vibe, funky bars and crazy nightlife, hip and trendy fashion boutiques and art outlets. Also known for its roaring diamond trade, it is astonishing to know that this city is the maker of almost 70% of diamonds in the world. Definitely, the one standing ahead in the crowd of coolest cities in Belgium, Antwerp makes for a fun and entertaining place to spend some happy and hearty time with your loved ones. With a hipster food scene, art found abundantly in the city, cozy cafes, craft breweries and the avant-garde designers notching up the fashion scene, you will be heavily occupied with so much to discover.

Even though the city has a horrific history of being destroyed badly during WWII, there still are some wonderful historic sites to visit, some of which may be found in the compact centre of the city. These include the 14th-century Cathedral of Our Lady, the Gothic and Baroque features of Saint Paul's Church, the street of Cogels Osylei and the stunning central train station. If you love art and are a fashion follower, you are in the right place as these two segments have a significant legacy in the city. Do visit the MoMu Fashion Museum and glamorous Antwerp Fashion Academy while also making sure to check out the amazing museums nearby which include the famed legendary painter Rubens' own house and then there are lots of others to explore. Also, when you are here, you can always take a trip in a horse-drawn carriage through the old city centre which is a must-do experience.

Cap your visit to Belgium by including Antwerp in the selected Belgium Tour Packages and you'll thank us later!

4. Ghent: the cultural and urban cocktail

One city that truly is well worth a weekend trip in Belgium is Ghent (also called Gent). It is often overlooked by its popular neighbours; however, it is a charming concoction of culture and trendy, modern life, flowing out just the chill-out vibes and is a must-visit during your Belgium Tour. There are these canals running along with the guild houses and markets and charming facades that add up to the beauty of the city. And then there are some great museums, beautiful historic buildings, bars, notably old churches and an old castle that will delight any and every visitor. If we say what Ghent is in a nutshell, it surely is one fantastic place to live in, which may be small enough to get around with ease but large enough that you won't get bored.

The important landmarks that you should add to your Ghent trip bucket list include the Romanesque Koornstapelhuis, one of the oldest buildings in the city; The House of the Masons and House of the Free Boatmen; the Customs House (Tolhuisje); The Korenlei Canal; city's old market area; Gravensteen Castle, Cathedral of St. Bavo (Sint-Baafskathedraal); the Saint Michael's Church and more alike. Don't miss the chance to admire the world-famous masterpiece—the Mystic Lamb by the Van Eyck brothers. If you want to get some colourful and quirky photos to upload on your gram, go to Ghent's graffiti street which truly is a treat to the eyes.

Top Bucket List Experiences in Belgium:

1. Visit the most beautiful city square in Europe- Grand Place

Also known as Brussels Square or precisely the most beautiful square courtyard in entire Europe, Grand Place is one of the significant highlights of a Belgium Tour. From street performers to night light shows, from the thoughtfully restored buildings to the lovely pre-historic streets, Grand Place is a hive of activity happening all year round. This prestigious square which today stands proudly as the UNESCO World Heritage site also plays a host to several festive activities including concerts, fairs, cultural events, a tree and nativity scene during Christmas and some of the symbolic events like receiving athletes following sporting events and the Ommegang festival.

2. Traverse through the extraordinarily beautiful bridges & canals of Bruges

While the medieval gem of Bruges is definitely the one best enjoyed on foot, it is satisfactorily seen from the waterline as well. Thanks to its series of canals and picturesque bridges that have made the town a topmost choice for most of the travellers. You can either choose to stroll along the banks of these canals and discover the romantic low-lying bridges or hop in a tourist boat and cruise along with the city's magnificent architectural marvels while getting a glimpse into hidden gardens that are otherwise explored best on foot. Take your time to relax, stand still with time looking at the city's medieval facades but do not forget to take your camera for some amazing postcard pictures.

3. Explore the hidden gem- Liege, Wallonia

Scenically situated on the river Meuse, this little industrial town of Belgium but the largest in Wallonia abounds with some unmissable architectural pieces found hidden like treasures in every corner. While its industrial past is evident in its treasure trove of historical sites, the notable collections on the other hand like prestigious archaeology, decorative arts, religious and Mosan art museums, a glass museum as well as the famous weaponry museum add to its appeal. The city is also fast-moving towards modernization and this swift progress can be seen through Liege's fantastic waterside promenades which are perfect to wander along as well as its centre that is packed with has some awesome restaurants and lively nightlife for you to experience.

4. Discover the adventurous side of Ardennes Forest

If you feel like going on adrenaline-pumping skiing or an adventurous hike, the Ardennes Forest is the go-to place. Covering an area of over 11,000 square kilometres, this place is ideal for outdoor sporting pursuits. There are hiking trails for all kinds of travellers, from challenging long-distance to short walking getaways, you will pass through the idyllic natural areas while enjoying an active holiday. What really adds to the appeal here are the dense forests, low hills, rivers and fascinating villages making this countryside a huge playground for adventure explorers whereas they can also enjoy a lot of guilt-free gourmet journeys here. From wild boar to smoked ham and the region's most famous Trappist beer called paté, the things to enjoy here are utterly adventurous in every aspect.

5. Gorge on the Belgian delicacies

If you are planning to visit Belgium next, be prepared to add those few extra inches to your waistline without any regrets because the food, chocolates and definitely the beer in the country are unmissable. Belgium's range of appetizing specialties is remarkable- from Brussels and Liège competing over their perfect Belgian waffle to the countless specialty shops selling some of the world's most luscious chocolates. Don't leave Belgium without having mussels that are served either steamed, in soups or casseroles – always accompanied by frites which are indeed the country's most beloved obsession. Then, of course, there's beer because, in Belgium, brewing is like a mystical art that comes out in different styles, most notably the six great Trappist beers, still created by monks using age-old methods. Well, I'm drooling over these soul-soothing specialties even while typing, aren't you?

Discover just the best in Belgium with Dook

Whether you are here to soak in the cornucopia of culture and history, to explore the lovely little towns and cities in the country, or to fill your bags and tummy with the Belgian chocolates, you'll find everything best to enjoy as Belgium is nothing less than a delight in disguise. To help you explore the exciting and offbeat things to do in Belgium, Dook has created a wide range of Belgium Packages. Book your Belgium Tour with us today and you'll thank us later.
Explore More: Top Attractions in Belgium