A Bazaar is a marketplace or street where people exchange goods or services. Bazaars have been in existence since centuries. So it is not wrong to say that if you want to feel the culture of a place then visiting Bazaar over there is the easiest and appropriate way. On top of it you can buy interesting stuffs from Bazaar. There are many old Bazaars in the world. One of them is Osh Bazaar in Bishkek, Kyrgyzstan. Bishkek is the oldest city of Kyrgyzstan and so Osh Bazaar is oldest Bazaar of Kyrgyzstan and entire Central Asia region. It is one of the largest Bazaars in Bishkek as well. You think of anything like food products, any household items, clothes, souvenirs, musical instruments or any other item and you will get all of them here at Osh Bazaar. So if you are on a Bishkek trip then you must go to Osh Bazaar.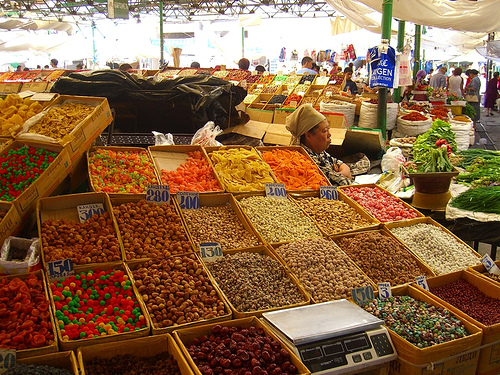 The chaotic swell of people that duck and weave around Osh Bazaar make it one of Kyrgyzstan's main attractions. It's one of the largest in Central Asia and an excellent place to people watch or buy souvenirs, and everything else under the sun. The Bazaar is located on the west side of town Bishkek and is the main Bazaar of Bishkek. When you are on Bishkek tour and once you are at Osh Bazaar, the colourful Osh Bazaar will probably stay in your memory forever. It tells you about local life and culture and it sells everything. Osh Bazaar, the shopping center of Bishkek was a key stop on the ancient Silk Road through Central Asia. The smell of spices, the crowd leaving little space to move, haggling of smiling vendors and much more gives you a vibe of multicultural intensity of the Bazaar.
Osh Bazaar is chaotic. So you need to be aware while passing through narrow streets here. Vendors here are generally warm and welcoming in nature and will make you taste many fruits. Raw foods like spices, oil, seeds and many more items you will find here. Kyrgyz people love sweet so you can find candies, chocolates, biscuits, juices and many other sweet items. If you are looking for Kyrgyz snack, this is the city's best known food bazaar. There are hundreds of products to choose from, especially in the spring and summer months when produce is fresh from farms in the outskirts of town. There is a separate clothes market south of the main produce bazaar. To get there you can take trolleybus. Like any crowded space, be wary of pick-pockets; however visiting the Osh Bazaar is a rewarding trip. There are also smaller markets including Alamedin Bazaar and Ortosay Bazaar, which are open daily but are at their largest and most interesting at weekends. There is exotic meat market as well.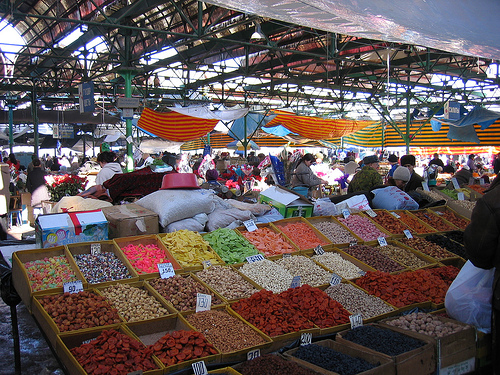 Osh Bazaar is said to be operating on the same place since last 2000 years. All visitors who are on Kyrgyzstan tour love to visit Osh Bazaar. For locals Osh Bazaar is integral part of their life and for visitors it is a colorful and historic place to be at. Traders come here in numbers not only from all over Kyrgyzstan, but also from China, Uzbekistan and Tajikistan. The Osh bazaar is open 7 days a week from early morning till evening. Osh Bazaar is most crowded on Sundays, and less on Mondays. Now when you know that Osh Bazaar is colorful market place and has everything you can think of buying on offer, you must visit Osh Bazaar when you take a Kyrgyzstan Travel Package or Bishkek Tour Package.
Explore Kyrgyzstan Tour Packages with Dook International, check our Kyrgyzstan holiday packages as below –
Bishkek 3 Nights and 4 Days
Bishkek 4 Nights and 5 Days
Bishkek 5 Nights and 6 Days
Bishkek winter 3 Nights and 4 Days
Bishkek Winter 4 Nights and 5 Days
Bishkek Winter 5 Nights and 4 Days