Incredible journeys to United Arab Emirates with DOOK!
No matter your travel style, we have a United Arab Emirates package tailored for you
United Arab Emirates Tour Packages
Explore United Arab Emirates with DOOK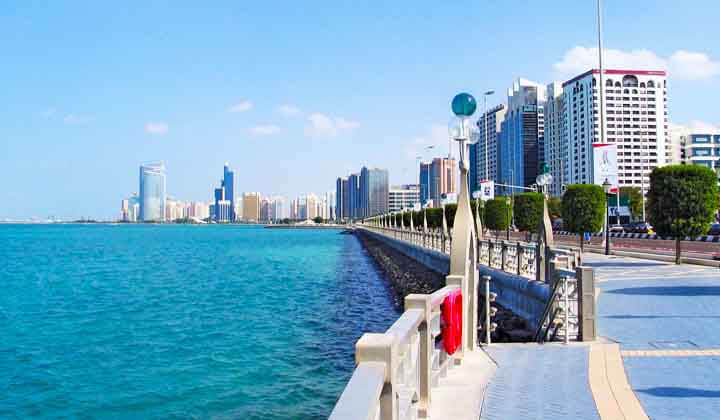 UAE: Top choice for the curious onlookers
Dook takes you closer to this land of infinite opportunities
The United Arab Emirates, popularly referred to as the UAE, is a federation of seven independent emirates namely- Abu Dhabi, Dubai, Ajman, Fujairah, Ras al-Khaimah, Sharjah and Umm al-Quwain. One of the most popular choices for travellers today, UAE offers a wide range of options for both leisure and business travellers. From the vast stretches of deserts, dramatic mountains, cultural monuments, old souks to tech-driven attractions, lavish shopping malls and boutique hotels, the country is an eclectic mix of the old and the contemporary.
Initially, the boost in tourism was significantly connected to the development in Dubai, one of the first emirates to expand horizons for tourism. However, with time and strenuous efforts, the other emirates stood cheek by jowl in competition with Dubai and continually added/ upgraded their distinctive tourism offerings. Today, these emirates have their own unique identity and some of the most irresistible options for visitors.
One thing that remains common through these seven emirates is the Arab courtesy and hospitality which are the most highly prized virtues among the UAE people. And without a doubt, this welcoming vibe has been enticing more than the expected number of visitors, year on year.
We, at Dook, have some of the most thoughtfully curated United Arab Emirates Tour packages. What is stopping you to book an exciting UAE trip with us today?
Capital: Abu Dhabi
Languages: English, Arabic, Urdu and Hindi
Currency: Emirati Dirham or UAE Dirham (AED)
Driving Side: Right
Best Time to Travel: Between October and April
Explore UAE:
The UAE, for the last many years now, has been recognised as the leading tourism destination in the Middle East. Thanks to the consistent and robust developments on the infrastructural front, unique promotional campaigns and a secure environment for all its visitors.
Truly called a modern cultural paradise of the Middle East, the UAE has stood out as a strong country that is open to all kinds of travellers. Whether it's the towering Burj Khalifa in Dubai, the grandeur at Sheikh Zayed Mosque in Abu Dhabi, a cultural trip to Sharjah or an adventurous escape to Ras Al Khaimah, these emirates in the UAE offer infinite tourism opportunities.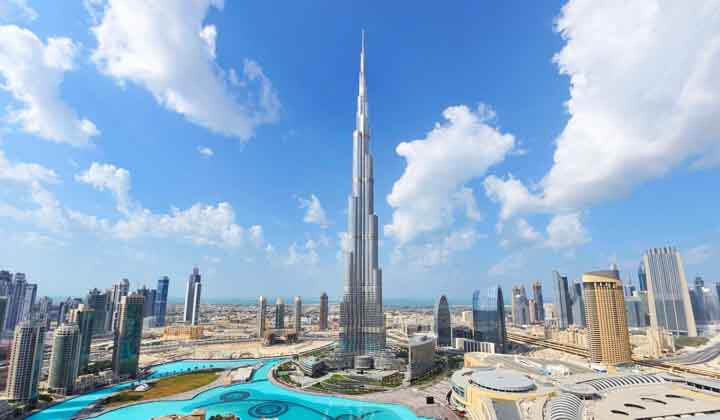 1. Dubai: The city that breathes innovation


Offering the ultimate future-ready experience with a touch of ancient Arabic aura, Dubai has been winning hearts over the years. The most progressive and modern of all the emirates,
Dubai
has been developing at a steadfast pace, especially in the sectors of tourism and trade.
With its ever-expanding infrastructure and every attraction created with utmost precision,
Dubai
has the potential to lure all kinds of curious explorers. You need to just pick and choose a segment of travel and an entire list of options is rolled out in front of you. Soaring views of Burj Khalifa, dhow cruise dinner, thronging beaches, man-made islands, theme parks, magnificent cityscapes, souks, adventure activities and what not!
There is no doubt that tourism has been the lifeline of Dubai for the last many years but the pandemic that crippled numerous countries across the world, couldn't do much of a loss for Dubai. This second largest emirate of UAE became one of the firsts to prepare, adapt and persist. It has not just become a centrepiece encouraging post-pandemic travel but also the most accessible tourism markets.
On The Wander-List:
Dubai Mall, The Dubai Frame, Ain Dubai, Global Village Dubai, Palm Jumeirah, Bollywood Parks Dubai, Motiongate, Mall of Emirates, Dubai Miracle Garden and more.
2. Abu Dhabi: An epitome of culture and modernity
No
UAE trip
is worthwhile if you are coming back without visiting
Abu Dhabi
. The capital city of the United Arab Emirates is beyond just being known as the oil city. While the Dubai trip may give you sure-shot excitement, a
trip to Abu Dhabi
(one hour on road from Dubai) will leave you pleasantly surprised. Its stylish blend of culture and traditions and noticeably modern attractions has been tempting the visitors, especially the families.
As the city is continually developing itself into a thriving destination from a slow-paced emirate, it has successfully created a class edge identity today. Extravagant hotels, shopping mega-centres, impressive cultural monuments, high-rise buildings, some of the finest theme parks, improving air connectivity- Abu Dhabi has all that a leading and well-managed tourist destination should comprise of.
While the pristine Emirates Palace and Sheikh Zayed Mosque are a sight to behold, the unique and adventurous visit to Ferrari World or Warner Bros. is the most remarkable experience. Saadiyat Island, Heritage Village, Wadi adventure and Qasr Al Hosn are some of the lesser-explored marvels.
On The Wander-List:
Warner Bros., Clymb, Ferrari World, Sheikh Zayed Mosque, Louvre Abu Dhabi, Gold Cappuccino at the Emirates Palace, a walk along the corniche, Yas Island, Saadiyat Island.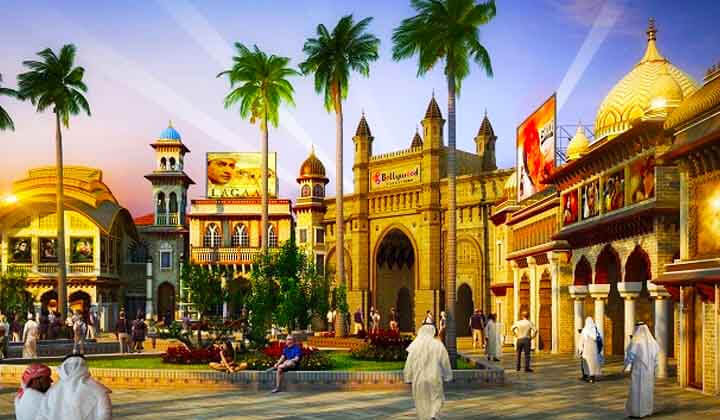 3. Ras Al Khaimah: The feast for adventure and nature lovers

One of the emirates with magnificent landscapes and a proven record of stability, Ras Al Khaimah, is a perfect getaway and a treasure trove of wonderful experiences. This rich-in-adventure destination is nestled between the Hajar Mountains on the East and shares mountainous borders with Oman. It offers a fascinating mix of recreational and adventurous activities and an authentic Emirati vibe.

A welcoming emirate, as stated on its official website, Ras Al Khaimah has a surreal and simple ambiance that is loved by anyone and everyone. The Via Ferrata experience, which offers 3 different ziplines and rock climbing, is sure to get your heart racing. The World's Longest Zipline, Jebel Jais Flight, offers a rush of adrenaline to adventure junkies. The Hajar Mountains and the Jebel Jais in particular, offer various hiking experiences as well as the opportunity to camp or go mountain-biking across the terrain. The experience at quaint fishing towns or a relaxing spa massage in one of the exotic resorts wrapped inside the deserts is a much-needed rejuvenating experience. Whatever time of year you plan to visit or whatever the experience may be, RAK offers a huge choice of activities for all while presenting exclusivity on its platter.

RAK also tends to be a little cheaper than Dubai. So if you intend to have an ideal Arabian holiday with adventure and relaxation in your itinerary, but you aren't a fan of big cities, this could just be the destination for you. It is easily accessible from Dubai with a travelling time of just 1 hour.

On The Wander-List: Jebel Jais, Flamingo Beach, Saqr Park, Al Qawasim Corniche, Bedouin Oasis Camp, Al Hamra Mall, Dhayah Fort, a road trip to Hajar mountains.

4. Sharjah- The culture cosmos

Sharjah, the third-largest emirate in the UAE, holds a distinct position as a cultural tourism destination that attracts millions of visitors from across the region and worldwide each year. Overlooking the Arabian Gulf and the Gulf of Oman, Sharjah features a unique blend of the old and new and is drenched entirely in affluent culture and age-old traditions.

From the steadily rising tourist numbers to the numerous expansions taking hold in the emirate's hospitality and tourism facilities, all signs point to promising growth for Sharjah's travel sector. The emirate has carved out a niche for itself as a year-round, family-friendly destination. The emirate has also come to be known for its cultural festivals, including book fairs, painting exhibitions, theatrical performances and publishing activities. With such a dynamic portfolio, Sharjah has always taken a step ahead to promote itself as a leading tourist destination and a cultural hub of the Middle East.

Apart from culture, the city life in Sharjah is as vibrant as its picturesque setting. The waterside dining, dhow cruises, beachside fun and city sightseeing tours make your visit even more enjoyable.

On The Wander-List: Sharjah Art Museum, Sharjah Fort, shopping at Central Market, Kalba, Al Qasba, Al Montazah Island, Al Noor Island.
Top Bucket List Travel Experiences in UAE:

1. Adrenaline pumping zip lining in Jebel Jais

Jebel Jais is the UAE's tallest mountain and is every bit as exciting as a mountain adventure should be. The raw scenic beauty, sweeping views, natural landscapes perfect for thrilling activities and sometimes absolute isolation- what else can one ask for!
You can fly over the breathtaking cliffs and canyons of Jebel Jais, as you zip from platform to platform in the unique zip lining experience. Covering a total distance of 5 km via a series of 7 zip lines, ranging from 337M to just over 1KM, the zip line tour at Jebel Jais will give you a picturesque, bird's eye view of the Hajar mountains. You may choose to pause for a photograph before you walk across the bridge and continue the last part of your zip lining journey. This experience has been added to the recent must-do lists and we guarantee you will want to revisit RAK to do it all over again!

2. Fiction feels real at Warner Bros in Abu Dhabi

A comparatively new addition to the multitude of attractions in Abu Dhabi's entertainment destination Yas Island, Warner Bros offers an immersive experience. An indoor theme park spread over a whopping 1.65 million million sq ft, it has been divided into five amusing worlds of adventure- Metropolis, Gotham City, Cartoon Junction, Dynamite Gulch and Bedrock.

Warner Bros Abu Dhabi is home to your favourite characters from childhood, be it Tom & Jerry, Tweety and Sylvester, Scooby-Doo and his gang or so many to even recall at once. Adding to the enjoyment are the indoor heart-thumping rides and fun activities and entertainment shows. One is welcomed by a dramatic central area called Warner Bros Plaza where films are projected on the walls and a lot of restaurants surround the area that serve delicious snacks and desserts. It also has shops that sell Warner Bros specific merchandise. As you continue to step in through the five different portals, you are sure to get transported to a unique, imaginative world.

While Gotham and Metropolis are based on the fictional settings of DC Comics' superheroes Batman and Superman, one can see and get clicked with the Looney Tunes cartoon characters in Dynamite Gulch and Cartoon Junction. The last of all but the most exciting one 'Bedrock' is themed around The Flintstones. Where else can you stroll in an animated world featuring your favourite characters and exhilarating rides? Warner Bros. World Abu Dhabi indeed makes fiction look and feel so real.

3. A family day out at Bollywood Parks, Dubai

A fascinating part of Dubai Parks & Resorts, Bollywood Parks is the first of its kind Bollywood-inspired theme park in the world. It features more than 15 rides and attractions inspired by Bollywood blockbusters and is divided into five incredible entertaining zones that recreate the charm of old-school Mumbai. The Bollywood magic is spread across Bollywood Boulevard, Mumbai Chowk, Rustic Ravine, Royal Plaza and Bollywood Film Studios, which features the Hall of Heroes.

Lagaan, Dabangg, Sholay, Zindagi Na Milegi Dobara, Don- you will find numerous rides based on these cinematic blockbusters. From 3D laser gun rides hunting the villains to chasing the mafia boss Don through the streets of Dubai and creating your movie trailer to taste the 'reelistic' world through real-world cinema, you will never get any chance to get bored here! Also, along with the magic of India's film industry, plenty of high-energy live performances and song/dance sequences can be experienced too. These acts represent the diverse cultures from all corners of India coming together in an explosion of colours.

For exciting family fun and surprises along the way, you can add this experience to your itinerary by booking a Dubai trip under our popular UAE Travel Packages.

To get a glance of the existing packages, visit the below link of our website.

4. The enlightening vibes at the Sharjah Light Festival

The Sharjah Light Festival is a distinct experience intended to arrest the imagination of all and has been enormously popular, tempting over five lakh spectators. The festival uses the buildings of Sharjah as a canvas for dynamic light shows, highlighting their Islamic as well as modern architecture.

The event features large-scale light installations and projections — some accompanied by music - all celebrating Sharjah as a creative and cultural hub in the Middle East. This beautiful display of colour, images and lights combining beautifully composed music takes place at 13 locations. These include Masjid Al Noor, Khalid Lagoon and Al Majaz Waterfront.

5. Ferrari World- strictly for the thrill-seekers

Theme parks have always been the cornerstone of family leisure and entertainment and they largely complement experiences that families usually seek when choosing a destination for holidaying in UAE. Out of all the famous theme parks in the Middle East preferred by families, Ferrari World stands out in the league of brilliance and innovation.

To those who don't know, Ferrari World features the world's fastest roller Formula Rossa and the world's highest non-inverted loop, adding to the thrill of taking an exceptionally adventurous ride. With the Ferrari feeling all around and 40 rides fuelling the nerves with excitement, the park adds that extra tinge of thrill by showcasing the most iconic Ferrari cars. There are plenty of authentic merchandise options available for purchasing at the world's largest Ferrari store located right inside the park.

Once you are done with the rides and strolling in and around the park, you can gobble up delicious Italian delicacies at one of the restaurants in the theme park and the Italian flavours of the food are oh, so good!

With Dook as your travel buddy, you can always get this spectacular experience added to your UAE Tour Package.

6. Catch the sunrise during Desert Safari in Mleiha

Mleiha in Sharjah blends history, nature and culture with exceptional quality and warm hospitality to create a unique experience in a natural setting. The Mleiha desert safari is a brew of adventure and excitement diversified into one extremely pleasant experience that will create memories to be prized for a lifetime indeed!

The alluring desert sands make for a beautiful landscape while the dune bashing sessions signify pure adventure. In case you want to add this to your experience list, Mleiha has its exclusive excursion desk where you can book a desert safari adventure for your entire family.

7. An indulgent sailing with Musandam Dibba Cruise in Fujairah

Lying along the Gulf of Oman rests the emirate of business and commerce called Fujairah. It is a perfect place set in the sweeping ranges where the mountains have a lovely rendezvous with azure waters of the sea. Not as popular as its cousin Emirates, Fujairah still holds a relaxing charm that is just similar to a luxury beachfront experience found in any other thriving tourist destination.

If we list a 'must-do' outing in Fujairah, it has to be the Musandam Dibba Cruise. The cruising experience in Musandam Dibba allows its visitors an opportunity to discover the unspoiled fauna and flora that the northern part of Fujairah has to offer. The transfer from Fujairah town to Musandam Dibba offers an enriched experience as the travellers pass by the beautiful Hajar Mountains set amidst the Musandam Peninsula and Dibba Al Bay. One may enjoy the time lazing and sunbathing under the sun, whilst feasting the eyes upon the beauty of the white and salty mountains.

8. Visit the emerging wonder- Ajman

Home to ancient forts and luxurious resorts, Ajman, the smallest yet incredible emirate has some interesting attractions that the tourists should explore. Ajman is currently ruled by His Highness Sheikh Humaid bin Rashid Al Nuaimi, under whose supervision, the emirate has achieved steady economic growth and identity among the tourism markets. You can today see this tiny emirate growing as the fastest developing city with an array of luxury hotel brands and world-class golfing setups coming into the scene.

In Ajman, as their website states, the neighbours still celebrate life together, guests are warmly welcomed in and sincere generosity is observed throughout everyday life. Keeping this as the foundation of their exceptional hospitality offered to the visitors, Ajman is focused more on providing quality-driven experiences. From a magnificent shoreline comprising the sandy beaches, lush mangroves to historic museums and souqs, Ajman is truly a destination featuring rare finds.

One also has the opportunity to spend some time amidst nature and for some serious bird watching, Al Zorah Nature Reserve is the place. Plenty of pink flamingos can be spotted here and the mangroves attract bird watchers that can find around 60 different species of birds here. Tourists can also explore the Ajman Dhow Building Yard and Corniche, climb the foothills of the Hajar Mountains or visit the inland enclaves Al Manama and Al Masfout.

If seeing is believing, why not take a glance at Dubai with Dook?

Thriving on tourism and innovation, UAE offers some of the most vibrant choices for travellers. Are you looking for exciting experiences, the best entertainment value and luxury, all in one UAE tour package? At Dook, we cater to all preferences and ages as we craft the UAE Holiday Packages keeping in mind the kind of trip you want.