Incredible journeys to Portugal with DOOK!
No matter your travel style, we have a Portugal package tailored for you
Portugal Tour Packages
Explore Portugal with DOOK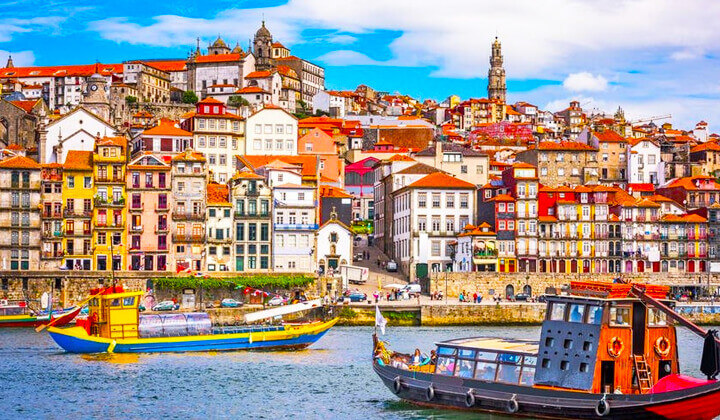 Portugal: Idyllic. Intriguing. Incredible

Experience absolute guilt-free relaxation in this splendid country with Dook

Once a small corner in Europe, Portugal today stands out as the most remarkably diverse tourist destination in the world. Even though this country has the oldest borders in Europe and is little in size, there is an exceptional range of eccentric cities packed with culture and gastronomic wonders as well an exquisite countryside dotted with spectacular landscapes, beautiful beaches and rugged mountains. Here is where you will see the sun shining 300 days in the year, the history oozing out of its timeworn villages, sunshine swooning with the golden beaches bathed by the Atlantic Ocean, the quiet roads and idyllic backdrops adorning the castles and cliffs; whatever is your reason to visit Portugal, you will never have time to get bored!

This country is extraordinary in every sense; be it the wild and adventurous side, a tinge of culture, romantic vibes, or the authentic Portuguese charm, Portugal surely outshines those on the top of the perfect holiday destinations list. Starting your Portugal Tour from the bustling capital city of Lisbon and moving ahead to the sun-drenched Algarve coast, the granite peaks of Parque Nacional da Peneda-Gerês, the gorgeous Azores Island and the island of Madeira, every moment spent here will be filled with fascinating turns. There's a lot more that captures your interests ranging from the medieval castles, uncharted towns like Estremoz, the vineyards of Douro to the colourful town of Aveiro, cobblestone squares boasting quaint shops and cafes and memorable walks across the country. Add to that the superb local cuisine and most hospitable people and you will know why Portugal is considered a true tourist paradise.

If you are interested in discovering more about the range of experiences that Portugal can offer, browse through our tailor-made Portugal Holiday Packages on Dook's website or get in touch with one of our tour experts to check-in for an extraordinary Portugal Tour experience.

Capital: Lisbon
Languages: Portuguese, English, French & Spanish
Currency: Euro
Driving Side: Right
Best Time to Travel: Round-the-year destination. But to enjoy decent weather and fewer crowds, you should visit between March-April or October-November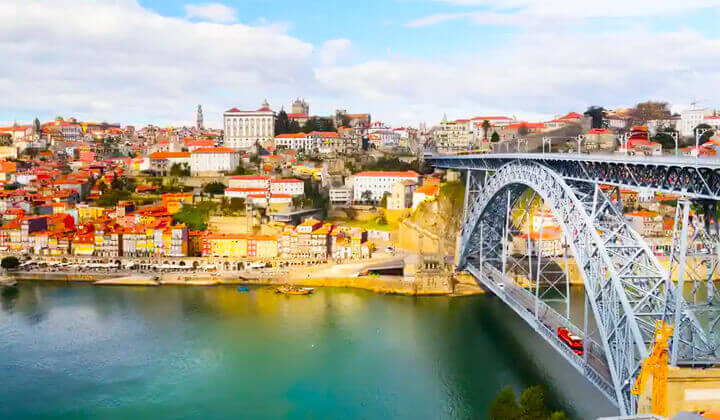 Explore Portugal:

If we talk about the versatility of Portugal, it is indeed one of those one-size-fits-all destinations that are packed with loads of charm including adventure and natural magnificence. Are you a serious hiker? Lace-up your trekking boots and ramble between the mountains surrounding the sleepy villages and the country's national park. Worried about partying in a foreign land? Portugal's nightlife in its lively cities has got you covered. Packed your beach sandals? That's awesome because there's 830km of magnificent coastline to wander along and wonderfully golden beaches to hop around. But what about a wanderer who wants a bit of everything? Leave your worries aside as Portugal has everything you look for in a holiday, be it the city delights, natural wonders, coastal chills and the historic fills.

You can visit the streets of Alfama and get surprised by the buildings perched along steep cobbled streets and its proximity to Tagus River; wander around Braga and soak its historical magnificence; lookout on for the gorgeous arched bridge of Ponte São Gonçalo and stroll along the riverside route; grab fresh seafood in Porto, see Monsanto- a village built around the rock; fall in love with the beauty of small towns like Sintra and Evora; discover the quaint fishing town of Cascais; visit the seaside castle in Lagos and there is a lot more that adds further curiosity to your wanderlust.

1. Lisbon: Enchanting & Exquisite

"By day Lisbon has a naive theatrical quality that enchants and captivates, but by night it is a fairy-tale city, descending over lighted terraces to the sea, like a woman in festive garments going down to meet her dark lover." How wonderfully does this quote describe the capital of Portugal that is enchantingly warm all year round, has alluring alleys, old castles and quaint shops jutting above the houses overlooking a postcard-perfect panorama, the gothic cathedrals and colourful neighbourhoods that deserve a special mention in Portugal Tour bucket list.

Lisbon is one of the oldest but also the largest cities in the country, enjoying a splendid geographical location along the banks of the Tagus River which further gives access to some of the best beaches and picturesque seascapes. But of all that this charming city has to offer, Lisbon's biggest appeal is in its distinct and colourful neighbourhoods or what locals term as the 'bairros'. Among the most popular districts is Belém, which is loved for its royal palaces, gardens and historic monuments and the landmarks like Jeronimos Monastery along with another oldest district called Alfama, which is an old Moorish quarter, most visited for its maze of cobblestone streets, rustic architecture, St. George's Castle and fado restaurants and bars. You can also visit the bohemian Bairro Alto for a serene walk among the steep cobbled streets. But Lisbon's real trump card is its nightlife; you will be surrounded by a mix of old-school drinking retreats, flashy open-all-night clubs and restaurants perfect for a laid-back dinner- all these peps up with utmost energy and good vibes once the sun goes down. Not to forget, you must try the much-loved local treat- a custard tart which you'll find the best at Manteigaria.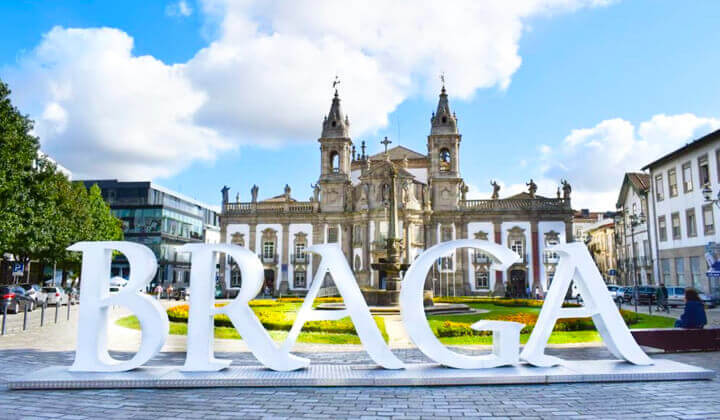 2. Porto: 'Wine'-ing & Shining

This busy city popular for its fine port wine sprawls along the majestic hills facing the Douro River. Giving a tough competition to Lisbon, the city of Porto is the second-largest and is prized for both its natural and architectural beauty. It is that artistic symbol of the country that shines just as bright and has just as much to offer its visitors. Here, the narrow pedestrian laneways will take you through the baroque churches, epic theatres, sprawling plazas and finally to the spectacular wine cellars and you will be happily stuffed with wonder.

Amidst all that makes up for the luring appeal of Porto, the one that grabs the utmost attention is the Ribeira District. It is not just a UNESCO World Heritage Site but also an enlivening place on the river buzzing with music, cafes and a vibrant art scene. A short walk across the landmark deck-arch bridge Ponte Dom Luis takes you to centuries-old wine cellars in Vila Nova de Gaia and the sight here is an absolute delight! Among the architectural wonders, a visit to the old churches such as the Church of Saint Francis and Porto Cathedral is a must! You may even choose to spend your day shopping at the traditional market of Mercado do Bolhão or stroll along the esplanade of the Foz and other attractions like Cleric's Tower.

To ensure you visit every corner of this gleaming city, book from our range of Portugal Tour Packages and experience the marvels of Porto city at their best.

3. Braga: Historic & Terrific

A pretty little town that was once the seat of the Romans, Braga today, is the third-largest city in modern-day Portugal. It is the capital of the northern Minho region that beams with architectural treasures and heaps of history as well as superb restaurants, a vibrant university and colourful festivals. As Braga is known as the 'city of archbishops', it boasts a lot of cathedrals, a charming old town that is too good to miss and lively nightlife for visitors to explore.

The city's major drawcard is Bom Jesus do Monte Basílica that brags a magnificent baroque staircase with a set of 630 zig-zagged steps. While here in the city of churches, you also can't afford to miss the country's oldest Braga Cathedral. Once you are done with the sightseeing, visiting its historical centre and the main square is worth the visit. Thanks to its large student population, there is a youthful and lively feel enlivening the environment of the plazas and the excellent cafes, restaurants and bars keeping you refreshed all day long. Do not forget to grab a glass of vinho verde 'green wine', a refreshing beverage famous in this part of Northern Portugal.

4. Sintra: Charming & Ethereal

Picture an incredible setting of lush hills peppered with beautiful villas, retreats and castles dating as far as your memory can go; this is the charming city of Sintra for you! Approximately less than an hour away from Lisbon, Sintra feels like being in another world with the forested hillsides, impressive white Moorish castles, magical gardens, stone-walled taverns, looking just like a page torn out of an illustrative fairy tale. No wonder why this city's beauty even captivated the celebrated poets like Lord Byron who, in a personal letter, described Sintra as the most gorgeous village in the world.

Even though the hills surrounding Sintra make walking an effort but walking across the city rewards an incomparable experience. You can stop by at the major city attractions like Pena's Palace, Quinta da Regaleira Palace and Gardens, the remarkable archaic ruins of the Castle of the Moors and many more. After the palace hopping and soaking in much of the Roman history, you can take a diversion to the interesting Toy Museum that houses over 20,000 toys dating back to the time of ancient Egypt. Adding to the appeal of your journey here is a scenic ride on the Sintra tram that connects the town to a delightful beach and the resort.

Top Bucket List Experiences in Portugal

1. Visit the underrated Portuguese Venice- 'Aveiro'

Known as the 'Venice of Portugal' for a good reason, Aveiro is an ancient, little city popular because of the canals that roll lazily through the urban landscape, even though it is fairly unexplored. Opting for a day trip from Porto, the visitors here love to embark on guided tours in the "Moliceiro" boats that resemble gondolas, with curved ends and colourful, decorated surfaces. Here, while strolling through the city's humble streets you will be fascinated by the shops as much as you will be lured by the pleasing aromas of the bakeries. Additionally, there are several incredible attractions and the Costa Nova beach that make your visit to Aveiro worthwhile.

2. Explore one of the most stunning Algarve beaches- Praia da Marinha

Undoubtedly, there are several beautiful beaches in Portugal but the one that's definitely the best of the lot is Praia da Marinha. No wonder why it is considered one of the ten most beautiful European beaches and one of the hundred most beautiful beaches in the world. What makes Praia da Marinha stand out is are its amazing orange-yellowish limestone cliffs with an incredible variety of rock formations and caves bordering the golden sand that shines brightly under the sun rays along with the crystal blue water. This secluded beach is ideal for activities like snorkelling and dolphin spotting, making itself an ideal choice for families and those looking for serenity. Whether you want to swim, sunbathe or just soak up the rays, Praia da Marinha is that ideal relaxation spot that you have been looking for in your Portugal Tour.

3. Visit Madeira- the 'Floating Garden of the Atlantic

With stunning views of the coastline, a stretch of vast beaches and hidden gems wrapped in serenity, Madeira Island deserves a top spot on your bucket list. Rightly named as the 'Floating Garden of the Atlantic', Madeira Island is a fertile oasis in the Atlantic Ocean nestled between Portugal and North Africa. The island's natural beauty, its wealth of verdant landscapes, colourful gardens, pebbled beaches and the year-round mild climate attract peace seekers from all over the world while its exceptional underwater life makes it an incredible retreat for swimmers and serious snorkellers and divers. Other places not to miss are the levadas, an impressive system of canals and aqueducts, which provide walking paths that wind through lovely scenery.

4. Travel back in time at the beautiful Óbidos

One of the most historically rich places in the country, Óbidos is a worth visiting village. You will see the ramparts and the castle protecting the citadel that adds to the appeal of the village. While there, do not miss exploring the citadel, marvelling at the castle, stopping over for a quick photograph session, walking along the alleys and medieval houses and finding peace in the quiet nights and lit-up lanes of the streets. But you should not leave Óbidos without trying the famous ginjinha de Óbidos, a very popular liquor in this region.

5. Catch the big waves in Nazare

Are surfing and big adventure on your mind? You must visit Nazaré which is the best surfing spot in Portugal popular for big wave surfing. Due to the presence of the underwater Nazaré Canyon converging with the incoming ocean swell and local water current, Nazare experiences some of the biggest waves in the world. So if you visit Nazaré in between November and January, there are highest chances of catching and surfing over the big waves. It is one of the unique experiences and one that deserves a spot on your bucket list.

6. Discover the medieval hamlet- Sortelha

Settled in the foothills and surrounded by formidable fortress walls, Sortelha is a tiny village whose charm and medieval appearance don't seem to be spoiled by the modern-day craziness. Thanks to its series of castles, 13th-century architecture harmoniously blending with the history that can be traced back to prehistoric times, Sortelha today is considered as the best-preserved treasures of Portugal. The entrance to Sortelha is via a Gothic gateway which is a unique experience in itself and while you are inside strolling the streets, plazas, houses and the castle, all of these conform to a similar shade of stones giving the village a low-key vibe and a serene ambiance.

Come and uncover the charms of Portugal with Dook's bespoke packages

Portugal is the land of opportunities and amazing touristy offerings of which you have always fancied visiting. So, if you are thinking about how to plan a Portugal Tour, what to do and where to stay, contact the Dook experts to know the amazing deals on our Portugal Tour Packages from India.