Incredible journeys to South Korea with DOOK!
No matter your travel style, we have a South Korea package tailored for you
South Korea Tour Packages
Explore South Korea with DOOK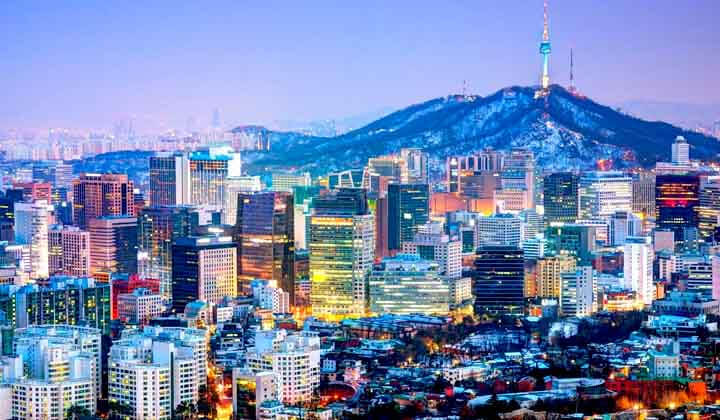 South Korea: A perfect marriage between culture and modernity

Stroll through the incredible alleys of this Eastern Asia gem with Dook

A fact that spectacular South Korea is visited by approximately ten million international travellers every year comes as no surprise as it is one of the most diverse countries in entire East Asia that defines itself through the varied contrasts and natural exoticness. Here is where you will see temples rising beside the gleaming skyscrapers, experience the hubbub of the cities with the serenity of natural marvels nearby and see both beyond-belief advanced technology and rich traditions coinciding side-by-side thereby, confirming that South Korea is so much popular for quirky, interesting things beyond its K-pop culture.

Officially called 'The Republic of Korea', the country of South Korea has so much to offer to avid travellers. Spanning an area of 100,032 square kilometres the country is cradled by the Yellow Sea on the west, the Sea of Japan to the east, while to its south lie the Korea Strait and the East China Sea. The country pulsates with a futuristic economy and holds the first spot among the world's most innovative countries and is also abundantly filled with charming hilly countryside sprinkled with cherry trees, paddy fields, ancient Buddhist temples, scenic coastal fishing villages, gorgeous ski slopes, remote islands and so much more. From Seoul to Busan offering a combination of leisurely cosmopolitan vibe, a peek into the traditional front and seaside relaxation to Jeju Island and Sokcho that give a 'life-is-so-pleasant' feel, from numerous hiking trails and treks to craggy mountain tops to vibrancy of the city festivals; whatever is your reason to visit South Korea, the country surely casts a long-lasting spell on its visitors.

South Korea may sound like a new destination to try out for Indian travellers and the task of planning a South Korea tour can be quite daunting. However, visiting this amazing country and exploring it's not-yet-crowded cities can turn out to be a rewarding experience. All you have to do is refer to Dook's bespoke South Korea Tour Packages online and kiss goodbye to all your worries about planning a South Korea trip.

Capital: Seoul
Languages: Korean, English, Japanese, Chinese and Russian
Currency: South Korean Won
Driving Side: Right
Best Time to Travel: Visit between April to June for seeing the cherry blossoms in full bloom and between September to November for enjoying the mild and pleasant temperatures.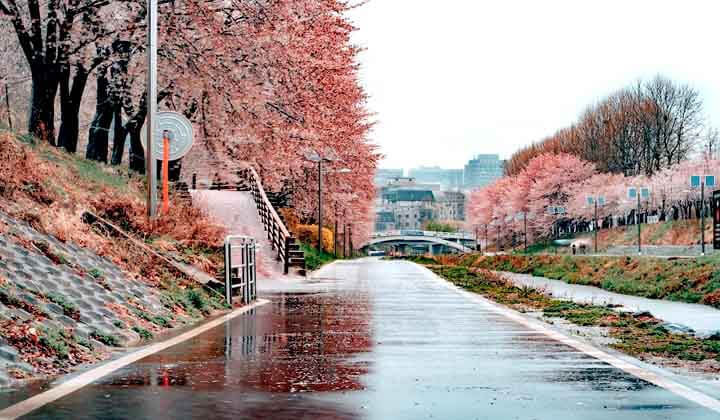 Explore South Korea:

Just when you start to think that South Korea couldn't possibly offer you anything else apart from all that's mentioned above, you are highly mistaken! There are huge markets, old villages, traditional wooden guest houses, national parks, unique food scenes, historical palaces, remote islands, entertainment districts, shopping plazas and so much more that always pique your curiosity of trying to seek out something new every day. Start your South Korea tour in the capital city of Seoul, enjoy oodles of entertainment options here and then make your way to the idyllic Jeju Island which is rightly called the "Hawaii of Korea". Your wanderlust-stricken soul will guide you towards Busan where you can discover the undiscovered villages and gorge the best of seafood before you make your way back to the K-pop capital, but with interesting stops at Gyeongju and Sokcho along the way. On your visit to South Korea through South Korea packages, a common thing you will notice in every Korean city is the vibrancy with a tinge of glamour, fun and all things elegant.

Book South Korea Holiday packages from Dook and enjoy a memorable journey with your near and dear ones!

1. Seoul: vibrant, traditional and futuristic

A trip to South Korea almost always means Seoul would be your first destination to start with. Being the capital city and the largest metropolis in South Korea, Seoul is considered to be one of the top choices on the bucket list of backpackers and curious travellers. Situated amidst lofty mountain ranges, the capital city is profusely gifted with an unparalleled landscape to explore. Ranging from museums and theatres to lively nightlife, from an array of shopping options, delicious cuisines and quirky cafes to the city's thriving streets lit with lanterns, Seoul gives you many reasons to fall in love with its perfectly blended vibe!


Mostly comprising the inhabitants of Korean origin, Seoul did not see many foreigners lately. However, gaining pace steadily with each passing year, it is developing into a top tourist destination. Thanks to the South Korean technology and pop culture that has exploded into the global mainstream in recent years and making Seoul catch all the headlines and excitement. Gladly, the city is now able to catch attraction beyond its technological advancements with some of its unique tourist spots coming into the limelight. Wanting to get a deeper insight into Seoul's history? Visit Seoul's two famous palaces- Gyeongbokgung and Changgyeonggung or take a guided tour to DMZ (Demilitarized Zone). If you're planning on doing a lot of shopping in the city, Myeongdong is definitely where you need to stay. It's a hyper shopping district filled with big brands and boutique shops, as well as many restaurants, cafes and street food stalls and if quirky Korean stuff is what you fancy taking home, Itaewon Shopping Street is the place to explore. You can also see a bunch of traditional South Korean Hanok villages while on your trip to Bukchon Hanok Village located on a slope of a hill.

There are so many things to do, see and experience in South Korea and a delightful visit to Seoul gives you plenty of reasons to embark on another adventure-filled South Korea tour soon.

2. Busan: beachy and beautiful

A thriving, lively city sitting on the coast of the country's seaside on the south, Busan is South Korea's second-largest metropolis and a definite not-to-be-missed gem while visiting South Korea. Now gaining traction with international visitors, Busan has always been extremely popular with locals and has been known for its number of picturesque beaches, hot springs, shrines, specialty seafood dishes and tiny, lesser-explored villages. Even though the major portion of South Korea might not be known for its laid-back lifestyle, in Busan, you are sure to find happy ease in daily life while you are free to feel the sea breeze, rub elbows with locals and appreciate the rich, cultural aspects of this incredible city.

Perhaps it's the beaches here or the wonderful museums, popular karaoke rooms and maze-like colourful culture villages or likely an exciting combination of all that makes Busan fall in love with, so much so that you'll never want to leave. There are an unlimited number of things to do in Busan, that may not get you as absorbed as Seoul will, yet the uniqueness in every attraction will make it a worthwhile trip from anywhere in the world. From Gamcheon Culture Village that is adorned with street art and is decked up with painted rainbow colours, murals and statues popped up to visiting Haedong Yonggung Buddhist temple situated by the sea, from hiking up to Igidae Coastal Walk to enjoy the magnificent ocean views to hopping on the most famous Haeundae and Gwangalli beaches, from the brightly lit streets of Seomyeon to trying the best Korean street foods, whatever you do or see in Busan, you are sure to get captivated!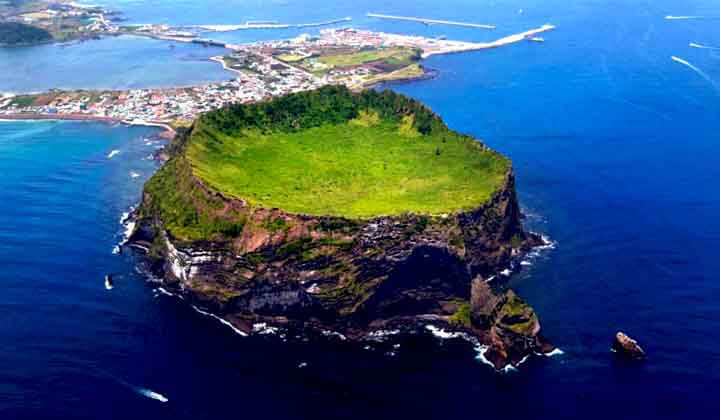 3. Jeju Island: justifiably the "Hawaii of Korea"

Just as the Philippines has Palawan, Indonesia has Bali, Thailand has Koh Samui and Japan has Okinawa, Jeju Island is South Korea's strong contender for the best tropical island getaway in Asia. What was once Korea's best-kept secret is now a well-liked destination opened up to the world, popularly termed as the 'Hawaii of Korea'. Not only is Jeju the home to the largest (inactive) volcano in Korea but it also offers easy access to stunning beaches, lavish beachside resorts, verdant mountains and several hiking trails.

Thanks to the unmatched charms of its natural marvels like Hallasan Mountain and high tuff cone craters of Seongsan Ilchulbong, Jeju has been recognised as a biosphere reserve and a UNESCO Global Geopark in previous years. While Hallasan Mountain, being the highest in South Korea, is the representative tourist destination of Jeju Island, the bowl-like crater of Seongsan Ilchulbong is home to more than 200 species of plants and animals with magnificent panoramic views on offer. For island getaways, opt to visit Udo, Hamdeok Beach, Seobinbaeksa Beach, Hyeopjae Beach, Jungmun Beach, Woljeongri Beach, Gwakji Gwamul Beach and spare time for a nice cup of coffee or a beer while enjoying the sun and sea breeze.

Planning a holiday to the gorgeous Jeju Island in South Korea? You'll be in for a real treat with Dook's hand-weaved South Korea Tour Packages that feature the best and beachy adventures at Jeju.

4. Sokcho: soak yourself in the sheer wilderness and hearty seafood

Sandwiched between the designated UNESCO Biosphere Preservation of District Seoraksan National Park and the Sea of Japan, Sokcho is a beautiful coastal city considered a great place to escape for a weekend or even longer. Much loved by the travel enthusiasts for its Seoraksan Mountain, the shimmering waters of the East Sea, luxurious hot springs, beaches and delectable seafood, Sokcho is a welcoming destination for almost all the seasons.

While it is considered a good base for launching yourself into the wilderness of Seoraksan National Park, the city is also near the coast which means you can enjoy the seaside vibes in Sokcho beach and relish the fresh seafood while you are here. Since it is majorly a fishing town, strolling the fish market and choosing the live fish to eat is a must-do. The other few interesting things to do here include visiting the Teddy Bear Farm and Abai Village, filling your empty tummies at the Foodtown or Sokcho Jungang Market, catching the beautiful sunrise at Dongmyeong Port and admiring the views from Ulsanbawi Rock.

5. Gyeongju: a mishmash of history and culture

Known as South Korea's "museum without walls", the ancient marvel of Gyeongju is a treasure trove of cultural and historical sites present in abundance all across the city. Once an erstwhile capital of the ancient Silla Kingdom, Gyeongju today, is one of the major metropolitan cities and home to various UNESCO designated heritage sites including the famous Seokguram Grotto and Bulguksa Temple.

Gyeongju's abundant archaeological sites include temple and palace ruins and nobility burial mounds and there are ongoing excavation efforts that are still revealing Silla's treasures. The city from time immemorial has remained an important centre of Korean Buddhism and therefore, the Buddhist temple of Bulguksa is considered of utmost importance as a masterpiece of the golden age of Buddhist art of the Silla kingdom, encompassing seven national treasures. Both the Bulguksa and Seokguram (world-famous UNESCO-listed Buddhist grotto) are in the outlying districts of the city making them easily accessible through public transport. To get a deeper glimpse into South Korea's cultural roots, there is no better place than the Gyeongju National Museum that houses an unparalleled collection of artefacts.

Top Bucket List Experiences in South Korea:

1. Enjoy the unobstructed views of Seoul city from the Namsan Tower
2. Go clubbing in HongdaeVisit the Trick Eye Museum
3. Bring out the beach baby in you at Haeundae and Gwangalli Beaches
4. Live in luxury at Sun Cruise Resort and Yacht
5. Drool over an array of shopping options in Myeongdong
6. Soak in the party vibes in Gangnam
7. Feast on Korean specialities (the famed BBQ, bibimbap, spicy rice cakes, Kimchi )
8. While in South Korea, going to a K-POP concert is a ritual
9. Glide down the ski slopes of Pyeongchang
10. Pay a holy visit to the colourful Jogyesa Buddhist Temple
11. Visit the book-loving Cafe Comma
12. Visit a themed café- cat, poop, 3D, flower; the categories are endless
13. Get awed by the beauty of Gyeongbokgung Palace
14. If family entertainment is on your mind, Lotte World is where you should be heading to!
15. Eat live Octopus at Gwangjang Market
16. Say 'bottoms up' to the National Drink of South Korea- Soju
17. Watch the sunset at Sokcho's Cheongchoho lake
18. Tour the largest National Park in Korea- Dadohaehaesang
19. Escape to a traditional Hanok Village; preferably Bukchon Hanok Village and Namsangol Hanok Village
20. Hike the spectacular trails of Seoraksan National Park
21. Travel back in time while you visit the Andong Hahoe Folk Village
22. Have an Abai Sundae (a sausage stuffed and steamed inside a squid)
23. Enjoy the snowy, winter wonderland during Halla Snow Festival
24. Capture the true essence of Korean Cherry Blossoms at Kyeong-Wha Station's Cherry Blossom Tunnel
25. Take in the captivating beauty of picturesque Jeju-si island

See, explore and discover the splendours of South Korea with Dook

South Korea indeed has a way to mystify people with its many charms. With a world of its own unique experiences, it does get a little difficult to pick the best South Korea tour that gratifies the travel appetite and also fits the bill. We, at Dook, therefore, take the controlling wheel on your behalf to dig up the fittingly best and the most personalised South Korea Holiday Packages for you from our inventory of exclusive South Korea Packages.