Incredible journeys to Belarus with DOOK!
No matter your travel style, we have a Belarus package tailored for you
Belarus Tour Packages
Explore Belarus with DOOK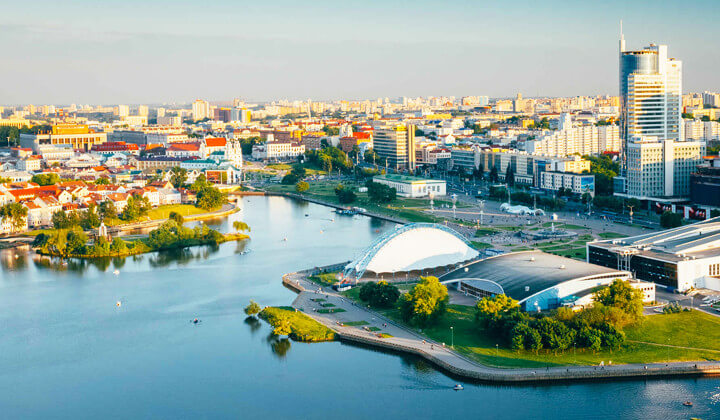 Belarus is slowly gaining momentum in tourism. Located in the heart of Europe, Belarus boasts of pristine nature and rich wildlife. Belarus has neighbouring borders with Russia, Ukraine, Poland, Lithuania and Latvia. So far inflow of tourists has mainly been from Russia but the number of foreign tourists from other parts of the world including India is growing. This land locked country has plenty to offer to the visitors. You can also explore the beauty of Belarus with Dook International's Belarus Packages. Belarus Trip is a must for those who are attracted by wildlife. Country has over 40% of the land as forest. This offers the visitors picturesque sights and lush vegetation. In addition to this you can also experience abundance of local wildlife which includes seeing rare European bison.

Belarus is a small country. But if you think that you can finish your Belarus Tour in a single day then don't make such a mistake. This is why you should buy the Dook International's best Belarus Tour Package and explore the country's best places with lot of comfort.

Castles of Belarus

Belarus is a country of castles as well. These castles are living symbols of the history of Belarus. Two of the most famous castles in Belarus which you must visit on your Belarus Travel Package are Mir Castle and Nesvizh Castle. Nesvizh Castle is a UNESCO world heritage site and it is only two hours ride from Minsk, the capital city of Belarus. The Nesvizh Castle complex was erected in 16th century and it has seen many wars and destructions since then. After being burned down repeatedly it still has been restored in full gloryfor the tourists. Mir Castle is in the town of Mir in the Grodno region. Mir Castle was made in 16th century and presently there is a museum inside the castle which is a must see for antiquity lovers. Dook International's Belarus Tour Package from India offers you a visit to both these famous castles in Belarus.
Explore the Enchanting Cities of Belarus

Belarus is a secret gem that has not been very familiar among travelers. But recently, this hidden Eastern European country has been getting a lot of crowds from all parts of the world. Belarus has countless undiscovered sights, numerous attractions, verdant forests, beautiful lakes, and rare species of plants & animals. If you want to travel to Belarus and uncover the hidden gems of this enchanting country, buy Belarus tour packages and go on spellbinding adventures. Here is the list of all the best places to visit in Belarus:

1. Minsk

Minsk is the capital city of Belarus. Minsk is also the most popular travel destination in the country. Minsk offers something to everyone to see and to do. With Dook International's Belarus Tour Packages you get to see the popular sights in the city and get to do things which you would cherish forever. Minsk being the capital city of Belarus has a lot to offer to the visitors. Independence Square is one of the major attractions of Minsk. This is one of the largest public squares in not just Belarus but entire Europe. You can have a soothing time in the evening here where you can stroll to take in the pretty water fountains and dancing lights. You cannot miss to see Independence Avenue on our Belarus Holiday Packages. This 15 KM long avenue crossing Minsk from centre to the North East, acts as the main artery of the city, and has cafes, restaurants, and shopping centres, along with clubs and music events. You can also have good time in Minsk's parks and gardens. And talking about the park you should take a trip to the Gorky Central Children's Park. You can enjoy the fairground rides and experience the stunning views of the city from the top. Those who would love to dive into Belarusian history can visit the National History Museum, or enter into the cultural sights at the National Art Museum.

Dook International's Belarus Packages take you through a wonderful sightseeing experience in Minsk city. Some other interesting places in Minsk city to visit are The National Library building, Victory Square with its 38-meter obelisk and the eternal flame commemorating the heroes of World War II, the Trinity suburb and the Afghanistan War Monument on the Island of Tears, the Upper town, the Catholic and Orthodox Cathedrals, Independence Square with the House of Government, the KGB historical office, the Residence of President, the Ice Hockey Arena and a football stadium etc.

2. Brest

Brest is one of the largest cities in Belarus and is the center of Belarus's history. This city is a delightful city to visit. Brest has several tourist attractions such as Brest Fortress, Lights Ally, Sovetskaya Street, Historical and Memorial Museum Nemtsevichi Estate, Brest Railway station, etc. If you are on a Belarus tour, don't miss out on exploring this beautiful city.

3. Polotsk

Polotsk, the former capital of Belarus, is one of the most captivating cities in Belarus. It has become a significant cultural capital of the country. Many tourists visit this city for its cultural and religious significance. It is also a place that holds immense architectural and historical significance. Polotsk has rich attractions, such as Saint Sophia Cathedral, Local Lore Museum, Saint Euphrosyne Monastery, Geographical Midpoint of Europe, Polotsk National Historical and Cultural Museum-Reserve, and more.

4. Grodno

Grodno is another dazzling city that you can include in your Belarus holiday packages. This city has two castles inside it which you can find on Zamkovaya street. Grodno is full of impressive attractions, such as the Jesuit Catholic Church, the Old Castle, Pharmacy Museum, Great Choral Synagogue, Grodno Zoo, and more.

5. Gomel

Gomel is the other largest city in Belarus. A lot of tourists visit this city during their Belarus tour. Some of the most known attractions that they visit in Gomel are Peter and Paul Cathedral, Gomel Palace & Park Ensemble, Palace of the Rumyantsevs and the Paskeviches, Museum of Photography, History Museum of Gomel, and more.

Get The Best of Belarus with The Best Belarus Packages

You always want the best travel experience for the best price in the industry. You get both from your beloved travel company Dook International. You should explore Belarus with our Belarus Holiday Packages. The country is really beautiful yet less explored. People who are looking for a fresh travel destination should plan to go to Belarus for once.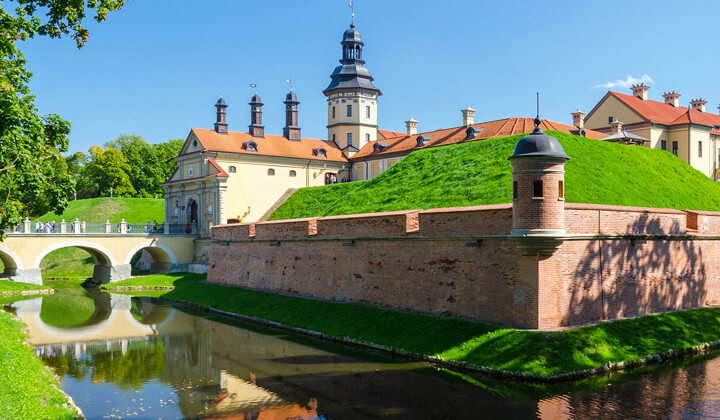 Witness the Top Attractions on Your Belarus Tour

Belarus is emerging as one of the budding tourist destinations. It is now home to some remarkable attractions. From natural trails to UNESCO World Heritage Sites, there are many popular points of interest for tourists. Be it castles or forests, Belarus has something for every traveler. If you are doubtful about all the attractions you can see in Belarus, here is the list of top attractions:

• Belovezhskaya Pushcha National Park
• Mir Castle
• Brest Hero Fortress Memorial Complex
• Minsk Sea
• Berestye Archaeological Museum
• Brest Railway Museum
• Chalk Quarries
• Nesvizh Castle
• Naroch National Park
• Boris and Gleb Church
• Gomel Palace & Park Ensemble in Gomel
• Lida Castle
• Belarus Folk Museum of Architecture and Rural Life
• Central Botanical Garden

Interesting Places to Shop on Your Belarus Tour

Besides witnessing exceptional attractions, you can also shop for various things from shops. Every trip is incomplete without taking the art and craft of the country home. Be it souvenirs or traditional outfits, you can shop for anything from the top shopping places in Belarus. If you are in search of top places for shopping, here is the exhaustive list:

• Minskiy Komarovskiy Market
• Farba Gallery
• Galleria Minsk
• Kastus Kachan Art Gallery
• Shopping Center Old City
• Palace of Art
• Stolitsa Underground Mall
• Galileo Mall
• Mall Gippo
• DK Gallery

Incredible Places to Visit for Mouthwatering Food in Belarus
While many people love to explore, some like adventure, shopping, and food. So, a trip gets complete when you get to
experience
a blend of all of these. Food is the life of a trip. So, if you fail to find good places to eat, you may end up getting infuriated. To avoid this, you can check out these top places to eat before hopping on
Belarus packages
:
•
Grand Cafe
•
La Scala Trattoria Ignazio
•
Kamyanitsa Restaurant
•
Kuhmistr
•
Cafe Netto
•
Planeta Sushi Restoran Sooo Belrosinter
•
Gambrinus
•
News Cafe
•
Traktir Na Parkovoy
•
My English Granny
•
Bistro de Luxe
•
Vasilki
•
Lido
•
Cafe 1. ENZO
•
Pena Dney
•
Animal Farm
•
Grunvald
•
Golden Coffee
•
Falcone Restaurant
•
SFB Minsk
•
Draniki
Noteworthy Bucket list Travel Experiences in Belarus
Every
travel destination
offers something to tourists. They call that something "bucket-list experiences". Belarus doesn't offer typical travel experiences, but rather exceptional and extraordinary ones that are only for once in a lifetime. From teeming forests and flowing lakes to natural treasures and stunning architecture, Belarus is an ideal destination for all kinds of experiences. If you are heading for a
Belarus tour
, here are a few experiences that you can cherish:
•
Explore Brest Fortress
•
Witness the fairy Nesvizh Castle
•
Go to Belovezhskaya Pushcha National Park
•
Enjoy skiing at the Alpine Ski Resorts
•
Unearth the man-made mountains and valleys
•
Capture the views from the top of Dzerzhinskaya Mountain
•
Admire the beauty of Belaru's countryside
•
Watch a beautiful sunset at the Minsk Sea
•
Visit the Braslav Lakes National Park
•
Relish the peaceful time at Naroch Lake
•
Adore the architectural marvel of Belarus
•
Indulge in lip-smacking food in Belarus's restaurants
•
Take a day trip to discover the historical marvel of Belarus
•
Admire the Soviet Art
•
Read at the one-of-a-kind National Library of Belarus
•
Be a part of Minsk's lively nightlife
•
Stroll around the old town of Minsk
•
Visit the Roman Catholic Center of Faith in Belarus (Red Church)
Frequently Asked Questions:

Question: What is the ideal time to visit Belarus?Answer:
The best time to travel to Belarus is from May to September. During this time, the temperature remains warm and pleasant.
Question: Can Indians travel to Belarus visa-free?Answer:
Yes. Indian nationals are allowed to enter the country without a visa. They can stay in Belarus for up to 30 days without a visa.
Question: Do I need to buy a Belarus tour package?Answer:
Yes. If you are going on a trip to Belarus, it is convenient to purchase
Belarus tour packages
. The tour package makes you enjoy your tour hassle-free because you don't need to care about hotel booking, sightseeing tours, and many other aspects of a vacation.
Question: Is Belarus have good places to eat?Answer:
Yes. Many good restaurants in Belarus offer mouthwatering food that you shouldn't miss.
Question: Do Belarus people speak English?Answer:
Yes. Not many people speak English, but you will find some speaking English in Belarus.