Incredible journeys to Cambodia with DOOK!
No matter your travel style, we have a Cambodia package tailored for you
Cambodia Tour Packages
Explore Cambodia with DOOK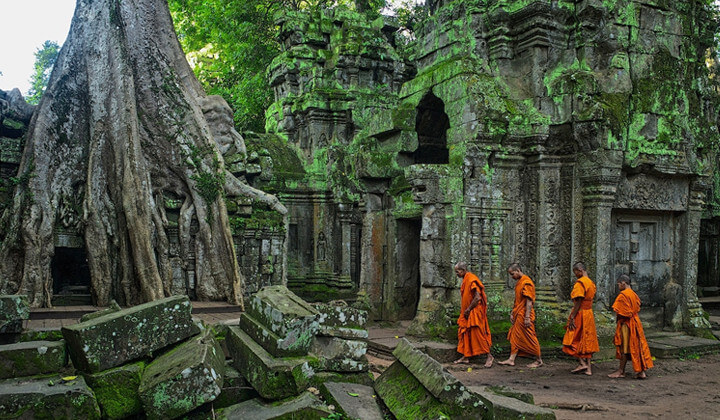 The Charismatic Charms of Cambodia

Get closely acquainted with this captivating country by booking Dook's bespoke holiday packages

A humble yet frenzied clutter of jungle ruins, friendly people, tempting beaches, architectural heritage, majestic rivers and so much more, Cambodia has rightfully become a tourism mecca, despite living through the horrors untold. This Asian country is home to beautiful attractions that are known for their architectural brilliance and scenic masterpieces. Wherever you go, you'll experience a new side, a brighter corner of the country and your heart will desire to explore it more, much beyond the temples that are the crowning jewels of the country.

While its progress for years was diminished by a tragic history, Cambodia is now a country on the move. Cambodia as a country is relatively small but is gradually chugging forward on the list of popular holiday destinations. The country has always been best known as both the home of the gigantic temples of Siem Reap's Angkor Wat and for Cambodian history that draws most travellers here. Although it goes without a doubt that watching these architectural masterpieces (temples) is one of a kind spectacle, the Cambodia tour, however, isn't all about the temple-gazing. The country's capital Phnom Penh envelops visitors in its bustling city life, the hip cafes, quality restaurants, riverside boulevards, art galleries and a lively nightlife while there is also a shimmering coastline with crystal white beaches that tempts every sun sloth. The rurally rich Battambang tempts with authentic countryside life, far from the crowds of Angkor. The coastal towns of Kep and Sihanoukville, in addition to their charming French colonial remnants, are now home to some of the most acclaimed resorts. Spend some extra time travelling through Cambodia's natural wonders like Tonle Sap Lake and jade-hued Yeak Lom Crater Lake, experiencing the growing gastronomy scene, the lush jungles, the harrowing history at the Killing Fields and meeting the Khmer people which truly will be an unforgettable experience.

Book a Cambodia Tour with Dook today and whisk through these highlights in an absolute week to remember. Our Cambodia Holiday Packages are designed to inspire you to explore more of this incredible holiday destination like never before.

Capital: Phnom Penh
Languages: Khmer, English, French
Currency: Cambodian Riel
Driving Side: Right
Best Time to Travel: Between November and February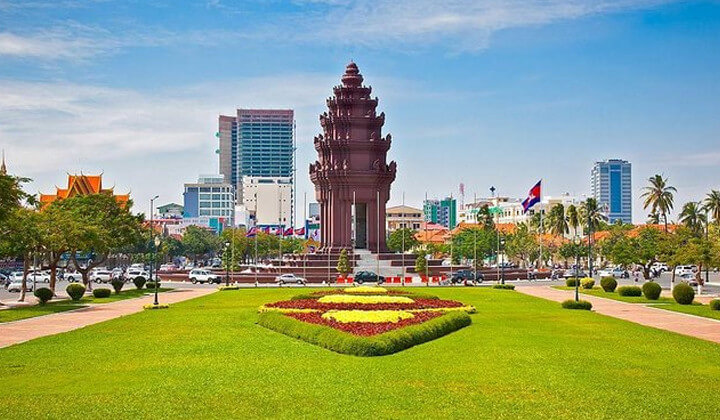 Explore Cambodia

Visit Cambodia and experience a slice of fascinating history, the country's remarkable natural beauty, witness the grandeur of ancient Angkor Wat, meet the incredibly friendly Khmer people, surrender to the beauty of colonial townscapes and unspoilt beaches and look forward to a classic Cambodian adventure. Steadily recovering from the atrocities that downpoured on the country, Cambodia is becoming an emerging tourism destination that manages to charm all who come. Opt for a Cambodia tour and you will be amazed by all the surprises it uncovers for you.

Pick one of our Cambodia Tour Packages that tell you about the different facets of this country and also the bucket list experiences that are well worth exploring.

1. Siem Reap: a peep into glorious past and dynamic present

The charming and lively town of Siem Reap is one of those places in the country that caters to every taste. This region was once the site of successive capitals of the Khmer Empire which is now the gateway to grand ruins, collectively known as the Angkor Archaeological Park including the famous Angkor Wat Temple surrounded within a complex of many other attractions. These majestic temples including the jungle-enveloped Ta Prohm and Bayon Temple still stand intact and are considered the topmost amongst the many Cambodian wonders. Beyond these wondrous creations, lies another Siem Reap that has been attracting travellers to stay longer and explore its other facets.

The historic town of Siem Reap has reinvented itself as the epicentre of contemporary Cambodia, boasting everything from hip hotels and cafes to pub streets and lively nightlife, floating villages, burgeoning markets, local tours for both the foodies and adventurers and an artistic cultural scene that give you enough reasons to extend your stay. A few days spent in this Cambodian city will show how both the worlds- past and present, coincide in Siem Reap while giving you quality leisure time to spend and explore at your own pace.

The best way to know more about its worth visiting gems is through Dook's dedicated and personalised Cambodia Tour Packages, extensively covering this historic Cambodian marvel.

2. Phnom Penh: the hip Cambodian capital

This captivating and vibrant city which is also the commercial and cultural capital of Cambodia has an undeniable charm with its pavements teeming with street food stalls and colourful markets. Unlike any other South Asian capital, it hasn't yet been weighed down under the towering skyscrapers but the radiant spires of the Royal Palace, its luscious location on the banks of Mekong, alluring cafe culture and bustling food scene have helped it gain a position among the hip capitals of the region.

Besides its famous Royal Palace, the Silver Pagoda, the National Museum, the most visited Toul Sleng Genocide Museum, the Choeng Ek Killing Fields and Wat Phnom, there are several market places selling carvings, paintings, silk, silver, gems and even antiques and also some of an excellent Khmer arts experiences that you can relish. It is also considered as the gateway to Angkor Wat and the beaches of the southern coast and the ethnic minorities of the North-eastern provinces.

Phnom Penh tour experiences can be included in our bespoke Cambodia Tour Packages. Have a look at a sample itinerary here!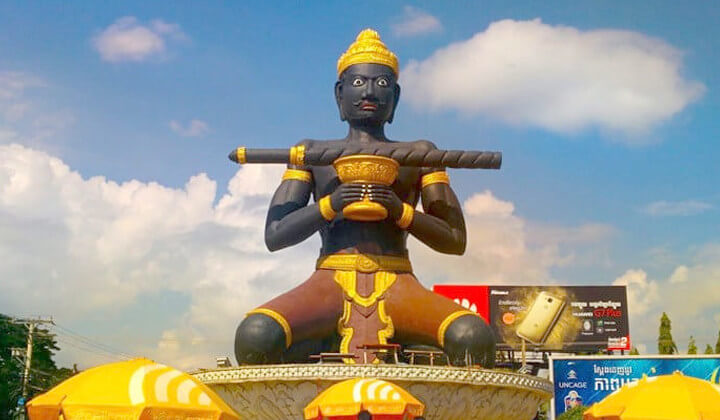 3. Battambang: the worthwhile addition to your travel itinerary

Unlike the other hip cities that have all the hustle and bustle, boozy pub crawls and white sand beaches, Battambang is different. It has ancient temples, French era colonial villas, unspoiled local culture to brag about and arguably the best Cambodian food captivating all your senses. Despite being Cambodia's second-largest city and relatively authentic, Battambang still is an underrated gem of the country but is truly worth exploring!

Life in Battambang is slow and laid back and that's what adds to the true adventure of exploring this riverside town in peace. Underneath its sleepy facade is a bubble of creativity that is flaunted by the lines of boutique hotels, quirky cafés and restaurants, while the lush countryside stands ideal for excursions. Pack a backpack for a day trip to Battambang and set off to discover the delight of street food stands, green rice fields, some ancient temples that are a must-see, close by villages while ending your day with an artisan latte at one of the many modish cafes on the streets. Before leaving Battambang, do not forget to jump on the bamboo train which is a flat, homemade bamboo platform placed on rail wheels and an experience cherished nowhere.

4. Sihanoukville: for the beach bums

Beautiful surroundings adorned by the best beaches in Cambodia, fresh ocean breeze and tropical climate - this is how Sihanoukville, the coastal resort town of Cambodia is defined. Even though the sheer variety of undeveloped coastline, with around 10 white sand beaches make it a top beach destination yet to be explored extensively, many corners of the town being dominated by casinos and commercial centres have already flooded it with the crowds over the years. Yet, it remains the first choice for those who flock here to rest up between travels and party through the night.

The Serendipity Beach area is a hub for backpackers while the relaxed Otres Beach away from the hustle south of town is where cheap bungalow joints and bohemian- guesthouses rest. Freshly caught seafood is in plentiful supply here and best enjoyed at one of the many popular Cambodian barbecue grills, where crab and squid take pride of place on the menu. Sihanoukville, in a nutshell, is for those who hope for lazy days of sunbathing and whirlwind nights of bar-hopping during their Cambodia trip.

5. Kep: the Saint Tropez of Southeast Asia

Not too long ago during the French colonisation of Cambodia, Kep was a dreamy coastal gem of Cambodia likened to the beauty of St. Tropez. It's evident in the golden sandy beaches which are rarely ever crowded. However, there was a sharp decline in tourism numbers during the Khmer Rouge era – although things today are showing the positive signs yet again with a slow trickle of tourists, bringing good news for those who want to spend a less-crowded holiday in Kep.

Known for its crab farming and pepper plantations, Kep has always been on the top list of seafood lovers. At the crab market, you will see the women paddle into the shallow waters to check their bamboo baskets for hauls, buckets of crabs are flung from seller to buyer and wooden stalls sell an array of freshly caught seafood. You can even enjoy eating fresh-off-the-boat crab cooked for you on the pier. Apart from its specialities, there are other attractions too, like the Koh Tonsay Island just 20 minutes off the shore, the remote Rabbit Island, Key National Park and exotic limestone caves near Kompong Trach.

6. Ratanakiri: secluded yet adventurous

Venture into this remote inland Cambodia and you will be able to experience the country's adventurous side, the cultural thrush and the incomparable natural beauty, all at once. Rarely visited by visitors yet, the remote region of Ratanakiri sits atop the northeast plateau and is a 'lost paradise' of Cambodia.

Here, the striking mountains and hills make for amazing trekking adventures and wildlife encounters while the characteristic red earth lines roads, as well as beautiful landscapes of lakes, waterfalls and the ethnic minorities living in hand-built stilt wooden houses, make it a refreshingly off-beat destination. Where else would you get the opportunity to get an insight into the lives and culture of these minority groups as well as enjoy bathing beneath waterfalls, trekking through the national parks and heading out on camping safaris spotting unique wildlife along the way, adventure-packed all in one?

Top Bucket List Experiences in Cambodia

1. No Cambodia tour is complete without a trip to Angkor Wat In the past several decades, Angkor Wat, a 163-hectare ancient temple dedicated to Lord Vishnu has become one of the most prominent highlights, at par with other wonders of the world, even earning a centre stage on the Cambodian national flag. Vast, extraordinary and majestic are three appropriate words to describe the splendour of this Angkor Wat that needs not just a descriptive paragraph but an entire guide to be written about its splendid history and surroundings. Take a 20 minutes tuk-tuk ride from the city centre early in the morning to arrive here at the time of sunrise because it's nothing less than magical! Apart from the iconic temple of Angkor Wat, there are Angkor Thom and its Bayon Temple with countless sculptural decorations, Elephant Terrace which take the attention too and Ta Prohm as well which is best known for its spectacular sights of trees intertwining with the stonework, much as it was when discovered from the jungle.

Given its gigantic size and an array of attractions, you should be prepared to spend at least two days appreciating the real beauty of Angkor Wat. Our Cambodia Tour Packages cover the temple roaming experience extensively while they also swing your way to the other major sites in Cambodia.

2. Ride the Bamboo Train

One thing you should know about the Khmer people is that they are super creative. And it is no surprise when you see how they acquired the abandoned rail tracks and created their transport system which today is counted amongst the 'must-do' experiences. The locals created small boat-sized bamboo trains that look like a flat platform, fitting in a small group. These tiny, adventurous trains are run manually with a lever and are an easy way to transfer goods and people to the other end.

3. Look back into the glorious history at Prasat Preah Vihear

Sitting on the edge of a plateau that dominates the plain of Cambodia and living among the clouds, the mountain temple of Preah Vihear is dedicated to Shiva and has been an important place of pilgrimage for millennia. This marvellous temple which is also a recognised UNESCO World Heritage site is a true example of some of the greatest ancient arts and architectural feats in Cambodia throwing light on the triumph of hundreds of years of Khmer history. The temple's layout has four levels with four courtyards, each containing five Gopuras (entrance pavilions) with exceptional quality of its carved stone ornamentation adapted to the natural environment. The remote location and the site being well-preserved make it an ideal place for exploring and bringing out the history lover in you.

4. Visit the circular Yeak Laom Lake

Believed to be created 4,000 years ago due to a volcanic eruption, The Yeak Laom Lake (volcanic crater) is much more beautiful than what you see in the pictures. This magnificent lake in Ratanakiri was once surrounded by thick forest on all sides, but today only thin layers remain yet with a retained charm. The crystal clear waters stand in stark contrast with the lush green mountains in the backdrop. A combination of trails, exotic birds and butterflies are common sights here. Five villages are located around the region that consider the lake sacred but the tourists can still take a dip in the water. Handicraft stores selling souvenirs made by the hill tribes living nearby can also be found at the entrance and ethnic costumes can be hired for photoshoots.

5. See the spectacular Kompong Floating Village

Undeniably, Cambodia is one of those destinations swarming with tourists for quite a few decades now but there is an offbeat side to it that only a few know of. Taking you a little off the touristy circuit, Kompong Phluk, a floating village is one such experience that is worth seeing, especially in December and January. An interesting fact about Kompong Phluk is that it is not floating; it is built over stilts made on the bed of Tonle Sap Lake. Regular boat tours of the village will let you get a close glimpse into the life of locals that is strikingly different from the daily grind in the cities. Even if no luxury resorts are provisioning nearby, the bright side of life here in the village, locals hopping up and down their hand-hewn houses and fishing for the living, will offer an authentically realistic picture of life in Cambodian villages and an experience next to none!

6. Marvel the French architecture at Kampot

A city located in the southwest of Cambodia, Kampot is a prominent historical town touching shoulders along the Gulf of Thailand. Unlike other regional capitals of Cambodia, Kampot has exceptional colonial French architecture, reflected in many buildings in the city. To get the true essence of the influence, take a trip up to the Bokor Hill Station atop Bokor Mountain and see its French colonial ruins, as well as the newly built casino and hotel. What makes the town's crumbling architecture even more beautiful are the style shop houses with fading blue and green wooden shutters and yellow paint. Passing by quiet streets where pink bougainvillaea blossom on trees is common and a lovely feeling in itself.

Discover Cambodian gems with Dook

A country that represents a fine combination of the old and new, the tropical and natural, Cambodia and its sheer beauty is well worth experiencing. As a trip to this incredible country promises an experience-led journey, you must book one of our Cambodia Holiday packages, hand-picked and curated by our travel experts to give you a memorable experience.