Incredible journeys to Georgia with DOOK!
No matter your travel style, we have a Georgia package tailored for you
Georgia Tour Packages
Explore Georgia with DOOK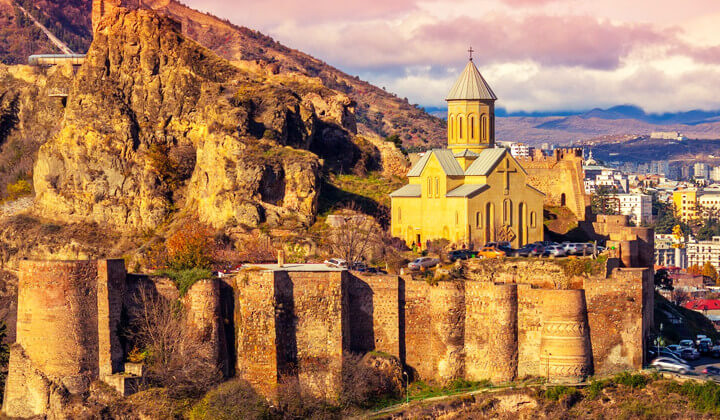 Georgia, over the years has become one of the hot tourist destinations. It continues to attract more tourists. The very first reason for this is that Georgia which is located near the coast of Black Sea, is a beautiful country enclosed with mountains, rivers, meadows and valleys. Those looking for an unspoiled natural beauty can simply grab a Georgia Tour Package and leave for this ideal country for hiking, trekking and much more. Georgia is a place that amazes everyone beyond dreams. Everything that one looks for in a perfect travel destination is there in Georgia. The warm hearted people, beautiful countryside, amazing culture and other such things make Georgia a wonderful place to be in. Modern travellers love to explore. They love fashion, adventure and delicious food apart from the historical, cultural and architectural beauty of a place. With your Georgia Packages, you get to experience all these and much more. Walking through the street of Georgia you can feel the evident history of the country in your face. The kind of warmth offered by people over here is something that can touch your soul very deep. And in your free time you will be delighted to shop in the markets there,as they are very colorful. You can try your bargaining skills hard enough to get your item at a desired price. Go to Georgia with Georgia Tour Package from India and explore its popular wide spread vineyards. People refer every traveler as blessing here and treat them very respectfully. Georgia has admirable ancestry of arts and architecture, many orthodox churches, cave cities and incomparable tarps of Pirosmani.

Main Attraction of Georgia

Tbilisi, capital of Georgia and located near the bank of Kura River is the most popular tourist attraction in Georgia. Tbilisiis a beautiful city surrounded by mountains on three sides. Most welcoming people along with stunning countryside, amazing Tbilisi's nightlife or may be something else will touch you immediately. Tbilisi is unspoiled beauty shaped by rugged mountains. You must explore Tbilisi in Georgia, first on your Tbilisi Tour Packages. Tbilisi has the aroma of the Eurasian crossroads which reflects in its culture and traditions.Tbilisi draws the visitors for its hot springs, cobble streets and caravanserai. Georgia Package is a stress buster to get away from your routine life for a while and explore Tbilisi, the city of romance. You can live the essence of medieval and modern lifestyle of this city with best Tbilisi Holiday Package. Read More About Tbilisi
---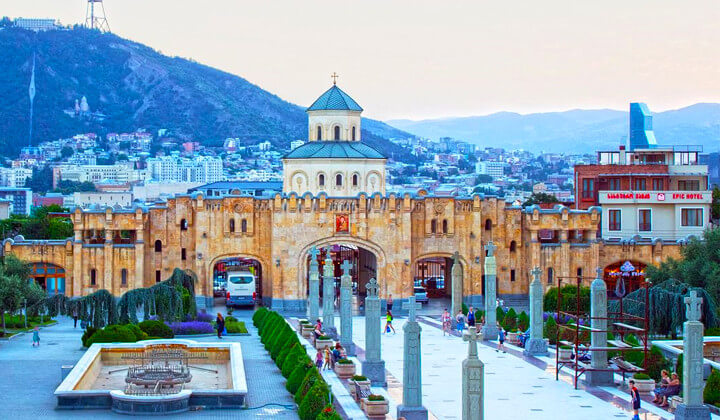 Tbilisi Tour Packages: Places to See in Tbilisi

Tbilisi is located in the centre of eastern Georgia. It is beautifully placed in the foothills of the Trialeti mountain range. Tbilisi got destroyed and rebuilt many a times but that could not take away the spirit of Tbilisi and you will see the old elements of Tbilisi still exists in narrow alleys and big crooked houses built around courtyards in the city. When it comes to Sightseeing in Tbilisi when you are here on Georgia Tour Packages then you can see good number of museums and other exciting places in Tbilisi. Narikala Fortress the most notable place to see is ancient symbol of Tbilisi's defence. The Parliament and other major government buildings of Georgia are also in Tbilisi only. Then one can see museums like G. Chitaia Ethnographical open air museum, numismatic museum, Museum of art, Simon Janashia museum, Puppet museum and Galaktion Tabidze museum.

Tbilisi opera and ballet theatre is for entertainment seekers. Recreation lovers can enjoy the aerial cable car which connects Rike Park on the bank of Mtkvari River with Narikala fortress. And those who want some peaceful time filled with calmness and pleasantness within them can walk down the lane of Old Tbilisi. Old Tbilisi has its old style balconies, old time churches, winding streets and lot of charming shops around. They are more than enough to fetch the attention of travellers who love to walk down. You also get a great glimpse of old time beauty of a city. Nature beauty lovers can go to Turtle Lake. You can enjoy your time alone, with family or friends at Turtle Lake which is located in hilly outskirts of Tbilisi. Shopping maniac can go to Dry bridge bazaar where you will get lot of antiques and jewellery among other exciting stuffs. Thus you have plenty of places to see and things to do in Tbilisi, Georgia on your Tbilisi Packages.
---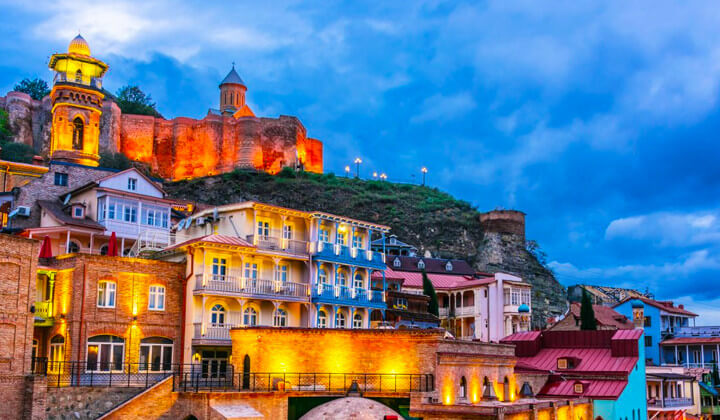 Choose Best Georgia Tour Package from Dook International

Get on board with Dook International and book your customized Georgia Tour Packages or Tbilisi Tour packages for a lifetime travel experience. When you decide to explore this wonderful country known as Georgia and wonderful city known as Tbilisi, you should straight away ask for your own Dook International's best packages to reap the best memories of your well spent vacation.
Suggested Georgia & Tbilisi Attractions:
Georgia A Brief Travel Guide: Georgia is a country in the Caucasus region of Eurasia. Georgia sits at the crossroads of western Asia and Eastern Europe, so it is bounded to the west by the Black Sea, to the north by Russia, to the south by Turkey and Armenia, and to the southeast by Azerbaijan. Get to know about Culture and People, climate, Economy, Places to see, Things to do in Georgia. Read More

3 Places in Georgia You Must Visit: Georgia is a wonderful country sitting at the meeting point of Asia and Europe. What apart from its culture and heritage has won the heart of people visiting this country is the hospitality and cuisine. Checkout some tourist places in Georgia (Mtskheta,Kutaisi, Svaneti) which you must see while you are travelling to Georgia from India. Read More
Aerial Tramway, Tbilisi: Aerial Tramway is a fast and great experiential way to reach from a place on ground to the top of a hill where a significant travel sight is located. In this regard, Tbilisi aerial tramway connects Rike Park or popularly known as Europe Square to the fortress of Narikala. Read More

Mount Kazbek: Mount Kazbek is one of the highest and most beautiful mountains of Caucasus. In fact, it is the third highest mountain in Georgia, after Mount Shkhara and Janga and the seventh highest peak in the Caucasus Mountains. Mount Kazbek comes under the natural beauty category when it comes to must visit places in Georgia. Read More
---
Uplistsikhe - Ancient Cave Town in Georgia: Uplistsikhe is easily an off beaten travel destination for the tourists in Georgia. It is an old rock-hewn town in eastern Georgia. It is just 10 KM away from the town of Gori, which is also a tourist attraction. Uplistsikhe is built on the left bank of river Mtkvari and here in town you can see numerous structures which dates back to early Iron Age to the late middle ages. Read More

Lake Ritsa - A Beautiful Lake in Georgia: Surrounded by mountains and subalpine meadows, Lake Ritsa is beautiful to say the least. Lake Ritsa is located in Abkhazia, North-western part of Georgia. It is also one of the world's deepest lakes. Lake Ritsa is quite a popular tourist destination. Read More

Vardzia Cave Monastery: Georgia is a country of natural beauty and Monasteries. Georgia a beautiful country has lot of old time monasteries. Vardzia is centuries old monastery, now part of state heritage reserve. The space around the monastery looks beautiful. You will have a great time here walking in and around Vardiza monastery in Georgia. Read More

Gudauri Ski Resort in Georgia: Gudauri is located on the greater Caucasus Mountain Range in Georgia. Gudauri is nothing less than a marvellous scenic brilliance of nature. Gudauri offers quite an opportunity to the Skiers. Gudauri has routes for beginners in skiing as well as for pro riders. Read More

Batumi A Place You Must Explore in Georgia: Batumi is known for abundance of diverse architectural buildings that make the city modern and beautiful. Batumi is also one of the main port city of Georgia. One of the fascinating aspect of travelling to this part is it's cuisine. Read More

Penny Wise Georgia: It is often a big question in the mind of the travellers who plan to visit a new place. Well Georgia in that sense is a cheap travel destination as compared to other parts of the world. Here's a list of items along with prices for travellers. Read More