Incredible journeys to Japan with DOOK!
No matter your travel style, we have a Japan package tailored for you
Japan Tour Packages
Explore Japan with DOOK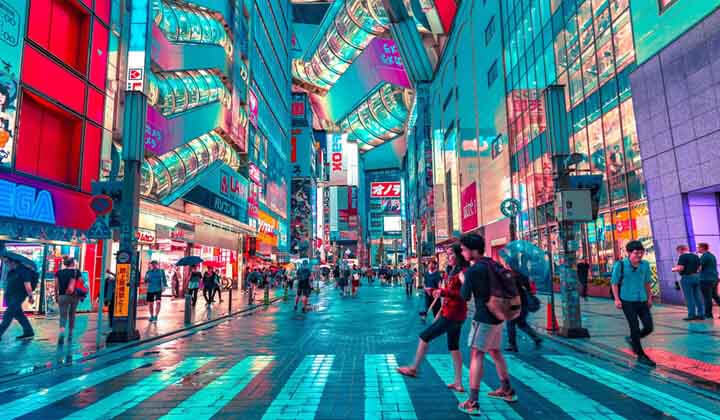 Japan: A melange of all things exotic and exquisite

Take in the beauty of this incredible country with Dook's handcrafted holiday packages

A startling combination of calm and chaos, ancient history paired with the newest technology along with an added pinch of quirkiness, Japan and its many wonders are bound to make you come back for more! Famously known as the 'Land of the Rising Sun', Japan is a country full of never-ending discoveries that are either the marvels dating far back to 30,000 years or are the unbeatably hi-tech feats found nowhere but in Japan.

Even if you care to spend a lifetime exploring Japan's rich history and natural marvels, you could barely scratch its extraordinary expanse. The country also has an advanced transportation infrastructure that makes navigation a cakewalk. Unquestionably, nowhere else on earth, you will find a country like Japan. The exceptional blend of age-old traditions and modern rituals, antique structures and serene gardens sandwiched between the city's present-time hi-tech settings, the spectacle of Mount Fuji, the Arashiyama Bamboo Forest, incredibly fresh food, friendly locals welcoming you with open arms and the list just goes on. While the bustling city of Tokyo is sure to keep you busy with awesome things to do and Kyoto will bind you in its rich cultural vibes, the laid-back Okinawa, the wintery city of Hokkaido and the most beautiful Sakura will make you fall in deep, true love with Japan. If you want to go a little off the usual touristy path, look for the bygone trade footpaths and buzzing streets, bygone trade paths, sacred Shinto shrines, diverse art styles in various edifices, cat cafes and more alike. And let's not forget about all of the incredible food and shopping because all those delicious sushi, Soba, and Ramen noodles will make you drool while a little more shopaholic exploring will reward you with tax-free deals, limited edition line-ups and even one-of-a-kind craft finds. Whatever is your reason and season to explore Japan, it truly is a delightful assault on the senses!

These are just a few reasons why you should visit Japan, but the list is endless. Choosing what to explore on a Japan tour from the sheer number of things to do, see and experience, is not an easy feat, so Dook, as an ideal Japan tour buddy, narrows down your preferences into its special handcrafted Japan Tour packages that cover all the 'worth-visiting' experiences.

Capital: Tokyo
Languages: Japanese and English (not widely spoken)
Currency: Japanese Yen
Driving Side: Left
Best Time to Travel: The time period between March to May and September to November are considered ideal for watching the cherry blossoms in their full bloom.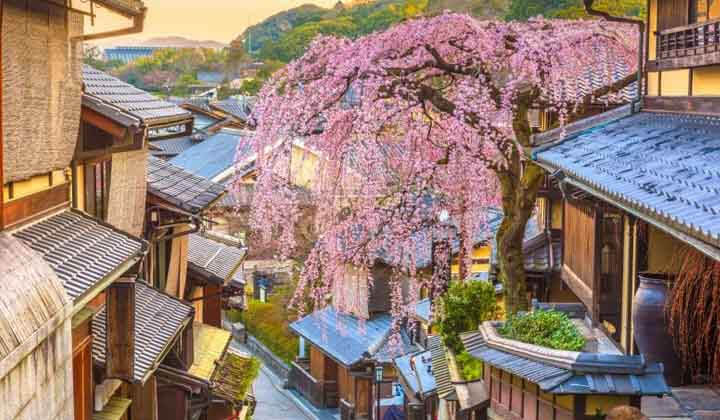 Explore Japan

While the bustling city of Tokyo is sure to keep you busy with awesome things to do and Kyoto will bind you in its rich cultural vibes, the laid-back Okinawa, the wintery city of Hokkaido and the most beautiful Sakura will make you fall in deep, true love with Japan. If you want to go a little off the usual touristy path, look for the bygone trade footpaths and buzzing streets, bygone trade paths, sacred Shinto shrines, diverse art styles in various edifices, cat cafes and more alike.

Whatever is your reason and season to explore Japan, it truly is a delightful assault on the senses!

1. Tokyo : futuristic, historical and highly innovative Japanese gem

Vibrant, bustling city streets, fast-paced life, a mix of gleaming skyscrapers and atmospheric back streets with chic bars, oddly satisfying cafes, UNESCO World Heritage sites- nothing matches the weird and wonderful vibes of Tokyo. Being the country's capital and the world's most populous metropolis, Tokyo is well frequented by tourists all year round offering unlimited opportunities to see, eat, shop and explore.

As futuristic as it is historical, this wondrous city makes you fall head over heels in love with its vibe. While the history fanatics may find themselves busy exploring the corky museums, grand temples and shrines, the modern-day travellers will be awed by the modern, futuristic neo sci-fi streetscapes that resemble the scenes of a Blade Runner movie. The Japan trip starts mainly in Tokyo as it is the main gateway to the country and a great city to explore the thriving districts like Shibuya, Asakusa and Shinjuku and the city's gaming district- Akihabara. Spare some time touring the must-visits in the city, a few of which include Meiji Shrine, Senso-Ji Temple, Ueno Park for remarkable cherry blossom viewing in Spring, Harajuku, Tokyo Tower for impressive sunset views and popular day trips to Tokyo Disneyland, Disney Sea or nearby Mt. Fuji.

2. Kyoto: entire Japan in a nutshell

When you think of Japan with closed eyes, you are probably picturing Kyoto- pretty zen gardens, colourful shrines, graceful geisha in their vibrant clothing and all things that are bright and beautiful. No wonder why Kyoto is renowned as the cultural and historical heart of Japan and for the natural beauty that is both appreciated and celebrated, especially during cherry blossom season.

The city, though not as colossal as its cousin metropolis, is situated in Kyoto prefecture in the Kansai region and is blissfully soaked in traditions and cultures. You could easily spend weeks exploring its scenic backstreets, generations-old craft shops and tiny restaurants, not to mention the ancient temples and shrines. Take a walk through thousands of vermillion-hued entrance gates towards the summit of Fushimi Inari-Taisha, see the 'old Japan' in the lanes of Gion and save your best time of the Japan trip for the best cherry blossom sightings and crimson maple leaves. You definitely cannot afford to miss the magnificent Kiyomizu-dera temple. Our travel tip? Visit the temple during the sunset.

No matter how much time you have in the city, Dook's Kyoto itineraries featured in their custom made Japan Tour Packages are designed to help you make the best of your time. Get to this heart of Japan and begin your journey now!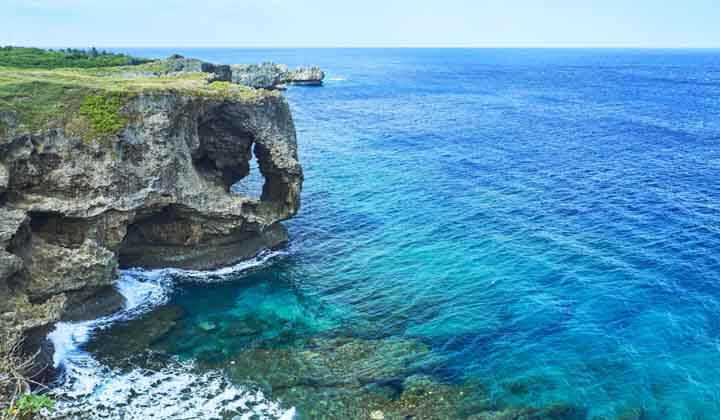 3. Okinawa: where the sun smiles down on you!

A remote and beautifully best-kept-secret of Japan, Okinawa is one out of the most popular tourist destinations in the country, known for its tropical climate, pristine beaches, delicious food, spectacular reefs and cultural background and these are just a few reasons to fall in love with Okinawa. Located in the southern tip of the country, this city is a group of about 160 beautiful islands, some of which are connected to each other by a bridge, others only by an airplane or ferry.

Before it became part of Japan, Okinawa was known as the Ryukyu Kingdom and had its own culture, language and traditions. Today, it thrives on an intermingling culture that is quite different from the other parts of Japan. While there are a number of World War II ruins and restored castles of the Ryukyu kings to explore, the magnificent beaches and coastlines with an amazing array of coral and undersea life make for an idyllic beach escape away from the usual hustle-bustle. Culture lovers and shoppers will want to check out Tsuboya Pottery Street where the Okinawa pottery can be purchased. For spotting the rare flora and fauna and humpback whales, Zamami Island is a must-explore and if the 'sun, sea and sand' is on your mind, head off to Oodomari beach on the remote Ikei Island which is one of the beaches in the city or you can opt to sail straight for Kume Jima. If you're looking to avoid Japan's famous crowds and still be able to enjoy the perks of an island getaway, head into Naha during January or February. And what if we tell you that Okinawa is also one of the places where you can envision celebrating your big day? Soon realising that Okinawa can be the ideal destination for tying a knot, especially for the experiential Indians, the Japan National Tourism Organization (JNTO) is setting its sights on India's outbound wedding market and has geared up promotions to invite the young couples.

4. Osaka: Japan's culinary capital

The third-largest city in Japan and an important cultural hub, Osaka is a delightfully relaxed city famously known for its nightlife and food with a bit of history peeking through its modern cityscape. But what really makes it a sure bet amongst the curious travellers is its delectable street food.

Food, in general, is a big deal in Japan but Osaka being the culinary capital of the country and locally termed as Japan's Kitchen, is a sure shot paradise for the foodies. There are a few Japanese culinary specialities that originated from Osaka such as the Okonomiyaki and Takoyaki which can be found for soulful tasting at Dotonbori which is the centre of everything "Japan". Other favourites on Osaka's platter include Rikuro's cheesecake, Tonkotsu ramen and more. Extend your culinary trip and hop off the bullet train into an area of exciting nightlife, plenty of shopping and modern attractions and even peek in the historical side of Osaka by visiting the Osaka Castle. For tourists seeking family- fun, one of the most popular attractions is Universal Studios Japan. There are day trips that you can easily opt for in the other cities within the region including Kyoto, Kobe and Nara.

5. Hiroshima: brighter beyond the bygones

Most people would associate Hiroshima with its tragic past of atomic bombings bringing the city to a state of absolute despair, but if you look at it with a brighter vision, you'll see the city has evolved, beyond living in the horrors of the past.

Even though the history fanatics will find their way towards the most visited Peace Memorial Museum and learn about the dropping of a nuclear bomb on Hiroshima, the city thriving into a modern-day metropolis has given it hope for a better future. Unlike the famous Museum, you can find the places that are lively with wide boulevards, have bars and restaurants serving fantastic local cuisine including the local speciality-okonomiyaki (a savoury pancake made of fried noodles) and the smiling, ever-friendly people. You can also take a ferry over to the neighbouring Miyajima Island where you can either spend the day taking in all the historic holy vibes, meeting the cute tame deers or spend your night in some high-end, authentic ryokans in Miyajima.

6. Hokkaido: Japan's northernmost gem

Famous for its exceptional wilderness, fascinating food and culture, wild and white winters and profuse summers, Hokkaido, Japan's northern island is a haven for dedicated nature lovers and outdoor enthusiasts. This northernmost island of Japan is a short flight from Tokyo and is considered a popular choice for those wanting to get out enjoying the snowy adventures; thanks to its abundant powder snow and its main city Sapporo that make it the most preferred during winters.

Though you won't find many traditional villages in Hokkaido, unlike in most other rural parts of Japan, the pristine expanses of nature, some of the best skiing and snowboarding at Nisek and astoundingly good food and beers make it an ideal tourist hotspot. On the summer's facade, Hokkaido offers some unforgettable and unique experiences that are both wild and unspoiled. There are natural hot springs, volcanic lakes and plenty of hiking opportunities to indulge in. You can even choose to explore the culture and traditions of the indigenous Ainu people at Lake Akan or see the unique free-roaming wildlife in isolated places like the Shiretoko Peninsula. Whatever is the reason or season to visit this Japanese gem, Hokkaido won't disappoint!

Top Bucket List Experiences in Japan

● Explore the entrancing islands of Okinawa
● See the wilderness at its best at Arashiyama Bamboo Forest
● Don't miss out on witnessing the Cherry Blossom season
● Stroll the buzzing shop-stop- Takeshita Street
● Have a signature Sapporo beer while gorging on the scrumptious seafood
● Reach up to the summit of Mount Fuji
● Step inside the Kawasaki Warehouse
● Visit Tokyo's most famous temple, Sensoji
● Discover Kyoto's white-sand beaches on the Tango Peninsula
● Hop in for a thrilling cable car ride at Mt. Komagatake
● Bring out your inner shopaholic at Nakamise Shopping Street
● Check out the latest electronics and gadgets at Akihabara
● Stay in a traditional ryokan
● Get amazed by the beauty of Ueno Park during the Cherry Blossom season
● Relish the night views from the top of Tokyo Sky Tree
● Sip a coffee at any of the quirky cafes, preferably a cat or a maid cafe
● Sleep in a capsule room
● Take in Nikko's World Heritage architecture
● Try Osaka's piping-hot culinary delight- Takoyaki
● Tour the samurai-era villages of Tsumago and Narai
● See the outdoor art installations at the first open-air museum in Hakone

See all things majestic in this 'land of rising sun' with Dook

With Dook's Japan Tour Packages, you are sure to witness the country in countless shades. Be it the cherry blossom season, the festival tours, the special interest tours like gastronomical adventures or just a usual family outing, our bespoke Japan Holiday packages will bring your Japan tour dreams to reality while taking you through to every pretty corner of a majestic land never visited before.