Incredible journeys to Switzerland with DOOK!
No matter your travel style, we have a Switzerland package tailored for you
Switzerland Tour Packages
Explore Switzerland with DOOK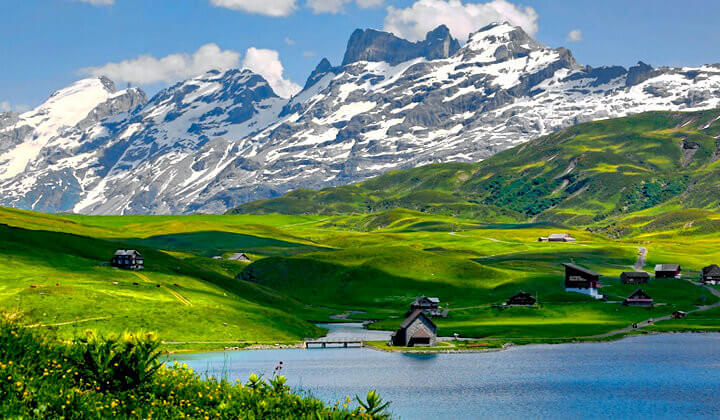 A spectacular sojourn through 'Switzerland'

Visit this pleasing part of Europe with Dook's bespoke Switzerland Holiday Packages

"Switzerland"- the mere name of this picturesque country invokes irresistible images of snow-capped Swiss Alps, glacial lakes, quaint mountainside villages, the surreal shades of greens dominating the countryside, ancient castles, lavish vineyards and what not! Everything just seems otherworldly and plucked out of a postcard. A strong reason why this central European country has long been considered a classic tourist destination across the globe is because of its magnificent contrasts between adventure, exploration and relaxation. It is a country where peace prevails in every corner, nature and city blend harmoniously and adventure, excitement and culture take the front seat. With more than half the country being covered by the Alps, Lake Constance in the north, Lake Geneva in the south and its fair share of urban cities like Zurich, Switzerland tourism is booming more than ever. Further, the country sharing its borders with five of the most wonderful countries - France, Germany, Italy, Austria and Liechtenstein, puts it high among every traveller's bucket list.

It is quite astonishing how a single country can hold up hundreds and thousands of wonders together, be it towns and cities perfectly blended into history and modernity or the picturesque rural areas and rich geographical features making it a nature wonderland. Add to this the country's record of being a safe tourist destination, with well-maintained roads and world-class resorts, red trains curling up to unbelievable heights, its fondness for food and wine and you know you have a perfect spot to unwind. Plan for a Switzerland Tour and venture into the land of the breathtaking Alps, of glorious cities, of castles and old town squares, of the most beautiful blend of nature and culture; for this is not an experience that should simply be seen in photographs, it is one to be had personally. While here, you can't afford to miss the Matterhorn and of course the top of Europe-Jungfraujoch, the festival-loving city of Lucerne, Lake Geneva, Lake Lugano, Swiss National Park, Rhone Glacier and these are just a few for starters; the country also has a wealth of wonderful attractions that will definitely fill your wanderlust appetite. Additionally, as Switzerland is world-famous for its cheese, make sure to sample some during visits to farmers' stalls along with the Swiss chocolates that are the best souvenirs to bring back home. You can also let your taste buds tickle a bit to try the fondue, polenta, apple rosti and papet Vaudois that too are the must-try on the list of top Swiss delicacies along with Swiss wines and beers.

With so much versatility of offerings to its credit and incredibility on its tourism platter, this pivotal country at the heart of Europe is a magnet for travellers of all ages and interests. Why are you still waiting to plan a trip here? All you must do is get in touch with us and enquire about our tailor-made Switzerland Tour Packages from India. Rest assured that you will have a Swiss vacation of a lifetime!

Capital: Bern
Languages: German, French, Italian & English
Currency: Swiss Franc
Driving Side: Right
Best Time to Travel: Round the year destination but the time between July to September (for summer breaks/ outdoor activities) and January to mid-March (for skiing and other winter sports) are the best enjoyed.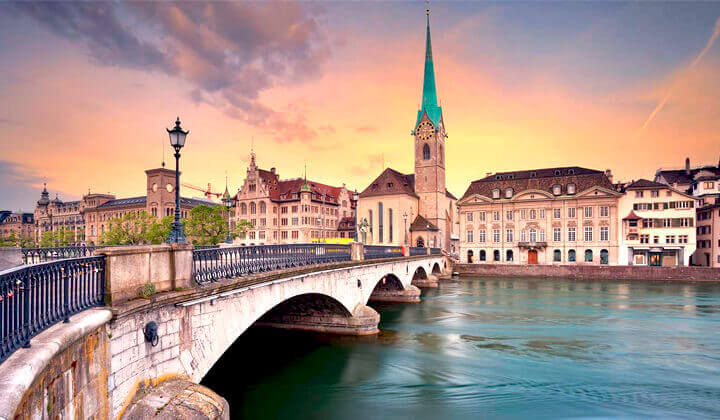 Explore Switzerland:

Swiss landscapes and fancy cities are sure to melt your heart, just like their yum cheese! While the country's darling cities Zurich, Geneva and Basel offer a pinch of everything exciting from an array of museums and galleries, historic buildings, castles and renowned festivals to chic bars and restaurants, its capital Bern on the other hand, has a stunning medieval old town and a river that hugs the city tight, making it an ideal spot for taking a dip in nature as well as in history. Not to forget Zermatt that offers visually appealing alpine sceneries, Lucerne that offers nothing but relaxation and a feel of being taken back in time and Lugano that is known for its cobblestone lanes and picturesque natural beauty. From the cities, as you move to the countryside, you will discover the small towns and alpine villages that thrive abundantly with lakes and mountain-scapes. Do take one of the panoramic train rides like the Glacier Express, Bernina Express and Golden Pass and taking shorter cable cars and funicular rides to Mount Titlis and Mount Rigi is also highly recommended.

With these on your bucket list, you can only scratch the surface of all the things to see and do in the country but by booking one of our Switzerland Holiday Packages, you may have access to all these and even more. Get in touch to more about our specially handcrafted Switzerland Packages.

Meanwhile, you can have a look at the major Swiss cities below along with a list of 'must-experience' experiences that are definitely not worth skipping off your Switzerland Tour itinerary!

1. Zurich: Country's beating heart

Switzerland's largest city that is set amidst the abundance of nature and enclosed by the magnificent Alps, Zurich appears to be the ideal retreat for travel fanatics. One of the most favourite cities in the country, it is considered ideal for those who adore art and aesthetics, culture and architecture or fashion and shopping. The vibe here is unlikely to find in any other Swiss city; there are quaint and quiet streets set against the Alpine backdrop and a beautiful lakefront and then there is a rush of restaurants, bars and cafes, concert halls and galleries that make you acquainted with the real buzz of the city centre. It is also the financial centre of the country and proudly holds the benefit of being the most competitive economy in Europe. Needless to say, with such a scenic spot to call home and multitudes of modern-day attractions, the quality of life and tourism in this city are at its roaring heights.

Although every Zürich Attraction is a symbol of uniqueness; nothing beats the charm of the Museum of Art that displays a vast collection of contemporary works from the world's most celebrated artists such as Pablo Picasso and Van Gogh. Zurich's Bahnhofstrasse is the city's main shopping boulevard and another top favourite as you can find a wide variety of designer shops, brand stores, books and of course the city's best chocolates. Want to get closer to nature? Try boating on the lake or hiking up to the Uetliberg Mountain. Are you an art lover? Immerse yourself in the abundance of art and culture sprinkled over 50 museums and 100 galleries all over the city. And you, the fun lovers, are in for a real treat as the city offers world-class dining and nightlife at the countless restaurants and shimmering clubs. Whatever is your reason to include this heart-stealing city in your Switzerland Tour itinerary, Zurich really lets you fulfill every holiday fantasy, your way.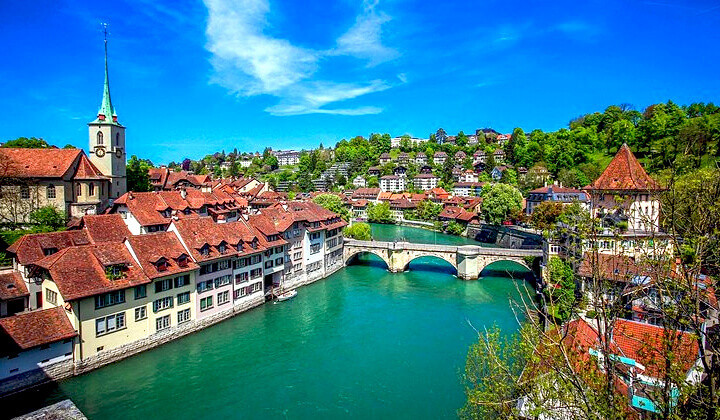 2. Bern: The medieval Swiss capital

Resting along the shores of the unspoiled Aare River, the capital city of Switzerland is one of the cities that has still managed to keep its historic charm intact while fixing its other foot into modernity. While the medieval air of the city with its fountains with fantastic folk figures on their tops, sandstone facades, narrow streets and their cobbled paths, cellar shops and historic towers are too good to miss, an array of bars, clubs and restaurants in the city centre make Bern a perfectly balanced and interesting city to explore.

The capital city has a wonderfully intact UNESCO-listed old town that transports the mind to a bygone era thanks to its 6 kilometres of arcades that the locals refer to as 'Lauben', boasting one of the longest weather-sheltered shopping promenades and eateries in Europe. And it is not possible to visit Bern and not tune up a gear with some more adventure and real fun on the River Aare; including following the locals who have made urban swimming an actual UNESCO listed Swiss tradition. There is plenty of tubing, rafting and paddle boarding that you can indulge in while visiting the River Aare. You must also visit the Zytglogge (Clock Tower) which is the darling of the city and a historical highlight. And you'll be amazed to note that Bern is also known as the "Beer Capital" supporting the fact that it has the best craft beer in the country and innumerable bars serving the best brews.

3. Geneva: The urban metropolis with a tinge of small-town vibes

Whether it's a walk along a quiet lake, a ride on the boat, a sun-drenched café terrace in the Old Town, or the restaurants and shopping centres exuding a sense of luxe, Geneva is sure to take your heart away at the very first sight. A key centre for arts, culture and home to most of the multinational corporations and associations, Geneva is another of Switzerland's main destinations and a city with rich international flavour and medieval heritage.

With its breathtaking views, Geneva amazes you time and time again! From the famous Jet d'Eau, the key symbol of the city jetting water 140 metres above Lake Geneva, to the picturesque countryside and the small cobblestone paths, enjoy being enthralled by its enchanting landscapes. The lakefront, along which you'll find many of Geneva's tourist attractions, is lined with elegant promenades, parks and gardens. The Old Town in Geneva rises on a hillside above the Rhône River and is dominated by St. Peter's Cathedral, the centre of the Reformation where the tiny, old streets tell its story through small squares, historic buildings, mysterious museums and famous secret passages that are well-preserved. The sides of the old town are surrounded by a ring of broad streets that trace the line of Geneva's ancient fortifications. Thriving along them is the city that exudes the true urban flavour with its elegant buildings and headquarters of the World Trade Organization, World Health Organization, International Committee of the Red Cross to name a few along with the galleries, luxury hotels, boutiques, theatres, operas and restaurants. From sightseeing to shopping to sipping on fine beverages and finding the best chocolates and watches to take home, in Geneva, you will find a treat of your choice.

4. Basel: The conventionally modern Swiss town

It may be Switzerland's most underrated city, but Basel is actually quieter than Zürich, less international than Geneva and farther from the Alps than Bern. Yet Basel is Switzerland's second-largest city and the fact that it has more than two dozen museums for a small chunk of the population and a cosmopolitan ambience with traditions held high till date make it clear that this is no ordinary provincial town. Here, in Basel, it is easy to find 15th-century historic buildings complementing the globally renowned modern architecture and a perfect blend of the traditional and the modern.

The historic landmarks of the city that you must include in your Switzerland itinerary are the large market square with its richly decorated red sandstone town hall and the late Romanesque-Gothic Basel cathedral. While strolling the old town, you will walk past small boutiques, antique book shops but also shops of modern designers and a visit to the "Läckerli Huus" to try the traditional honey cake which is well worth your time. On the urban front, the city has well-conceived modern buildings some of which are designed by renowned architects, chic boutiques and more. Other must-sees in the city include the painstakingly renovated City Hall, the Barfüsserkirche (now the Historical Museum) and the Spalentor that once served as a defensive gateway to Alsace.

Top Bucket List Experiences in Switzerland

1. Take a Gotthard Panorama Express train from Lucerne to Lugano

Spare an entire day and get on to the lovely glass-domed Gotthard Panorama Express train. Starting from Lucerne, the train takes you through a lovely route that glides through a picturesque landscape while you cross tunnels and see the charming village of Wassen from all different angles. Once on the train, you'll find yourself almost in a different country as the Lugano area is quite different from the north while you whisk through nearly 180-degrees views of the lakes and mountains of Switzerland making your way eventually to Lugano. The rich diversity of nature rendezvous makes the whole train journey a bucket list experience.

2. Explore the gorgeous town of Montreux

If you really want to base yourself in an activity-filled area with the charming countryside, Montreux is the place to be at. An adorable town sitting on the edge of Lake Geneva, Montreux has plenty to offer including the most beautiful views across the lakeside and a museum of Queen memorabilia. Then there are age-old wine cellars and hiking trails at UNESCO heritage Lavaux Vineyards, the Earth at Sel de Bex salt mines and you can even take a cog railway up Rochers-de-Naye for panoramic views. You must not miss its most beloved attraction Chillon Castle, a medieval fortress floating on the edge of the lake that is best experienced during the sunset.

3. Climb to the top of Europe- "Jungfraujoch"

This has to be on the top of your travel bucket list; if not, you must add it ASAP. One of the most incredible places to visit in the Swiss Alps is Jungfraujoch or what it is popularly known as 'the top of Europe'. It is the busiest from the very beginning of winter hosting the outdoor activities in the Alps. The moment you deboard from the train taken from Interlaken to the mountain top, be prepared to have your breath taken away. Not only are the views and activities irresistible, the attractions here like Ice Palace, the observation deck, the snow fun park and the Lindt café are well worth dedicating your time to.

4. Romance in your mind? Take your loved one to Zermatt

If romance is your main agenda for the Swiss holiday, you must take a tour to Zermatt. Love is at the heart of Zermatt; from the passion it has inspired in winter land explorers to the traditional wooden chalets and Valaisian village that make the town ideal for a lovers' stroll. Resting beneath the stunning Swiss Alps, lays the Matterhorn that tops all the experiences for magnificent iconic views and car-free Zermatt is the ultimate picture-perfect ski resort. Just imagine a romantic ski trip where you can do endless cuddles on chairlifts, ski side by side with each other, have lunch in a cozy mountain restaurant or a romantic dinner maybe and end your day with fine wine by the fire and stunning scenic landscapes to fall asleep to! And you must not visit hopping onto the Glacier Express that is believed to have the most scenic train routes in Switzerland.

5. Have a beer in Bern

Visiting Bern in Switzerland and not having a beer is like visiting Rome and not tasting a gelato. Fermenting and brewing happen everywhere in Bern, including in basements, garages and even in laundry rooms. Around 200 breweries and microbreweries- more than anywhere in the entire Switzerland- are registered here and it's no wonder how well the locally brewed craft beer and the city of Bern go well together. From strolling to the popular pubs and getting immersed in Bern's beer scene or even brewing some of it yourself, the experience here is going to be truly intoxicating. Can you hear the beer fizzing and bubbling already?

6. Stay a night in the luxurious St. Moritz

Visiting this pristine region of the country feels like stepping into nature's most beautiful painting. With fresh air, lake views and picturesque hamlets scattered across the countryside, St. Moritz makes for a great stopover. There are plenty of exclusive stays here that you can choose from, allowing you to spend luxurious moments soaking it all in. The surrounding mountains can also be explored with plenty of mapped hikes and trails.

7. Hiking in Swiss National Park is a must-do

One of the oldest parks in the Alps having 100 km of hiking trails crisscrossing through the rugged landscapes, Swiss National Park is a true delight. Its remote location combined with the rare flora and fauna protected in a region makes it an untapped nature experience. But once you hold a hiking trail to follow here, you are sure to be rewarded by the panoramic views that go along the alpine valleys, over a ridge with even more incredible views and a warm mountain hut where you can stay overnight which is a true bucket list experience.

Inspired enough to take a trip to Switzerland? It is time to book a trip with Dook!

Home to awe-inspiring mountain scenery, beautiful lakes, multicultural cities, pretty little towns and villages as well as some of the world's most iconic rail journeys and incredible art scenes, Switzerland offers so many choices for the visitors that it often becomes overwhelming to actually plan a Swiss travel itinerary. But with Dook as your travel advisor and their plenty of interesting Switzerland Tour Packages, deciding what to see and do becomes a cakewalk! Get in touch with our tour crafting experts and know why our wide range of Switzerland Packages are both pocket-friendly and unusually attractive.