Incredible journeys to Indonesia with DOOK!
No matter your travel style, we have a Indonesia package tailored for you
Indonesia Tour Packages
Explore Indonesia with DOOK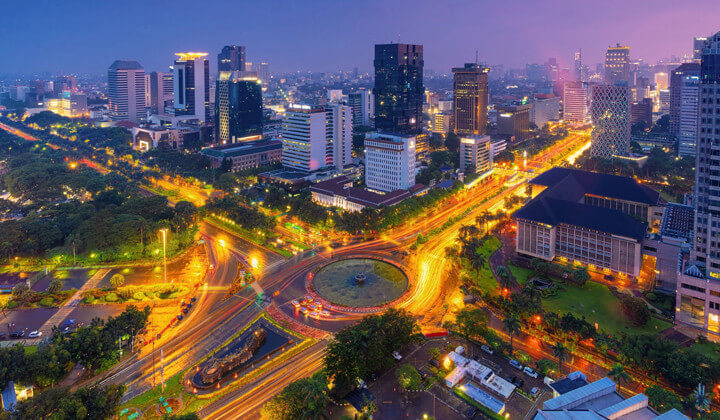 The Kaleidoscopic Palette of Indonesia

Discover the country's culture, cuisines and colours of life with Dook

Indonesia shares a lot of qualities with its South East Asia neighbours but at the same has a very distinguishing character of its own. Here, what pulls you in are the diversity, culture, scenic landscapes and flavours of life that reflect the true spirit of Southeast Asia and fascinate you to explore more. With more than 17,000 islands, Indonesia is a kaleidoscope of colours, sights and sounds bottled up in the world's largest archipelago and a diverse country that epitomises everything that draws travellers to this wonderful corner of South East Asia and undoubtedly, it is not short of surprises either.

While many people specifically travel to Indonesia to explore more of Bali which is a hot favourite on the Indonesia tour itineraries, there are a wealth of other top tourist attractions that are abundantly gifted with natural exquisiteness and cultural ethos. Being a nation of islands, it's no surprise that Indonesia boasts some of the best beaches in the world and therefore, Island hopping is an absolute fun experience here offering an additional slice of paradise to those looking forward to sunbathing, surfing and diving. Beyond its incredibly beautiful beaches, Indonesia is also home to some diverse landscapes. From the deep jungles of Borneo and Sumatra to the untouched marine biosphere of Rajah Ampat, from the active volcanoes and rice paddies of Bali to the island of Komodo dragons and Orang-utans, there is a vast melange of experiences that are waiting to be explored by the visitors. This multi-hued palette of destinations when coupled with the good food and good mood, make Indonesia worth the visit for every reason and season.

Ranging from the wild and adventurous, the extravagant to some of the magnificent natural and cultural sights, Indonesia is truly the kaleidoscopic palette of all things beautiful! Pick your favourites and get going to experience a journey of a lifetime with Dook's bespoke Indonesia Holiday Packages!

Capital: Jakarta
Languages: Indonesian, English, Balinese
Currency: Indonesian Rupiah
Driving Side: Left
Best Time to Travel: Year-round destination. However, the period between May to October is the most enjoyable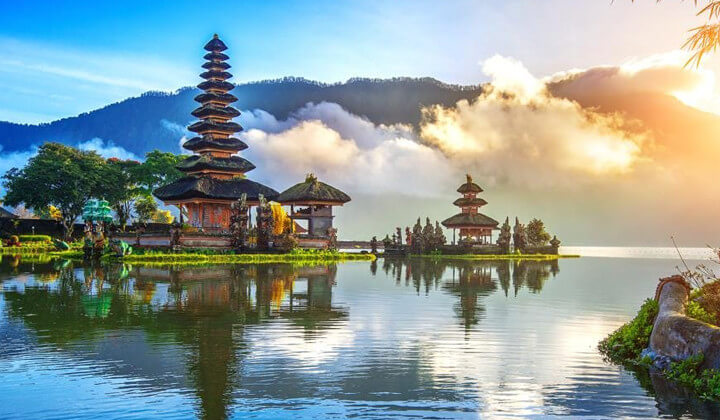 Explore Indonesia:

The Indonesian archipelago holds untold treasures in its rich diversity of cultures, natural landscapes and bustling cities. Sure, Indonesia has developed its reputation mostly because of Bali topping the list of most popular tourist hotspots but the country is not just restricted to one city and its wonders. There are surreal places that range from a mix of outlandish island wonders and thrilling adventures, lakes and national parks, volcanoes and forests for the serious hikers and the buzzing cities and their unmissable nightlife.

Whether you choose to visit the breathtaking temples or island of Bali, visit to see the dragons of Komodo Island, trek to the peak of the Kelimutu volcanic lakes, explore Lombok's island, see the sunrise in Gili Lawa or go scuba diving throughout the Raja Ampat, Indonesia leaves your nomadic spirit wanting more of adventure! You can stroll down the busy streets of Jakarta or step back in time by visiting the remote villages of Tana Toraja, visit the national parks and forests to see the rare flora and fauna, take a ferry ride to Kalimantan or a train journey to Java, shop till you drop at the Ubud market or just chase the mighty waterfalls. Whatever you choose, the Indonesia tour compels you to trudge to off-beaten path while offering all those experiences that can neither be missed nor can be overlooked.

1. Bali: a feast to your wandering soul

Since the famous book and film featuring Julia Roberts 'Eat, Pray, Love' drew attention to this enchanting island, the tourist crowds have undeniably increased. What enchanted the travellers through this movie was the sheer natural beauty of the landscapes and lush terraced rice fields topped with the exotic temples that exude peace and serenity. Rightly named as the 'Island of the Gods', Bali showcases a unique sense of spirituality while showing the different religions and cultures living happily side by side along with a special philosophy of calm life which makes Bali so special.

Taking the upper hand, the vibrant, luscious greens of Bali's jungles and paddy fields in Ubud are beautifully complemented by its art markets and intricately carved temples. Whether it's the impressive cliffs and crashing emerald waves of Uluwatu, delicious food coupled with an amazing nightlife in Seminyak, the surfing opportunities at Canggu and Nusa Penida, the high-end hotels and resorts in Kuta or the volcanic peaks inviting serious hiking, there is much more in Bali to choose from. Head near the shores to the incredible islands surrounding Bali and fulfill island paradise dreams by jumping out for surfing, hopping on a banana boat or enjoying a relaxed sunbathing by the sea. A few things you shouldn't miss before leaving Bali- a soul-soothing Balinese spa, a pack of Bali coffee, brewed fresh out from the lush coffee plantations and an aromatherapy essential oil.

With so many right reasons to believe, it is easy to see how Bali has been elevated as one of the best holiday destinations in the world. Take a tour with Dook's bespoke Indonesia Tour Packages to his beautiful city that steals hearts and captivates all the wandering souls while it continuously tempts them to return for more.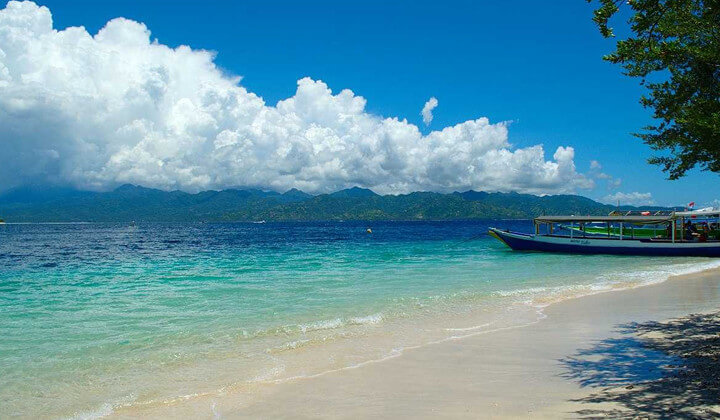 2. Jakarta: city of surreal surprises

Say Indonesia and most of us will start to think about Bali. However, a little do people know that the capital city Jakarta has a lot more to what meets the eye. While its popular neighbour Bali is a more laid back metropolis, Jakarta draws the travellers with its uniqueness. The extensive natural highlights of Jakarta, with its crowds and the sheer speed of city life, may overwhelm many tourists at first but beneath this rather busy exterior, it is a city filled with interesting contrasts of the contemporary, traditional and the extravagant.

Right from lavish and scented streets of the Glodok and to the colonial past of relics of Kota, from Jakarta's Old Town to falling in love with the Thousand Islands, Jakarta in all the right ways is a city of surreal experiences. Walk leisurely through Kota Baru or see the water parks and art galleries, haggle around the markets or the historic Chinatown area, go to the Merdeka Square or marvel at the extravagant mega-developments pitted against the culturally rich backdrop of the city. For the party animals, Jakarta comes as a great surprise as there are plenty of sleek bar lounges and the Bohemian cafés located here which gives an additional pump to the nightlife of the city.

3. Medan: the haven for hearty eaters

The fourth-largest city in Indonesia and the largest in Sumatra, Medan is an exciting place to spend your leisurely time in. As an entry and exit point to the famous tourist attractions like Lake Toba, the city sees a large number of tourists but it surely deserves more attention than just being called a stopover city. But ask the domestic tourists and you will know why Medan is truly loved and preferred amongst them and one out of the many reasons is the great food scene here.

Bursting with the city energy, Medan is full of historical sites, nightlife and access to the famous rainforests of the island but majorly an irresistible culinary setting. Most of Medan's top attractions are focused on food so it's easy to sign up for a food tour or simply go out solo and explore the sights, smells and tastes of the city by yourself. In addition to the restaurants, stalls and food courts, Medan is known for its diversity in food and various influences that dominate the flavours. Make a stop at Medan's culinary areas in Jalan Selat Panjang and Jalan Semarang to indulge in Chinese foods, Jalan Pagaruyung for some Indian and Malay cuisines and Jalan Padang Bulan for Batak foods. The must-try dishes include Bolu Meranti which is a kind of rolled sponge cake with various buttercream choices along with Bika Ambon Zulayka. Do not forget to taste the Durian fruit or cake and the sweet passion fruit known as Markisa. Once you are done pleasing your tongues and tummies, you can find your way to nearby attractions which include Maimoon Palace, Lake Toba, Samosir Island, Sipisopiso waterfalls, Tjong A Fie Mansion and many more that are sure to make you consider Medan for your next Indonesia tour itineraries.

Top Bucket List Experiences in Indonesia

1. See the spectacular sunset at Tanah Lot Temple

With its abundant trees and tiered pagodas, the incredible sea temple of Tanah Lot resembles a floating bonsai garden and the unmissable beauty of the Tanah Lot sunset is a must on any Indonesia bucket list! Perched on a rock above the Indian Ocean, Tanah Lot is one of the most unique and beautiful Hindu temples on the island. It is much famed for its sunset views that are topped up with soothing breeze and breathtaking nature panorama views of the ocean and the spectacular temple. A special half-day tour is organised for the groups where they get to capture the scenic beauty of Tanah Lot while they experience absolute peace and closeness to the almighty.

2. Hike the active volcanoes

If you are stoked to take a trip up to Indonesia's volcanoes, mark these as the must-do activity on your next trip to Indonesia. The volcanoes here are not only breathtakingly beautiful but also unique in their ways. While some of them are known for their dramatic landscapes, villages and beautiful islands, the others are considered the main symbols of sacred importance. One of the famously hiked is Mount Agung which has long been revered by locals who believe that their ancient ancestors and the gods themselves dwell in their higher realms. While it looks as majestic as it is in the pictures or from the neighbouring Mount Batur, many choose to hike up to its summit where they can relish the sunrise experience. Mount Batur being another natural marvel is a great option for hiking and another top choice for crowds craving for a challenging yet rewarding experience. Amongst the other top favourites, Mount Rinjani, Mount Merapi and Mount Tambora take the lead in providing an unforgettable volcano hiking experience, with breathtaking panoramas wherever you roll your eyes.

3. Go up and close with the Komodo dragons in Komodo National Park

The Komodo dragon, one of the largest living lizards weighing up to 70 kgs exists only in this one part of the world –in the southern side of Indonesia. Komodo Island is one of the four islands where these dangerous beasts live and its isolation from the rest of the planet is what has ensured its survival for so long. The guided walking tours are taken to Rinca Island and Komodo Island, letting you peek closely into the life cycle and hunting patterns of the dragons. They may seem slow and docile but in reality, they are much faster than humans and quite dangerous with sharp teeth, large claws and bites that let their prey die slowly and painfully. But hoomans, you do not need to worry much, as the tours done across the island are general strolls in the park done under the guidance and also the dragons are generally well-fed and you will see them spending their time resting and conserving their energy. But when in Indonesia, this is truly one bucket list experience!

4. Tour the coffee plantations in Luwak and sip a fresh brew

When visiting the city of Bali, make the most of your time by gaining in-depth knowledge about Balinese coffee production including the famous 'Kopi Luwak' made by civets. What is special about the Luwak Coffee plantations is that the process of brewing it to the final form is done traditionally, which is made out of civet animal droppings (poop) of coffee ore. These ores are thoroughly cleaned and stir-fried until they turn into roasted coffee beans and finally an aromatic coffee powder. It may be termed as the most expensive coffee in the world but every sip of it is worth paying for! While watching the entire coffee-making process, you can enjoy the flavourful tiny cups (ranging from tastes of caramel, chocolate, turmeric and more) with amazing natural views of the lush plantations around.

5. Escape to the Thousand Islands for an idyllic beach break

Before your flight lands at Jakarta's International Airport, you can clearly see these strings of islands that are sitting off the coast of Jakarta city in Western Java. The pristine waters, crystal white coasts and long stretches of greens make them admittedly beautiful, however; the islands are a snorkelling haven and water sports' playground in particular for the inhabitants of the metropolitan city. You will see many domestic tourists thronging the beaches during holidays, to have fun under the sun and surrender to the beauty of beaches. Several islands which were previously inhabited have now been developed into luxe resorts with bungalows and therefore, the districts of Pulau Kelapa and Pulau Macan call for a thorough visit.

6. Tour the magical Borobudur

One of the largest and also the greatest Buddhist monuments in the world, Borobudur is set in emerald green paddies outside of Yogyakarta and is most frequented by over a million domestic as well as foreign visitors. Apart from enchanting you with its well-preserved ancient structure and colossal sizes of the blocks, its exquisite details found in richly decorated sculptural work will keep you on your toes till the time you inspect every wall. One of the must-experience highlights here includes seeing the magical sunrise moments. While the temple officially opens at 6 am, the sunrise hunters could be in the vicinity around 5 am and will be the luckier lot to catch the views of sunlight uncovering the temple and its intricately designed stupas, statues and carvings.

Is Indonesia on your mind? Go nowhere else than Dook...

Since Indonesia is a huge nation comprising hundreds of cultures derived from various influences and thousands of attractions that need travellers' utmost attention, Dook International helps you get a step closer to your ideal vacation in the country. Our tailor-made Indonesia Tour Packages offer the travellers a mind-blowing travel experience with better alternatives, added value and a bunch full of memories to take back home. Once you have booked your Indonesia tour with Dook, be prepared for countless surprises.
Explore: Top Attractions in Indonesia