10 Best Places for Shopping in Turkey You Must Visit!
No matter where you are heading for a vacation, bringing gifts home is a loving practice. Your family or friends expect presents- you even want to take something home for a memory. So, when it comes to shopping in Turkey, umpteen options are available. Turkey is a paradise for all the shoppers. With countless shops, bazaars, and shopping malls, tourists in Turkey can shop on many things.

Markets in Turkey are an ideal mix of old and new bazaars, which makes it a favorite shopping destination. Offering the best of East and West, Turkey has some exceptional places for shopping. Stalls packed with handmade rugs, shops filled with souvenirs, and stands offering baklava, Turkey's markets are a vibrant space to be in. Having no corner empty, you can find everything here. From Grand Bazaar Istanbul to ANKAmall, you can find every kind of shopping space here.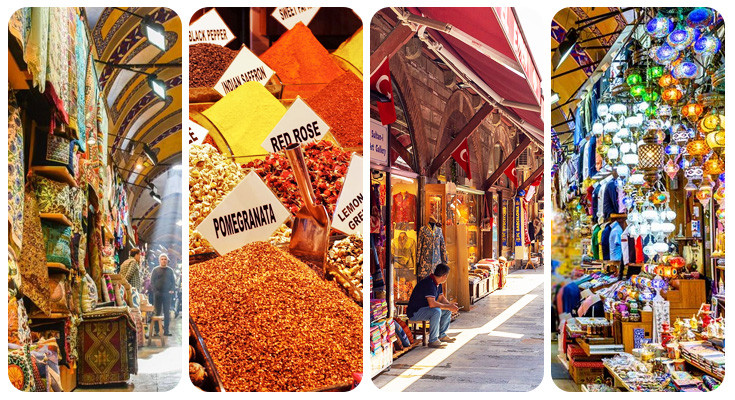 Besides the gorgeous landscapes, hot air balloon rides, and stunning architecture, markets in Turkey are also captivating sights. If you want to do a lot of shopping in Turkey, this guide can help you find the best place.

Best Markets in Istanbul & Turkey

We have picked some of the best shopping places in Turkey for you that you must check out:

1. Grand Bazaar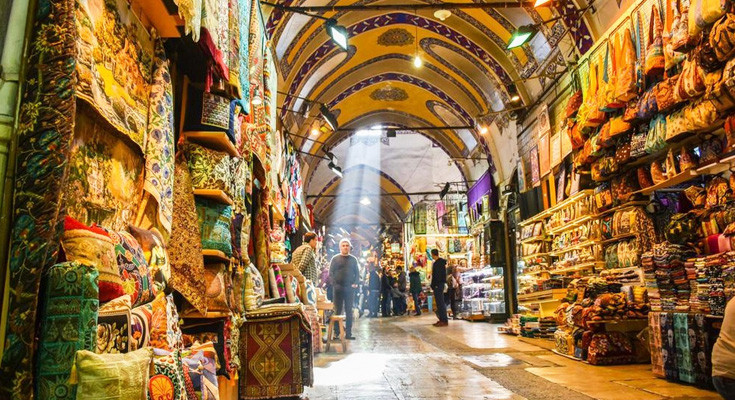 Grand Bazaar is one of the most famous places for shopping in Istanbul. It is one of the ancient and largest markets in Istanbul. Housing over 4000 stores, Grand Bazaar happily welcomes thousands of tourists every day. It is also one of the top attractions in Turkey that people come to see. From Turkish crafts & craft work to antique Turkish carpets & clothes to handcrafted jewellery & fridge magnets, everything is available here. Established in the mid-15th century, Grand Bazaar still holds significance in Turkey. If you are in Turkey, a visit to this colourful paradise is a must.

2. Spice Bazaar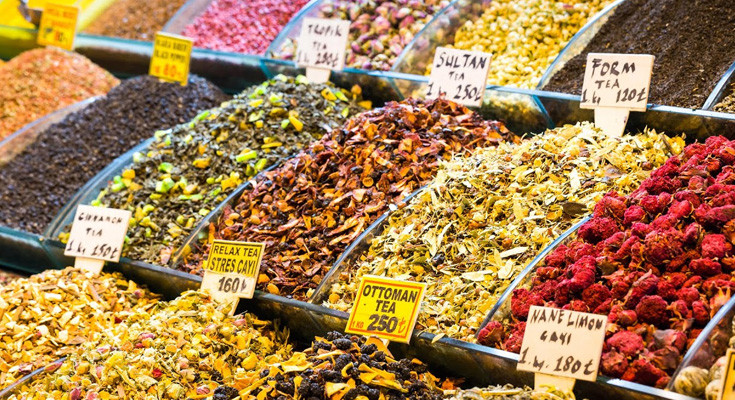 Spice Bazaar is one of the popular stops for shopping in Turkey. It is the best place for everyone who wants to take the flavour of authentic Turkish food back home. Houses more than 80 shops trading in spices, nuts, dried fruits, flowers & herb teas, Turkish food products, and local sweet treats, Spice Bazaar is eminently famed for all the right reasons. Constructed in 1660, Spice Bazaar has now become a vast commercial space. If you want to visit this market, try to come in the morning as it gets crowded during the afternoon and evening.

3. Arasta Bazaar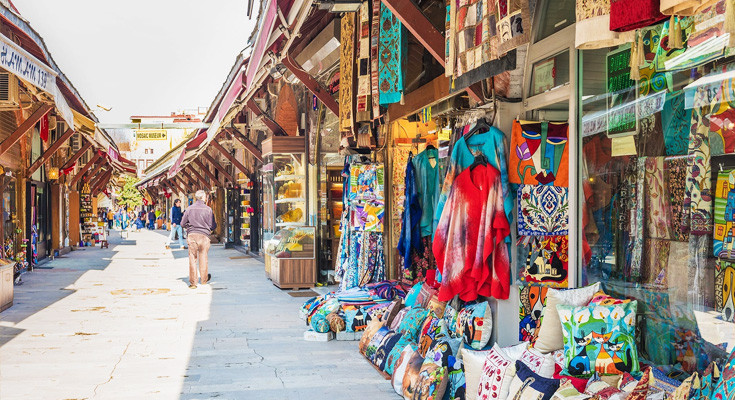 Arasta Bazaar is a prominent place for shopping in Istanbul. Located behind the Blue Mosque, Arasta Bazaar is famous for handmade rugs & carpets, mosaic tiles, beautiful jewellery, Turkish delights, and fine ceramics. Built in the 17th century, Arasta Bazaar has transformed into a shopping hub for tourists. If you have come to see the Blue Mosque, don't forget to pay your visit to Arasta Bazaar for a satisfying shopping experience. While exploring the market, you can even get a cup of Turkish coffee. Arasta Bazaar is an ideal substitute for Grand Bazaar if you want to shop with less crowd.

4. Kemeralti Market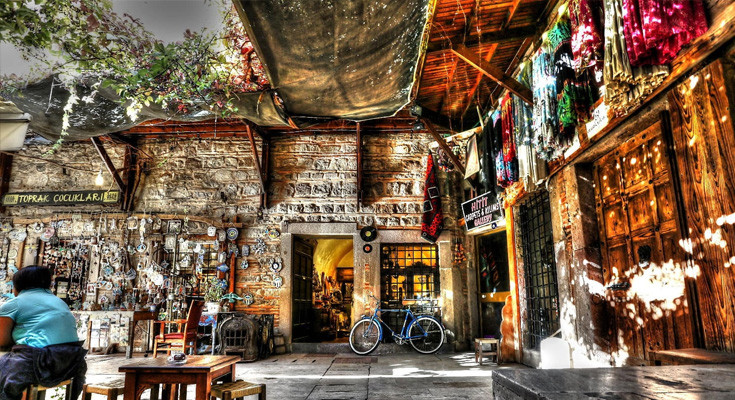 Kemeralti Market is one of the best places for shopping in Turkey. It is a treasure trove for a shopaholic tourist. Kemeralti Bazaar in Izmir is one of the oldest markets in Turkey. This 400-year-old bazaar is famous for antiques, spices, and carpets. In this market, you will find artistic fountains, mosques, prayer rooms, inns, and Turkish baths here. The market is home to stunning restaurants and workshops. If you are on vacation in Turkey, exploring this gem will be a perfect getaway for you. And while you can also shop for beautiful gifts to take home.

5. Cukurcuma Street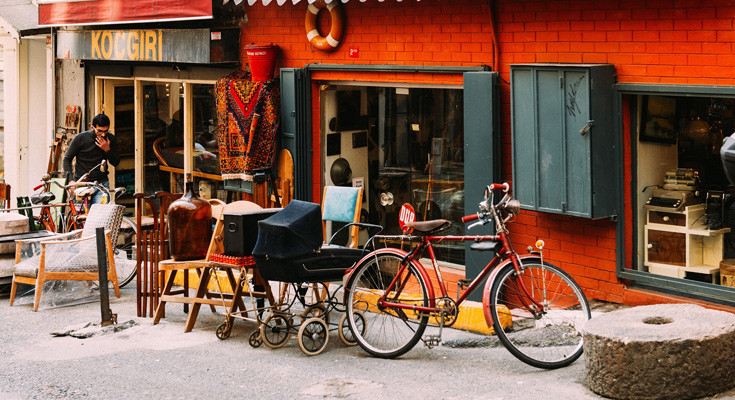 Cukurcuma Street is one of the top Turkey shopping destinations. The antique and vintage boutiques on this street are worth a visit. From floral-painted pottery to vintage clothing, old books, and paintings, Cukurcuma Street is a treasure hunt of art. You can even buy decorative glassware, tea sets, and candlesticks from the Ottoman era. It is one of the cheapest markets that offers items from the 20th century at reasonable prices. If you are looking to buy gifts for your family and friends in Turkey, Cukurcuma Street is the right choice.

6. Bagdat Street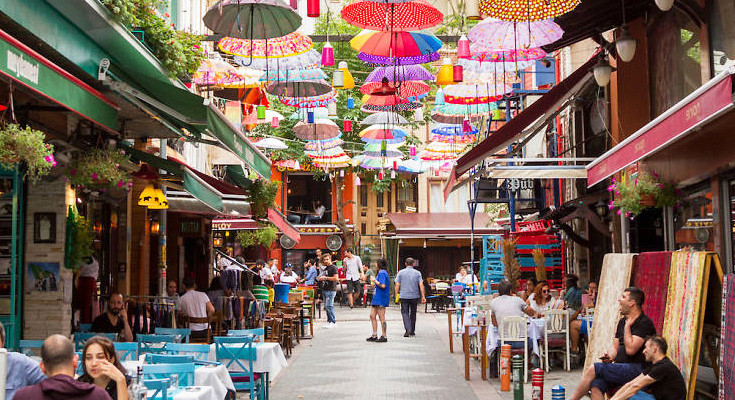 Bagdat Street is one of the most splendid places for shopping in Turkey. This street is filled with shopping malls, attractive cafes, and little antique stores. From here, you can buy fancy jewelry, exclusive paintings, stunning sculptures, impressive glassware, beautiful clothes, and many more. After a tired day at shopping, you can dine in at famous restaurants on Bagdat Street. Not just local stores, you may find branded outlets like Zara, H&M, etc. Bagdat Street is a perfect place for strolling, window shopping and eating.

7. ANKAmall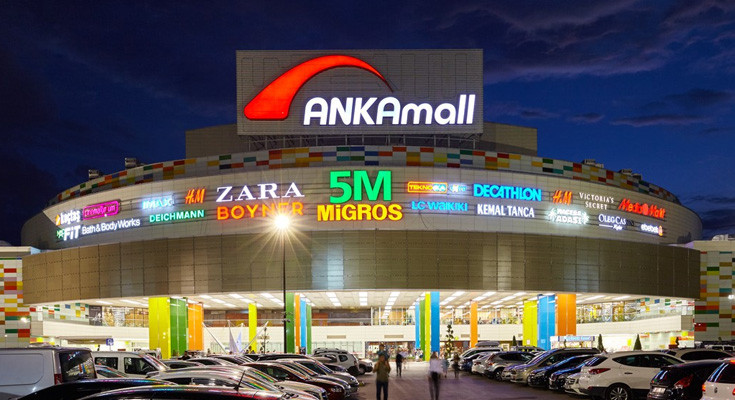 ANKAmall is the largest shopping center in Turkey. It is the most preferable spot for shopping in Turkey. Located in Ankara, the ANKAmall welcomes thousands of visitors each day. Housing some of the best brands, entertainment avenues, and restaurants, ANKAmall is a tourist shopping hub. If you are in Turkey, ANKAmall is a great place to shop and have fun.

8. Forum Camlik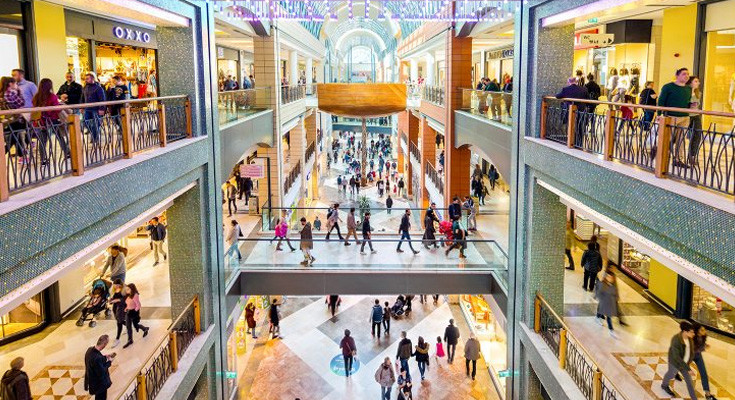 Forum Camlik is everyone's favorite Turkey shopping spot. The two-floored shopping center houses everything you like- bookstores, cafes, a cinema, an arcade, eateries, and large stores. This place draws tourists from every corner of the world and is best known as the hottest shopping destination in Turkey. Most visitors here shop for Buldan (local fabric), leather, ceramics, and precious stones. After a long day of shopping, you can even indulge in good food. It is an ideal place to unwind your shopaholic soul and enjoy the day. So, if you are visiting Turkey, particularly Pamukkale, you should not miss out on visiting this place.

9. Oscar Bazaar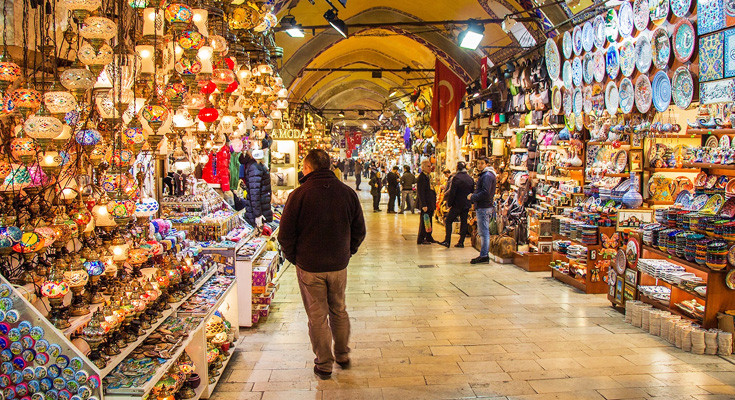 Oscar Bazaar is a renowned Turkey shopping place that captives the attention of locals and tourists with its wide range of goods. The market offers a unique shopping experience filled with culture and history. This iconic bazaar is a symbol of Turkish craftsmanship. The maze-like streets of the market are lined with an array of shops and stalls, where visitors shop for traditional textiles, carpets, ceramics, and jewelry. Oscar Bazaar is a treasure trove of Turkish artistry.

10. Mall of Istanbul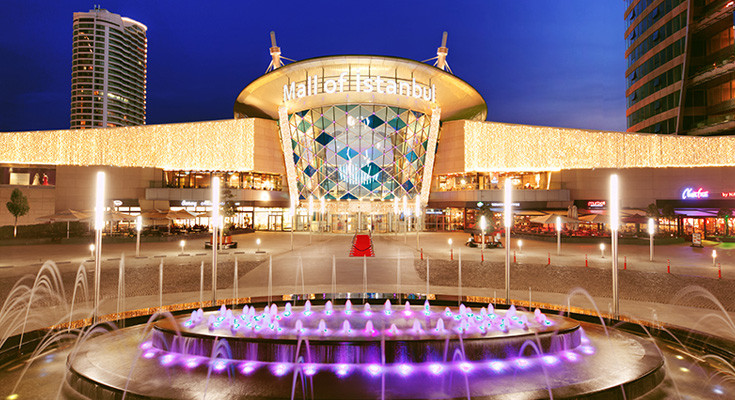 The Mall of Istanbul is one of the premier places for shopping in Istanbul. It is one of the biggest shopping malls in the country. The mall hosts some of the best stores with the biggest brands. This mall is also the best source of entertainment- it has amusement parks, 16 theatres, and an art center. The Mall of Istanbul offers an extraordinary shopping experience to all tourists. If you are in Turkey and wondering where you should shop, the Mall of Istanbul is the best choice.

Explore the Vibrant Markets in Turkey with Dook!

Turkey is a place of wonders, filled with places to see, attractions to explore, food to try, and markets to discover. It gives you an unforgettable experience in Turkey. There's no lie when we say Turkey offers a memorable shopping experience. Because when you visit these Turkish markets, you will get mesmerized by the vibrant and unique products selling on these Bazaar streets. Shopping in Turkey is much more than just markets- they are attractions in themselves.

If you plan a vacation in Turkey and need help with tour packages, you should consider taking assistance from Dook International. We offer enticing Turkey Tour Packages at budget-friendly rates. So, don't wait and head for a heart-filing holiday in Turkey.

Read More About Turkey & Istanbul:

Best Indian Restaurants in Istanbul

Best Bars & Clubs in Turkey

Interesting Facts About Turkey

Best Things To Do in Istanbul

Romantic Honeymoon Destinations in Turkey