Incredible journeys to Albania with DOOK!
No matter your travel style, we have a Albania package tailored for you
Albania Tour Packages
Explore Albania with DOOK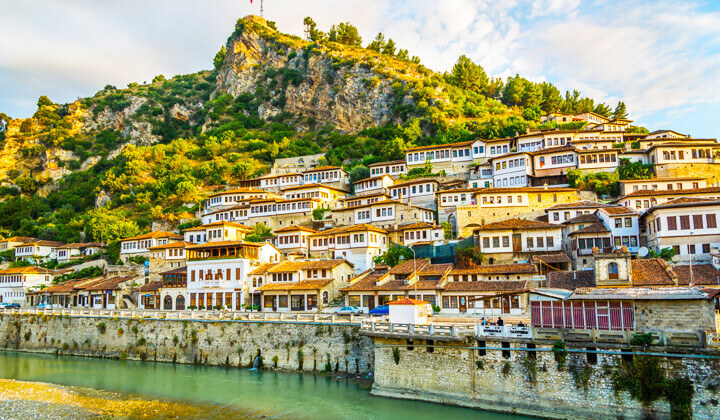 Albania is a country in Southeastern Europe. Albania is located on Adriatic and Ionian Sea falling within the Mediterranean Sea. Albania shares borders with North Macedonia to the east, Maritime border with Italy to the west, Montenegro to the northwest, Kosovo to the northeast and Greece to the south. The geographical landscape of Albania is diverse as it has snowcapped mountains in several parts such as Albanian Alps, Korab, Pindus and Ceraunian Mountains or coastal mountains and unspoiled beaches. All these diverse landscape in Albania are great attraction points for the visitors. You need to be on an Albania Tour to experience all this.

Albania history is also quite rich. The territory of the country was occupied by several empires such as Romans, Byzantines, Venetians and Ottomans over the long course of Albanian history. Following the defeats of Ottomans in 1912 in famous Balkan wars, modern nation of Albania came into existence. But in 1939 it was invaded by Italy which made Albania Greater Albania which then became Nazi German Protectorate in 1943. After Nazi's defeat and communist era in Albania, Republic of Albania was established in 1991 as a consequence of revolutions of 1991. When on an Albania Trip you can explore the historical aspects of the country beyond written materials especially if you love to dig deep into the history of a location.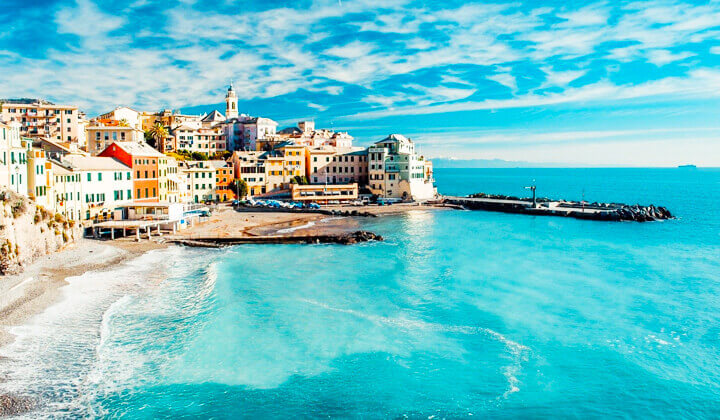 Albania Tour - Explore Best of Albania

Tourism in Albania has grown in recent years. With over 4.5 million visitors to Albania, it is one of the most visited countries in Europe. What makes Albania so attractive? Well, its unspoiled beaches, mountains, traditional cuisine, culture and tradition, historical and archaeological artifacts and moderate climate make Albania super cool travel destination choice for foreign visitors. You can simply buy the best Albania Tour Package and experience all this.

Northern Albania is famous for natural and cultural heritage. Central Albania is famous for castles, caves, long sandy beaches and archaeological sites. Southern Albania is popular for its mountains, scenic coastlines, villages and towns along the shorelines and Mediterranean atmosphere. Thus all sections of Albania have various attractions for visitors. And with best Albania Holiday Packages you can explore some of the most popular attractions in Albania as well which includes places such as Tirana, Albanian Riviera, Gjirokaster, Berat, Shkodra - The cultural capital of Albania, Durres - The largest amphitheater in the Balkans, Korçë - The City of Serenades, Vlora, Pogradec, Apollonia - The city of Apollo, Kruja and more.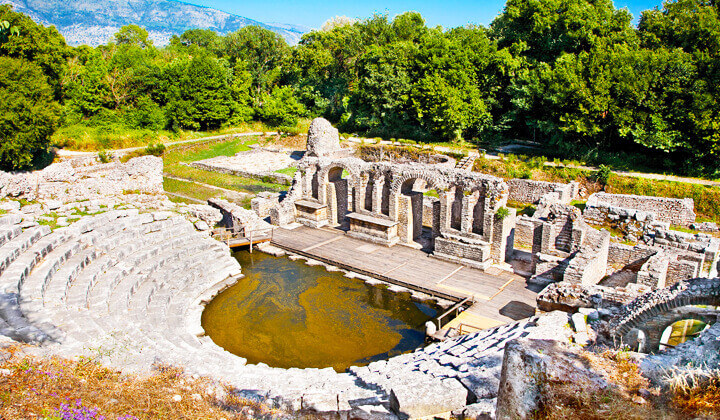 Top Tourist Destinations in Albania

1. Tirana

Tirana is the capital city of Albania. Tirana is described as vibrant city, colorful city because of the culture and enthusiasm of the city. Museums, castles are big attractions of Tirana but even public squares, buildings and streets of the city are quite a pleasure to wander. Evening and night at clubs and bars is the time to let loose at super affordable prices. Those who wish to make a list of places to see in Tirana on Tirana Tours can pen down famous sights such as Tirana city center, clock tower, Pyramid of Tirana (Enver Hoxha Pyramid), Mount Dajti and Cable Car, Skanderbeg Square, Downtown Tirana, Blloku, BunkArt & BunkArt2, National History Museum, Toptani Street, Sky Tower and more.

2. Albanian Riviera

Popularly known as Bregu to the locals, Albania Riviera is one of the prime tourist destinations you have to visit when you are on Albania Tour with the best Albania Tour Packages. This is also gem of Albanian tourist places. Albania Riviera is a coastline along the Ionian Sea in the northeastern part in the Mediterranean Sea. The coastline has several villages, raw undeveloped nature, superb nightlife, cultural & historical footprints and lot more in the Balkans. Do visit this Riviera and Llogara Pass, a stunning mountain pass overlooking Albanian Riviera.

3. Gjirokaster

Gjirokaster is a city in the southern part of Albania and a must see place on Albania Trip. The old town of Gjirokaster is a UNESCO World Heritage Site. Gjirokaster is a great example of well-preserved Ottoman town not just in Albania but in Europe. When in Gjirokaster, you are going to be awe struck by stone built houses which look like small fortresses. This is why town is also known as 'The stone city'. The main attraction of the town is the castle, the biggest in Albania which has museum of weapons and here National Folk Festival is also held.

4. Berat - The City of a Thousand Windows

Located 120 KM away from Tirana, Berat is over 2400 year old city. Berat is pride of Albanian architecture and protected under UNESCO. Berat is popularly known as 'the city of thousand windows' and 'the white city'. This is because houses in Berat made on the hills have windows and they look like stacked one upon the other from the distance and upper floors of the houses are prominently painted n white. The scenic beauty and brilliant architecture of Berat are must exploring for every visitor.

5. Shkodra - The Cultural Capital of Albania

Shkodra is one of the oldest cities in Albania which was founded in 4th century B.C. Occupied several times throughout the history; Shkodra came back to Albanian control in 14th century. The main attraction point in Shkodra is Rozafa Castle on a rocky hill in the western part of the city. Shkodra is called 'the cultural capital of Albania' because the city contributed immensely to the Albanian culture. With tradition of rich artistic life in the history, Shkodra still happens to be cultural center of the country. Apart from that don't forget to explore the natural beauty of Shkodra on bicycle.

6. Durres - The Largest Amphitheater in the Balkans

When on Albania Tours from India, another place you must visit in Albania is Durres. Durres is one of the oldest cities in the world and a port city with a mix of ancient and modern appeal. Apart from soaking up in the sun in Albania's largest and liveliest beaches here, you can also discover the remnants of biggest theater of Albania here. Durres is home to Durres Amphitheater, which is the largest amphitheater in the Balkan region and the main attraction of Durres. The amphitheater was built in 100 AD and one can explore several aspects of it through the pages of history.

7. Korçë - The City of Serenades

Korce is a city in southeastern Albania. Korce is a beautiful city in Albania often considered as the Paris of Albania. You can witness the culture and taste the best cuisine here. The attraction points of the city are its architecture, low houses and villas standing along the stone streets. Lots of visitors come here for the reasons that several festivals and concerts are organized here in Korça. You can also see some museums here such as National Museum of Medieval art and Educational Museum. With best Albania Packages you should spend some time in Korce.

8. Vlora

Third most populous city of Albania, Vlora is located in the south-western coastal region of Albania at the meeting point of Adriatic and Ionian Sea. Vlora is a gateway to Albania Riviera where wide boulevards decorated by huge palm trees can be seen which give you a real feel of Mediterranean Sea. Don't forget to see some of the top places to visit in Vlora such as Flag Square, Ethnographic Museum, The museum of independence, the castle of Kanina, Monastery of Saint Mary and more.
Other Must-Visit Places in Albania include:

• Pogradec
• Apollonia - The city of Apollo
• Kruja
• The Old City of Kruja
• Porto Palermo Castle
• Llogara Pass
• Blue Eye, Albania
• Lively Saranda
• Valbona and Theth, Albania
• Ksamil Islands
• Valbona Valley National Park
• Butrint National Park
• Dardha - top ski destination in Albania
• Lake Koman
• Fier
• Dhermi
• Himare
• Finiq

Explore More: Attractions in Albania

Tirana Tour Package - Discover the Best of Tirana

If you want to go for a great Balkan Tour then this country called Albania and its capital Tirana has to be on your list in the Balkan region. You can cool off yourself in Tirana at the Adriatic Sea. Tirana is developing fast as a city and with a buzz city is seeing growing tourism here which indicates that people love to explore this part of Europe. With a Tirana Tour Package you can also feel the hospitality, local colors, café culture, history, energetic nightlife and much more here.
You cannot miss some of the popular attractions in Tirana when you are here with the best Tirana Holiday Packages. You must visit some of the top places such as Pyramid of Tirana (Enver Hoxha Pyramid), Mount Dajti and Cable Car, Skanderbeg Square, Downtown Tirana, Blloku, BunkArt & BunkArt2, National History Museum, Toptani Street, Clock Tower, Sky Tower and more.

Top Tourist Destinations in Tirana

Tirana is full of wonderful places and sights that you should not miss there. Here are some of the must visit attractions in Tirana.

1. Pyramid of Tirana (Enver Hoxha Pyramid)

Pyramid of Tirana is undisputedly the most talked about architectural structure in entire Albania. It was designed and built by the Albania's dictator EnverHoxha's daughter as a museum dedicated to her father. So, this huge unattractive building was once EnverHoxha museum. In recent times it is a convention center and night club. White marble walls of the building are crumbling and it is yet to be decided whether to demolish the building or restore it. On your Tirana Tours you should visit this pyramid first.

2. Mount Dajti and Cable Car

Dajti is a mountain and a national park located on the edge of Tirana. Snow fall in the winter is a retreat for locals and visitors both. You can reach the top of the mountain and enjoy a picturesque view through cable care from the suburbs of Tirana in 15 minutes. You can enjoy scenic view, eating, drinking and hiking for sure. Take a cable car ride when you are on Tirana Trip.

3. Skanderbeg Square

The square has been named after the national hero of Albania, Gjergi Kastrioti Skenderbeu. This is the city center of Tirana and the Skanderbeg monument is the dominant part of the square. Apart from this monument there are other buildings as well such as the palace of culture, The National Opera, The National Library, EthemBey Mosque, National Historical Museum and the clock tower. Only recently the square has been renovated with multi-colored paving which are made of stones. You can spend a good time here at the square.

4. Downtown Tirana

Downtown Tirana is a Skyscraper in Tirana which is going to be the tallest building in Albania. With the height of 140 m the building will be a 37 storey tower. The building is believed to be an icon of Tirana celebrating growth and success of Albania. On your next Tirana Tours, you can visit this skyscraper.

5. Blloku

Blloku or Ish-Blloku is an upmarket in Tirana. In this upmarket area you will see best cafes, shops, boutiques, restaurant and bars. There is also villa of Albania's dictator EnverHoxha. Blloku is a great place of attraction for local youth and weekends pull lot more crowds with all night clubs being full. You should walk to this upmarket in Tirana on your Tirana Trip for enjoyment purpose.

6. BunkArt & BunkArt2

BunkArt of today's time was originally made to protect the dictator EnverHoxha in 1970s as a bunker. Now it has been converted into a history museum and a modern art gallery. You can see this place to witness meeting rooms, living quarters for Hoxha and his officers and soldiers. You can also see great work of contemporary art and frequent events being held here.

BunkArt 2 is also a museum opened recently. Once a top secret nuclear bunker, it is now a museum in the center of Tirana. There are photographs and equipment in the BunkArt2 museum which illustrate the political persecution of some 100,000 Albanians from 1945 until 1991.

7. National History Museum

This is in the city center at Skanderbeg Square. National History Museum in Tirana has several artifacts from ancient times to Hoxha times to more modern times. The museum was robbed repeatedly causing the loss of lots of artifacts. However, if you want to learn the history of Albania in the best way, then you must visit National History of Museum on your Albania Tours from India.

Other Must-Visit Tourist Places in Tirana are:

• Toptani Street
• Clock Tower
• Sky Tower
• Et'hemBey Mosque
• Grand Park of Tirana (Parku I Madh)
• Tanners' Bridge
• Preza Castle
• Spille Beach
• Artificial Lake
• Christ Orthodox Cathedral
• Pazari i Ri

Explore More: Attractions in Tirana

Dook International's Best Albania Packages

Though Albania remained much suppressed for quite a long time, but it is flourishing after its independence in 1991. Today, it happens to be one of the top tourist destinations in Balkan region in Europe. You can talk to us for the best Albania Packages for a comfortable and exciting Albania Tours from India. You will get the best flight ticket, hotel stay, food, sightseeing experience, shopping, adventure activities and safe and comfortable return with us always.