Incredible journeys to Uzbekistan with DOOK!
No matter your travel style, we have a Uzbekistan package tailored for you
Uzbekistan Tour Packages
Explore Uzbekistan with DOOK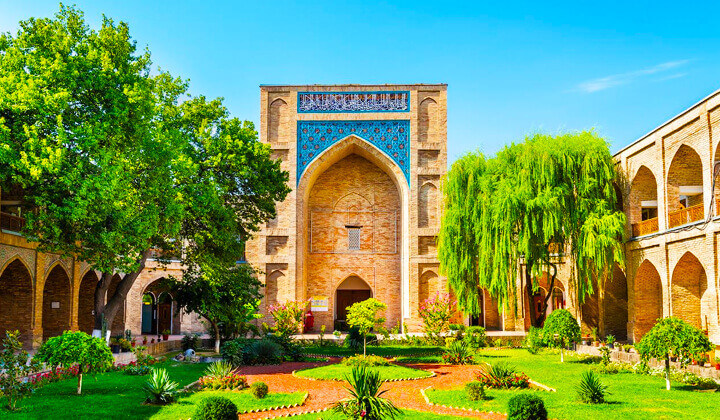 Tashkent is the capital city of Uzbekistan. Tashkent is an ancient city on the great Silk Road. It holds a great place in Uzbekistan as political, economic, cultural and scientific centre of the country. Apart from all these significance, Tashkent is also a perfect tourist destination in the entire Central Asia. On your Uzbekistan Tour Packages, you must have Tashkent as your preferred city to explore. When you travel to Tashkent with our Tashkent Packages you can explore some beautiful sights in the city. To name some of the places to visit in Tashkent are Abdul Kasim Madrasah, Chorsu Bazaar, Kukeldash Madrasah, Fine Arts Museum of Uzbekistan, IIkhom Theatre. To make your trip an exciting one, one thing you should look for when you make a Trip to Tashkent is to do lot of shopping in the Bazaars of Tashkent. Whether it is sightseeing in Tashkent or Shopping in Tashkent we make your Tashkent Tour, a superb experience for you.

Visit The Famous Chorsu Bazaar on Tashkent Tour

The most famous Chorsu Bazaar is in the old town of Tashkent. In the Chorsu Bazaar you can experience the hustle and bustle of everyday life. Chorsu Bazar is hundreds years old. On your Uzbekistan Tour Package from India you must visit the Chorsu Bazar. This is a traditional bazar with bright colours. Chorsu is biggest and oldest in Uzbekistan and in Central Asia. All daily necessities are sold in the market.

Red and black pepper, thyme and cloves, nutmeg and cardamom are few names of variety of spices you get here. You get rice, sugar, white balls of Kurts, dried cottage cheese. Apricots, Almonds, pistachios, walnuts and peanuts are other items for which salesmen shout loud and call you to check and buy them. The bazar looks amazing with newly arrived fruits. Some of the fruits sold here are rosy apples and honeydew pears; pink and amber sweet grapes; furry peaches; prunes and yellow figs wrapped in green leaves; pomegranates with ruby seeds; reddish-orange persimmons, piles of huge watermelons and melons exuding a pineapple aroma. Then you can have a look at the goods of crafts. Jewellery, painted cradles, gold embroidery, quilted men's and women's caftans, national musical instruments and much more delicate goods. Do take back some of your favourite items from Chorsu when you arrive here with our Tashkent Tour Packages.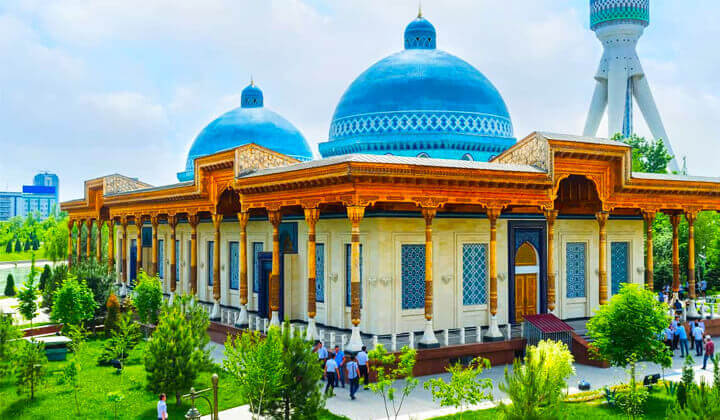 Tashkent Tour Package: Places To See
This is important for you to know some of the amazing
Places to See in Tashkent
. Apart from Chorsu Bazaar in the old town you should also explore
Amir Temur Museum
,
Museum of applied arts
, Tashkent Botanical Gardens,
Charvak Reservoir
,
Chimgon
,
Minor Mosque
, Barak Khan Madrasah and more. When you buy our
Uzbekistan Holiday Packages
you get the best sightseeing experience in Tashkent.
Night Life of Tashkent: Enjoy a Wonderful Evening in Tashkent
Once you are done with sightseeing in the day time, you can experience a lively
Night life in Tashkent
as well. Tashkent is said to have best Night life in the entire Uzbekistan. What attracts people from all around the world is the best amalgamation of music, dance and fine food. Ballet dance is quite popular here and you can enjoy a ballet dance show in one of the many bars and restaurants here. With all these and more, you can be rest assured to have a superb
night life experience in Tashkent
with our
Tashkent Travel Packages
.
If you like hard drinks then it is available in all the bars here. You can have your drink from a range of liquors offered with their signatures. What comes along with drinks is the lip smacking dishes. You can simply immerse in the ambience of the restaurants which have coloured lights synchronized with the rhythm of the music.
Choose Dook for Best Tashkent Tour Experience
Dook's Tashkent Packages
are best priced in the industry. Along with this Dook has been pioneer in offering best Tashkent tour experience to each traveller who buys our Tashkent Tour Packages. We at
Dook International
ensure that you have the best travel experience and comfortable stay with our exclusive
Tashkent Holiday Packages
. We make utmost effort so that you keep all your travel worries aside and take back unforgettable travel memories with you. We make sure that when you look to buy a
Tashkent Tour Package from Delhi, India
, you love to choose your own
Dook International.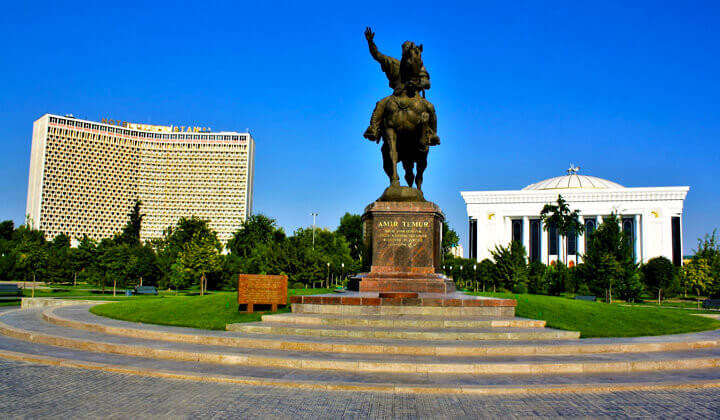 Top Tourist Cities of Uzbekistan:



1. Tashkent

It's the capital city of Uzbekistan and one of the ancient cities of the world. Tashkent is the largest metropolis in Central Asia and offers various attractions and enjoyments. The city is known for many museums and mix Soviet-era architecture.

2. Bukhara

Bukhara is of the most important trading post and a legendary Silk Road capital. There are many places to see, see, eat and buy. The city has more than 140 architectural monuments which attract great attention of the tourists.

3. Samarkand

Samarkand is a famous city of urban Uzbekistan and a UNESCO World Heritage site. The city is older than ancient Rome. There are many fascinating museums, mosques and madrassa which have survived from the 14th century.

4. Khiva

Along with other cities, Khiva is also an important historical site as it was once the Great Silk Road. There is a wide array of historical sites with a cluster of minarets, mosques and madrassahs with an area of the city.

5. Fergana

Fergana is the capital of Fergana Region in eastern Uzbekistan. During the Kushan Empire, it was called Ferghana. The city has a very cold desert climate where summers are longer than winters.

6. Termez

Termez is a city in southern Uzbekistan and the hottest point of Uzbekistan. In the 6th century B.C, it was known as Achaemenids. Today the city is independent and has many attractions to offer the tourists.

7. Nukus

Nukus is the 6th largest city in Uzbekistan and known for its world-class Nukus Museum of Art. The name comes from old tribal of Uzbeks, Nukus. It experiences a cold desert climate with short summers and long winters.

8. Andijan

Andijan is a city in Uzbekistan, and it's the central city for economic, administrative and culture of Andijan region. It's one of the oldest cities in the Fergana Valley. A lot of manufactured goods is produced in this city.



Reasons Why You Should Visit Uzbekistan



1. The Food - Uzbekistan is popularly known for their rice, meat, soups and notable dishes such as shurpa, dimlama, kebabs, chuchvara and many others.

2. Khiva - It is a city with old history with major monuments and ancient cities which will give you an idea of its history in places as Itchan-Kala, Kunya-Ark Fortress and many others.

3. Samarkand - The city is full of cultural treasury, be it its medieval monuments, architectural forms, domes, towers are all from its medieval image.

4. Bukhara - The city is famous for its religious places. The Kalyan minaret is one of the most important historical landmarks in the city.

5. The Capital Tashkent - Tashkent is full of historic tales and contemporary monuments. It's the largest capital city of Uzbekistan which has plenty for shoppers and foodies.

6. Shakhrisabz - It is an important stop on the path of the Great Silk Road where you can see the landscapes and scenery of the mountains of Shakhrisabz.

7. The Aral Sea - It was a lake lying between the Kazakhstan and Uzbekistan. Now it is known as "Sea of Islands" which has over 1,000 dotted islands.

8. The Silk Road Traditional Factories - There's an impressive silk road factories by the village of Margilan where you can see the whole process of un-weaving to dying yarn and to the final silk.

9. The Fabulous Metro Stations - The metro stations of Tashkent is so beautiful, clean and less crowded with only three lines and considered by many to be the most beautiful in the world.

10. Nukus Museum of Art - This museum holds the second largest collection of Russian avant-garde paintings in the world.
What to See in Uzbekistan

• The Chorsu Bazaar - The oldest market in the country.
• Chimgan Mountains - Best place for skiing.
• Charvak Reservoir - Best place for paragliding.
• Amir Temur Museum - Find the rich history of Uzbekistan.
• Bukhara - Central Asia's Holiest City.

Things to Do in Uzbekistan

• Visit the Fergana Valley - The place and history of the Silk Road.
• Islam Hodja - Climb the minaret of Islam Hodja in Khiva.
• Kyzylkum Desert - Take a trip and spend a night at the desert.
• Mausoleum of Bahauddin Naqshbandi - Experience Sufism.
• Fayaz-Tepe - Discover the secrets of an ancient Buddhist centre.

Things to Buy in Uzbekistan

• Carpet - Khiva Silk Carpet Workshop.
• Arts & Crafts - Abulkasim Medressa.
• Craft Shops - Happy Bird Handicrafts Centre.
• Siob Bazaar - A great place for vegetarians.
• Tezykovka Bazaar - Flea market.

Things to Eat in Uzbekistan

• Lagman Soup - Spicy noodle soup filled with chunks of lamb and vegetables.
• Wedding Pilaf (Plov) - A delightful mixture of rice, vegetables, bits of meat and raisins.
• Tashkent Salad - Boiled beef tongue, radishes, fresh greens and yoghurt coating.
• Manty - Steamed Dumplings.
• Samsa - Baked in with lamb and herbs.

What to Drink in Uzbekistan

• Kora Choi - Black Tea
• Airon - Yoghurt Drink
• Shirinchoi - Tea with Kaimak (sour cream)
• Kumys
• Shmapansky - Sparkling Wine
• Kefir - Thick yoghurt

Tashkent Tourist Places and Attractions
Tashkent is a revving city, and there are many interesting sightseeing places to visit and things to do in Tashkent. Tashkent is the city with a fascinating and rich history. Aside from historic sites in Tashkent, there are plenty of Tourist Attractions in Tashkent. Mainly located in the centre of Tashkent, the modern sights of the city are unique and cohesive examples modern Uzbek architecture. Browse our blog posts to get the complete list of places to see in Tashkent.
Tashkent Tourist Places: You can visit Tashkent for several reasons. You can go there for cultural tour. You can go there for Heritage tour and you can also go to Tashkent for adventure tour. Sightseeing is quite an experience in Tashkent. We have already discussed some of the super popular Tashkent tourist places above. Apart from those let us see some more Tashkent tourist places which you should include in your sightseeing places in Tashkent when you are here with Tashkent Packages. Read More

Tourist Points of Interest: If you thought that Tashkent would be just an old and boring place then you got it all wrong. Tashkent is definitely full of cultural places but Tashkent is also ultra modern city. Tashkent has many places where as a visitor you should go and explore the place. Some of those are Hazrat Imam Complex, Tashkent Metro, Kukeldash Madrassa, Central Asian Plov Center, Botanical Gardens, etc. So, on your Uzbekistan Travel Packages you should look to explore these places along with other major and minor attractions of the city. Read More
What to See in Tashkent

Old Town:

• Chorsu Bazaar
• Kukeldash Madrasah
• Ensemble Khazret Imam
• Tellya Sheikh Mosque
• Moyie Mubarek Library Museum
• Architectural Complex Zengi-Ata
• Barak-Khan Madrassah

List of Museums in Tashkent

• History Museum of the People of Uzbekistan
• Fine Arts Museum of Uzbekistan
• Museum of Applied Arts
• Amur Timur Museum
• Navoy Literary Museum
• Art Gallery of Uzbekistan
• Tashkent Galley of Modern Art

Others Tourist Destinations in Tashkent

• Tashkentland
• Monument of Courage
• Amir Temur Monument and Museum
• Japanese Garden
• Boghi Eram Recreation Park
• War memorial
• Tashkent TV Tower
• Brothers Tombs
• Mustaqillik
• Independence Monument

Chimgan Mountain Ski Resort: Chimgan is most popular ski resort in Uzbekistan. Chimgan is located 80 KM or nearly 2 hours away from Tashkent. It is at the height of 1600 meters in the western Tien Shan Mountain surrounding Tashkent from the east. Chimgan is popularly known as 'Uzbek Switzerland' for simply its beauty. This naturally beautiful place is one which you probably look for when you are on an Uzbekistan tour. Read More
Things To Do in Tashkent: When you are planning to visit Tashkent then you should keep enough time in your pocket so that you enjoy the city to the maximum. Checkout what are the Things to do in Tashkent when you are here? Read More
Indian Restaurants in Tashkent: Here are some of the best Indian restaurants available in Tashkent. So if you only prefer Indian food, you do not need to worry about that while traveling Tashkent. Read More

Penny Wise Uzbekistan: If you are packing your bags for astonishing Tashkent, Samarkand and Bukhara in Uzbekistan, once priced cities on 'Silk Road' and centers of 'The Great Game', you must plan for local expenses there. In the endeavor to help you plan for local expenses in your travel we are presenting below 'Penny Wise'. Read More
World Heritage Sites of Uzbekistan: Uzbekistan is a wonderful country and a growing economy in the Central Asian region too. So while there are plenty of natural, historical and newly built places to visit, among those there are some world heritage sites, 4 to be precise as well. Anyone on the tour of Uzbekistan should visit these 4 World Heritage Sites by UNESCO too. Read More
Fashion in Uzbekistan: Uzbekistan, being one of the largest producer and exporter of cotton has an edge when it comes to making quality fabrics. Uzbekistan has seen too many emperors as nomadic invaders leaving their culture behind which made Uzbekistan a unique melting pot of cultures. People wearing modern clothes made of traditional fabric has become norm among common people as well in Uzbekistan. Read More
Music of Uzbekistan: Uzbekistan has diverse styles of music and they use large number of musical instruments. Uzbekistan is considered as one of the most musically diverse country in Central Asia. Music that prevails in Uzbekistan today has a long and rich history. If you love music and love to explore music all round the world then you must listen to Uzbek music on popular music sites. Read More
Train Journey in Uzbekistan: Specialty of Uzbekistan railway is that Uzbekistan railways offer a comfortable, reliable and cheap way to explore the touristic highlights of the country. Even high speed trains have been introduced in Uzbekistan between Tashkent and Samarkand since 2012 running at top speed of 250 KMPH. In Uzbekistan you will get 3 types of trains. Fast trains, High Speed trains and Passenger trains. You have international trains available as well here connecting to Almaty in Kazakhstan and Moscow, St. Petersburg, Novosibirsk, Ufa in Russia. Read More
Bukhara Tourist Attractions:
Bukhara The Holiest City of Central Asia: Bukhara is one of the oldest Central Asia's city. Bukhara is full of stunning mosques and medrassahs, and a historic center that has been listed as a UNESCO World Heritage Site. One of the holiest places of Islam, the venerable and captivating city of Bukhara was also one of the key stops along the Silk Route. Read More
The Great Minaret of Kalon, Bukhara: In early times The Great Minaret of Kalon also acted as a guide for caravans on Silk Road. Later on in 18th-19th century minaret was also used for punishing men to death by throwing them from the top.The present Kalon mosque that one sees today was made in 16th century but opened as working mosque however only in 1991 after getting rid of Soviet Union. Read More
Lyab I Hauz – Bukhara: Lyab I Hauz is one surviving place of old times in Bukhara. Lyab I hauz is the name of the area that surrounds one of the few remaining hauz (ponds) which survived through times in the city of Bukhara. Read More
Chor Minor, Bukhara: Bukhara contains lot of historicity with itself and that attracts visitors to walk into the past when visiting Bukhara. One of the historic monuments in Bukhara city is Chor Minor Mosque. This mosque in comparison to other mosques in the city is not so old. Chor Minor mosque is a beautiful 19th century building that charms the onlookers.The mosque draws attention of visitors because of its architectural beauty and its four turrets with their sky blue cupolas. So visit this Chor Minor a mosque whose all four towers or minarets are differently shaped and designed when you take Bukhara Tour Packages. Read More
Samarkand Tourist Attractions:
Gur e Amir, Samarkand: Gur e Amir is a mausoleum of Asian conqueror Tamerlane or popularly known as Timur in the city of Samarkand, Uzbekistan and it was built in 14th century. This architecture holds historical significance in Persian – Mongolian era. Read More
Shah I Zinda: Shah I Zinda is perfect example of various architectural imprints through the centuries. The style, the method and the decorative craftsmanship of this site is a witness of work that changed throughout the time. Read More
Khiva Tourist Attractions:
Khiva - A Historical City in Uzbekistan: Khiva is one of old cities of ancient Khorezm, the pearl of eastern middle age architecture. Archaeologists say that Khiva was founded in the 5th or 4th centuries B.C. As the first major structures were built, the city became known as trading post on the Silk Road. The city got divided into two parts in 19th century. Inner city is called Ichan Kala with 10 meters high wall and outer city is known as Dishan Kala. Read More