Kok Tobe Mountain, Almaty
We will see in this article the highest point of Almaty. This is Kok Tobe Hill or Mountain in Almaty, Kazakhstan. Kok Tobe is the Highest mountain in Almaty, 1100 meters above sea level. And for tourist's delight there is a popular recreation place for tourists on the top of Kok Tobe Mountain. Almaty is very popular city in Kazakhstan where tourism has flourished well in recent years. Kok Tobe is one of many places in Almaty where tourists must go also because it is a natural beauty. One can have fun here for sure. How and what one can do here, we will see when we Explore Kok Tobe Mountain a little.
As said Kok Tobe is highest point in Almaty. So going up there and having a view from top itself is quite an adventure. So Kok Tobe happens to be one of the main landmark points of Almaty. And those who look for simple fun and food sort of things, Kok Tobe offers them allot. How? On top Kok Tobe has recreational area with many amusement parks type attractions and on foot it has a TV tower with height of 372 meters. Kok Tobe also has lot of restaurants offering variety of food. The TV tower is one of the highest towers in the world and is unique in a way that the entire tower is built of steel. Now the panoramic view from the top of the mountain is worth watching as it gives the view of Almaty in all directions. The way to Kok Tobe top through cable car is also interesting. It takes you through some of the oldest part of Almaty city. Evening time probably is best time for those who would love to see city bathing in lights.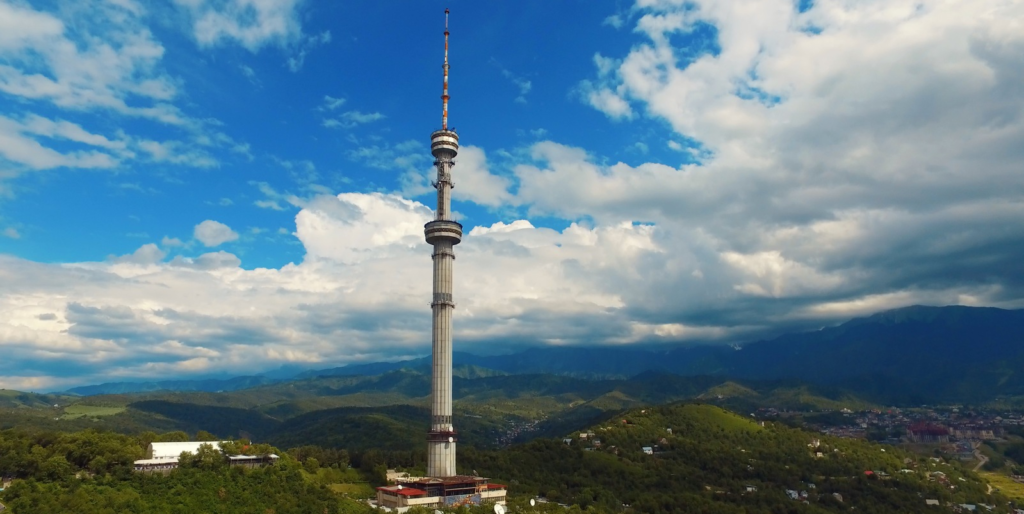 There is a Beatles monument on Kok Tobe. It is a bronze statue of The Beatles which is of the legendary Fab Four in musicians in which John Lennon is sitting with his guitar on a bench and behind him are other 3 Paul Mccartney, George Harrison and Ringo starr. There is lot more for visitors here. A fountain of desire in apple shape, playground for children, a climbing wall, a fast coaster ride, art gallery, tea house, a zoo, concert hall, ponds and many shops and lot more which makes visitor's time wonderful here.
How to get to Kok Tob? Well, Rope way connects Almaty city centre to Kok Tobe. You can also take a shuttle bus starting at the foot of Kok Tobe or you can walk also.
Explore Kazakhstan Tour Packages with Dook International, check our Kazakhstan holiday packages as below –
Almaty 4 Nights and 5 Days
Almaty 5 Nights and 6 Days
Almaty + Bishkek 5 Nights and 6 Days
Almaty + Bishkek 7 Nights and 8 Days