Incredible journeys to Russia with DOOK!
No matter your travel style, we have a Russia package tailored for you
Russia Tour Packages
Explore Russia with DOOK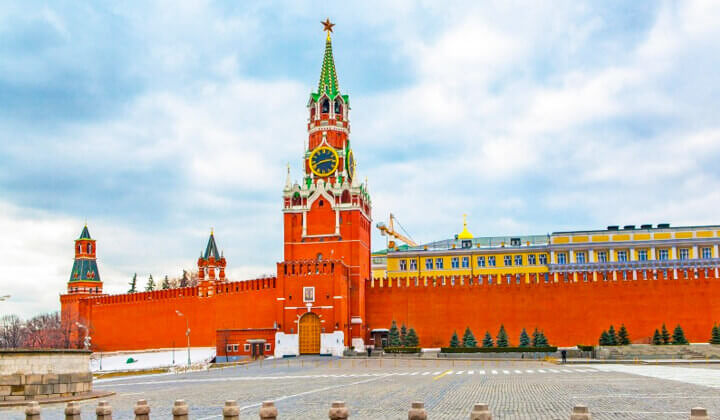 Russia is the largest country and one of the most popular travel destinations in the world. You can explore the length and breadth of your imagination if you happen to travel Russia with our Russia Packages. One who has been to Russia can tell you his little story about the beauty of the country. The very fact that Russia holds 23 UNESCO heritage sites, spans 11 Time Zones, Covers 40% of Europe and holds nearly 25% of the world's fresh water make Russia a tourist's delight. Russia has rich culture and heritage while the country is developing in infrastructure and technology. You must explore this old cum young country with the Best Russia Tour Packages.
Russia is a unique country as it spreads over Europe and Asia. Tourists can explore many wonderful sights here. For history lovers Russia is a paradise. They can go deep into stories that various monuments and sights have to offer. On your Russia Travel Packages you get to visit these historic sights and appreciate the ancient art styles. No matter which part of the country you go to you must pay attention there as they have their own unique story. Also take a check of climate before you plan to buy your Russia Tour Package. All the places in Russia are beautiful. But you need to know which month of the year is best to visit them. Different places in the country are best to visit during a different season and thus you might miss out on them if you land there during an unfavourable season.
Places to see in Russia
You know that Moscow and St. Petersburg are two major and most popular travel destinations in Russia. You can be sure to have a great vacation in Russia when you visit Moscow and St. Petersburg with our Russia Vacation Packages. There is sea of tourist places in both the cities.
---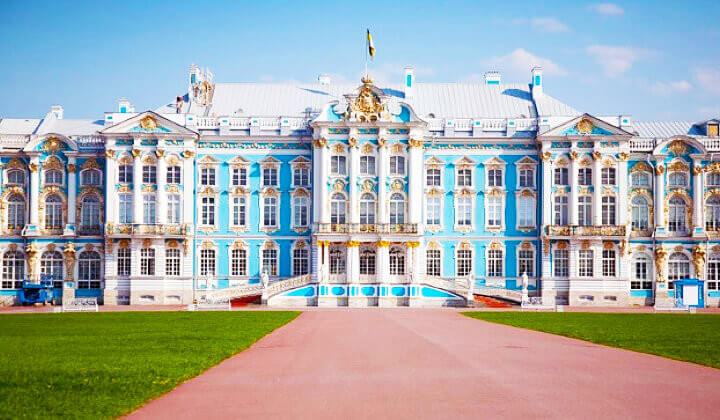 Moscow
Moscow boasts of incredible history which one can see in its culture and architecture. With our Russia Holiday Packages you get a chance to visit astonishing sights like Red Square, Saint Basil Cathedral, and Bolshoi Theatre, Novodevichy convent, the Kremlin and Lenin's tomb in Moscow. Apart from the sightseeing you can also experience the 24 hour buzz in one of Europe's most animated cities packed with night clubs and shopping centres. This capital city of Russia has always inspired spy novelists and continues to do so. So if little nasty spy lives in you too then Moscow is a must for you to be at.
St. Petersburg
All the elements that make an unforgettable travel experience, one can come across in St. Petersburg. The popularly known as 'Venice of the north', St. Petersburg is overwhelmed by splendid palaces, extraordinary historical monuments, tree lined avenues and beautiful bridges. From the mysterious twilight of the White Nights to world-beating opera and ballet productions on magical winter evenings, St. Petersburg charms and entices every one in every season. When you buy the best Russia Tour Packages from India from us, you can see some absolutely popular sights in the city. Some of those are Hermitage Museum, Peterhof Palace, Peter and Paul fortress, Saint Isaac's Cathedral, Russian museum and Winter Palace.
---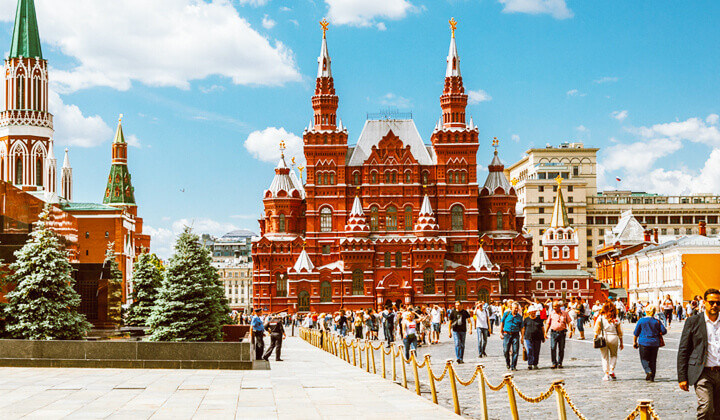 Apart from these two cities you can also explore other popular travel destinations which include cities like Yekaterinburg, Novosibirsk, Irkutsk, Ulan Ude, Sochi and Kazan. No matter which part of India you live in, you can make a beautiful trip to Russia with our Russia Tour Package.

Why Choose Dook International for Russia Tour?
Dook International offers the best travel experience to all the travellers. We are an industry leader when it comes to offering best Russia Holiday Packages. Dook International gives you great offers, some of the lowest airfares, and the best travel experience. Dook International has a dominant position in the CIS countries holiday. You can experience the great value with the cheapest fare with us. Any time you want to buy a Russia Travel Package you can simply call us or leave us an email and our representative will get in touch with you.
You can choose Dook International for best booking experience, hotel stay, sightseeing and Indian Cuisine. Russia Packages booking through Dook international has been a delight experience for many of our happy travellers. We work to serve more happy travellers.
---
Top Russia Tourist Places & Destinations For Travellers

St. Sophia's Cathedral - Novgorod: Russia is a country with numerous cathedrals in different parts of the country. Some of them are quite old with lot of historical significance. One of them is cathedral of St. Sophia. Built between 1045 and 1050, this is said to be the oldest church building in Russia. Read More

Saint Basil's Cathedral - Moscow: Saint Basil's Cathedral is church in the Red Square in Moscow. Popularly known as Saint Basil's Cathedral. Built between 1555 and 1561 this cathedral it was once the tallest building until 1600 when Ivan the Great Bell Tower was completed. Read More

Suzdal - A Prolific Old Town in Russia: Suzdal happens to be one of the oldest towns in Russia. Today Suzdal is one of the smallest Russian Golden Ring towns with population merely below 10000. But Suzdal is a great tourist attraction and it has numerous UNESCO World Heritage Sites monuments. Read More

Mount Elbrus: Mount Elbrus is one of the highest and oldest mountains in the world. For this reason alone many adventure seekers find many reasons to climb this mountain in Russia. This is also the 10th most prominent peak in the world. Mount Elbrus is a part of Caucasus nearing the border with Georgia in the southern part of Russia. Read More

Lake Baikal: Lake Baikal is oldest and deepest lake in the world. It contains 20% of the world's total unfrozen fresh water. This oldest and deepest freshwater lake in the world also curves for nearly 400 miles through south-eastern Siberia, north of the Mongolian borderIt has been declared UNESCO world heritage site in 1996. Read More

Trans Siberian Railway: Trans-Siberian is the longest railway line in the world. It connects Asia and Europe. The Trans-Siberian Railway is often associated with the main transcontinental Russian line that connects hundreds of large and small cities of the European and Asian parts of Russia. At 9259 km cover, it spans a record of seven time zones and takes 8 days to complete the journey. Read More

Volga River cruise - a lifetime trip to go to: Volga river cruise which is quite exciting experience for travellers to begin with. The most popular cruise over here is between Moscow and St. Petersburg which takes from 7-10 days. Though both the cities are distanced by 650 km only yet the fascinating thing is that cruise passes through 10 different rivers, canals, lake and reservoirs. Read More

Solovetsky Islands: Solovetsky islands are an archipelago which means an island group of island chains. So Solovetsky Islands is a group of six islands. Solovetsky is islands of legendary monasteries and fortresses. Read More

Valley of Geysers: Valley of Geysers in Russia is a Geyser field on Kamchatka Peninsula and it has second largest concentration of Geysers in the world. There are approximately 90 Geysers. This place is wonderful but difficult to reach. Besides helicopters no other feasible means of travel are available. Read More

Kizhi Island: Russia is a beautiful country. Russia offers great deal of natural heavenly places for tourists. Kizhi Island is one of them. The island has been in existence for centuries. Infact settlements and churches on Kizhi were known from as early as 15th century. While in early times there was rural population on the island but most villages disappeared by 1950s and today only small rural population exist here. Read More

Sapsan: Sapsan is Russian high speed electric train which connected Moscow and St. Petersburg in its early years. This high speed trains came into operations in 2009. Initially connecting Moscow and St. Petersburg Sapsan now connects Moscow to Nizhniy Novgorod too. The train takes 3 hours 40 minutes from Moscow to St. Petersburg and takes 3 hours 55 minutes from Moscow to Nizhniy Novgorod. Read More

5 World Heritage Sites of Russia: A building, city, complex, desert, forest, island, lake, monument, or mountain such a place is listed as world heritage site by UNESCO. Such sites can obtain funds from world heritage fund and as on July 2015, 1031 sites are listed as world heritage site. Here we are talking about World Heritage Sites from Russia. Checkout 5 sites from Russia which are listed as world heritage sites. Read More

Penny Wise Russia: Russia is the largest country on the planet and has many wonderful and diverse areas worth visiting. Russia spreads in two continents, Europe and Asia. If you are looking for budget travel to Russia then it is quite possible which might be an expensive affair otherwise. Here is the cost of some of the vital items that will help you know the penny that you would need to incur once you are in Russia. Read More