Incredible journeys to Kazakhstan with DOOK!
No matter your travel style, we have a Kazakhstan package tailored for you
Kazakhstan Tour Packages
Explore Kazakhstan with DOOK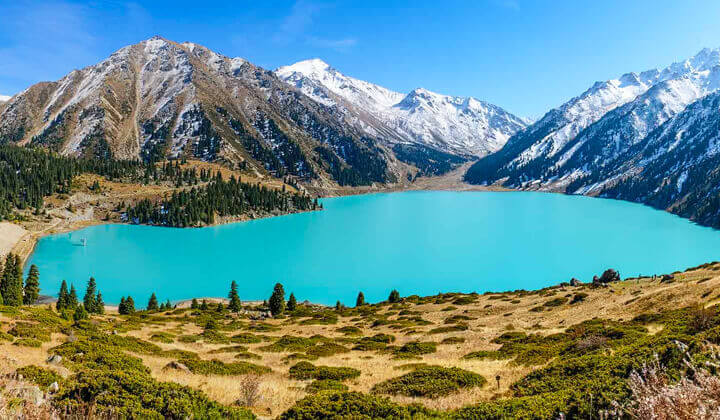 Kazakhstan is the world's largest land locked country. The biggest country by size than other Central Asia states, Kazakhstan has boundaries with Russia, China and three other Central Asian countries Uzbekistan, Kyrgyzstan and Turkmenistan. This land locked country has seen substantial growth in tourism and number of foreign tourists in recent years. Millions of travellers come to Kazakhstan to explore the attractions of the country's dramatic mountain, lake and desert landscapes.

Two major and super popular travel destination in Kazakhstan are Almaty and Astana. You can explore both the cities with Dook International's best Kazakhstan Tour Packages. Other major popular destinations in Kazakhstan include Karaganda and Oskemen. Despite of losing its position as the capital of Kazakhstan to Astana in 1997, Almaty is still the major commercial and cultural city as well as the largest city. You can avail your Almaty Tour Packages with Dook International to spend your holidays, wandering amidst the majestic mountains, grasslands, deserts and lakes. The Soviet Union has left numerous of significant architecture with its compelling natural wonders, especially the snow covered Shymbulak, which is truly heaven for the sport enthusiasts.
Almaty Tour Packages:
Almaty - An Emerging Destination for Global Travelers: Almaty is located in the highland area of Southern Kazakhstan. There is no Almaty without the mountains. So adventure lover finds Almaty a great adventure land. But those who love to explore culture and traditions also find Almaty a wonderful mix of culture and traditions. And those who love the modern things in a city will find Almaty with absolutely new and modern look. On your Trip to Almaty with our Almaty Packages, when you walk in the city you will feel that you are in Europe. This leafy city with a backdrop of the snow-capped Zailiysky Alatau (a spur of the Tian Shan) has always been one of the most charming Russian creations in Central Asia. With our Almaty Tour Package you will get to see some amazing sights in Almaty. Medeo George, Big Almaty Lake and Chimbulak Ski Resort are three major beautiful attractions you get to explore with us in Almaty. Other places of interests are Kolsai lakes, Museum of the History of Alma-ata, Ascension Cathedral, KokTobe Hill and many other places.

If you love shopping, you will be delighted to know that Almaty has perhaps more bazaars than most cities in the country. The most popular bazaar to shop in Almaty is the Green Bazaar or Zelionyi Bazaar, which sells everything under the sun. And nightlife lovers also find Almaty a cool place. The city offers gleaming and luxurious nightlife, and the opulent casinos have made this city a popular one among the high rollers. You can spend few days in this city to experience an expensive and sophisticated lifestyle along with the great mountain hiking and skiing. Apart from the nightlife of Almaty, it offers wide range of cuisines. Our Almaty Tour Package is best suited tour package at very affordable prices. So, you can spend some days on the beautiful land of Kazakhstan.
---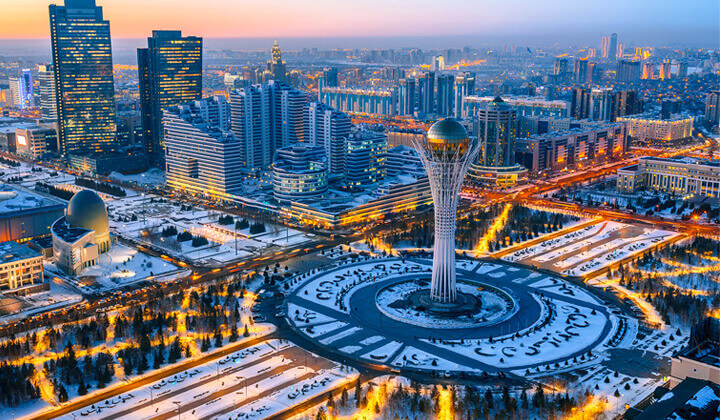 Reasons Why Almaty is an Ultimate Travel Destination

Almaty is the largest city in Kazakhstan with a population of 1,797,431 people, about 8% of the country's total population. It is situated in the southeastern part of the country at the foot of Zailiski Ala-Tau Mountain at an elevation of 700-900 m. It served as the country's capital until 1997 and remains Kazakhstan's trading and cultural hub. Being a financial and cultural center of Central Asia, Almaty boasts moderately-sized tourist and expatriate communities. Almaty is in the top 50 most expensive cities worldwide for expats to live in according to Mercer Human Research. The word "Almaty" refers as "father of apple trees" thus the symbol of the city is an apple, and apple orchards thrive in abundance at a short distance from the city. The Almaty area is said to be the genetic home for many varieties of apples and the area is often visited by many researchers and scientists from around the world.

Almaty is a classy place for enjoying green parks and excellent museums, shops and markets, and for eating, drinking and partying in best restaurants, cafes, bars and clubs. It has expensive apartments, large SUVs, glitzy shopping malls, Western-style coffee lounges, expensive restaurants, best nightclubs and world-class ski resorts to help you enjoy life to the full. On your Almaty Tour take a cable-car ride up to the Kok-Tobe to get the best view of the city and mountains. Almaty is also a world-renowned sports center that has high-quality ski slopes. Here are some reasons to justify why you should visit Almaty:
---

1. Great Connectivity - Almaty airport is the biggest one in the country. All the major Asian and European Airlines fly to Almaty. Air Astana has its hub in Almaty. So, you have plenty of options when it comes to flights to reach Almaty. You also have the option to reach Almaty by train. If you are on in Russia or Uzbekistan already then you can take a train from there and reach Almaty. In fact Almaty is just 5 hours by road from Bishkek, the capital city of Kyrgyzstan.

2. Welcoming People of Almaty - You love the place where the people are welcoming in nature. This goes absolutely true with Almaty as the people here are extremely welcoming and friendly. You will be helped all the time by people here. Be it about choosing a right transport or a right direction or a restaurant, shop and a bazaar, wherever you go you will feel the love and care by the people.

3. Laid Back Vibe of the City - Almaty is quite a calm place. You will find Almaty to be a laid back city where even on the main streets you will not find people in too much rushes all the time. You can easily walk around in the random streets lined with trees and enjoy the atmosphere of the Almaty.

4. Mix of Architecture in Almaty - Almaty was one of the top stops on ancient silk route carries some remnants of that time. The majority of the architecture in Almaty reflects through architectures of Soviet past. Along with some old and beautiful wooden houses here you have to see the most beautiful building in Almaty.

5. Explore the Incredible Nature Around - From one side Almaty looks like any great modern European City but right in the middle of the city you can feel overwhelmed by nature with the presence of Kok Tobe hill. You can enjoy a cable car ride to get there. Other natural beauty in and around Almaty are Charyn Canyon, Big Almaty Lake, Kolsai Lake, Medeu, Chimbulak ski resort.

6. Food and Cafe Culture in Almaty - It is the most surprising thing about Almaty, the city has an exceptional cafe culture. There are numerous cafes in Almaty which are pretty amazing and reasonable. Every cafe provides some decent food options and equally delicious meal. Almaty has a very diverse food scene and there are many restaurants which serve different cuisines from all over the world, and even being a vegetarian isn't a problem there.

7. Almaty Nightlife - If you are a nightlife lover, then, of course, you will fall in love with Almaty as you can find a plenty of options to have fun at night in Almaty. The clubs and pubs in Almaty are lively whole night and will not bore you at all. The city has at least 10 decent nightclubs and 30 bars worth visiting. There are some clubs which feature some of the best DJs and artists from the world.

Astana - The Capital of Kazakhstan

The capital city of Kazakhstan Astana has become one of the main business centres in the country. Extremely soothing spring season in Astana looks especially wonderful where local and visitors from outside can experience the city's wealth of blooming toffees and tulips. Astana hosts various international industrial exhibitions, conferences musical contests and festivals of Kazakhstani people every year. City is still unexplored by many. With Dook International Kazakhstan Holiday Packages you get to see Astana, an intriguing and little-known land of vast plains, mountainous horizons and beautiful culture. The cool thing is that city is still very young.

What are the sights for you to see with our Kazakhstan Tour Package? You will visit some of the very beautiful places in Astana. Major attractions are palace of president, Republic Square and Monument of Independence, and Astana square, panfilov park, abai square and palace of republic, presidential park, Mosque Nur, Akvapark, Khan Shatyr. Shopping here is comfortable and convenient, offering everything you need in a range of city locations. From modern shopping centres to traditional and busy bazaars, in Astana you are rarely more than a few metres from a quality shop of some kind, and never more than a short drive from somewhere which sells the best of anything money can buy.
---
Choose Dook International for Best Kazakhstan Packages

Many of the travellers have already experienced best hotel stay, best food, best sightseeing experience and in flight travel experience with Dook International. You can also buy our Almaty Tour Package from India and enjoy a great travel experience to a great landscape knows as Kazakhstan which has two beautiful cities Almaty and Astana which will amaze you when you get there.
Places to See in Astana and Almaty, Kazakhstan:

1. Medeu in Almaty: This world Known ice skating rink Medeu is located at the altitude of 1,691.2 meters above sea level in a mountain valley on the south-eastern outskirts of Almaty. It was erected in 1972 by a team of Soviet Engineers. Read More

2. Chimbulak Ski Resort, Almaty: If you are sucker of adventure then Chimbulak Ski Resort in Almaty is a certain joy. Chimbulak is a place brimming of snowpack which is an ecstasy for viewers to see. With consistent snow cover Chimbulak boast a very impressive 943 metres (3094 feet) of vertical descent. Chimbulak Ski Resort is a fun place and is offers lot of recreation and entertainment for tourists. Read More

3. Sunkar International Ski Jumping Complex, Almaty: Sunkar International Ski jumping complex is a ski jumping venue in the southern part of Almaty, Kazakhstan. This Ski Jumping complex in Almaty sits at an altitude of 900m above sea level. The complex was built in 2010 replacing an old Goreny Gigant ski jumping complex as Almaty and Astana hosted 2011 Asian Winter Games. The very uniqueness of Sunkar International Ski jumping complex is that it is located in a place where there is almost no wind. Read More
4. Central Mosque Almaty: Central Mosque of Almaty is crowned with a blue dome which has diameter of 20 m and has a height of 36 m. Construction of the building started in 1993 and it took 6 years to complete the building. Read More

5. Ascension Cathedral, Almaty: Zenkov Cathedral of Holy Ascension which is also known as Svyato-Voznesensky cathedral is over a century old cathedral and is unique because it is made completely of woods. Another uniqueness of the cathedral is that it is built without using any nails. Visitors can visit Zenkov Cathedral for religious purpose and for accessing its both internal and external beauty. Almaty has lot of attractions for tourists and you can easily add Zenkov when you are on an Almaty package. Read More
6. The Zelyony Bazaar, Almaty: Zelyony Bazaar is also known as Green Market. Like any traditional market in Central Asia region, in this market also you can buy everything under one roof. You can buy clothes, furniture, spices, meats and fruits. Zelyony Bazaar is an important part of Almaty history. Over hundred years ago at this place only the first prototype of trade center appeared. Since then it has remained in Almaty as an important trade point. Today Green Bazaar is generally an inclusion in the places to see in Almaty list of the visitors. On your Almaty tour you can visit the Zelyony Bazaar. You will be delighted to see the atmosphere and variety of goods available in the market. Read More
7. Places You Must See in Kazakhstan: When you plan to go to Kazakhstan then you should visit some of the exciting places here. We are bringing 5 for you (The Intimate Ruins of Sauran, The Charyn Canyon, Zenkov Cathedral, President's Cultural Center, Kazakh Steppe). You should explore these exciting and diverse places in the beautiful country. Read More

8. World Heritage Sites of Kazakhstan: As of now there are 1031 sites listed on World Heritage Sites list. And there are 4 among these in Kazakhstan (Mausoleum of Khoja Ahmed Yasawi, Tamgaly, Silk Road UNESCO World Heritage Sites, Saryarka). Read More

9. Falconry in Kazakhstan: Falconry today has gained a form of increasingly famous sport in Kazakhstan from tourism point of view. Falconry is a sport of hunting with birds of prey like eagle. See some interesting facts about falconry in Kazakhstan. Read More

10. President's Cultural Center, Astana: Astana has lot of beautiful sights for a traveler to visit. One among them is President's Cultural Center. This is a museum which displays the history of Kazakhstan. It displays ancient and modern history of Astana and achievements of its president. This blue domed building looks beautiful right from the moment you see it for the first time. Read More
11. Korgalzhyn Nature Reserve: In the very heart of Kazakhstan, 130 KM drive from Astana you come close to a place where you may see Pink flamingos, pelicans and several other beautiful species of birds. This is Korgalzhyn nature reserve situated in the north central part of Kazakhstan. The entire zone of Korgalzhyn is a mix of fresh waters and saline lakes embedded in dry steppe zone of Eurasia. Read More
12. The Charyn Canyon, Kazakhstan: Landscapes all around the world always catch the attention of adventure lovers. And those who prefer places which are remote and not routine in nature for them Charyn Canyon in Kazakhstan may bring calmness and delight at the same time. The canyon features a dramatic landscape with beautiful red sand and formidable rock formations. Kazakhstan's Charyn Canyon is a spectacular sight sitting at the backdrop of flat steppe lands near Almaty. Read More
13. Taraz, Kazakhstan: Central Asia has lot of ancient cities, architecture, buildings, Bazaars, towers and what not. In Central Asia, Kazakhstan has lot of ancient places too. One of them is Taraz city. It is one of the oldest cities in Kazakhstan. Taraz is ancient but Taraz is modern too. Today Taraz is a beautiful mix of ancient and modern touch. Located on the Talas or Taraz river in south of Kazakhstan bordering with Kyrgyzstan, Taraz has population of over 3, 00,000. The city is a fast growing one in Kazakhstan and has lot to offer to the visitors. Read More

14. Kazakh Steppe: Kazakh steppe is a part of Great steppe or Eurasian steppe. This is also called Great Dala. It is a vast open grassland in northern part of Kazakhstan and adjacent parts of Russia. The steppe extends to Pontic steppe and Emin Valley steppe thus forming part of the Eurasian steppe. The vastness of Kazakh steppe can be observed by the fact that it almost covers one third of Kazakhstan's total territory and if measured it extends to more than 2200 KM and covers more than 804, 500 Sq. KM. Read More
Penny Wise Kazakhstan: How much do you need to travel to any place? Well if you can know fairly about this in advance then your trip can be well within the budget you planned for. We are presenting a table to help you know about probable current prices of different items in Kazakhstan. Read More
Things To DO in Almaty, Kazakhstan:

1. Skating at Medeu Ice-skating stadium.
2. Ski, snowboard or hike at Chimbulak, Ak-Bulak and Tabagan ski resorts.
3. Ski jumping
4. Paragliding at Ush Konyr, is located 30 km away from Almaty. This place is open since 1980 for hang gliders and still attracts a lot of pilots and tourists from around the world.
5. River Rafting in Chilik River, Charyn River, Ili River, Koksu River, Karkara River, Turgen River.
6. Rock Climbing in Almaty. Rocks of the Maloalmatinsky ravine, The Tamgaly Tas rocks (on the Ili river).
7. Paintball at Paintball Club Mereke, Paintball club in Almaty.
8. Dolphin Show at Dolphinarium Nemo.
9. Falcon Show: Visit Falcon Farm Sunkar, located in Almaty. Falconry displays and amazing birds of prey show will impress you in Sunkar Falcon Farm.
10. Almaty Metro: Take a ride in Almaty Metro, the first metropolitan railway or rapid transit system of Kazakhstan.
11. Parks: President's Park is the most beautiful park in Almaty. It is new, and close to the mountains, on Al Farabi Street. Gorky Central Park, Aqua Park, Eight Lakes Park Resort are some other parks.
12. Bicycle Riding: Ride a bicycle. Rentals are available at "Extremal" stores chain.
13. Charyn canyon: See the famous Charyn canyon and the gorgeous red and orange sandstone layers.
14. Night Clubs and Bars: Dance in a various city's nightclubs and bars. Royal Plaza, Bombay, Bellagio, Altyn Alma City Casino are some of the famous Casinos in Almaty.
15. Tau Spa: Relax at Tau Spa is up in the mountains and is worth a visit summer or winter. You can also visit Arasan Wellness & SPA.
16. Barakholka Market: Cheap shopping at Barakholka, a large vendor-style market.
17. Green Market: Visit the Green Market, located near Paniflov Park. You can buy clothes, furniture, spices, meats, fruits, everything under one roof.
18. Tamgaly: Pack a picnic and drive 2 hours out to the Tamgaly petroglyphs. The famous "Sunman" is worth the drive.
19. Eat Apples: Apples are native from the region. You can find the wild trees at altitudes between 1500m - 1800m.
20. Sports: Kairat is the most famous sports team. You can watch them play football in Almaty.
21. Arasan baths/sauna center (Arasan Wellness & SPA): This is perhaps the finest bathhouse in Central Asia. Saunas are an excellent place to discuss business issues or just socialize with friends. Located in the center of town near Panfilov Park, the Arasan baths offer a luxury spa experience at affordable prices.
22. Explore off-the-beaten track Almaty in its chastny sektor, or suburban cottage districts, where carved wooden window frames and plaster decorations adorn charming old homes, mostly built in the 50s and 60s.

Shopping Centers and Malls in Almaty, Kazakhstan:

Shopping in Almaty - Authentic Goods, Best Outlets, Malls and Boutiques: Discover the best shopping options in Almaty. Almaty has a vast array of shopping options from traditional to modern, and becoming a favorite shopping destination for travelers. Here are some popular shopping centers and malls in Alamty:

1. Mega Center Mall, Almaty: MEGA is the largest shopping malls chain in Kazakhstan. It's an ideal shopping paradise for the middle and upper classes. Mega offers the best choice of Western brands in Almaty including Zara, Mexx, Mango, Benetton and recent openings Topshop and Gap.

2. Dostyk Plaza: It's a classic shopping centre located in the very center of the city. You can buy modern clothes and shoes and then go to the cinema or relax in one of the cozy cafes. One can get everything, ranging from books to food to clothes and even electronics in this modern mall. The shopping center houses a number of cafes and restaurants serving both international and local delicacies.

3. Esentai Mall: Esentai Mall was opened in Ocotber 2012 as a luxury and also mid-range shopping destination. Esentai mall (on Al-Farabi) has a colder, emptier feel, and is stocked with very expensive, exclusive brands. The mall's six floors cater to all the demands of today's consumer. The first 3 floors of the mall are dedicated to retail shopping, with the 4th floor dedicated to a food hall and the Entrance to the Imax cinema.

4. TsUM, Almaty: TsUM - the former Soviet department store now turned giant. It houses a modern cinema and an excellent supermarket on the ground floor. There is a wide range of clothing stores of popular brands, which includes everything from stuffed wolves to traditional Kazakh costumes.

5. Almaly Shopping Center: Almaly, under Republic Square, sparkles with the promise of expensive instant gratification.

Bazaars and Food Shopping in Almaty:

6. The Green Bazaar: This is a huge outdoor and indoor traditional Kazakh bazaar, and the most attractive place to do some food shopping. Zelyony Bazaar is a place in Almaty on the crossroad of Zenkov and Jybek Joly streets. You can buy clothes, furniture, spices, meats, fruits everything under one roof. If you have a flair for bargaining then you will get everything at a very reasonable price in Zelyony Bazaar.

7. Barakholka Market: It is one of the best Market shops in Central Almaty, which is 4 km long and 20 rows wide and can be seen easily it is a very busy place. Barakholka is a truly vast rabbit-warren of stalls selling literally everything one could ever want or need. From food to toys, clothing to hardware, cheap Chinese-made goods to the finest of furs, everything is available here.

Places to Eat (Restaurants in Almaty, Kazakhstan):

1. Indian Restaurants in Almaty: One of the more popular Indian restaurants is Namaste, on the corner of Kosmonaft and Satpaeva. Govindas is a wonderful Indian restaurant that is entirely vegetarian. Darbari, Mirchi, Mantra, Tandoor and Bombay to Beirut Restaurant are some other popular Indian Restaurants in Almaty.

2. Uyghur and Dungan Restaurants: Try different varieties of lagman noodles.

3. Uzbek Restaurants: Try plov. Rumi restaurant serves good one.

4. Korean Restaurants: Almaty has a huge diaspora of ethnic Koreans.

5. Chinese Restaurants: "Princessa" is a popular Chinese restaurant located on Gogolya and Tulebayeva.

What to Eat (Food of Almaty, Kazakhstan):

1. Beshbarmak: Beshbarmak is the national dish. It's a traditional Kazakh food, which means "five fingers" and used to be eaten with the hands. Made from a pile of lasagna-like noodles, topped with pieces of boiled mutton or horse, and boiled onions.

2. Baursaki: heavy, spongy bread dough cooked in deep fat (similar to a donut, but not sweet).

3. Plov: A rice pilaf made with meat (usually mutton), onions and carrots. This is a very popular dish across central asia and Uzbek Plov is usually considered the best.

4. Shashlik: It is a very popular food found across Kazakhstan. It is a kebab made out of almost any kind of meat, but most often chicken, mutton, or beef and is grilled over a small grill that is long and just narrow enough for the skewers.

5. Doner kebab or "shwarma" can be easily found at any number of stands through the city.