Incredible journeys to Germany with DOOK!
No matter your travel style, we have a Germany package tailored for you
Germany Tour Packages
Explore Germany with DOOK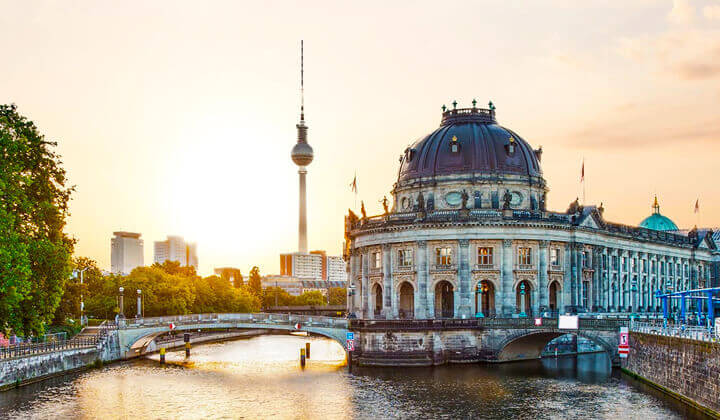 Germany: Beautifully Beguiling!

Experience its spellbinding charm with Dook's custom-made Germany Holiday Packages

Whatever you call it- the 'land of festivals and feasts', the 'land of poets and thinkers' or the 'land of thrills and temptations', Germany is captivating in every way. From spectacular sceneries and fairytale castles to soul-stirring history of the perfectly preserved landmarks and splendid culture, from the charms of urban cities like Berlin and Munich to the magnetic appeal of picturesque small towns in the Alps or the old town of Nuremberg, Germany offers its travellers a well-rounded experience. Existing in the very heart of Europe, Germany stands out as one of the most popular tourist international destinations for holidaymakers and business travellers alike and its strong brand presence globally is a testimony to the visitor numbers growing each year.

Culture and nature are two central elements that perhaps best describe the essence of vacationing in Germany. There are the country's 46 UNESCO World Heritage sites that incorporate masterworks of art and architecture, sweeping natural landscapes steeped in history and culture, areas of unbelievably attractive natural beauty and monuments that depict technological progress. At the cultural heart of Germany sits its capital, Berlin which is home to many fine museums and galleries and is a host to traditional Christmas markets, festivals and fairs, while nature lovers are bound to find an exciting world in Germany's great outdoors. With a total of 16 national parks, several UNESCO biosphere reserves, the moody forests, unrealistic river valleys, vast vineyards, the majestic splendour of the Alps and over 100 nature parks, there are countless marvels just waiting to be explored. Tourists can experience nature at the closest here and in an authentic way as they have easy access to dedicated walking and hiking trails and scenic cycle routes. There is no dearth of history too; the country's major attractions include over 6,000-plus museums, Roman amphitheatres, around 25,000 medieval and beautiful castles, the remnants of the Berlin Wall, grand palaces and old towns still sitting intact with centuries-old traditions and so much more. Another aspect that continues to attract a huge number of crowds is the exceptional gastronomy and experiencing Germany through its food and drinks will only add a rich coating to your memories and a little to your belly! From the much-loved sausages, pretzels and roast pork to huge mugs of chilled and 'oh-so-good' foamy beer as well as the world-class wines, you are sure to get delectably enchanted. You can also look forward to orchestras, high-calibre events in Berlin and a buzzing creative scene that is undeniably artistic and worth planning for your Germany Tour!

Dook's bespoke Germany Tour Packages from India cover everything and anything you want to explore during an exciting Germany Tour. Plan today and get in touch with us to know more about these Germany Packages.

Capital: Berlin
Languages: German & English (Widely spoken), French (spoken in specific regions)
Currency: Euro
Driving Side: Right
Best Time to Travel: June to September is the peak tourist season; winter months from mid-November to December are also preferred for the Christmas markets and festivities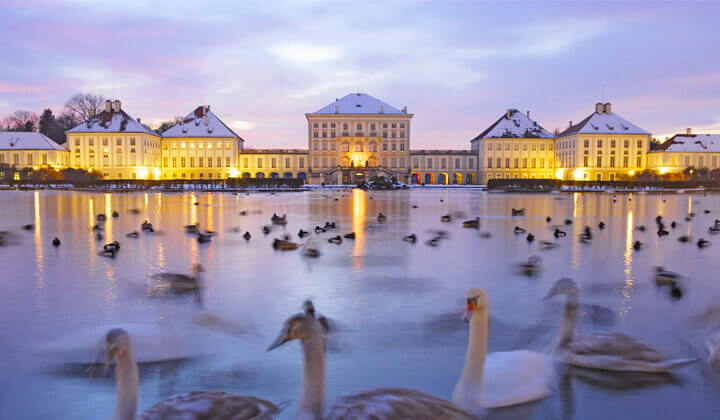 Explore Germany:

If you want to experience a perfect blend of the past and present, with an eclectic mix of bars, restaurants, gardens and plenty of performance spaces to choose from, then tick mark Germany for your next immediate trip. While the matchless capital city keeps you indulged in its modern and prehistoric wonders with some of the superb architectural heritage and castles to die for, the Romanesque churches in Cologne, the opera house in Leipzig, the cobblestone streets of Rothenburg and the food and art scenes of Munich, all speak of a rich cultural heritage. You can also opt to sail on one of the country's iconic rivers - the romantic Rhine or the blue Danube or experience the edgy art and bustling Christmas markets in the major German cities.

Go on food and walking tours in Nuremberg; savour the breads and sausages in Munich where you can also visit the best of beer halls and beer gardens while you can grab a big mug for yourself. Germany also produces some top-notch Riesling wines in amazing wine-growing areas and Stuttgart should be your first choice if wine-tasting is in mind. When you've taken in enough of big city vibes, Germany also presents to you picturesque towns like Lindau or the lovely spa town of Baden-Baden, set on the edge of a beautiful forest. If you like to be surprised by the visual treats, gorgeous landscapes and exquisite countrysides, travel to Lake Constance, the Black Forest or the Bavarian Alps and get lost in their unmatched natural beauty.

Whether you are visiting for the culture, history or for the budding art and food scenes, this quintessential country as old as the storybooks and as new as sunrise over the mountains is just perfect for a long vacation. To experience the country at its best, book from our exceptional Germany Holiday packages that are crafted for you with highly personalised itineraries.

1. Berlin: the creative and cultural heart of Germany

Located in the northeast of Germany, the capital Berlin sits on the banks of the river Spree and is considered the top tourist hotspot in the country apart from being known as its cultural heart. Undoubtedly the number 1 on the list of top German cities, Berlin has its own unique atmosphere: chic, historic, hip and creative. The city has a long complicated history and therefore, the past is very much present across the city telling you the stories of the Berlin Wall and its wartime history; yet you'll see it emerged as a welcoming city that embraces differences and modernity through its multicultural street art, global music and a thriving nightlife.

Many of Berlin's most famous sights are free to visit, including the Brandenburg Gate, Holocaust Memorial sculpture, Checkpoint Charlie, the Reichstag (the biggest draw for tourists) and the Berlin Wall Memorial on Bernauer Strasse but the one that rises above all is the iconic TV tower. Not to forget the remarkable East Side Gallery which was once the Berlin Wall and is now the longest open-air gallery in the world. Those who like to dig off the beaten paths will find plenty of interesting and unexplored places around town, including abandoned houses, street art (the best in Kreuzberg district) and forgotten cemeteries. However, nothing beats the charm of the December Christmas markets that are a huge lure for tourists and one of the busiest times for a trip to the city.

If Berlin has already stolen your heart, you should definitely start planning your trip ASAP. Get in touch with our tour experts to know about our Germany Tour Packages.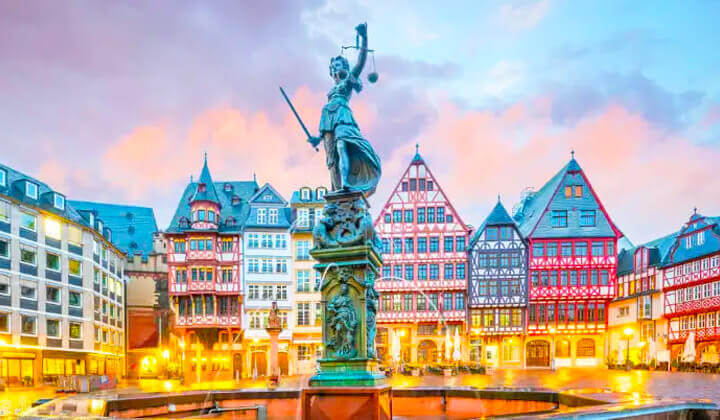 2. Munich: a rich potpourri of the modern and the historic

Munich, the capital of Bavaria and the third-largest city in Germany, is one of the historically rich and most admired cities of Europe. Just like its cousin neighbour Berlin, Munich too perfectly mingles the modern with the ancient, thereby becoming one of the must-visit tourist destinations in Europe. Apart from all the palaces, its rich history and architecture found in the plenty of museums, the typical tourist attractions such as the Marienplatz, the Neues Rathaus and the clock tower, churches and beautiful locations, Munich is also known for the famous Oktoberfest, BMW Museum and FC Bayern. Add to this the beautiful parks, art galleries, Bavarian traditions, first-class shopping centres and a thriving nightlife and you'll never be short of things to do and see in Munich.

It is a great city to walk around, so taking a walking tour is always an excellent choice to familiarize yourself with the city's wonders, their history, awesome food and art scenes. And with our Germany Holiday Packages, you can plan to include it all!

3. Frankfurt: harmoniously juxtaposed

The bustling old and imposing city and the economic powerhouse sitting on the River Main- hence having the full name "Frankfurt am Main", has been known throughout the world for its exciting contrasts. While on one hand you will be amazed to see the city's commercial indulgence through huge trade shows, amazing shopping centres and towering skyscrapers, on the other, you'll be taken aback by its classical charm that is exuded in abundance from the variety of historical landscapes, cultural gems, cosiness and its traditional neighbourhoods.

On the opposite side of the Main River, you'll find a fabulous view of the skyline — best enjoyed with a glass of apple wine from the region. While here, don't miss the town hall called "Römer", as well as the newly-built old town and the city views from the Main Tower's rooftop observation platform. Other must-visits include the Städel Museum, Stolze Museum, The Palm Garden, Frankfurt Cathedral, Kleinmarkthalle, Goethe House and Museum and The Hauptwache.

4. Hamburg: the lesser-explored marvel of Germany

Often overshadowed by the popularity of Berlin and Munich, the second-largest city Hamburg is the busiest trading seaport of Germany. As the city developed around its port harbour and expanded its horizons, it grew as an extremely modern and bustling metropolis, with a rich and vibrant nightlife while still retaining its antique charm.

If you plan to come to Hamburg, you must not miss the chance to visit Jungfernstieg which is the shopping, cultural and dining centre with bustling streets; The Elbphilharmonie Hamburg (concert hall) which is the most impressive piece of modern architecture built on top of an old eight-storey brick warehouse; The Speicherstadt which is the largest of its kind anywhere in the world; the hipster district of Karoviertel; Lake Binnenalster which is popular for cherry blossoms sightings in spring and so much more.

5. Cologne: the fun and festival loving corner of Germany

Out of all the German cities, the one that is the most liberal, fun-loving, happy and easy-going is Cologne. It is one of the most beloved tourist destinations for the Germans and the top coolest tourist city to visit in Germany. Thanks to its two thousand years of art and history, a world-famous cathedral and a cosy beer hall culture, the city has developed a sense of its own distinctiveness and is proud of every characteristic it holds. Add to this the famous Cologne Carnival festivities and you will know why cheerfulness is a trademark of the Cologne people who are too excited to get into their unusually attractive costumes while taking to the streets to celebrate the 'Karneval'.

While the city is also world-popular for its famous Cologne Cathedral, which is always worth a visit, it also offers many other attractive highlights to culture-focused travellers and high-spirited Cologne residents alike. They range from the city's museums and Romanesque churches to a wide spectrum of monuments, from the quaint alleys of Cologne's city centre, to innumerable breweries and from the ever exciting Cologne Opera to the city's many theatres offering a wide variety of concerts and performances.

Top Bucket List Experiences in Germany:

1. Visit the Christmas markets of Germany

In Europe, Christmas markets are a cherished holiday tradition and it is nowhere better than in Germany to experience the same. Though the weather is chilly, the hot mulled wine and gingerbread warm the body and soul, the twinkling lights and Christmas trees adorn the streets and squares with these markets and festive music add to the real holiday feel. The Christmas market in Dresden is considered the oldest one, but real favourites are Christkindlmarkt in Nuremberg, the Christmas market on Alexanderplatz and many held in the other cities and old towns along the Rhine and Danube. It really is a delightful experience and should not be missed when travelling in December.

2. Attend Oktoberfest and have German beer in Munich

There's a strong reason why the Oktoberfest happens to be on almost every bucket list. To date, this two-week event attracts over 5 million visitors to Munich every year and visitors are instantly lured by two things here- food and the Bavarian beer available in abundance. You can snack on pretzels, pork knuckles, bratwurst and apple strudel along with lots of German beer and meanwhile also enjoy the carnival rides or just let your hair down and dance to the beats, dress up in a traditional Oktoberfest attire and sing songs. It'll surely be one happy and hearty experience that you will cherish for a lifetime.

3. Experience the splendour of the Black Forest region

The name "Black Forest" may sound gloomy but this gem, in reality, is a true example of sheer natural beauty and if described in one word, the area is "rejuvenating". Once you walk or take a drive around, it'll be difficult to move away from the lure of its spiky peaks, crystal clear rivulets and the scenic beauty of the hills, valleys and forests. What's more? The Black Forest region is well connected with multiple transport routes that make the way to several spas and hotels centred on the town of Baden-Baden. It also caters to numerous outdoor adventure activities like hiking, biking and skiing. If travelling by train, you should not miss the vivid Black Forest rail route between Offenburg and Konstanz.

4. Travel along the enchanting Rhine

If you are craving to see the picture-postcard side of Germany, there is no better place than the riverside passage of the Rhine. Flowing between Bingen and Koblenz, the Rhine snakes through a 40-mile valley adorned with lush green hills, a number of towns, cities, castles and fortresses on each side of its banks. The Rhine Valley is also home to Germany's thriving Riesling and Pinot Noir wine industry and that's the reason you'll find some vineyards that are hundreds of years old and nothing would feel better than travelling to this sun-drenched pocket of the country while savouring the local wine.

5. Explore the Old Town of Nuremberg and a 1000-year-old Castle

You are sure to get transported back to the time of knights and castles after visiting the Old town of Nuremberg which is a beautifully preserved picturesque medieval gem of Germany. There is a labyrinth of little streets with faded red and brown brickwork and plenty of timber houses and rock-cut cellars. But you will be instantly pulled in with the magnificence of a 1000-year-old castle that sits at the centre of this medieval wonderland. Nuremberg Imperial Castle looks out over the city from a rocky hilltop, its high sandstone walls symbolising the city's regal power over the centuries. Make your way through the legendary fortifications and discover the watchtower, the courtyard, stables, chapel and museum.

6. Discover the sheer bliss of Brandenburg

If you opt to take a stroll through the Brandenburg countryside either on foot or through the waterways, one thing is guaranteed – a glorious rendezvous with nature. You can walk around crystal clear lakes under a clear blue sky, see the rare flora and fauna, take a plunge in the lush forests, wander around the magnificent Sanssouci Palace known for its quiet environs and vineyard terraces or explore the towns and castles at a leisurely pace. You can easily switch your way to the water routes and take the rental boats to navigate on the scenic water channels, paddle in a canoe along the serene rivers or sail to the majestic lakes. Here, you can even pick your own fruit at many farms such as Kirschgarten Werder that open their fields and orchards to the public.

7. Go island hopping in Germany

Being too loaded with information on its castles and museums, little does everyone know that Germany also has some of the beautiful islands in Europe! While most of them are located off the northern coast and are usually unexplored by tourists, the bigger islands Rügen in the Baltic and Sylt in the North Sea have always been the popular island destinations choices in the country. There are lovely beaches to explore, butterfly sanctuaries, chalk cliffs, even Germany's smallest National Park, Jasmund and what not!

8. Ditch vanilla or butterscotch, try a Kebab flavoured ice cream!

Yes, you heard that correct… a kebab flavoured ice cream! A charming little place, Der Verrückte Eismacher is trending among the students and locals for serving all kinds of weird tasting ice cream such as beer or kebab. What is great is that you can even try tasting as many as you like before you order one but if you trust the word, each one with whacky flavours tastes just the best!

Experience the grandeur of Germany with Dook

What if we tell you that there is a strong possibility of discovering and enjoying Berlin, Munich, Frankfurt, Cologne, all this and more in one such amazing tour that truly delights your senses! Intricately tailor-made with utmost devotion, Dook's Germany Tour Packages from India are designed to provide you with a perfect vacation. With these cost-effective and experience-filled Germany packages, you can explore both the top-rated and off-beat attractions that you have been listing down on your bucket list.