Tbilisi, the capital city of Georgia is a great travel destination. The city is surrounded by mountains on three sides. One major component which decides the time to go to a destination is weather and weather in Tbilisi remains good throughout the year, is quite good news for all the travel lovers. Summers are warm and winters are cold. But what makes Tbilisi special? Well if you don't know about the place then you might wonder about it. Warm hearted people along with stunning countryside, amazing Tbilisi's nightlife or may be something else can touch the core of your heart. Tbilisi is unspoiled beauty shaped by rugged mountains. That is around the city and within Tbilisi you will enjoy little streets all over the city. Carrying a camera or clicking with mobile is what you will love to do on the streets of Tbilisi. Having said about these things that you would love about Tbilisi in Georgia on your Tbilisi Tour Package, what are we going to explore in this article? Well, it is quite interesting thing known as Aerial Tramway in Tbilisi. It is brief but great experience to have. Let us see about this more.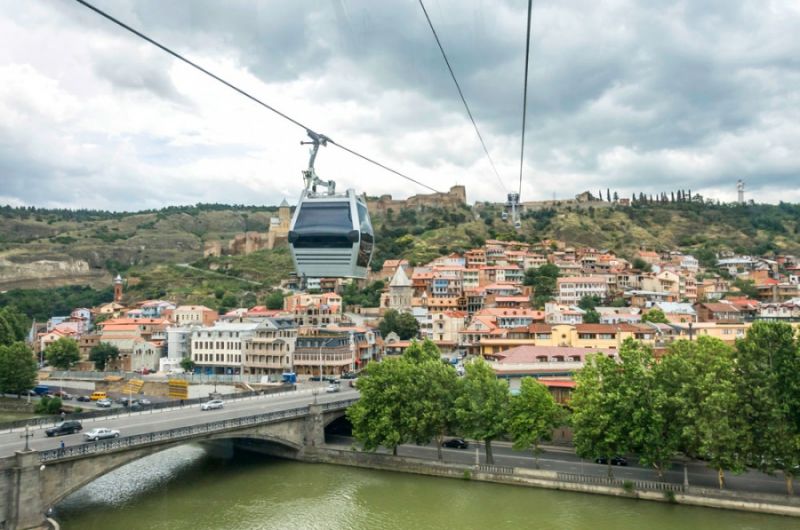 Aerial Tramway is a fast and great experiential way to reach from a place on ground to the top of a hill where a significant travel sight is located. In this regard, Tbilisi aerial tramway connects Rike Park or popularly known as Europe Square to the fortress of Narikala. This aerial cable care smoothens your journey from Rike Park to fortress of Narikala. But apart from smooth experience it offers you great 360 degree view from top. This cable care was built in recent years and was opened in 2012 for public. Before this tramway the only way to get to Narikala was by climbing the hill which might have been troublesome for many. After the aerial tramway, it has become super easy for any one to reach from ground to top of Narikala. This journey in the tramway takes you through Mtkvai River, over the recently renovated rooftops and buildings of Old Town and then Narikala in only 2 minutes. Yes, you read it right. Only 2 minutes. This is little saddening as you experience great view but for just a brief time. However, your focus should be on viewing from top and not on duration. You must also take pictures of cars arriving and departing which you can take from outside the platform.
You may also think of cost when it comes to taking a ride in Aerial Tramway in Tbilisi. But you will be happy to know that riding in the tram here is cheap. One way ride costs you 1 Gel only. You need card which is used here for travelling in the metro because cash is not accepted. So, you should buy a card which you can buy at the Kiosk for 2 Gel only before going for a ride. What about the comfort and safety of cable cars? Well, the cars are quite comfortable, they are all air conditioned and have big, tinted windows which offer you exceptional all round views. For safety there are signs to warn you against standing whilst the car is travelling. On the platform on top also you are discouraged to linger on the platform for safety reasons.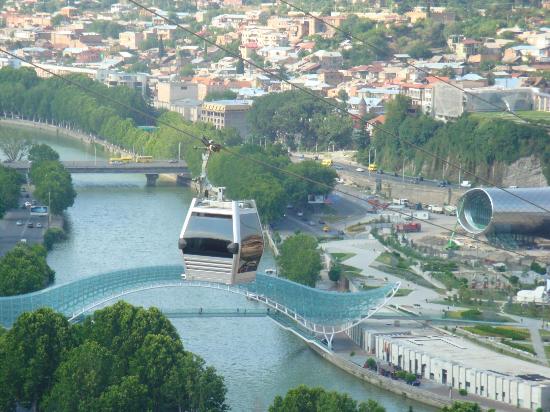 Three tourist sights at the top of the tramway to explore are fortress of Narikla, the 300 year old botanical garden and Kartlis Deda. So, in simple terms you must take a ride on this aerial tramway when you are on a Tbilisi Tour Package in Georgia and explore not just ancient fortress of Narikala but also go around mountains for hiking as you wish.