Highlights Of Azerbaijan And Georgia
Fire, wine and everything fine: explore Georgia and Azerbaijan
Pkg Id

0000204

Destinations

3

Duration

6 Nights

Attractions

4

Price
From the land of fire to the land of wines, take a journey to explore the vivid cultures and landscapes of the bridges between Europe and Asia. Discover the distinct cultures and cuisines of the region and enjoy the spectacular scenery of the Caucasus Mountains. Socialize with the locals in the capitals and witness the ancient cities transform into chic, modern destinations.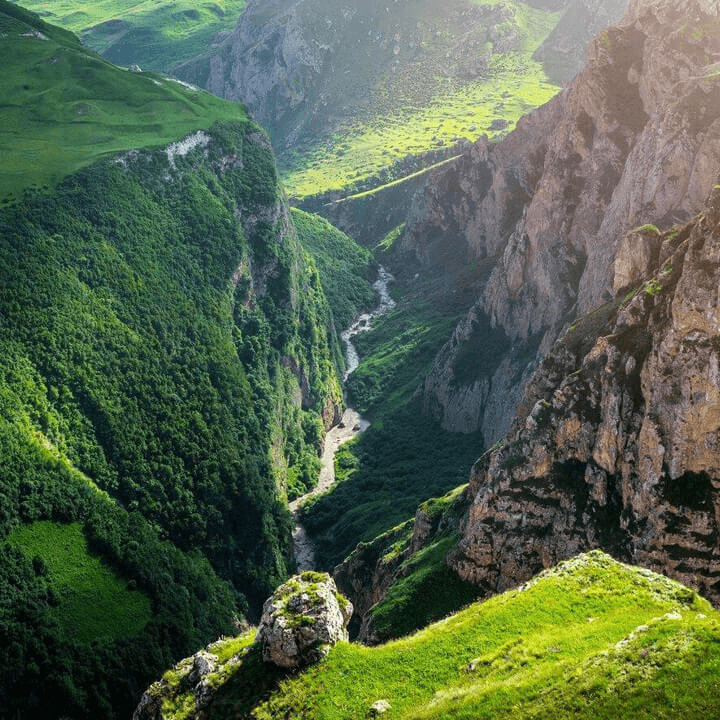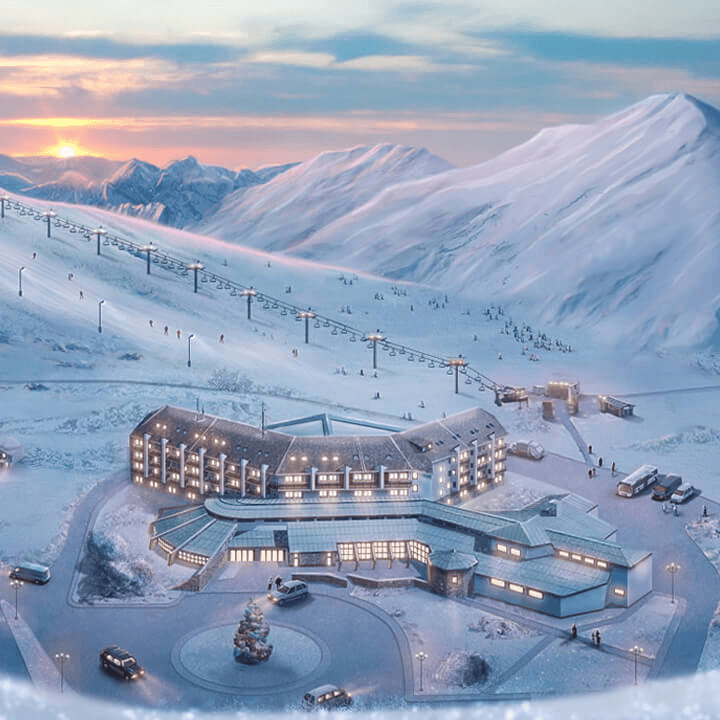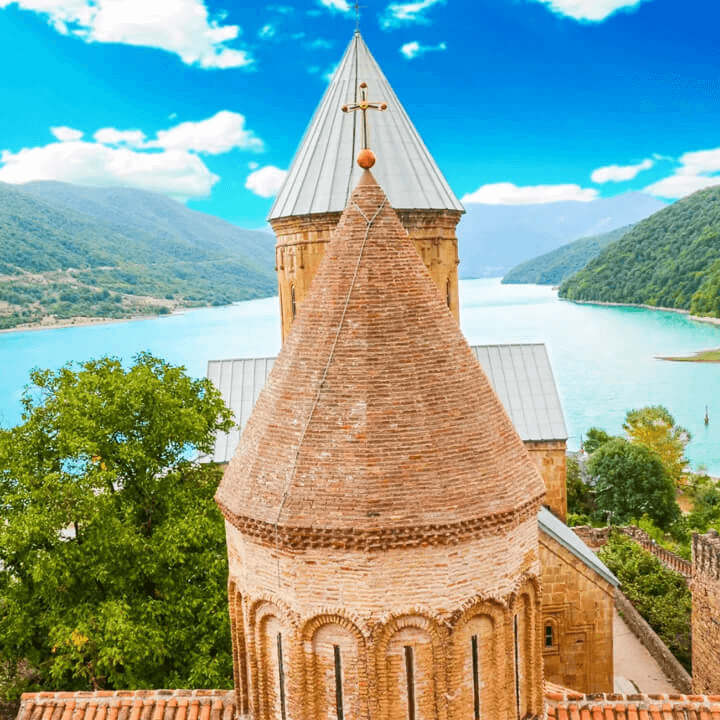 1
Arrival
Arrival at Baku Airport , Our tour escort will host you from outside airport.
Transfers to Hotel.
Check in to Hotel.

Half-Day Old City walking Baku Tour .

Transfers back to Hotel.
Free time to explore the city on your own.
Overnight at Hotel.
2
Full Day Land of Fire Tour with Shopping
Breakfast at Hotel

Full-Day Tour: Ateshgah, Yanardag (Burning Mountain) Tour

Transfer for shopping in City Center - 28 Mall, Ganjlik Mall for about 2 hours.
Transfers back to Hotel.
Free time to explore the city on your own.
Overnight at Hotel
3
Baku - Shamakhi - Gabala Tour
Breakfast at Hotel.
Transfers to Gabala.

Shamaxi Tour on the way

visiting Shamakhi Mosque.
Arrival to Gabala city, transfer to Gabala Tufandag Summer-Winter Complex Resort cable car.
Transfer for Check-in to Gabala hotel
Transfer to Gabaland, entertainment center.
Transfers to Hotel.
Overnight in Gabala
Free time to explore the city on your own

4
From Gabala to Georgia
Breakfast in Hotel.
Transfers to Red Bridge Border with Georgia.
Our tour escort will host you from the border.
Arrival to Red Bridge & Pick up from the border.
Transfer to the hotel in Tbilisi.
Check in at Hotel.
Free time to explore the city on your own.
Overnight in Hotel.
5
Tbilisi City Tour
Breakfast at Hotel.
Transfers for

city tour

in the capital of Georgia - Tbilisi which is considered as one of the most ancient cities in the Caucasus.

During Tbilisi City Tour

you will take cable car/rope way to Narikala Fortress to enjoy breathtaking panoramic view of the city.
Walk down to the district of Sulphur bath houses passing by the only mosque in Tbilisi. You will stroll through the Shardeni area - full of narrow streets with cozy cafes, wine tasting bars, souvenir shops, and breathe in the living past.
You are able to visit Anchiskhati Basilica and the clock tower of famous Rezo Gabriadze Theatre.
Transfers to Hotel.
Free time to explore the city on your own.
Overnight at Hotel
6
Ananuri - Gudauri - Kazbegi Tour
Breakfast at hotel.
Transfers route will take over the Georgian Military Highway up North towards the border with Russia.
Your first stop will be at Ananuri for tress which is a sixteenth century castle complex on the Aragvi River. The fortress stands beside the famous Georgian Military Highway, overlooking a large Jinvali lake. Its high, turreted stone walls protect two churches, a watch tower and a reservoir. The main church facade is beautifully carved with animal, floral and Celtic style patterns.
Next Stop is Gudauri - young and rapid developing winter sports resort located at Kazbegi region of Georgia, 120 km from Tbilisi, at the height of 2,196 m (about 7,200 feet) near the Cross Pass. Skiing season lasts from December to April. In summer Gudauri is calm. Green environment, cool weather and clean air make a positive impact on the general health condition of people.
After that drive to Gergeti Trinity Church - At an altitude of 7119 feet (2,170 meters), the twelfth or thirteenth century monument was erected on the southern slopes of Mkinvarcveri. Gergeti Trinity Church is an important temple, remarkable for its beautiful scenery. The Gergeti Trinity Church is set poignantly on a hill directly below the towering white massif of Mount Kazbek, which sits at 5,033 meters. Built six hundred years ago, its stones have weathered repeated blizzards, rain and invasion to stand as a proud symbol of Georgian resilience in the face of adversity. It is the photographer's perfect shot.
Transfers back to Tbilisi
Transfer back to Hotel.
Free time to explore the city on your own
Overnight at Hotel
7
Departure
Breakfast at Hotel .
Check out from Hotel.
Transfer to Tbilisi International Airport for your onward journey
Hotel Accommodation 6 Nights

As per mentioned in itinerary

English speaking tour guide

Return Airport Transfers on Private basis

As per mentioned in itinerary
Visa
Click to view Visa information
General Terms
Please note that these packages are customizable, which means that you will be able to make changes to the itinerary/activity if you so desire. The final payment will be calculated as per the itinerary and inclusions reflected on the confirmatory e-mail sent to you.
Please expect to receive your vouchers 72 hours before your departure date (subject to full payment of your package cost).
Personal expenses such as laundry, telephone calls, room service, alcoholic beverages, mini bars etc., are not included.
In case your package needs to be canceled due to any natural calamity, weather conditions etc. Dook Travels shall strive to give you the maximum possible refund subject to the agreement made with our trade partners/vendors.
The passenger names in the booking form should be exactly as per passports. Dook Travels will not bear any liability for the name change fee, if incorrect names and ages have been added at the time of booking.
Please note that your package includes baggage as per airlines policy. Any addition in baggage will be charged separately.
Standard check-in time at the hotel is normally 2:00 pm and check-out is 11:00 am. An early check-in, or a late check-out is solely based on the discretion of the hotel.
In case the selected hotel is unavailable for booking, an alternate arrangement will be offered to the customer in another hotel of a similar category.
Certain hotels may ask for a security deposit during check-in, which is refundable at check-out subject to the hotel policy.This amount has to be deposited by the traveler.
Please note that Day at Leisure essentially implies that no sightseeing activities have been included for that day.
Kindly be on time for your activities, tours and transfers. Dook Travels will not be liable for missing any activity thus for any refund against it in such cases.
No refund either in part or in full will be made for any unused part of the services provided in the package.
The package price doesn't include special dinner or mandatory charges at times levied by the hotels especially during New Year and Christmas or any special occasions. Dook Travels shall try to communicate the same while booking the package. However Dook Travels may not have this information readily available all the time.
Our package price does not include GST and TCS. Applicable GST and TCS will be charged over and above the package price.
For queries regarding cancellations and refunds, please refer to our Cancellation Policy.
For any paid activity which is non-operational due to any unforeseen reason, we will process the refund & should reach the guest within 30 days refund requisition. Also, for any activity which is complementary and not charged to Dook Travels & guests, no refund will be processed.
Our package prices are on twin sharing accommodation basis thus published prices are applicable for minimum two persons and multiple of two thereon.
As per RBI guideline every foreign traveler has to provide us his PAN details. The Dollar component of package price will be taken out of your BTQ (Basic Travel Quota).
The tour cost does not include any Overseas Insurance Premium, but we strongly recommend buying Overseas Insurance Policy. The same after issuance is non refundable.
These terms are general terms for our tour packages.Any term mentioned in proposal shall be considered part of it and in case of discrepancy term mentioned in proposal shall prevail.
Disputes, if any, shall be subject to the exclusive jurisdiction of the courts in New Delhi.
Payment Policy
Payment schedule depends on destination, time of booking, inclusions, airline and hotel payment policy etc thus it is specific to your package bookining.
Payment schedule will be part of our proposal to you for the package.
If payment is not made as per the schedule provided in the first booking confirmation e-mail, Dook Travels reserves the right to cancel the booking after attempting to get in touch with you. Refunds would be as per the package cancellation policy.
Cancellation Policy
Once Booking received : INR 5000 (Per PAX) + actual Ticket cancellation + Hotel cancellation as per hotel policy+Visa fee if visa is applied.
60 – 45 Days prior to departure : 25 % of land cost + INR 5000 (Per PAX) + actual Ticket cancellation+Visa fee if visa is applied.
45 – 30 days prior to departure: 50% of land cost + INR 5000 (Per PAX) + actual Ticket cancellation+Visa fee if visa is applied.
30 – 10 days prior to departure: 75% of land cost + INR 5000 (Per PAX) + actual Ticket cancellation+Visa fee if visa is applied.
Within 10 days: Full.