Vardzia Cave Monastery - Georgia
Georgia is a country of natural beauty and Monasteries. Georgia a beautiful country has lot of old time monasteries. In this article we will talk about a cave monastery. This is Vardzia Monastery, a cave monastery in southern Georgia. Vardzia is centuries old monastery, now part of state heritage reserve. The space around the monastery looks beautiful. You will have a great time here walking in and around Vardiza monastery in Georgia. The caves entice you to look inside. This cave palace monastery built by Georgians in the Caucasus for their fabled queen Tamar seems to be taken directly from a Hollywood movie in its appearance. Though it would be insufficient to explore this place in mere texts but it is worth doing none the less. So let us visit Vardzia in Georgia.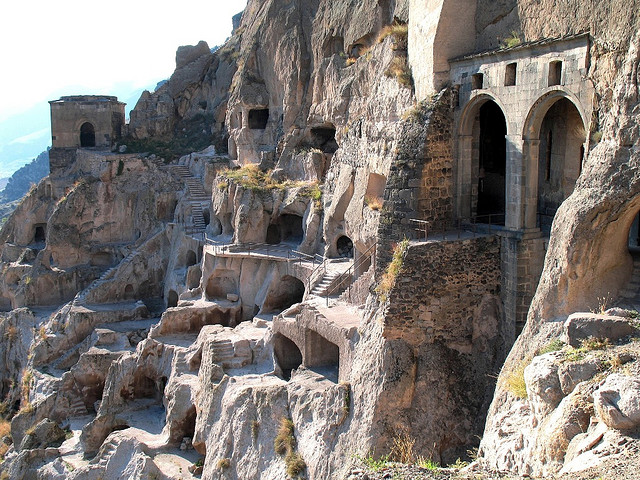 Queen Tamar in the late 12th century in an attempt to safeguard Georgia from onslaught of Mongol hordes ordered and built underground sanctuary carving into the side of Erusheli Mountain near the town of Aspindza. This underground fortress had 13 levels and it had 6000 apartments, a throne room and a large church and also an external bell tower. This place was built in such a way that it was not easily accessible however only after a century this place along with other parts got destroyed in a major earthquake. Today the remains of this place are maintained by a small group of monks. Today the place survives with about 300 apartments and hall which are visitable.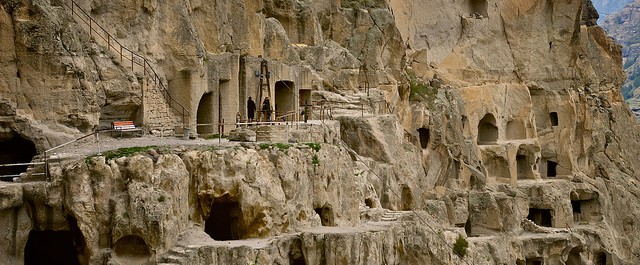 Today the greater Vardzia area includes the early 11th century Church at Zeda Vardiza and rock village and cave churches of Ananauri. The rooms of the monastery are meeting room, reception chamber, pharmacy, cave dwellings, wine cellars, chapels with bakery and a forge. Vardzia, a cave monastery on the slopes of Erusheti Mountain is now a part of the Vardzia architectural museum reserve. Once devastated in an earthquake this place was soon partially built. The monastery must be walked to enjoy to the fullest. When you are going to Vardzia you can be sure of travelling to Georgia's 12th century structure along with today's wilderness and its landscapes. The originality and the uniqueness of the place is probably the best combination which is very well supported by ancient history of Meskheti. Located in southern Georgia in the valley of the Mtkvari River near the borders of Turkey and Armenia, Vardzia cave monastery complex offers a great view from the areas around.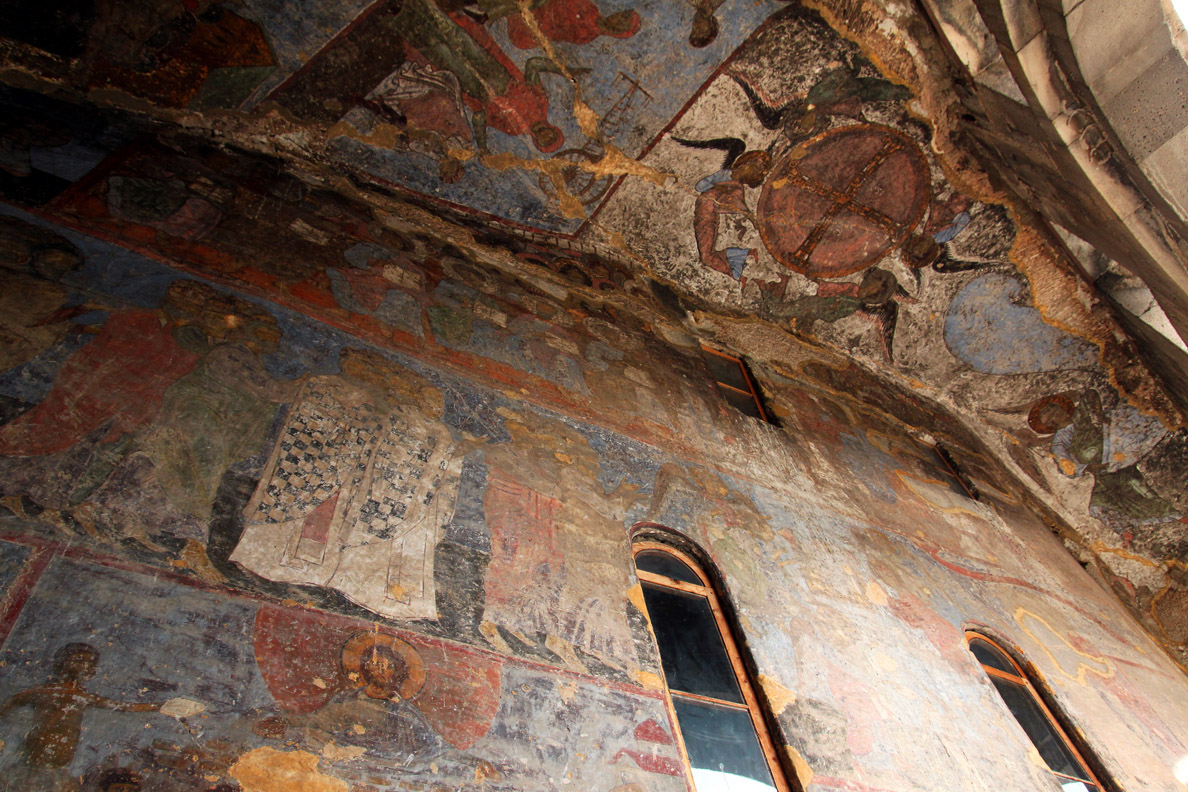 How can you reach this beautiful place? You can take a bus from Akhaltsikhe or Borjomi. From wilderness of Akhaltsikhe it is 60 KM drive to the cave city of Vardzia. The road to the Vardzia is also very dramatic which goes through upper Mtkvari River which then passes through narrow canyons and lot of interesting places along the way. There are guest houses near the Vardiza also where you can stay and enjoy good stay along with good food. So if you are planning for a Georgia Travel Package then do visit Vardzia cave monastery.