Uplistsikhe - Ancient Cave Town in Georgia
What about a town made of rocks? What about a town which saw a great limelight and then was abandoned? Only the remains are there for the people to see. You would love to go to such a place which has too long a history and today it can only be felt in the rocky formations there. We are talking about one such town in the country Georgia. This is known as Uplistsikhe. The town is easily an off beaten travel destination for the tourists in Georgia. But when you are on Tbilisi Tour Package then you must take time to visit this place as it is not too far away from Tbilisi and it is certainly worth visiting. Uplistsikhe which means the lord's fortress was once the political and religious center of Georgia and archaeologists say that it is one of the oldest urban settlements in Georgia. Let us go through journey of Uplistsikhe in brief here.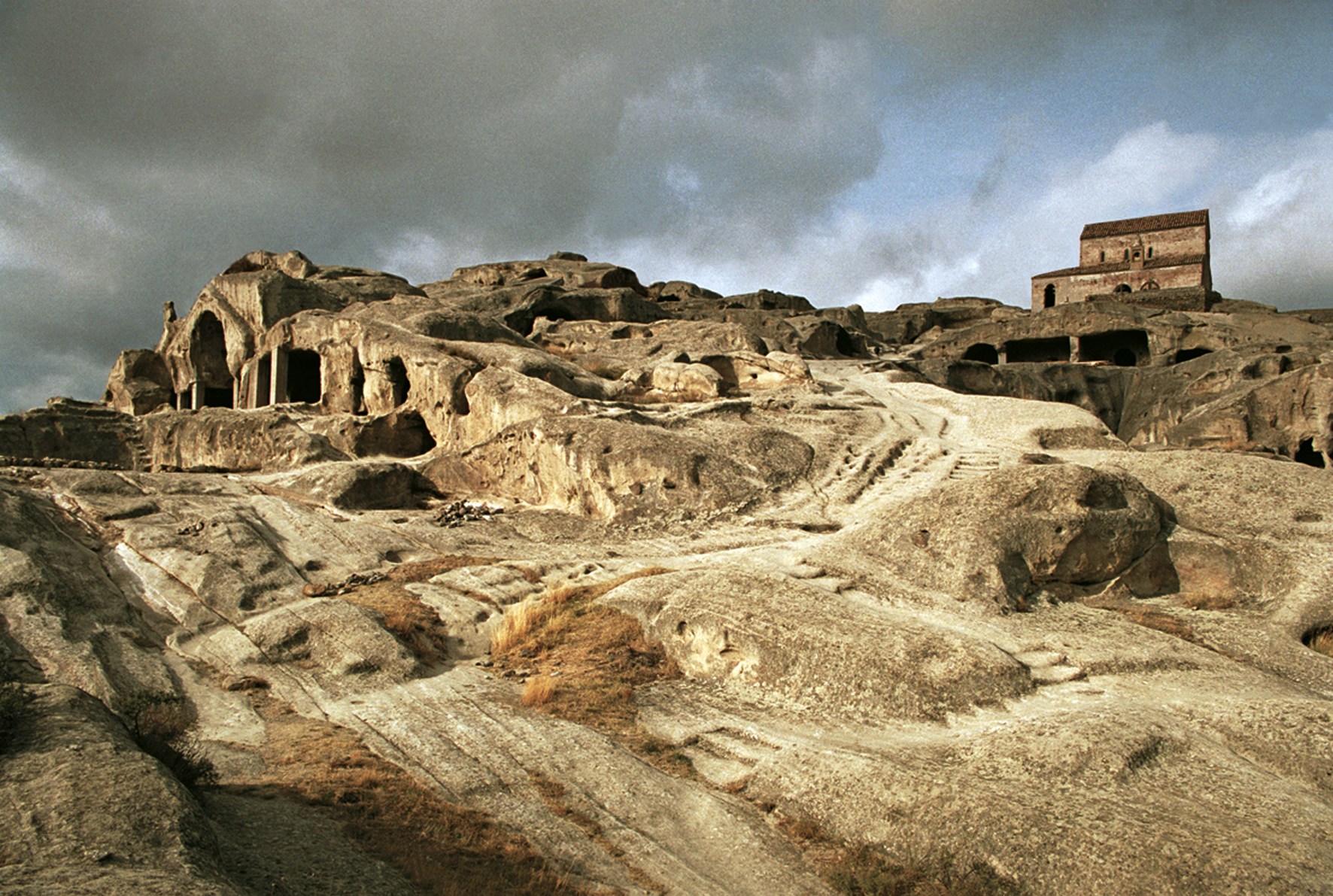 Uplistsikhe is an old rock-hewn town in eastern Georgia. It is just 10 KM away from the town of Gori, which is also a tourist attraction and only 80-85 KM away from the capital city Tbilisi. Uplistsikhe is built on the left bank of river Mtkvari and here in town you can see numerous structures which dates back to early Iron Age to the late middle ages. These structures show the coexistence of Pagan and Christian culture. Before the 4th century, Uplistsikhe emerged as a major political and religious center of the country under the kingdom of Kartil. However when Christianity arrived in 4th century in Kartil, Uplistsikhe went on decline loosing its importance and lost its position to new Christianity centers Mtskheta and Tbilisi later on. Uplistsikhe saw its rise again during 8th and 9th century during the Muslim conquest of Tbilisi. Then in 14th century when the Mongols raided it marked the ultimate eclipse of the town and the town was abandoned again. During Mongol raids it saw the destruction of large parts of the city.
Archaeologists found several temples and finding related to sun goddess before the Christianity arrived here. Today this cave town can be divided into three parts, South or lower part, middle or central part and north or upper part. The central area has most of the rock-cut structures and it is connected to the lower area by narrow tunnel. Most of the rock-cut structures are without any decorative elements, however some of the larger structures, do contain some stone carvings. Now as a visitor what is there for you today? Well, when you enter this rocky town you find a giant hill of carved rocks. You can feel the cold wind coming from the river Mtkvari which feels good. You can enter the gigantic hill through preserved old rock carved steps where you can climb through a steel stair case. When you trek through the hill you get to see some great scenic view standing on the edge of the hills. You can also see some archaeological ruins of some ancient civilizations. At the top of the complex you will see Christian stone basilica which dates from the 10th century. The rock cut structures that you can see here includes a large hall which is called Tamaris Darbazi, pagan places of sacrifice, dwellings, some functional buildings, like a pharmacy, a bakery, a prison, and even an amphitheater is there. These rock-cut structures are connected by tunnels, while other tunnels were used for an emergency escape route. So Uplistsikhe is notably unique for its unique combination of styles from rock cut culture from Iran and Anatolia. Uplistsikhe is ancient yet looks beautiful because it contains numerous structures from old time, as old as early Iron Age to late middles ages. Representing mythical elements ascribed by medieval writers here makes the place unique. This ancient ruins must be on your must visit places list. The caves are devoid of any decorations although some of the larger structures have coffered tunnel-vaulted ceilings, with the stone carved in imitation of logs.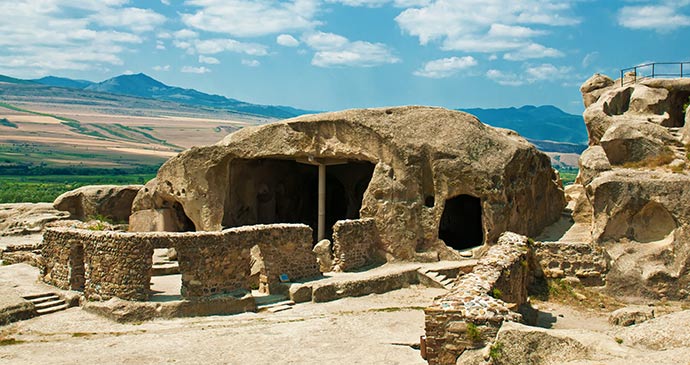 How can you get to this ruined yet beautiful place? Well, from Tbilisi you can reach Gori by regular buses, mini van and taxis which takes around 1 hour. From Gori you can take a taxi to Uplistsikhe or you can also make a bike ride and it takes around half an hour from Gori. So, on your Tbilisi tour package you should visit Uplistsikhe, the ruined town of Georgia.