Georgia is a country in Eastern Europe and it is a great place for travel. The country is set on the coast of the black sea and lies in the proximity with Russia, Armenia and Azerbaijan. Georgia offers many great things on plater to the visitors and chief among those are great landscapes, high mountain peaks and lush black sea resorts. Also the infrastructure for tourism in the country has improved significantly over the years, which is why the number of tourists visiting the Black sea republic has increased many fold. So, which special attraction of Georgia we are going to explore in this article? We will explore a dormant stratovolcano and one of the highest peaks in Georgia. This is Mount Kazbek.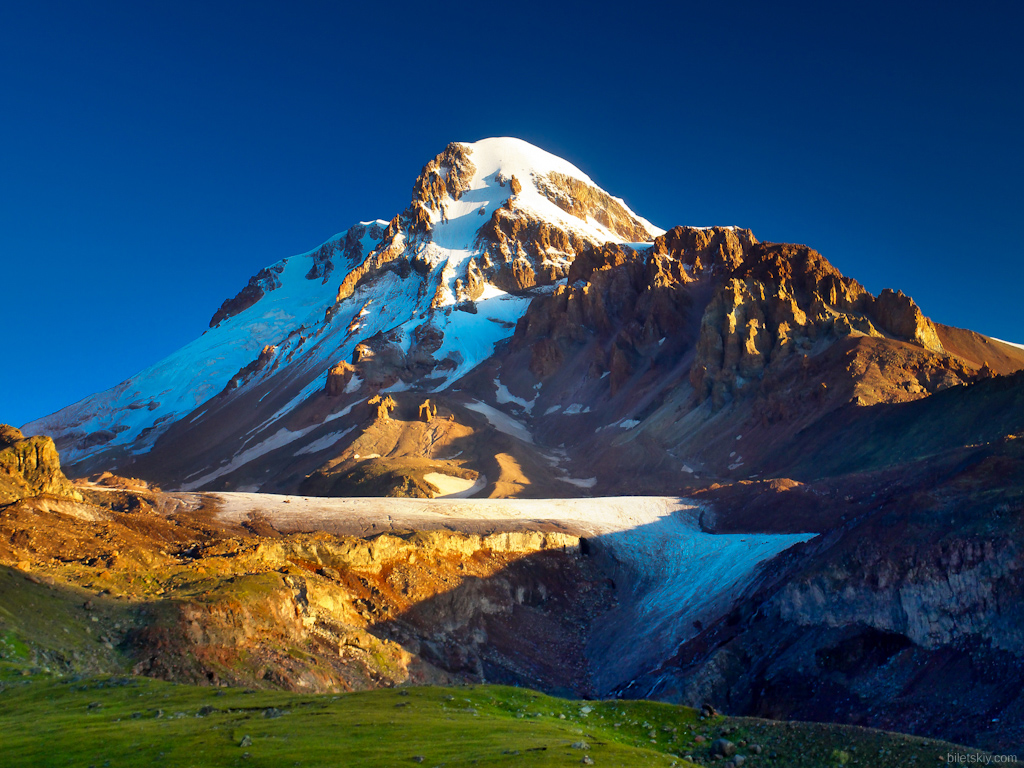 Are you game for Mountaineering, hiking and trekking in Georgia? Yes. Then go for Mount Kazbek. Why? One simple reason to excite you is that it is one of the highest and most beautiful mountains of Caucasus. In fact, it is the third highest mountain in Georgia, after Mount Shkhara and Janga and the seventh highest peak in the Caucasus Mountains. The area around Mount Kazbek was designated a nature reserve by the Soviet Government in 1979, and it includes beech forests, sub-alpine forests and alpine meadows. Many of the plants and animals in the reserve are endemic to the Caucasus region. Mount Kazbek comes under the natural beauty category when it comes to must visit places in Georgia. One of the major mountains of Caucasus, Mount Kazak is located in Kazbegi district of Georgia.
Probably no country would be complete without its natural beauty and Georgia is no different. Because Mount Kazbek is one of the highest mountains in Georgia, Climbing and trekking is quite popular among the visitors. Known as mountain of ice, Mount Kazbek is surrounded by nature reserve and also includes beech forests, sub-alpine forests and alpine meadows. It is not difficult to climb Mount Kazbek and the normal route to climbing is mostly glacier walking. Crux part of the walking route is 100 m which is easy ice climbing and thus tourists find climbing here quite easy and enjoyable at the same time. The best known glacier of the Mount Kazbek is Dyevdorak followed by other glaciers as Mna, Denkara, Gergeti, Abano and Chata.
Mount Kazbek is attached to some old stories as well. In this sense the mountain is associated with Georgian Folklore Amirani, the Georgian version of Prometheus (A titan in Greek mythology or best known as the deity in Greek mythology who created mankind) who was punished for having stolen fire from Gods and giving it to mortals. As a result of punishment Amirani was chained on the mountain. This location where he was imprisoned later became the site of an Orthodox hermitage which is located in a cave known as Betlemi. Legends say that this cave has housed many sacred relics.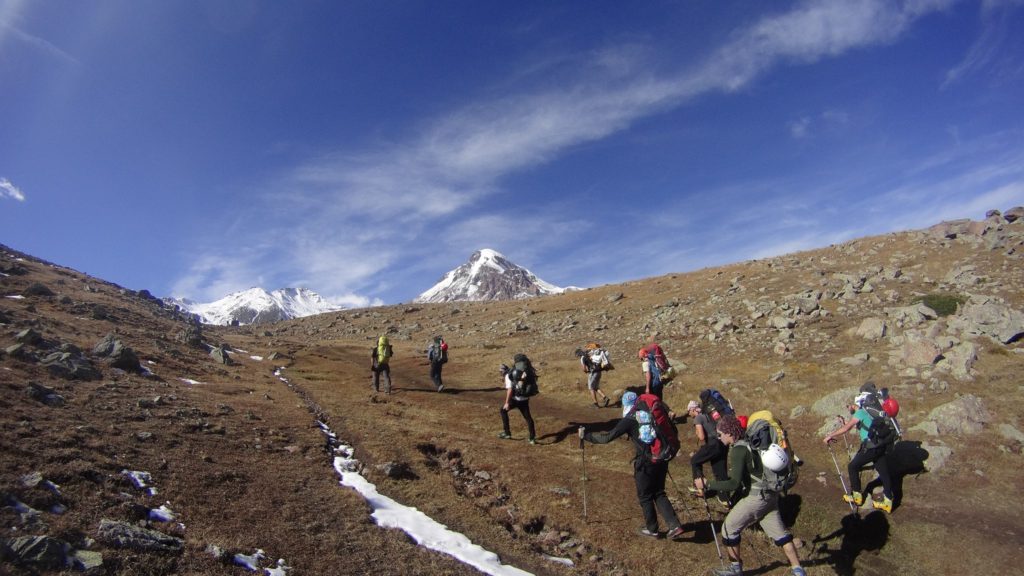 So, you can see that Mount Kazbek is quite a happening place for all the travelers from the world. You can walk up the mountain as climbing is easy. You can also enjoy the place for its natural beauty and a fantastic landscape. What is another interesting fact about Mount Kazbek is that it is also an extinct volcano which is appreciated for its conic form with the distinct remains of ancient gigantic crater. The place has got some mythological aspects too which does excite many travelers. All these put together make Mount Kazbek a must visit place when one is on an Tbilisi Tour Package. Come here and carry some beautiful memories with you which you can preserve and pass on to next generation.