Shymbulak Ski Resort in Almaty
Nomad, backpacker or storyteller whichever side in you propels you to travel, after sometime you know that travelling is magical experience. From insane backpacking on high mountains camp to sailing across the world, you definitely love to travel one way or the other. Off the path adventure travel is very fascinating experience. There are many beautiful parts of the world that offers you this sort of travel. In one of our previous article we shared with you the beautiful and adventurous world known mountain skating rink Medeu in Almaty. Here in this article we will explore another exciting place in Almaty, Kazakhstan. This time we pen down travel information about Shymbulak. Shymbulak is an Ski resort in Almaty sitting in an attractive gorge of the Zailii Alatau at a height of 2,260 m above sea level.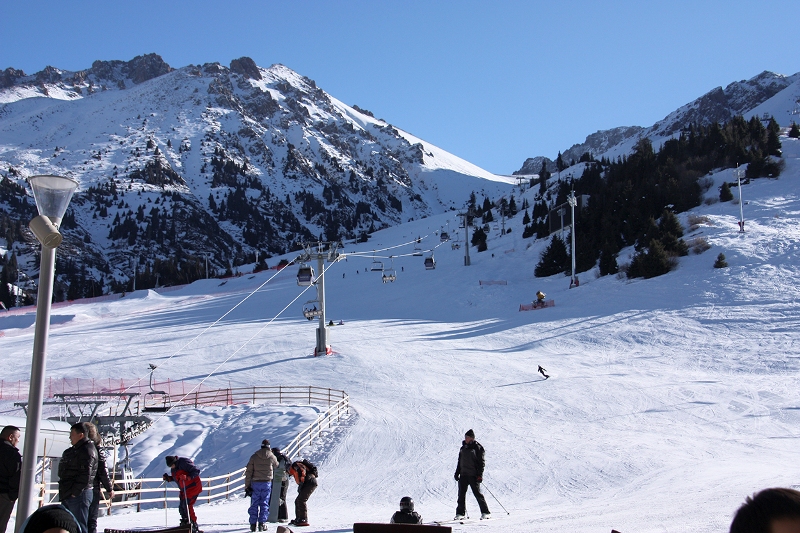 If you are sucker of adventure then Shymbulak Ski Resort in Almaty is a certain joy. Shymbulak is a place brimming of snowpack which is an ecstasy for viewers to see. With consistent snow cover Shymbulak boast a very impressive 943 metres (3094 feet) of vertical descent. The snow is on average 150cm thick in winter, with consistent snow cover from November to May. Most of the days in the year are sunny. The slopes here are served by three chairlifts and two tow ropes. The quad chairlift began operation in 2003, and opened a new region for extreme skiing, and for snowboarders there is a new Park. The chairlifts can take you from a height of 2260 m above sea level to the Talgar pass (3,163 m), for a vertical drop of 903 meters. Shymbulak has been a ski base since 1954. There were some comfortable cottages, a canteen and a club located at the beginning of the tract. They were all well equipped, had steam heating and electricity and were located near ski routes. This created maximum comfort for skiers. Skiing competition has been held here since 1950 when it was under Soviet rules. Since 1961 the Kazakh Board for sport associations and organizations has conducted open competitions of mountain skiers for the "Silver edelweiss" prize. And since 1983 Shymbulak has been operated as an Olymic center of downhill ski training. As Shymbulak has a comfortable material base and is close to high mountain areas with complex rocky and icy topography, it makes this region attractive for conducting high class skiing and snowboarding competitions.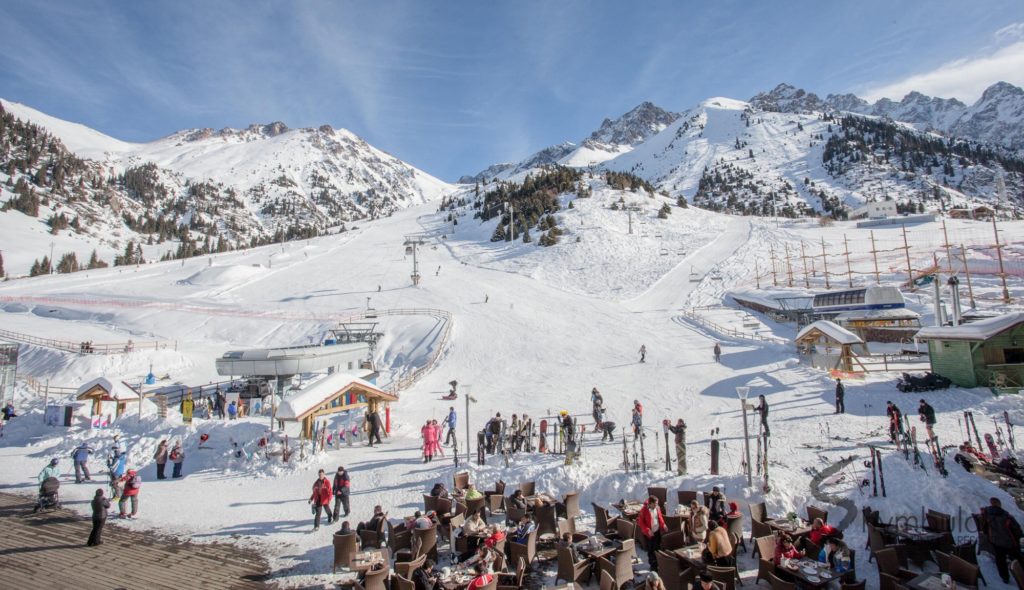 Shymbulak area offers you the snowy alps, gardens, forests, Tien Shan spruces and crystal clear water of the mountain Malaya Almatinka river to admire. Shymbulak has various routes which has gentle slopes that can be travelled by beginners and intermediate skiers and there is longer trails for expert skier too. If you have never stood on skis or snowboard then you can learn it here as well from experienced instructors. You can make your holiday a memorable one when you learn and enjoy the art of mountain skiing. Ski and snowboard both are available on rent here. Shymbulak is a place to relax and chill out during the whole year. You will fall in love for the beauty of the mountains which is incomparable and you would never stop appreciating it. At the foot of the wild and unexplored mountains are long valleys, which are covered with pine forests, amazingly beautiful meadows. In the summer, camps for children are organised. Shymbulak Ski Resort is a fun place and is offers lot of recreation and entertainment for tourists.
Explore Kazakhstan Tour Packages with Dook International, check our Kazakhstan holiday packages as below –
Almaty 4 Nights and 5 Days
Almaty 5 Nights and 6 Days
Almaty + Bishkek 5 Nights and 6 Days
Almaty + Bishkek 7 Nights and 8 Days