World Heritage Sites Of Kazakhstan
World Heritage Sites are precious ones. The list of World heritage Sites is maintained by UNESCO. These buildings, city, complex, desert, forest, island, lakes, monuments, mountains on the World Heritage Sites are of great importance and so are intended to be preserved. As of now there are 1031 sites listed on World Heritage Sites list. And there are 4 among these in Kazakhstan. Yes in this article we will see 4 World Heritage Sites in Kazakhstan. Kazakhstan which is a land locked country in Central Asia has amazing cities Almaty and Astana. Both these cities are prime destinations for tourists. But if you like to explore World Heritage Sites across the world then you should visit these 4 sites in Kazakhstan we are going to talk about.
1. Mausoleum of Khoja Ahmed Yasawi
This is an unfinished Mausoleum in Turkestan in southern Kazakhstan. Structure was made in 1389 by Timur and construction was halted in 1405 because of death of Timur. Since then it has remained unfinished Mausoleum and survived till date. The Mausoleum is made of distinctive art of that time. The experimental spatial arrangements, innovative architectural solutions for vault and dome constructions, and ornamentation using glazed tiles of that time goes beyond the Timur empire.
Even today Mausoleum of Khoja Ahmed Yasawi attracts lot of religious pilgrimage from across Central Asia and so has become Kazakh national identity. Situated in Modern day Turkestan and listed on UNESCO world heritage site, this Mausoleum epitomises the Remains of medieval structures such as other mausoleums, mosques and bath houses. So if you are in Kazakhstan you should visit this unfinished Mausoleum.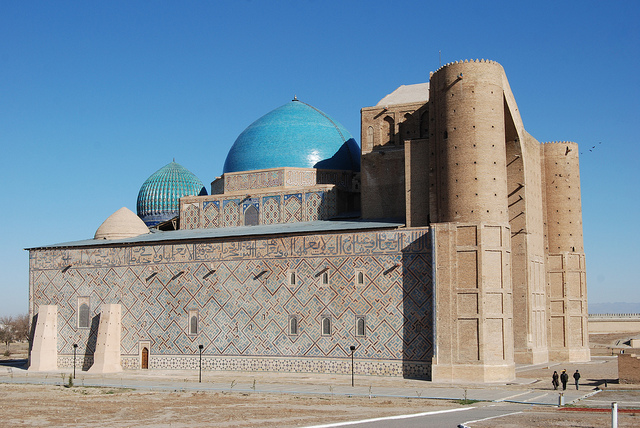 2. Tamgaly
Tamgaly is a unique site. It is a petroglyph site in Kazakhstan. Petroglyph is basically a rock art in which images are created by removing part of a rock surface by incising, picking, carving, or abrading. Located 120 KM to the north west of Almaty , Tamgaly literally means 'Painted or Marked Place'. This beautiful landscape of Tamgaly features over 5000 marvellous petroglyphs coming from the bronze age. They are large in size with unique images and of high quality of iconography.
You can visit the sit with guard who shows you right direction. The petroglyphs are of bronze age, iron age and medieval age. If you truly love these sorts of unique places depicting old unique art, you must visit Tamgaly, another UNESCO world heritage site of Kazakhstan.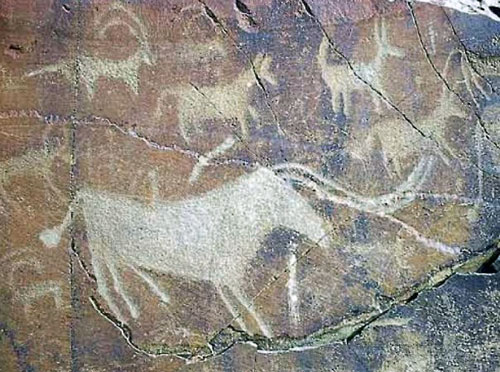 3. Silk Road UNESCO World Heritage Sites
Sections of the ancient Silk Road and historical sites on this route has been listed as UNESCO world heritage site. 5000 KM from Central China to Zhetsyu region of Central Asia, Silk Road has been identified by UNESCO in 2014 as new world heritage site. This 5000 KM corridor goes through China, Kyrgyzstan and Kazakhstan. Since 2008 China, Iran, Turkmenistan, India, Kyrgyzstan, Kazakhstan, Uzbekistan submitted their own lists with various sites on the silk road to be listed as World Heritage Sites. So later on in 2011 UNESCO proposed to divide the applications in Corridors, which China, Kazakhstan and Kyrgyzstan agreed to put one joint application for one corridor while Uzbekistan, Turkmenistan and Tajikistan prepared another joint application for another corridor. In 2013, the application for the Chang'an-Tianshan Corridor was finalised and officially submitted by Kyrgyzstan.[2] It contained 22 sites in China, 8 sites in Kazakhstan and 3 sites in Kyrgyzstan. So in 2014 33 sites from China, Kazakhstan and Kyrgyzstan became World Heritage Sites along Silk Road on Chang'an-Tianshan corridor.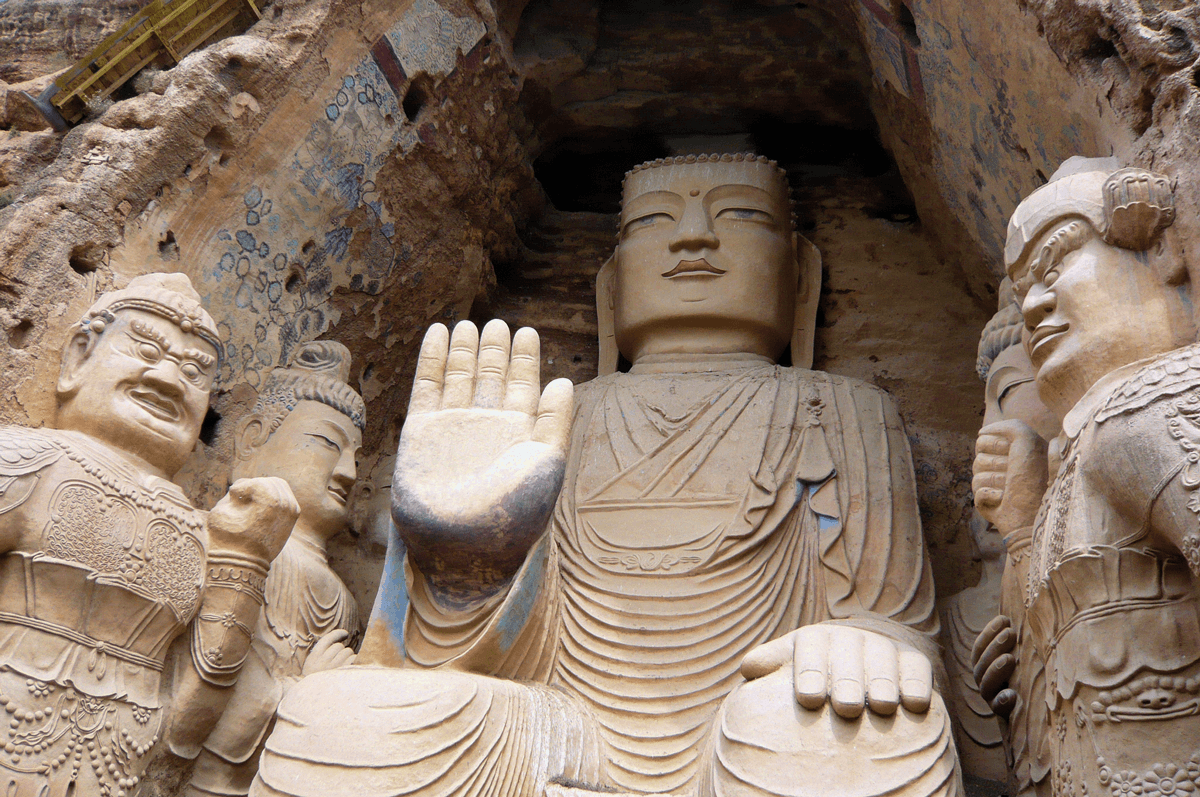 4. Saryarka
Saryarka is a natural world heritage site in Kazakhstan. Saryarka is steppe and lakes of Northeren Kazakhstan region. Basically Sarayarka is into two parts. One Naurzum State Nature Reserve and Korgalzhyn State Nature reserve. And these two reserves features wet lands. This wet land is quite important specially for migratory water birds which also include some threatened species. Saryarka works as a stopover point on the Central Asian flyway for birds from Africa, Europe and South Asia to their breeding destinations in eastern and western Siberia.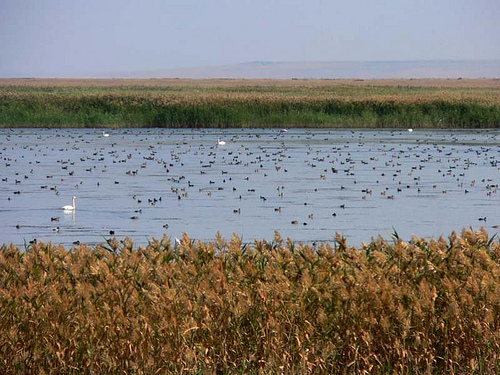 Saryarka is home to many wildlife and people also come here for bird-watching. Saryarka became world heritage site in 2007 and is only natural site in Kazakhstan listed as UNESCO world heritage site.
Explore Kazakhstan Tour Packages with Dook International, check our Kazakhstan holiday packages as below –
Almaty 4 Nights and 5 Days
Almaty 5 Nights and 6 Days
Almaty + Bishkek 5 Nights and 6 Days
Almaty + Bishkek 7 Nights and 8 Days