The Zelyony Bazaar (Green Bazaar) Almaty
Almaty is a buzzing city in Kazakhstan. One who travels to modern Almaty finds it as good as any European city. However Almaty has a very rich history and there are places in the city which still holds the richness of old time. Zelyony Bazaar is one such place in Almaty. Though people in current times are used to going malls for shopping but no one can deny the fact that there is still lot of charm in going to traditional bazaar and shop. Are you also an old school type who loves to go to traditional markets for shopping? If the answer is yes then on your Almaty trip with Best Almaty Tour Package you can head towards Zelyony Bazaar located near Paniflov Park. Zelyony Bazaar is also known as Green Market. Like any traditional market in Central Asia region, in this market also you can buy everything under one roof. You can buy clothes, furniture, spices, meats and fruits. And on top of that you can bargain hard here. Let us explore Zelyony Bazaar or Green Market a bit.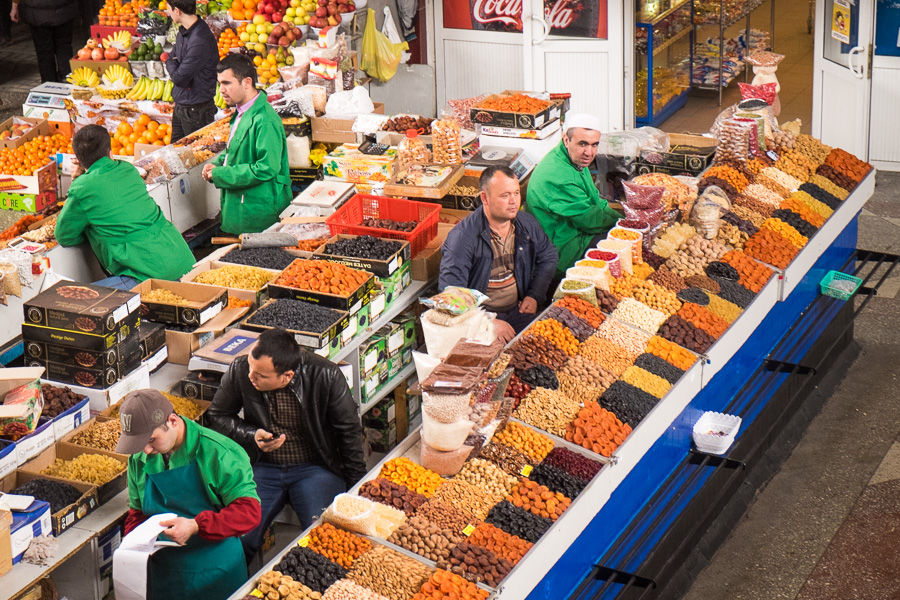 Zelyony Bazaar is a place in Almaty on the crossroad of Zenkov and Jybek Joly streets. This is a market where you can and you should spend some time shopping or simply visiting this vibrant place. This market is a typical local market where one can purchase everything. You name it and it is there in the market like spices, fruits, clothes and furniture and more. And the bazaar is a delight for those who know how to bargain hard. If you have a flair for bargaining then you will get everything at a very reasonable price in Zelyony Bazaar. Colorful atmosphere of the market is simply a delight for the tourists who visit this market. They can see variety of goods available. In their shopping list they can include small souvenirs for their friends and family waiting back home. There are different sections in the Green Market for different items. Like if you are looking for items for your kitchen then you can pick up a variety of local spices and seasonings. You can also see small shops providing services like tailoring and shoe repair.
Zelyony Bazaar is an important part of Almaty history. Over hundred years ago at this place only the first prototype of trade center appeared. Since then it has remained in Almaty as an important trade point. In those times also, everything was sold in the market and locals could purchase their daily need items. In 1887 earthquake destroyed major part of the city including this place where today's Green Market is. Slowly over time when the need to rebuild the market emerged then in 1927 it was reconstructed anew and though it got the name Central Farm Market but popularly it was called as Zelyony Bazaar or Green Market. Earlier there were wooden stalls but in mid 70's wooden stalls were pulled down and the bazaar got its current look.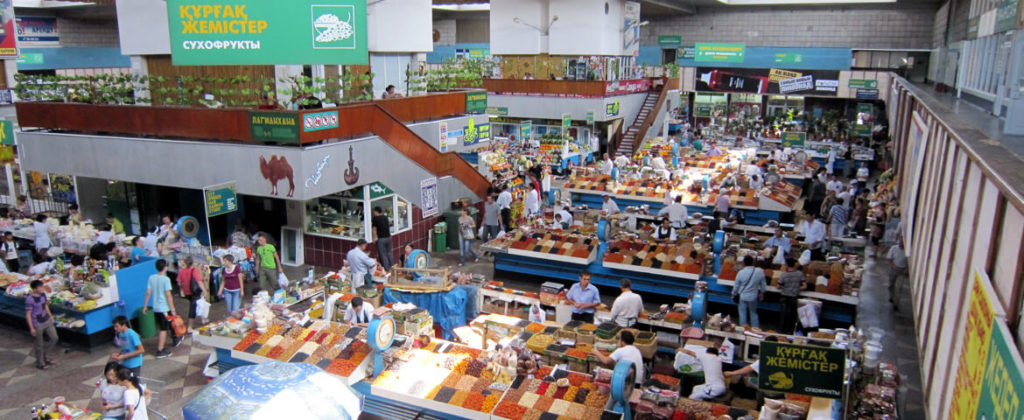 Today Green Bazaar is generally an inclusion in the places to see in Almaty list of the visitors. People visiting Almaty are recommended to be here. And if you are hungry after shopping then there are near by food stalls to satisfy your hunger and taste buds as well. Nearby shopping are and street artists also catch your attention. So, if you love the sun and the air, then you should visit Zelyony Bazaar and shop and if not shopping then simply roam in the bazaar. On your Almaty tour you can visit the Zelyony Bazaar. You will be delighted to see the atmosphere and variety of goods available in the market.