Valley Of Geysers - Russia
We have seen Kamchatka Peninsula from Russia in one of our past articles. We explored how this peninsula is quite amazing. Why? Because it has rivers, it has mountains, it has volcanoes, it has valley of geysers, it has ice caves, it has beautiful lakes and Kamchatka has great wild life too. In this article we are going to explore one of the amazing things that Kamchatka Peninsula has. We are going to explore Valley of Geysers. Formation of Geyser exists in only a few places on planet Earth, and Russia, Kamchatka Peninsuala is one of them. So Valley of Geysers in Russia is a rare phenomenon. So what is Valley of Geysers? What is special about it? Let us explore.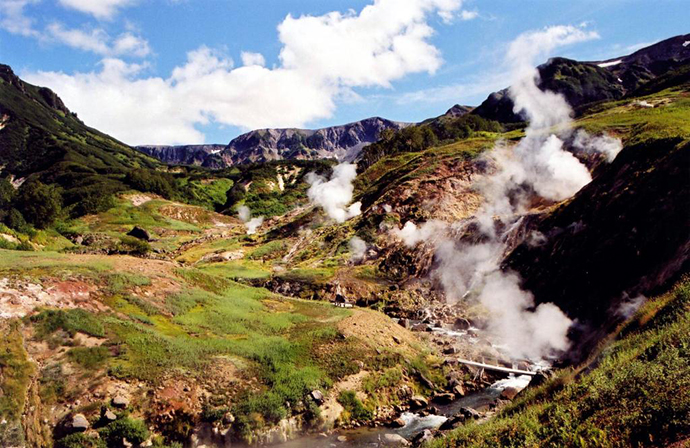 What is a Geyser in the first place? In simple terms a Geyser is a boiling spring which periodically spews water mix. Each Geyser is different in the sense that it has its own cycle and discharge characteristics. Another difference is in the length of their channels. So the Valley of Geysers in Russia is a Geyser field on Kamchatka Peninsula and it has second largest concentration of Geysers in the world. There are approximately 90 Geysers. It is situated in the Russian far east on Kamchatka region mainly on the left bank of quite deepening Geysernaya River. This place is wonderful but difficult to reach. Besides helicopters no other feasible means of travel are available. The place was discovered only less than 100 years ago. In fact it was discovered in 1941 by local scientist Tatyana Ustinova. But it took even some more years to explore the place. From the 1980s the area was promoted among locals as one of the tourists place in Kamchatka. For the foreigner tourist entry into valley started from 1991.
This Valley of Geyser in Russia is only one in the Eurasia region. Though the place is unique and beautiful it is notable that it cannot accommodate millions of tourists because it is a tough terrain. However those who get the chance to visit the place are lucky ones. In 2007, a massive mud flow inundated two thirds of the valley which was an unfortunate and irreversible natural phenomenon which caused loss of great natural wonders of the world. The landslide was gigantic and was largest landslide in the history of Kamchatka. However no people died in this natural disaster. Lot has been lost but the place is still a great one to go and see for its rare natural beauty. A trip by helicopter is unforgettable experience. The locations here are spectacular and lot to see. You can get spectacular views of Volcanoes and do excursions.
On a trip to Geysers of valley what can you expect? You can expect gorgeous scenery, stellar locations, Kronotsky Reserve a part of world heritage site called 'Volcanoes of Kamchatka', around 40 Geysers spread over 1.54 square miles area and much more. You can see a geyser go through the 4 stages of eruption. You do need a guide here for great experience else you have a chance to get lost. Going with a guide you can comfortably enjoy boiling water and roaming brown bears. And on top of all this you can experience miracles when the mesmerizing views of geysers and fountain of all color and all sizes exploding and sprinkling hit your eyeballs. So it is only imperative that you must think of going to Geysers of Valley at least once in your lifetime.
Explore Russia Tour Packages with Dook International, check our Russia holiday packages as below -
Moscow and St-petersburg 4 nights
Moscow and St-petersburg 5 nights