Russia is a beautiful country. Russia offers great deal of natural heavenly places for tourists. This time we will see Kizhi island from Russia. Before we talk about this island, it is worth noting that the island has been in existence for centuries. Infact settlements and churches on Kizhi were known from as early as 15th century. While in early times there was rural population on the island but most villages disappeared by 1950s and today only small rural population exist here. And the most famous place in Kizhi Island is Kizhi Pogost which is a world heritage site by UNESCO. Let us see Kizhi in little more detail.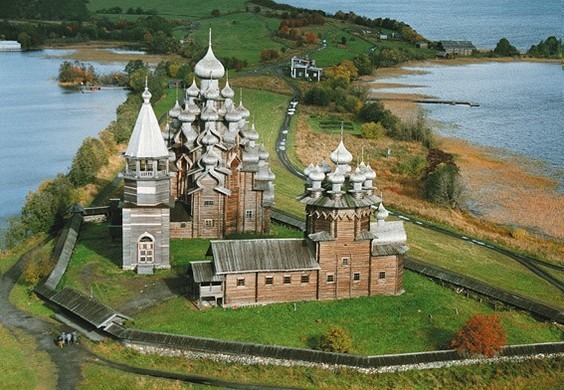 Lake Onega is a picturesque place in Russia and Kizhi Island is situated near the Onega lake in the republic of Karelia, Russia. Kizhi since early times used to be stopover place for travellers. As mentioned above once Kizhi used to have substantial villages and rural population and it was possible because in 16th century the island produced lumber and iron which was good enough to sustain over 100 villages. Kizhi pogost which is a major attraction of this island today is actually two churches and a bell tower that were built in 18th century. Kizhi island is little different than other islands of Onega lake. How? Well, Kizhi has weak water flow and shallow and uneven lake bottom with depth of only 2-3 mtrs at major places while the average depth of Onega is 31 mtrs. For these two reasons of weak water flow and shallow depth the water remains warm and quiet here. Some fish types here include roach, crucian carp, sabre carp, perch, common dace, carp bream and spined loach. These were some historical and geographical aspects of Kizhi island.
Today Kizhi Pogost lives on as one of the largest open air museum in Russia. Today Pogost along with other wooden buildings from the region are divided in 3 special sectors North Karelia, Karelia and Pudozhsky. Other highlights of Kizhi are 22 dome Transfiguration church. This was built in 1714 replacing an earlier burnt down church. In 1764 another 9 dome church of Intercession was built and in 1862 a Bell tower was made to connect these two places of worship. Another must see place in Kizhi is church of Resurrection of Lazarus. This is oldest building in the collection and oldest wooden church in Russia which dates back to 14th century. It is believed that this building has a healing power. Few others major attraction of Kizhi island are The Chapels of Archangel Mikhail, of the Assumption of Virgin Mary, of the Divine Savior. These and many others complete the ensemble of this spiritual island.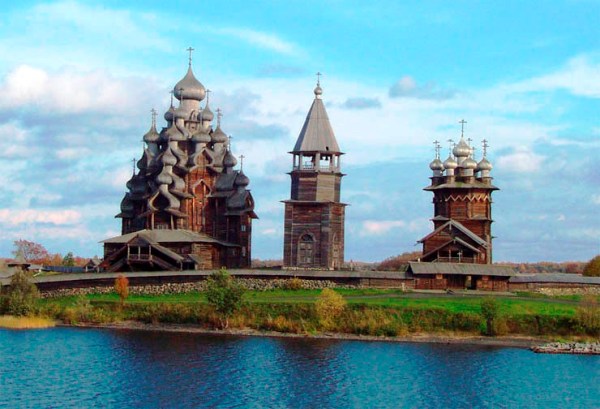 In summary it would not be wrong to say that Kizhi is place of wonderful buildings, mostly wooden ones. During the summer it becomes more special to be at when the church domes shine. So how can one get here? Well Kizhi is not far away from major islands of Onega lake, however there are no major transport routes nearby. So to reach here there are several trips per day from Petrozavodsk during summers and cruise ship, snowcat and helicopter during winters. When on the island you should be dependent on your foot for travel and during winters you can use snowmobiles. For your stay you can find good guest houses on nearby islands. So when planning a good long tour of Russia do include Kizhi island in your Russia travel package.
Explore Russia Tour Packages with Dook International, check our Russia holiday packages as below -
Moscow and St-petersburg 4 nights
Moscow and St-petersburg 5 nights