St. Petersburg Russia - A City of Bridges
Bridge connects. Bridge is a result of science. But bridges always make good views either from top of it or from a distance. Walking along the bridge can be quite an experience. There are not too many cities in the world which has too many bridges. But there is one city in Russia which has hundreds of bridges. Yes we are talking about St. Petersburg, a wonderful city in Russia. St. Petersburg is famous for many things among travellers from all over the world. But one more good reason why one can visit this beautiful city is hundreds of wonderful bridges, especially those on Neva river. Rivers, canals and small channels in St. Petersburg made it possible to create bridges. These bridges might be stationary but gives a vibrant look to the city. Let us explore bridges in St. Petersburg here.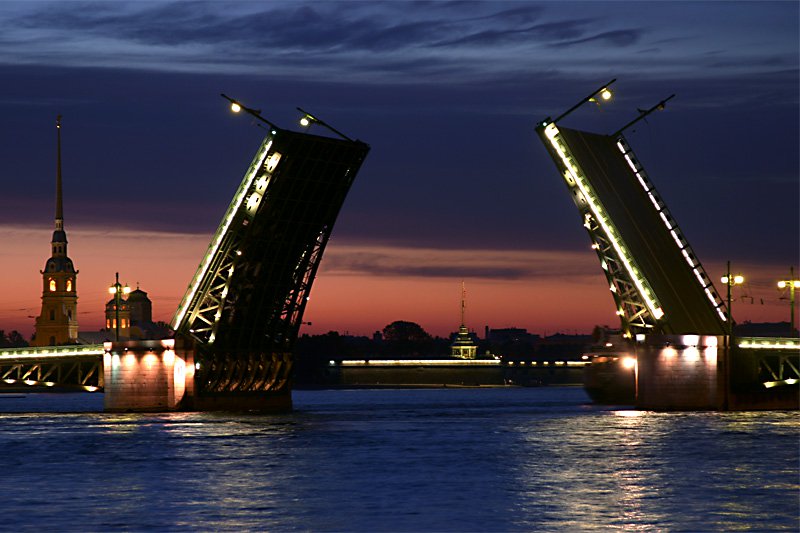 There are 342 bridges connecting the streets and avenues in St. Petersburg. So invariably it is impossible to walk even few hundred meters in the city without crossing a bridge. Yes it may not be possible for you to walk and see them all but try and see as much of them as you can. Water taxi rides along the canals here is good way to explore some distant and cosy corners of the city. City is connected more by rivers than streets so bridges development was quite a good choice. The first person to design the city in such a way was Peter the great. He looked to design the city as another Amsterdam or Venice in which more canals than streets were there. He wanted people to sail. So initially there were 10 bridges built in the city. He wanted people to boat in summers and move in sledge in winters. Leading to this development The first permanent bridge of bricks and stones across the main branch of the Neva river appeared in 1850.
St. Petersburg has today 342 bridges which were built at different times and they are of different styles and sizes. Bridges built over rivers and canals look beautiful especially in the evening when lights are on. Many of these bridges in the city are technically and aesthetically brilliant pieces. The bridges of Bolshaya Neva are considered the best and most luxurious ones. Another famous bridge in the city is the big Obukhovsky bridge is the longest bridge having 2824 meters as its full length over Neva river. Obukhovsky is a delight for camera clicks from different angular positions, because of its unique design which looks great during the day and even better at nights when it sparks with hundreds of lights blinking. There are many drawing bridges on Neva which allows ships to pass at nights. Palace is one such bridge with an outstanding drawing mechanism and it is one of the symbols of the city and eye catchy too. You should not miss the opening of the bridge at 1:35 and closing at 4:50. This is the most wonderful scene when the bridge rises to the skies making the path for the towering ships.
There is one bridge known for its romantic aura is Potseluev Bridge (Bridge of kisses). Couples love to hang the padlock here. Amazing view on the colonnade of the Saint Isaac's Cathedral draws all kinds of photographers here. And contrary to this if you are in historical part of the St. Petersburg then bridges over Fontanka river are must see bridges. Bridges over Fontanka rivers are small but make quite a view none the less. So they are must see ones. Some of the bridges over here are Belinsky bridge, Prachechny bridge, English bridge, Anichkov bridge and more. Another bridge here the old Kalinkin bridge crowns Fontanka with a vivid medieval entourage, so spend some time here taking pictures and carry the wonderful memories with you.
There are other bridges alongside Griboyedov canal. if you are newly married then Tripartite bridge would be your favourite place to be. Why? Because you can enjoy the street music and meet various artists here on the Italian bridge and you would love to take pictures with them. One bridge we must mention here is Blue bridge across Moyka river which is the widest bridge in St. Petersburg. The width of the bridge is 97.3 m and is one of widest bridge in the world. So these are only some beautiful and unique bridges in great city of St. Petersburg Russia. It is not possible to write about all but we can surely mention few names for you, so that when you go to St. Petersburg you can look out to walk along these bridges if you want.
Some bridges across Neva river are Volodarsky bridge, Finland Railway bridge, Alexander Nevsky bridge, Peter the great bridge, Liteyny bridge and Trinity bridge. bridges across Malaya Neva are Exchange bridge and Tuchkov bridge. You can find many more bridges as the number of bridges in and around St. Petersburg goes beyond thousand in numbers which includes all small and big bridges across rivers and canals here. So walk during the day, walk at night, walk in summers and walk in winters along these bridges. You would fall in love with city when you have picturesque view not only of these bridges but also of the central and corner parts of the city from these bridges. When you visit St. Petersburg be prepared for a completely different experience of the city comprising these wonderful and creative bridges.
Explore Russia Tour Packages with
Dook International
, check our Russia holiday packages as below -
Moscow and St-petersburg 4 nights
Moscow and St-petersburg 5 nights