Suzdal - A Prolific Old Town in Russia
Russia is old, vivid, monumental, modern and full of attractions for travelers. Russia has not just one, two or three but many cities and places there for travelers to explore from across the world who come to see Russia. Moscow and St. Petersburg are two most famous and obvious places to go to in Russia. But as said that is not all. So in this article we are going to explore a town in Russia which is hugely known for tourism and the name of the town is Suzdal. Suzdal happens to be one of the oldest towns in Russia. Today Suzdal is one of the smallest Russian Golden Ring towns with population merely below 10000. But Suzdal is a great tourist attraction and it has numerous UNESCO World Heritage Sites monuments. So when you plan to travel to Russia your Russia travel package must include Suzdal in your itinerary. But how much exciting is Suzdal? Let us explore a bit to know more about Suzdal.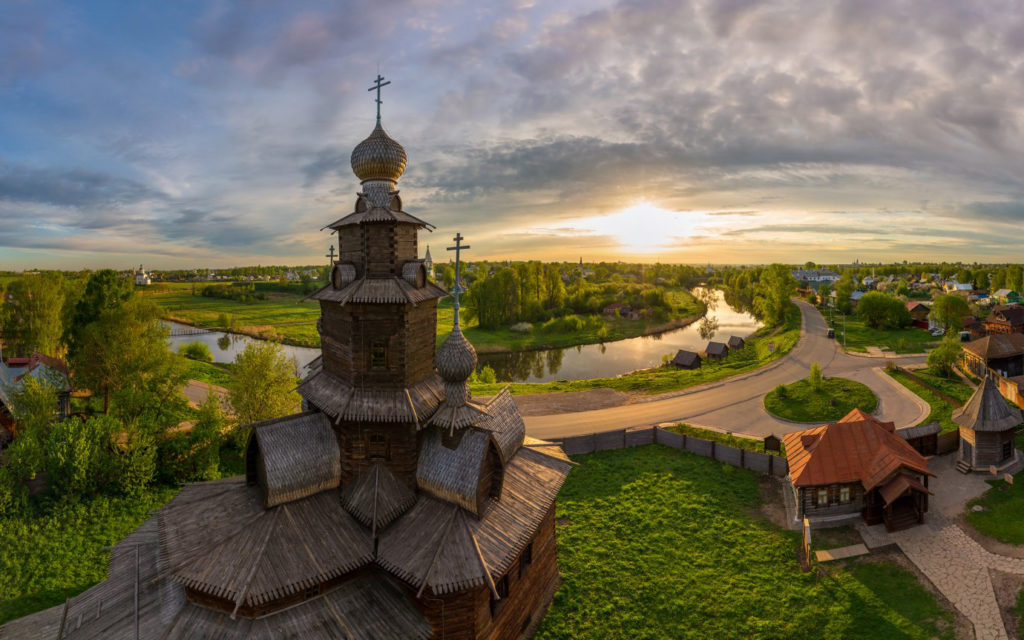 Historically, Suzdal is one of the oldest settlements in Russia which dates back to early 11th century. At that time it started to function as the capital when Moscow was still a cluster of cowsheds. Later on capital was moved from Suzdal to Vladimir and so it was known as Vladimir-Suzdal. Suzdal happened to be a trade center for long time and then it grew as a religious center in the 16th century. In the late 17th and 18th centuries 30 charming churches were built here which you can still see in Suzdal. At one point the ratio of churches to people was something like forty churches for four hundred families. That remained an attraction point of Suzdal. Suzdal somehow could not get connected to Trans Siberian Railway and so it completely got away from developments. This is the reason why the town is said to be still the same in looks as it was centuries ago. But if you are lover of things being natural then you can observe its cute wooden cottages mingling with golden cupolas that reflect in the river Kamenka, which meanders sleepily through gentle hills and flower-filled meadows. So the town is today a tourist hub in Russia. You will get to see beautiful architecture of old time Russia here in most of the churches and monasteries. You will get a prominent feel of old time here when you encounter rural looks with streams and meadows all around the town with chicken and livestock a familiar and common sight on the streets of Suzdal. So obviously Suzdal has an unmatched charm and to add to the glory here artists and easels come during the summer time.
Tourism is the only industry in Suzdal and so you will see Suzdal has preserved a great number of monuments and listed buildings representing old time Russian architecture. It all includes over 300 monuments, 30 churches, 14 bell towers and 5 monasteries. So let us see some of the famous monuments of Suzdal.
1. Suzdal Kremlin
The Kremlin is the oldest part of the Russian town of Suzdal which dates back to 10th century. It was there before Moscow Kremlin. Inside this Kremlin, the Archbishop's Chambers houses the Suzdal History Exhibition, which includes a visit to the 18th-century Cross Hall, which was used for receptions. There are more exhibits in the 1635 kremlin bell tower in the yard. Kremlin has number of churches and house inside of which Nativity of the Virgin Cathedral is one important cathedral.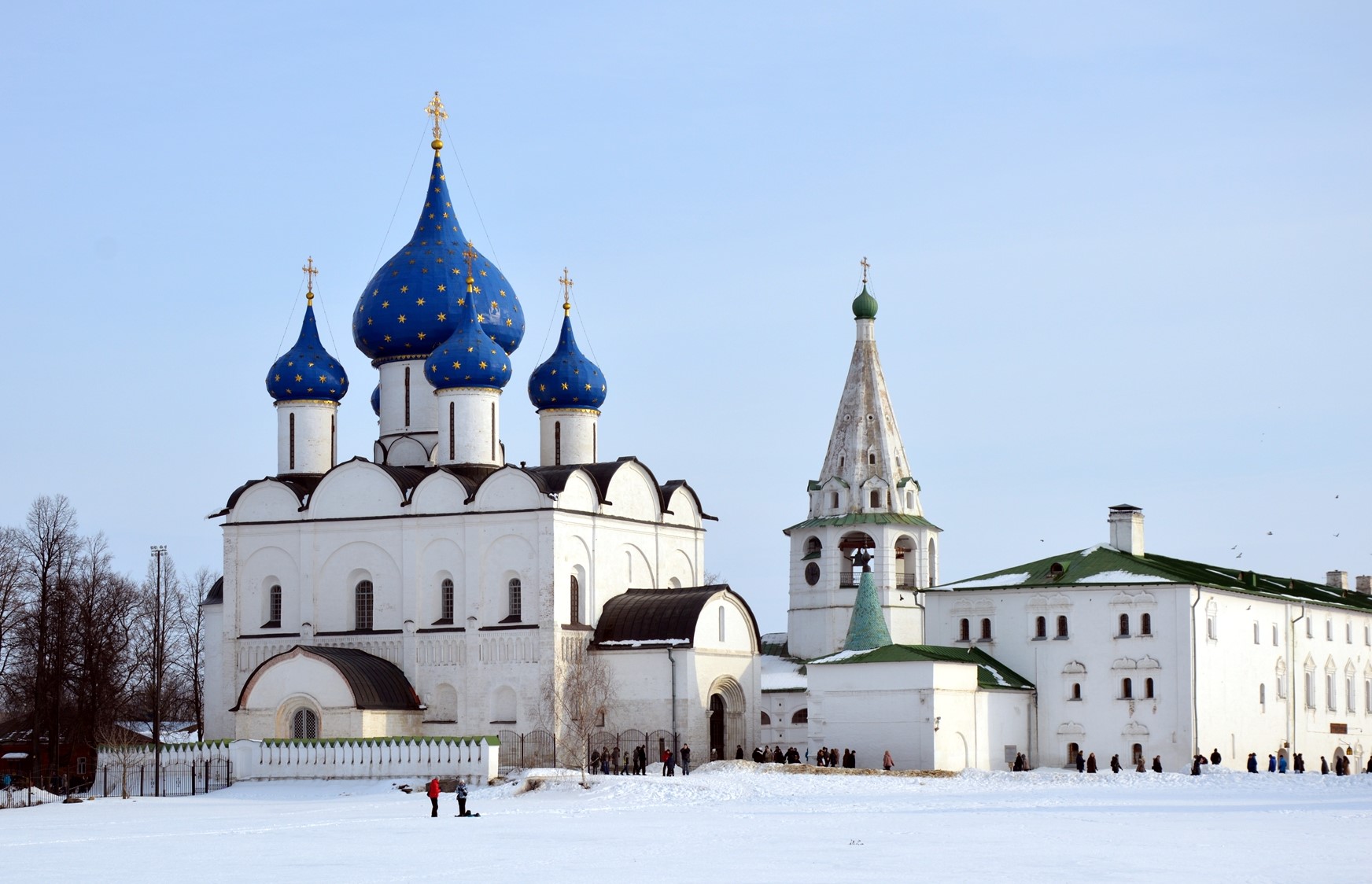 2. Wooden Church of St. Nicholas
This wooden church was moved to Suzdal in 1960 from Glotovo and interesting thing about this church is that it is elevated off the ground about a story high from when the church was moved across the country. The church is made of all woods and it represents the beautiful relationship between wood and stone architecture of Russia and the precision of Russians who made this church.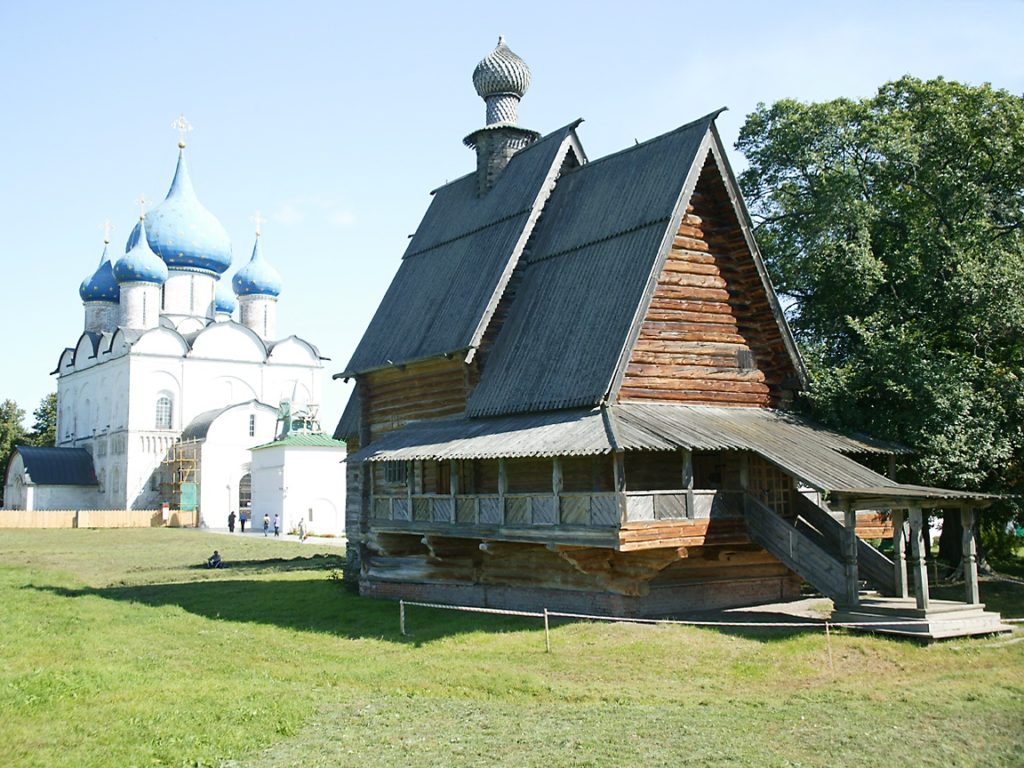 3. St. John Baptist Church
This church was also made around the same time of wooden church of St. Nicholas. But you can see the mark difference in the architecture of the two. Opposite to Church of St. Nicholas which is made of all woods, St. John Baptist church is made of white plastered walls with wooden supports. This shows how vivid Russian architecture was since old times.
4. Intercession Convent
The convent was founded in 1364. In its center stands the cathedral of the Intercession; it was an add-on built in 1518. There is no painting in the interior of cathedral or stained glass; it is simply plain white stone walls all around. The church was and still is one of the richest convents in Russia. The convent is the home of many nuns and is also the burial vault for twenty nuns of noble birth. An art museum is connected to the white stoned wall cathedral which you can take a tour of. There are many paintings but none in the cathedral itself. This building is filled with arches and art created in the 16th and 17th century.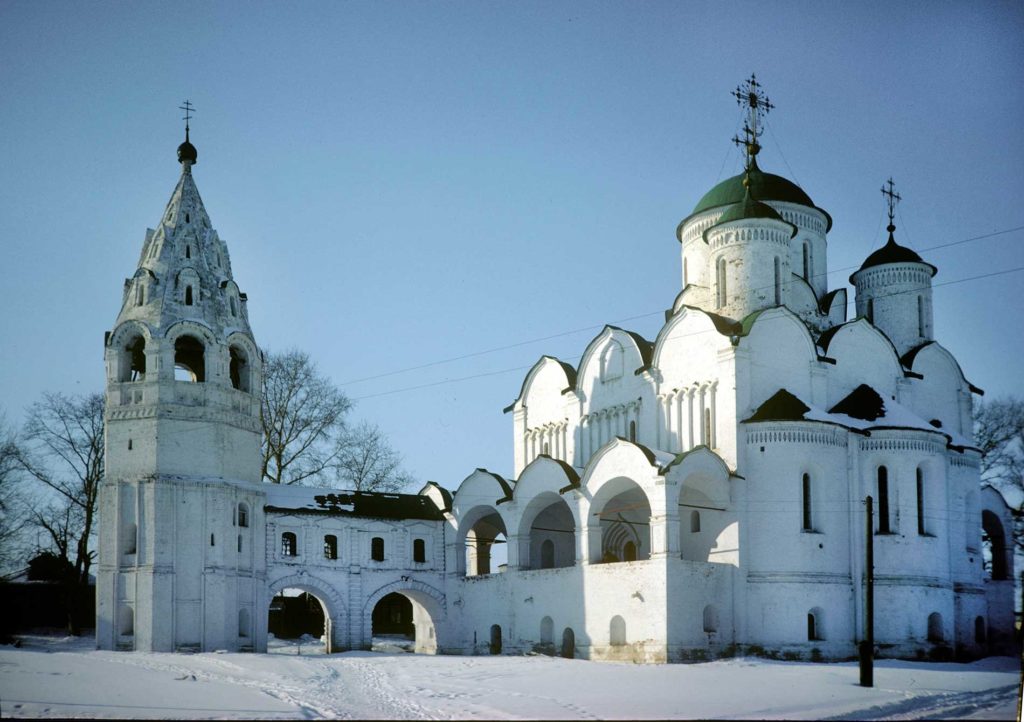 Apart from these you have many other sites, monuments and churches in Suzdal to see. All the Indians taking Russia tour packages from India should visit Suzdal as the place is of historic importance and as an Indian you would love to expore the old looks which still are intact in Suzdal.
Suzdal is serene and absolutely charming. The town has paths where you should walk down to let the feel of the old town sin in. Without a doubt your Russia holiday package or Moscow tour package must include Suzdal.