20 Best Things To Do in Vietnam
Vietnam, a Southeast Asian country, is a magnificent mix of natural attractions and cultural diversity. It is one of the most well-known traveler's destinations of all time. Marvelous bays, vibrant markets, Karst topography, stunning caves, and lively nights are the things that make Vietnam a traveler's heaven. This paradise offers plenty of things to do in Vietnam on your vacation here.
Wait! Don't mug up your head with where to go and what to do. We have curated a list of all the exciting and interesting things you should experience in Vietnam. You can indulge in hiking, trekking, motorcycling, cruising, shopping, adventuring, and crawling. The list is endless. Be ready to embrace it all.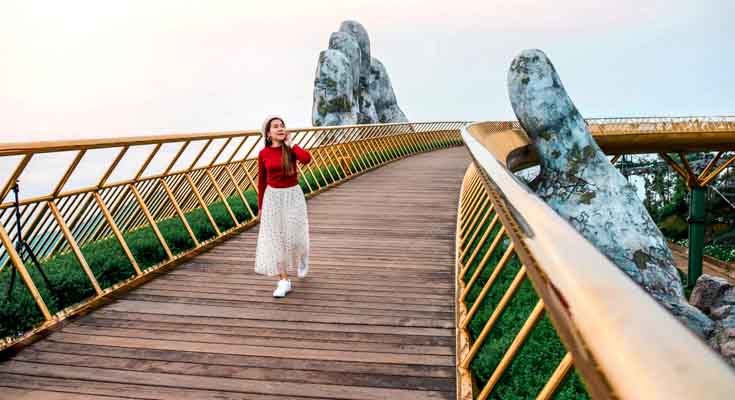 Indulge in the Top 20 Exhilarating Experiences in Vietnam
Vietnam has such a long list of things to do that you will need more time. From historical remnants to natural landscapes, Vietnam has it all. No matter what kind of traveler you are, you will have all sorts of experiences here. Let's have a look at our exhaustive checklist of the best things to do in Vietnam:
1. Hike Through the Breathtaking Cat Ba Island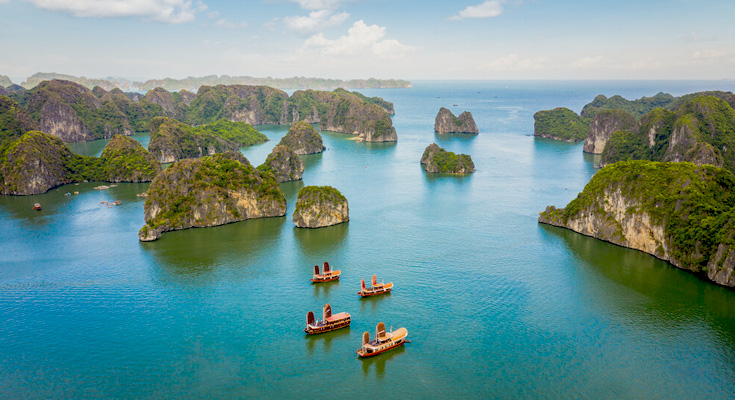 Vietnam is famous for its number of tropical islands. These islands offer a prominent getaway for vacationers. One of the stunning islands in Vietnam is Cat Ba Island. The views from the island are spectacular. Lan Ha Bay is a nearby attraction, which is another breathtakingly beautiful bay. The hiking to Cat Ba Island through the pristine rainforest will give you an exceptional experience.
You will have to walk for almost one hour to appreciate the untouched landscapes of Cat Ba Island. It is one of the venturesome things to do in Vietnam that you should embrace.
2. Discover Wonders Inside the Largest Cave in the World in Phong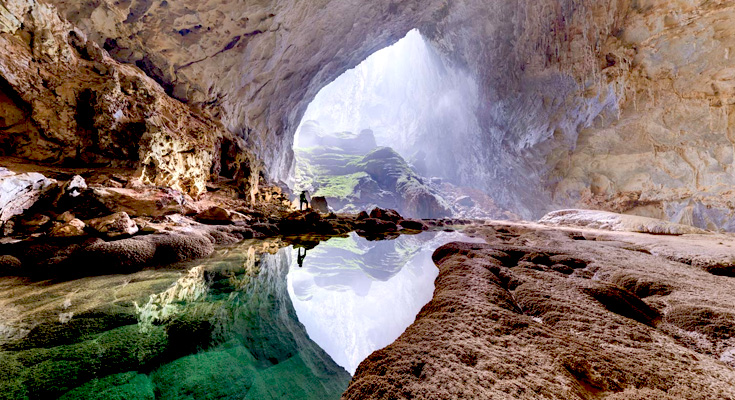 Besides being a beautiful place, an adventurous hot spot, and filled with friendly locals, Vietnam has some of the largest caves in the world. Phong Nha is the cynosure of the world's widest-caving adventure. Its eponymous cave is listed as UNESCO's wonder and is worth discovering. There are many caves located inside the Phong Nha-Ke Bank National Park that may blow your mind.
To drop into the cave, you can hire a guide. If you don't want to go into the cave, you can trek in the neighboring surrounding. It is one of the best things to do in Hanoi that you get on.
Explore More: About Hanoi
3. Indulge in Water Adventures in Halong Bay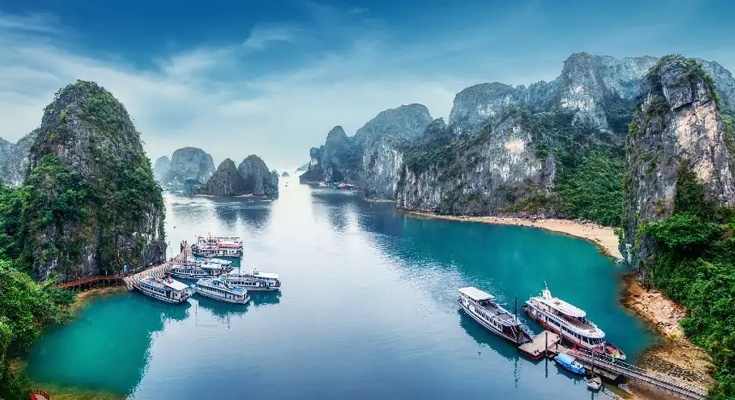 Halong Bay in Vietnam is another magical place. It is known as one of the most arresting spots in Vietnam. That's why it is on every tourist's bucket-list destinations. Bai Tu Long Bay is a part of Halong Bay that offers some more jaw-dropping vistas. And the best thing is that there are barely a few visitors. It makes it a perfect place to explore roomy caves and quiet beaches.
You can take cruise tours for a few days and Kayaking in the waters. Also, visit nearby local villages to learn about the area more. Isn't it one of the best things to do in Vietnam?
Know More: About Halong Bay
4. Get Mesmerized by the Water Puppet Show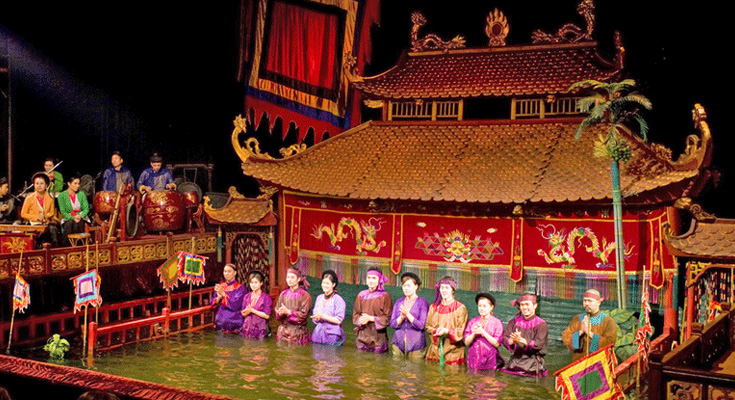 You cannot leave Vietnam without watching the Water Puppet Show in Hanoi. It is the world-famous ancient art of water puppetry, where you can witness Vietnam's culture. UNESCO has recognized it as an intangible cultural heritage. It lasts almost an hour, with three shows a day.
The performances are inspired by the daily life of Vietnamese farmers, communal entertainment, historical legends, and old fairy tales about God. You must watch this puppet show as it is one of the most popular and best things to do in Hanoi.
5. Admire the Beauty of Hoan Kiem Lake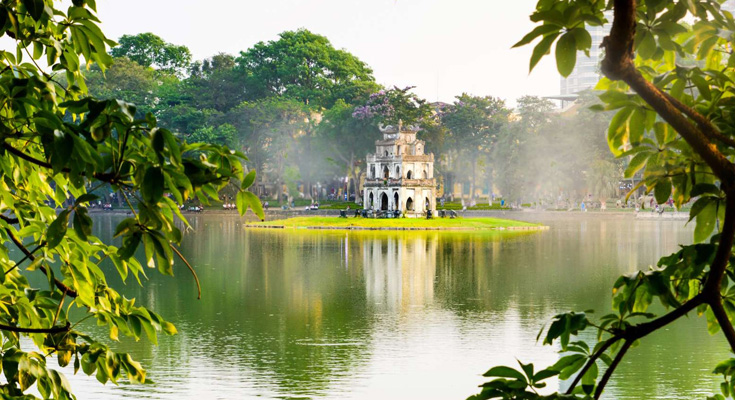 Hoan Kiem Lake, also known as Sword Lake, is the heart of Hanoi's culture, and no wonder it's rather majestic. Hanoi has several lakes, but Hoan Kiem is the best among them. It may be smaller than West Lake, but it is a perfect place to rest and relax outside the city's hustle and bustle.
The glassy water of the Lake at night sets a glittering view of city lights. If you want to take pictures of a gleaming landscape, you should visit this lake at night or dusk. It is one of the major tourist spots in Hanoi, where you may also have glimpses of soft-shell turtles.
6. Know the War History Closely at Remnants Museum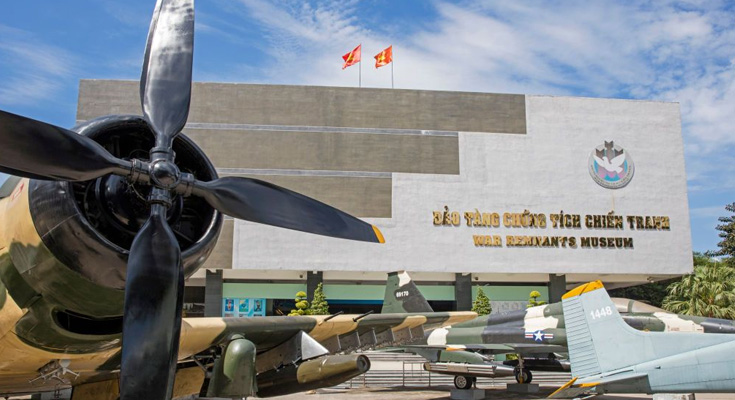 War Remnants Museum is one of the famous tourist attractions in Vietnam. Every year, many visitors visit this museum and perceive the history and horror of war. It is one of the best things to do in Ho Chi Minh City that you must experience. The museum depicts the people who get affected by the war and the struggles endured by them. It plays a vital role in describing the terrors of war and how the people of Vietnam have healed from it.
Everything inside the museum depicts the painful and grueling struggle for independence. This war museum portrays why we should advocate for peace.
7. Get Down to Crawl under the Cu Chi Tunnels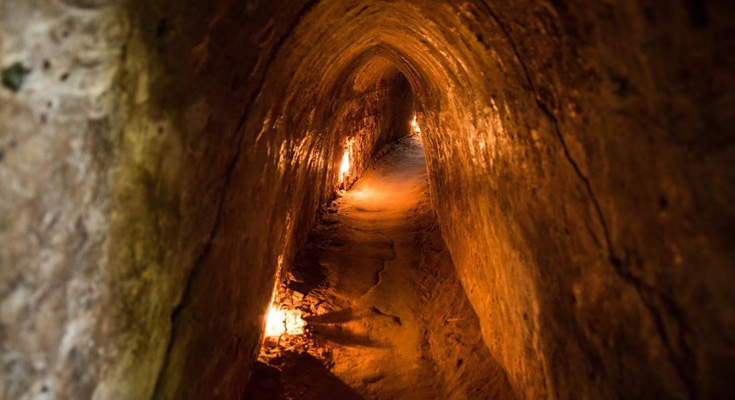 Have you ever explored a city through a tunnel? You must not. But if you are in Vietnam, it is one of the best things to do in Ho Chi Minh City. Cu Chi Tunnel is an exclusive experience to be in a space under the city and see how these tunnels are interconnected. It is one of the iconic attractions of the town, which was a hideaway during the war. It depicts how the Vietnamese used to hide.
Now, most of these tunnels have been expanded and opened for tourists. If you are holidaying in Vietnam, it is a must-to-do adventure that you should capture in your heart.
Explore: Ho Chi Minh City Tours
8. Look at the City from a Different View at the Bonsai River Cruise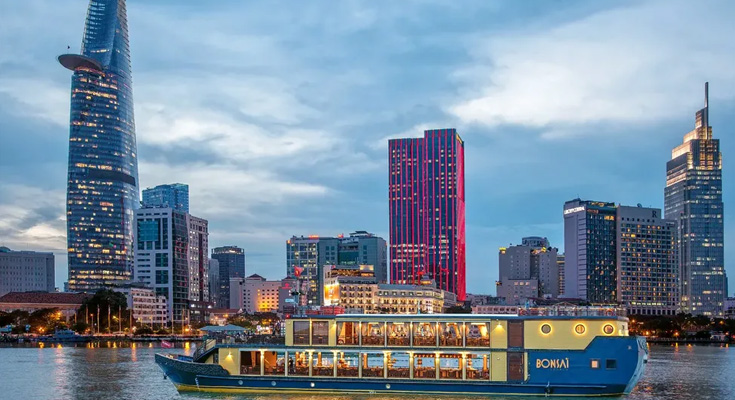 Do you want to embrace Ho Chi Minh city from a different perspective? Head straight for a Bonsai River Cruise. It is many of the best things to do in Ho Chi Minh City in Vietnam. You can join a cruise ride that includes dining and takes you back to the days of elegant cruising. The surreal views from the cruise will make your trip more fulfilling. On the other hand, the dining and fun on the cruise will make you embark on a new adventure. Overall, the Bonsai River Cruise will leave you with last-long memory.
9. Shop at Ben Thanh Market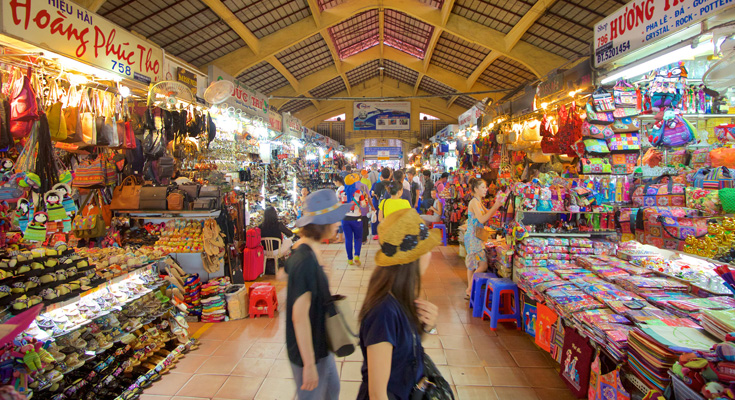 You cannot go home without visiting the Ben Thanh Market of Ho Chi Minh City. One must want to do the shopping for their loved ones to take something home. Here you can find affordable clothes, beautiful accessories, attractive souvenirs, and much more. It indeed makes you feel like a shopper's paradise. It is the main attraction point and one of the best things to do in Ho Chi Minh City.
10. Appreciate the Religious Landmark of Vietnam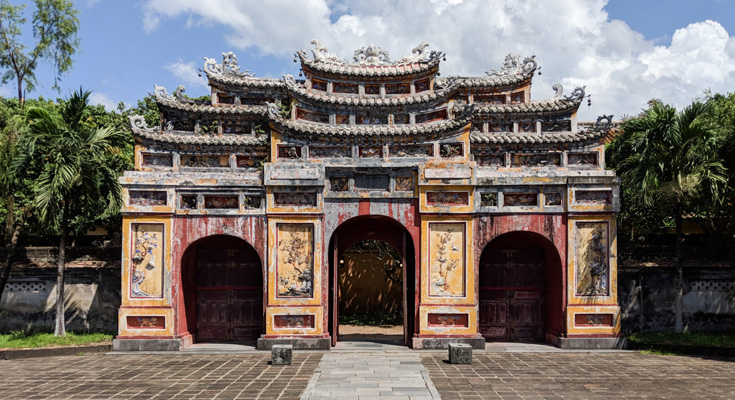 Notre Dame Cathedral is the beloved and significant religious landmark in the city. The church has Romanesque architectural features with red bricks on the wall, stained glass windows, and twin bell towers. Inside the cathedral, you will find a tall Virgin Mary statue. The Dame Cathedral still retains the atmosphere of a bygone era and its holy sanctity.
You can take a tour with the help of English speaking tour guide who will let you know the history and significance of this place. Also, you can indulge in peaceful and quiet walking in its garden. Isn't it one of the best things to do in Ho Chi Minh? It indeed is!
11. Buy as Many Local Handicrafts as You Like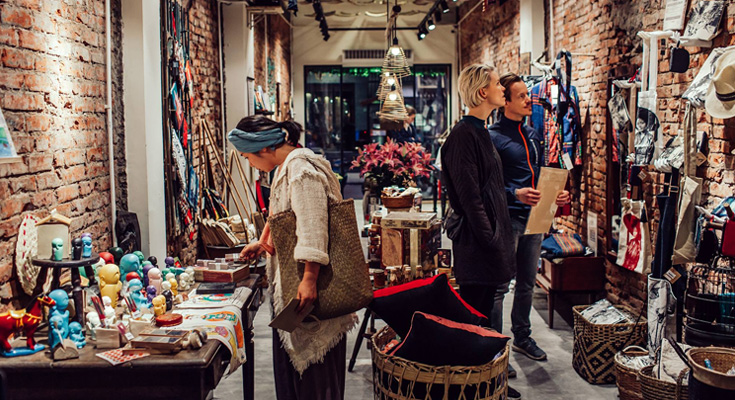 Shopping for local art and handicrafts in a new country will make you remember the place forever. Once you indulge in Vietnam's local art shopping, you cannot resist buying. Hoi An is known as the hub of beautifully hand-made products. Everyone loves shopping, and doing it in a new country will make you satiated with one of the best things to do in Hoi An.
Besides shopping, you can stroll around the handicraft villages to learn about the historical and cultural background. Most of these local products are made by minorities.
Read More: About Hoi An Tour Packages
12. Get Illuminated by the Lantern Market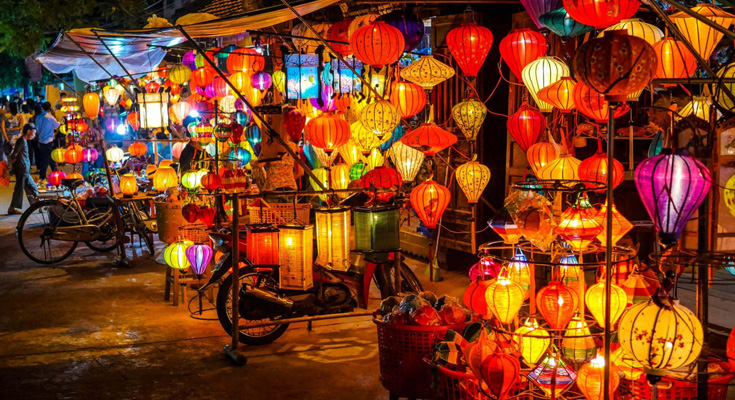 The vibrant Lantern market is one of the top attractions of Hoi An city in Vietnam. It is situated across the river from central Hoi An. Undoubtedly, it is the most cheerful market in Vietnam, where you can buy a beautiful traditional lantern. These lanterns come in all shapes and sizes. Shopping for these vibrant and gorgeous lanterns will be one of the best things to do in Hoi An. You must visit this place at night to capture the illuminating lanterns in every corner.
13. Admire the People's Artistry at Hoi An Silk Village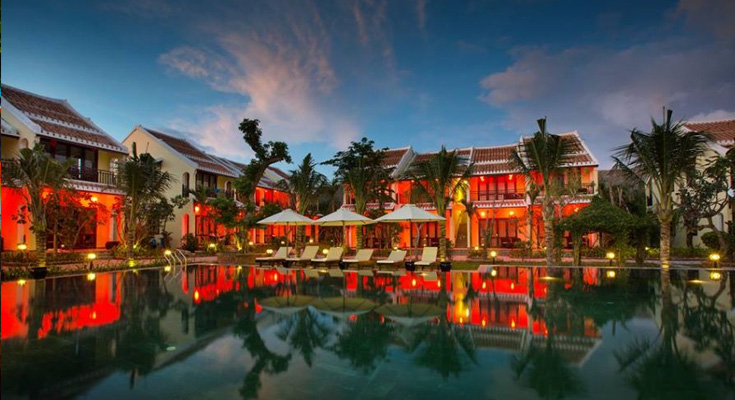 The Silk Village is one of the top attractions in Hoi An city, where many tourists come to see the ancient weaving techniques. Hoi An in Vietnam is known for producing silk items. So, exploring this village, situated in Quang Nam Province, is actually a good idea. Here you will find many traditional-style built homes and quaint surroundings.
If you like to appreciate the beauty of ancient times, you must come here to experience the best. Wandering around the village and meeting with the silk artisans will be one of the best things to do in Hoi An.
14. Spend a Sunny Day on An Bang Beach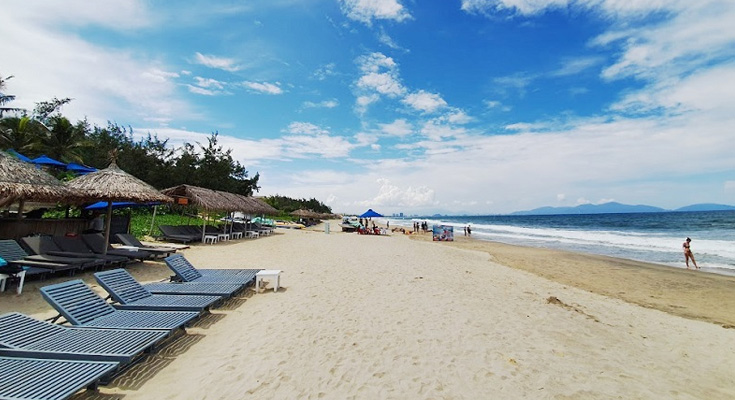 Who doesn't like to sunbathe on a beach with barely any crowd around? If you are searching for such a place, visit An Bang Beach. Local says it is the best among many. Moreover, you will find charming beachside restaurants serving delicious seafood. You can also rent a beachside villa if you love the beach and its atmosphere. Isn't it one of the best things to do in Hoi An?
15. Tour the Local Countryside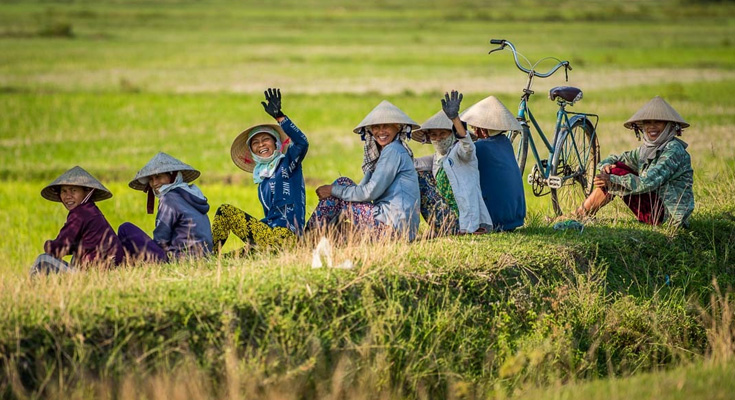 Hoi An's countryside is filled with lush green fields and empty lanes. If you like to go on a soothing long drive with your loved ones, you must explore this side of Vietnam in Hoi An. Make sure to visit this side of the country to add more adventure to your itinerary in the hills, rice paddies, and dainty villages.
One of the best things to do in Hoi An is to take a cycling or trekking tour to discover an obscure side of Vietnam.
16. Explore the Ba Be National Park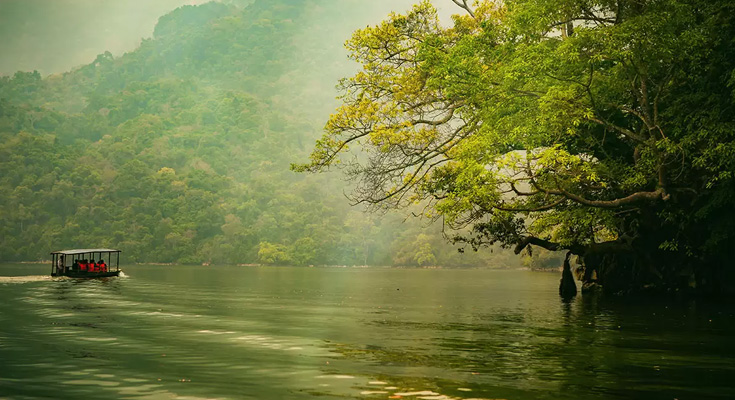 Ba Be National Park is an absolute stunner with three interrelated Ba Be Lakes, bordered by broken Karst peaks and thickly forested slopes. Many tourists visit this place to take quaint boat trips or Kayak on the lake. On their drive, they explore the caves full of stalagmites and stalactites in the surrounding. For more adventure, you can also trek and hike in the mountains between the minority villages. These are one of the best things to do in Vietnam.
17. Have Some Adventure at Ha Giang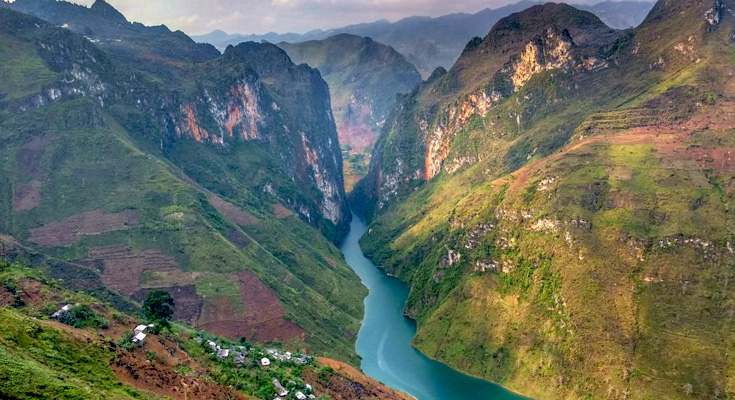 Ha Giang province is one of the most scenic and adventurous places to visit in Vietnam. The territory is filled with Karst hills, steep mountains, winding roads, and foggy towns. It is home to diversified people who preserve their traditional culture and lifestyle. Motorbiking and trekking are the two most viable ways to explore this unparalleled land on earth.
If you are vacationing in Vietnam and wondering what you can do to make it more fulfilling, visit the Ha Giang state. It is the best among the many things to do in Vietnam.
18. Spectate a Breathtaking Waterfall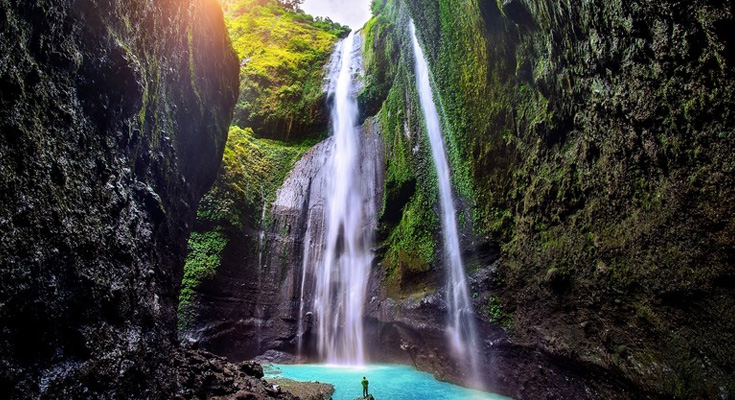 Witnessing a waterfall in Vietnam is quite common. In Da Lat, you can spot many stunning waterfalls. Two of the most famous are Elephant falls and Datanla Falls. If you like to experience this on your Vietnam trip, go for it. Walking to these falls will take you on an ultimate adventure. It is a perfect way to get cooled down after a long day of heat. Also, it will be one more thing to do on your Vietnam list.
19. Have a Picnic at Yang Bay Falls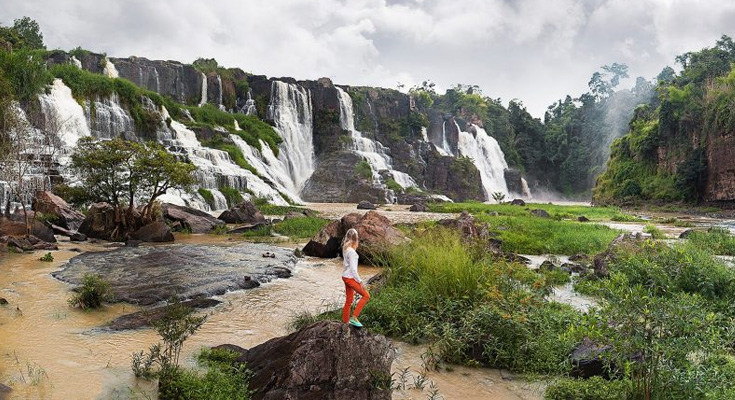 Yang Bay Falls is barely popular among tourists. It is the most underrated place in Vietnam. Very few tourists seem to go there, but it is among the best experience you should have. You can take a day out from your holiday to have a small picnic there with lots of things to do. It includes bathing in a natural hot spring, visiting a miniature zoo, and having good food at a mini restaurant there.
On your drive back home, you can experience the temperature starting to cool down and feel a calm wind touching you. This picnic will definitely make you mark it as one of the best things to do in Vietnam.
20. Witness a Train on the Street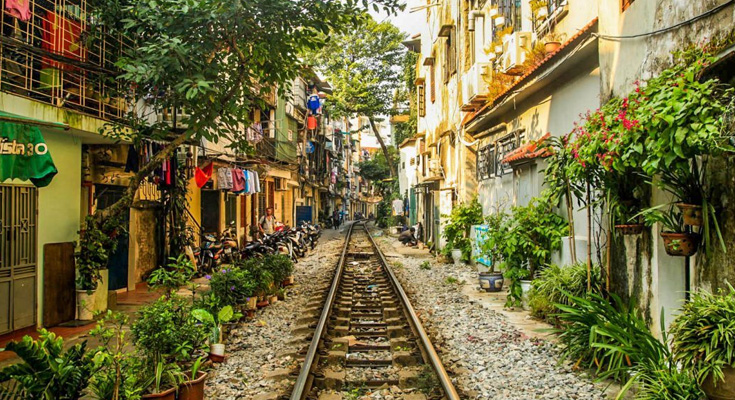 Hanoi Train street is a top tourist attraction in Vietnam. Here you can spot the train tracks lined with local homes, shophouses selling handicrafts, cute cafes, art on the wall, and balconies overflowing with flowers. The best part of this place is that you can watch a train passing by. Once the train passes, you can walk the tracks, take as many photographs as you want, and make memories. It is by far one of the best things to do in Hanoi.
Book Vietnam Tour Packages with Dook
Vietnam is an incredible destination to spend a few days in a wonderland filled with exhilarating and peaceful experiences. If you are sure to embrace the above adventures, you must check out Dook International's Vietnam tour packages. Dook International offers customized tour packages aligning with your travel style. And guess what? Our vacation packages are budget-friendly!
Get on your much-awaited trip and enjoy the serene beauty of Vietnam at your convenience. Don't hold yourself and pack your bags to fill your heart with the treasure of memories.
Read More About: The Marble Mountains