A Quick Walkthrough to Marble Mountains - Pack Your Bags and Get Ready!
Marble Mountains, located in Vietnam, bestows its tourists with an entirely new experience. It is a riveting attraction, a historical treasure, a natural wonder, and a stunning place. Once you hop on this exhilarating adventure, there's no experience better than climbing the mountains while capturing all the beautiful scenery. It is a group of five mountain peaks that are named after five natural elements, offering cultural, spiritual, and historical values.
If you intend to travel to Vietnam to visit Marble Mountain, this post would be a practical guide to plan accordingly. We have included almost every crucial information in this guide that you must know before heading for this stirring adventurous trip.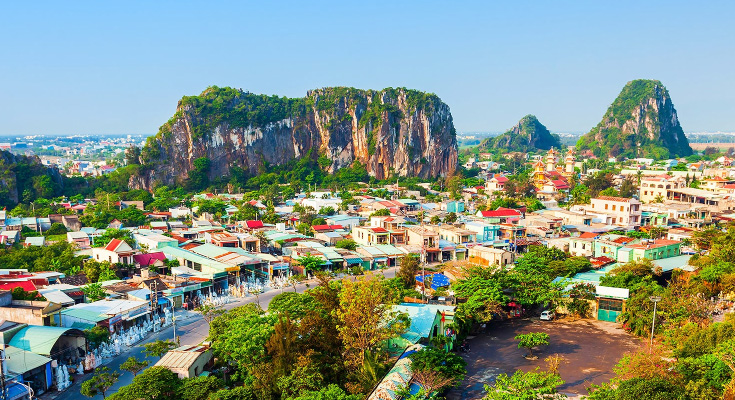 Rich History of Marble Mountains Danang
The historical significance of these mountains is as beautiful as their presence. It is a group of five mountain peaks. These mountains are named after the five essential elements of Eastern philosophy, such as Kim (Metal), Moc (Wood), Tho (Earth), Hoa (Fire), and Thuy (Water). This sacred site has served as a hideout for generations of Vietnamese.
It has become home to caves, tunnels, pagodas, shrines, and towers. The structure of these shrines and caves blends perfectly with nature. This setting will captivate the unbinding attention of people. Many tourists come to pay their reverence at these Buddhist and Hinduism temples. Also, these mountains have become a key tourist attraction in Vietnam.
When is the Best Time to Visit?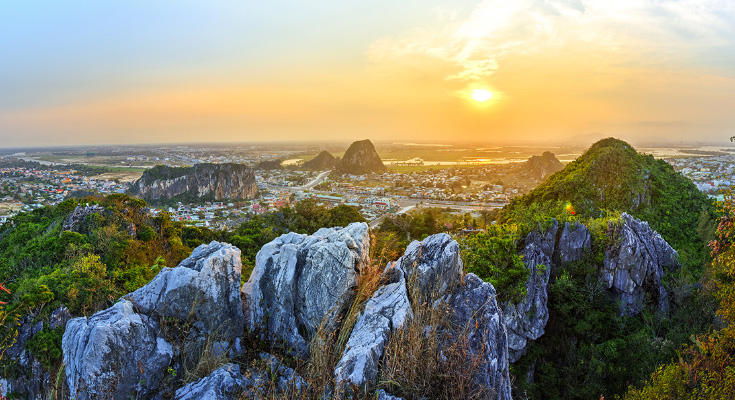 In recent years, Marble Mountains has become a notable tourist destination. With full of tours, shopping corners, and easy access to a glass elevator to go up the 43-ascent. This place draws tourists' attention with its gorgeous landscapes and breathtaking caves. It is open for 365-days a year from 07:00 am to 05:30 pm.
Although you can visit these mountains anytime, the best months are from January to June when the rain is less. It is because the climate at the Marble Mountains is tropical monsoon, and it rains a lot between September and November. If you don't like cold waves, you should visit in April and May because January and February can be wintery. April and May are the best months for everything you want to experience.
How to Reach the Marble Mountains Danang?
Marble Mountain is one of the favorite destinations of a traveler in Vietnam. Loads of tourists visit this place and indulge in the thrilling adventure of touring these mountains. If you plan to collect some lifelong memories in Vietnam this year, don't forget to take a Marble Mountain tour.
You can visit the Marble Mountains from Da Nang and Hoi An. There are many modes of reaching the mountains and relishing exciting times. We have curated a list of transport you can use to get to Danang to climb the beautiful mountains:
• Bus - If you take Bus from the Danang bus station, it will be a short walk from the stop to the mountain's entrance. The bus can be a convenient transport to travel if you get it in time.
• Taxi - If you don't want to travel by bus, you can go by taxi. To grab a cab, you should pre-book a taxi either for one-way or both ways. Any hotel can help you in arranging a taxi.
• Personal Transport - If you have your own transport, it will be more comfortable for you to reach the marble mountains. Drive 8 kilometers south of Da Nang or 20 Kms north of Hoi An.
These are the most convenient modes of visiting the stunning mountains in Vietnam, offering unending spectacular landscapes.
What are the Ticket Prices for Visiting the Mountains?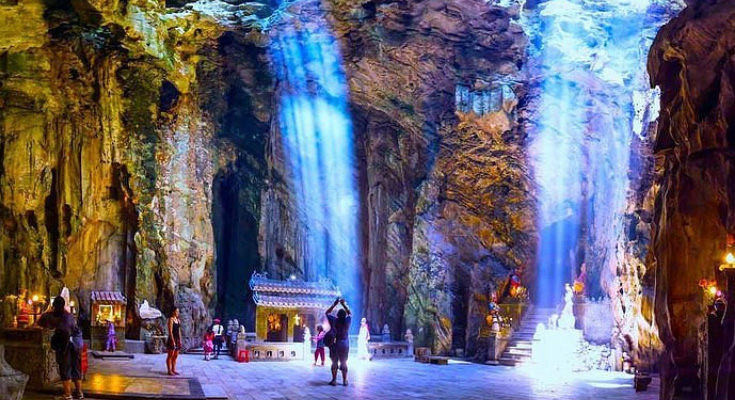 There are two entrance gates to climb mountains. The entrance prices of Thuy Son Water Mountains costs 40,000 VND for adults and 10,000 VND for students. If you are with kids, please note that there will be no fees. There is also an elevator, which is made of tempered glass. It helps you to reach Thuy Son mountain in less distance. You will have to pay an additional amount of 15,000 VND per person (each way) for the elevator.
As you climb the mountain, you will witness intriguing views of stoned-carved caves and shrines. If you want to visit Am Phu cave, the prices will be 20,000 VND (adults) and 7,000 VND (students). There will be zero cost for kids under six years of age. The ticket price for Vong Canh Hill will be approximately 10,000 VND. Overall, the experience will be worth every penny you spend here.
List of Attractions to Explore on Your Way to the Mountains
There are many must-see attractions that you can explore during your visit to Marble Mountains Vietnam. You will witness the endless sparks of nature and unending natural views. If you are with children and old adults, climbing may get exhausting. In that case, you can use the elevator to reach different attractions of Marble Mountain. However, it is the perfect escapade for travelers who love to hike.
Here is the complete list of places that you can visit on your trip to this unearthly place:
1. Huyen Khong Cave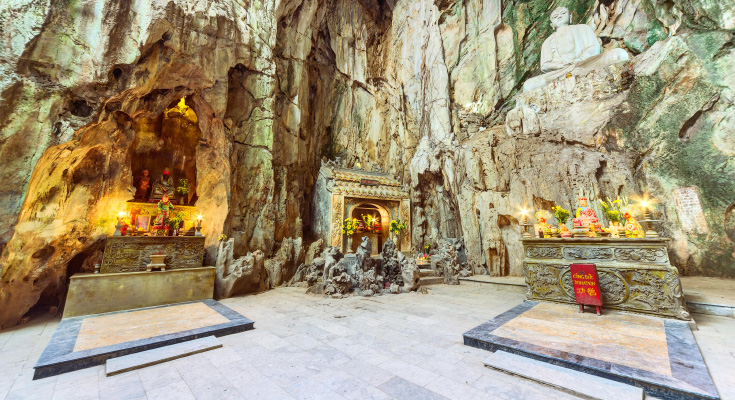 Huyen Khong Cave is the largest and most beautiful cave on Marble Mountain. The sunlight peep through the top of the cave on the Budha Statue, which creates a stunning view. If you are at Huyen Khong Cave, you can visit two temples outside the cave: Chua Tien and Thuong Ngan temple. Many devotees come here to seek blessings for good health and life.
It used to be a secret base for officers to plan strategies during the war. Later, it became a field for treating injured soldiers. So, when you visit this cave at Marble Mountains, you get a chance to learn about its famous history.
2. Linh Ung Pagoda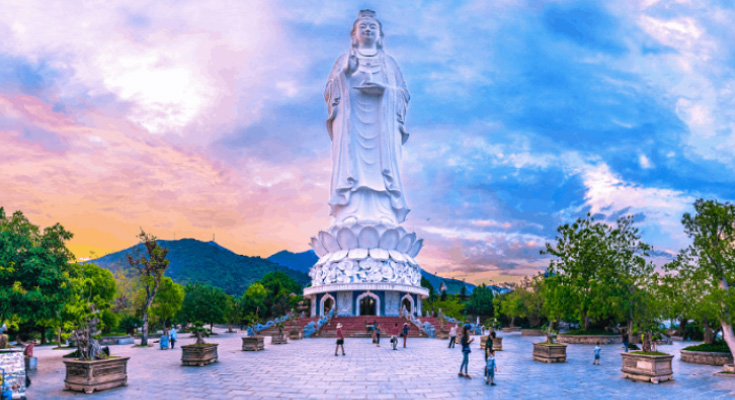 Linh Ung Pagoda is situated eastern side of the water mountain having over 200 years old history. This pagoda entices many visitors who worship Budha and want to immerse themselves in some spiritual sites. It is a famous temple nestled in stunning hills and primitive forests, captivating the attention of thousands of tourists.
The quaint surroundings, awe-inspiring structure, and mysticism of Buddhism will surely stir your heart. It has the most stone statues in Vietnam. If you are heading for a trip to the Marble Mountains, don't forget to visit this hidden gem.
3. Am Phu Cave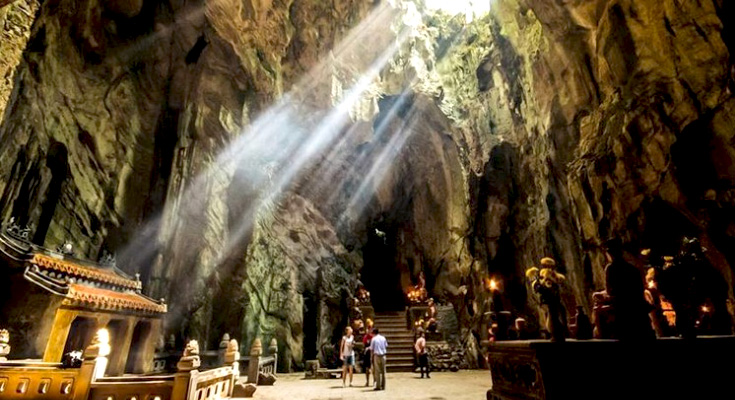 Am Phu Cave is one of the largest caves in Vietnam's legendary Marble Mountain. It is the phantasmagoric recreation of Buddhist hell where sinners suffer punishments, confess crimes, and wish to reach heaven's light. If you love such scary confrontations, then you should visit this cave. The Am Phu Cave depicts a Buddhist message that says; every deed has its consequences.
The yin-yang bridge to Am Phu Cave portrays the path to both hell and heaven. Thus, it gives a title of mystery to the cave.
4. Non Nuoc Village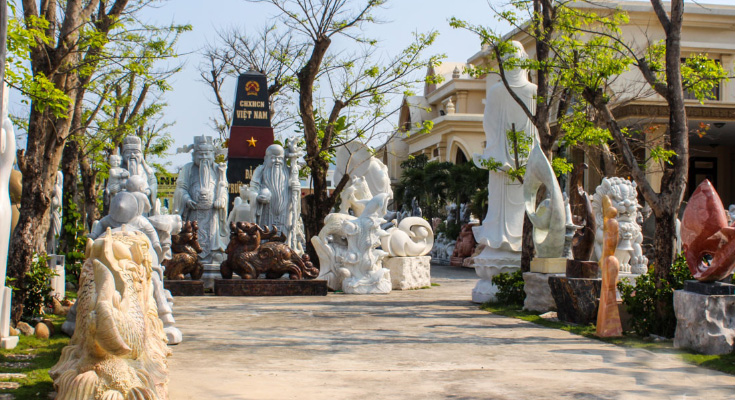 Non Nuoc Village is one of the most liked vacation spots among tourists. It is situated at the foot of Marble Mountains Danang. This village town is famous for its stone sculptures and handicrafts. The skilled artisans of the village create incredible stone sculptures. You can buy multiple items of marble stones to take home, like necklaces, earrings, and other hand-made sculptures.
The people of this village maintain their occupation by preserving their relic site and protecting their unparalleled skills. Besides life's ups and downs, the town is always full of laughter. With their skillful talents and love for art, they create impressive statues and sophisticated items.
Things to Know Before Visiting the Mountains
Vietnam's mountain climbing entails a wholesome adventure for everyone, especially thrill-seekers. But you can only enjoy it if you are well-prepared in advance. Else you will tend to remember the things you have forgotten to pack. Therefore, we don't want this to happen. So, we have curated a list of things that you must remember to know and pack before your tour:
• The Marble Mountains road is slippery and requires a lot of climbing. So, you must remember to pack a good pair of walking shoes and be cautious when climbing.

• If you are with older family members and little kids, you should take the elevator to reach the water mountain and avoid the slippery road.

• The best way to understand the history and feel the majestic beauty of Vietnam's famous marble mountain is to hire a guide. With the help of a guide, you will get a chance to learn more and admire the presence of these mountains.

• If you plan to hike the mountain, you must leave the hotel either early in the morning or late afternoon. It is because the heat during the afternoon is quite exhausting.

• Don't forget to bring enough water bottles because you may need them more than anything.
Book Vietnam Tour Packages with Dook International
Are you holidaying in Vietnam or heading for one? Well, in both cases, don't forget to miss the Marble Mountains. These mountains create a plain-like landscape along the coast road between Danang and Hoi An. On your way, you will notice them emerging in the distance and popping up dramatically from the flat earth. As you get closer, you will witness the magnificent marble carvings of Buddha, Lions, and other statues.
It must have convinced you to stop by and climb those mountains to see what lies there. If ready, don't wait and book your Vietnam tour packages with Dook International. We have customized packages of many delightful destinations in Vietnam, including the special tour of Marble Mountains Danang. With Dook's personalized and pocket-friendly tour packages, you can reach new horizons and fill your heart with new experiences.