20 Romantic Honeymoon Destinations in Turkey
Turkey is a prevalent holiday destination among tourists. Be it travelers traveling to explore or honeymooners planning a honeymoon in Turkey- it has everything that fills their hearts with experience and satiates their souls. Its cultural diversity, rich history, architecture, food, and fashion are a beautiful blend of Asian, European, and Middle Eastern elements.
Every year tourists visit this Islamic country in large numbers to admire stunning beaches, mouthwatering food, elegant bazaars, magnificent historic sites, picturesque landscapes, engaging fashion, and more. Turkey is on everyone's travel bucket list. Let's dig into all the romantic places that Turkey offers to newlyweds.
20 Best Honeymoon Places in Turkey - Wonderful Destinations to Explore
A holiday is something that pleases the soul and shuns all the fatigue. Especially when you are just married, you want to escape all the weariness and enjoy the new beginning of your life. So, if you are searching for a tranquil yet venturesome honeymoon, then take all the below places into account:
1. Istanbul - Indulge in Rich History & Culture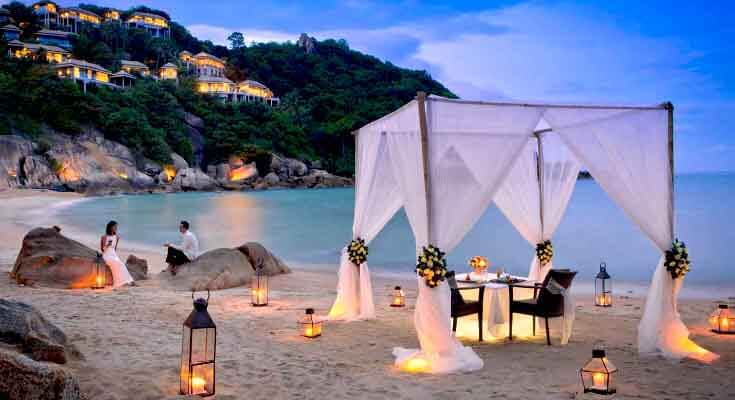 Istanbul is one of the most elegant places in Turkey to visit, where the east meets the west. It is a whirling combination of serene nature, extraordinary architecture, rich cultural experience, charismatic nightlife, and delicious food. Be ready to experience all of it at this stunning location for a romantic honeymoon in Turkey.
You can tour Ottoman mosques, stroll to Gulhane Park to its Hilltop cafe, and walk straight to the sunset cruise for the cityscapes. Besides, you can pamper yourself with an exotic Hammam bath. Indulging in a Turkish bath is one of the most romantic experiences in Turkey.
Top Tourist Attractions in Istanbul - Dolmabahce Palace, Suleymaniye Mosque, Hagia Sophia Mosque, Topkapi Palace, and more.
2. Sirince - Admire the Quaint Beauty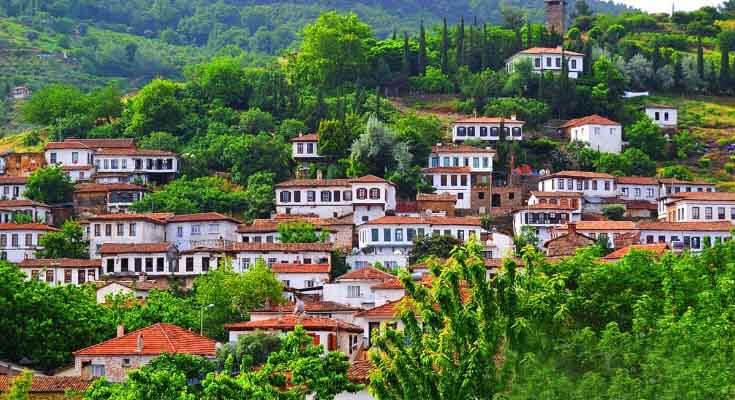 Sirince is one of the quaint destinations in Turkey that you shouldn't miss if you love exploring the ancient ruins and heritage of a country. The tranquil atmosphere of this greek village can take you on a serene trip of bountiful beauty.
Your eyes will be stunned by the gorgeous red-roofed homes sitting on a thickly forested hillslope, offering tranquility and rural hideaway appeal. The Selcuk and the UNESCO World Heritage Site of Ephesus are two beautiful places to visit that are just kilometers away from Sirince.
Top Tourist Attractions in Sirince - Sirince Koyu, Ephesus Museum, The Temple of Artemis, Odeon Theatre, and more.
3. Pamukkale - Witness the Artistic Charm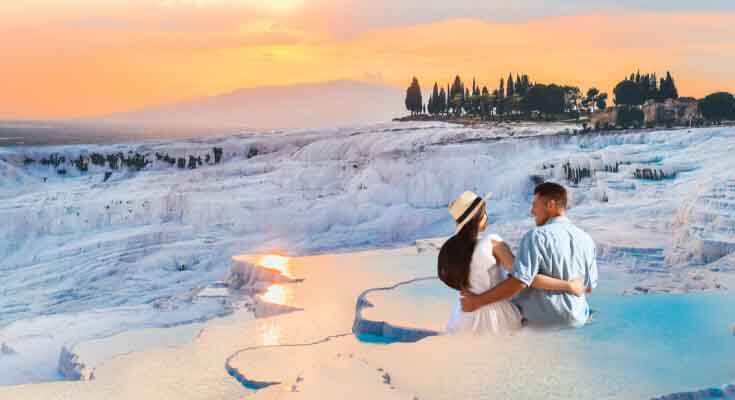 Pamukkale is one of the popular honeymoon places in Turkey. It is an awe-inspiring natural wonder known for its enchanting beauty of unique geographical formations and historical remains. You cannot feel its artistry charm until you visit this place physically.
Here you can admire the Hierapolis Theater, visit the Hierapolis museum, take a walk through the Northern Necropolis, unearth the ruins of Laodikeia, and explore the Aphrodisias. If you two are someone who loves to delve into ancient glamour, then it is a perfect place for you.
Top Tourist Attractions in Pamukkale - Travertine White Terraces, Pamukkale Natural Park, Pamukkale Thermal Pools, and more.
4. Cappadocia - Enjoy the Soaring Views on a Hot Air Balloon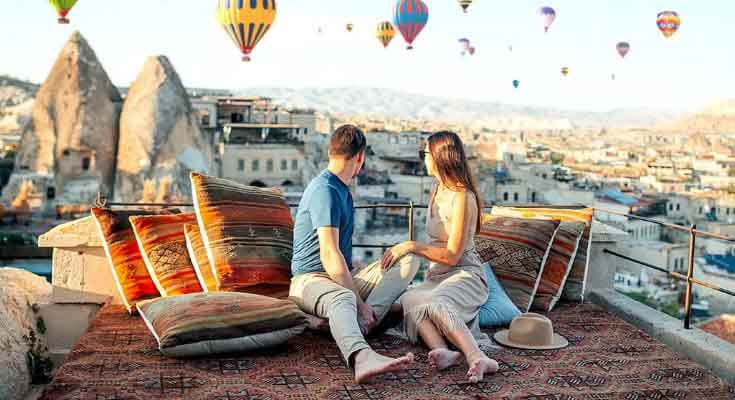 Cappadocia is the most majestic place in Turkey that you must visit on your honeymoon vacation. It is over the moon experience that you must take on board with your partner. Feel the freshness of love imbibed in the air of this stunning location. The must-take adventure here is to get on the hot air balloon ride and witness the soaring city views.
Don't forget to capture the breathtaking sights from the unique valleys having striking rock formations. The views will surely leave you in awe. Cappadocia offers a quirky honeymoon experience in the cave houses.
Top Tourist Attractions in Cappadocia - Love Valley, Fairy Chimneys, Goreme Open Air Museum, Pasabag, and more.
5. Fethiye - Grab the Scenic Views of Butterfly Valley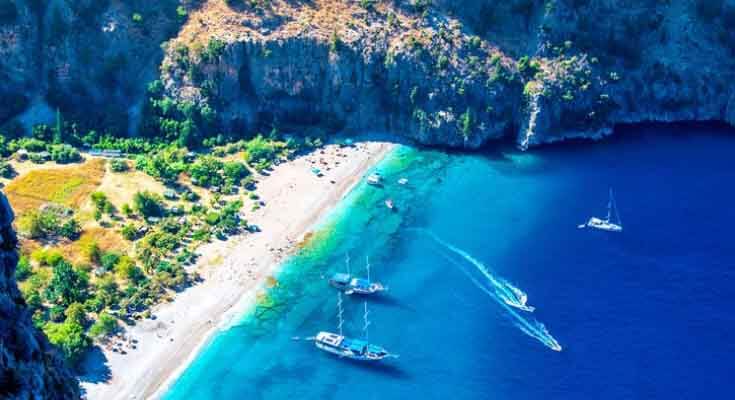 Fethiye can add magic to your honeymoon with its yacht cruising adventure. You can take a cruise from the harbor on a Yacht, sunbathe at the beach and then go paragliding over Oludeniz Lagoon. There is a butterfly valley that lies in the foothills of Babadag. The valley is home to thousands of butterflies of different diversities.
Fethiye is one of the majestic honeymoon places in Turkey. The vacation here is no less than a fairytale for honeymooners. From the shimmering coastlines of Turkish Riviera to hiking in canyons, Fethiye has everything in its bucket.
Top Tourist Attractions in Fethiye - Butterfly Valley, Fethiye Paragliding, Tomb of Amyntas, Fethiye Museum, and more.
6. Kusadasi - Discover the Archeological Marvel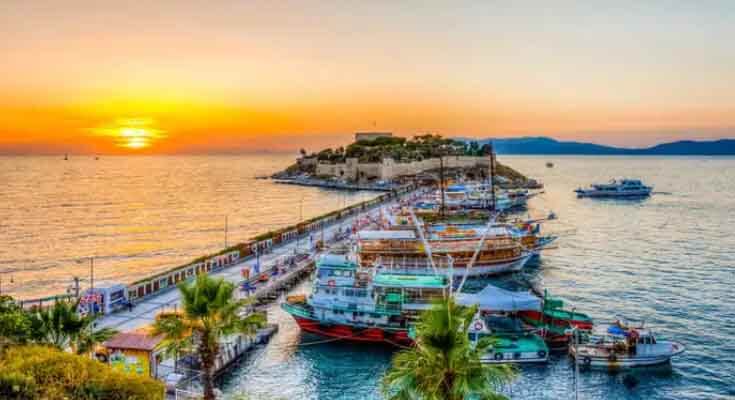 Kusadasi is a well-traveled resort town offering stunning beaches, lovely shops, and lively nightlife. You can explore the town hand in hand and purchase some antiques from the attractive shopping destinations of this place. Kusadasi is best known for its archeological marvels.
If you are heading to this place for a marriage vacation, don't forget to book a private yacht for some pleasant moments.
Top Tourist Attractions in Kusadasi - Pigeon Island, Kusadasi Bazaar, Aqua Fantasy Waterpark, and more.
7. Marmaris Marina - Experience the Magnificent Nightlife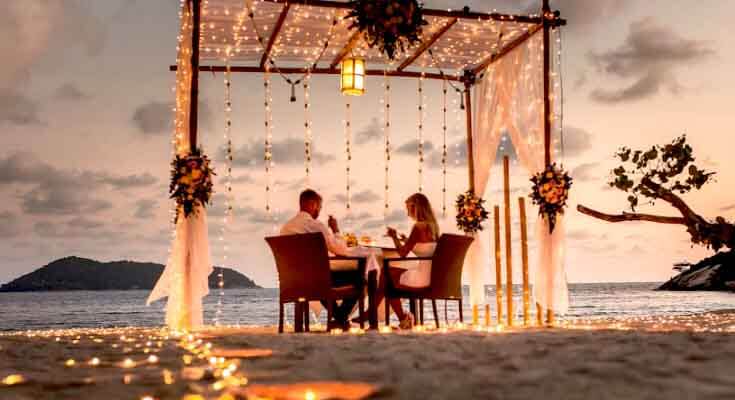 Marmaris is a town filled with royal resorts and offers a magnificent nightlife experience. You two can go on a romantic dinner date or flaunt your moves in the jam-packed clubs. The happening ambiance is not just it. You will get lip-smacking food which is worth your time here. Besides, Marmaris is filled with stunning ocean views that you can enjoy on elegantly designed boats.
Whether you just want to relax, walk, dine, or enjoy the views, Marmaris is ready to make your honeymoon in Turkey more exciting and fulfilling.
Top Tourist Attractions in Marmaris Marina - Sedir Island, Dancing Fountains, Marmaris Museum, Rhodes, and more.
8. Bodrum Peninsula - Get on the Turquoise Coast Yachting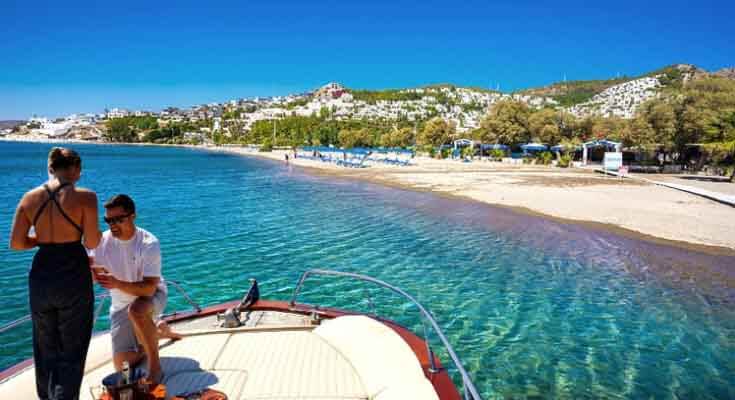 Bodrum is Turkey's favorite summer destination among tourists. It is known as the turquoise coast. It is an ideal place to head on your honeymoon if you want to lie down and sunbathe on a yacht while sightseeing. It is located on the peninsula's northern coast and offers glorious Aegean Sea views.
Bodrum is the best place to visit during summer to enjoy sun-and-sea views. It is bustling with energy as tourists come to soak the Bodrum's charm. Even if you don't come during summer, it gives you a glimpse of the old village atmosphere.
Top Tourist Attractions in Bodrum Peninsula - Castle of St. Peter, Bodrum Amphitheater, Bodrum Museum of Underwater Archaeology, and more.
9. Antalya - Go on a Day-tripping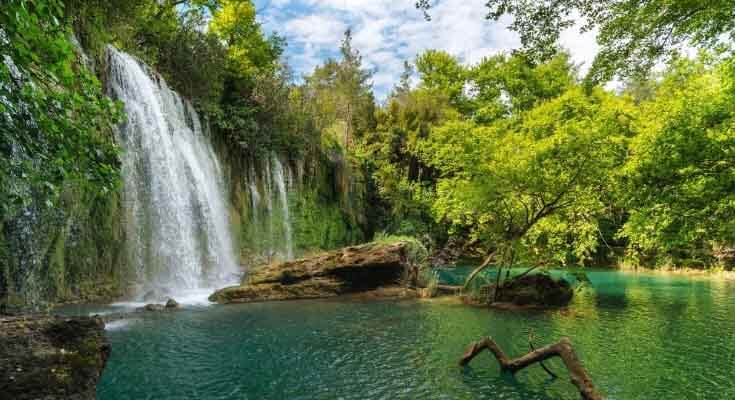 Antalya has a plethora of things to do for everyone. From sightseeing to visiting Antalya's old town, it is an incredible place to day-trip around. You can tour Antalya's old town, head onto the old harbor, relax on the Konyaalti beach, day-tripping around Aspendos, and more.
Also, you two can indulge in some swimming at Lara beach, visit Antalya Museum, and grab the spectacular views from the Roman Fortress. If you love water rafting, you can experience it with your partner at Koprulu Canyon National Park.
Top Tourist Attractions in Antalya - Kursunlu Waterfalls, Konyaalti Beach, Antalya Museum, and more.
10. Alacati - Feel the Leisurely Experience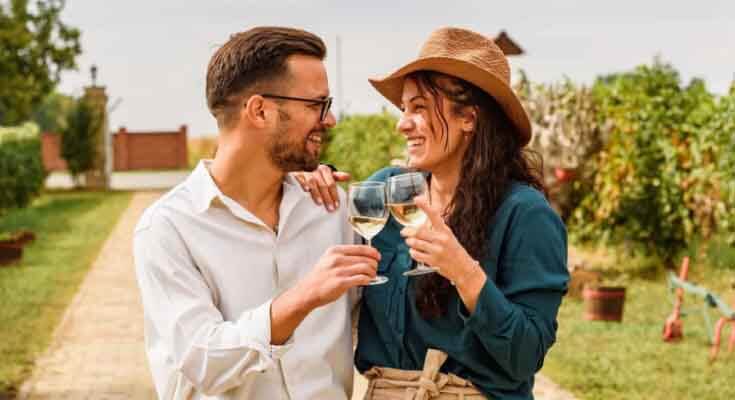 Alacati offers a fashionable seaside honeymoon escape that you cannot witness anywhere. It was an old fishing village that has now turned into a chi-chi beach resort and is Turkey's Aegean Coast destination. The place is filled with preserved fisherman's cottages and splendid mansions, which have been restored hotels, quirky cafes, and beautiful restaurants.
For a full leisure experience in Alacati, couples can go out windsurfing, laze on the beach, and feast on some of the best food along the Aegean Coast. Therefore, don't forget to add this destination to your Turkey honeymoon package.
Top Tourist Attractions in Alacati - Oasis Aquapark, Gemici Winery, Aegean Coast, Aqua Toy City, and more.
11. Bozcaada - Explore the Turkish Island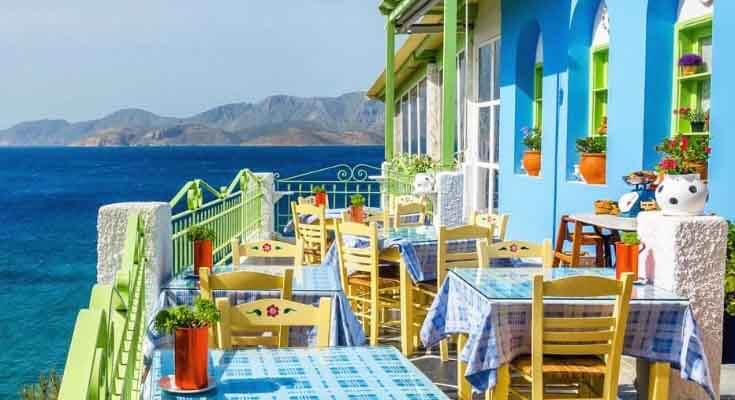 Bozcaada is a Turkish island whose beaches and quaint vacation attitude make it a top honeymoon destination among the honeymooners. While there are many things that couples can indulge in here, its charm lies in slowing down and enjoying the calm pace of Aegean island life.
You can spend a day exploring the old-town district of Bozcaada, which has vernacular Aegean architecture. Then, you can head to taste mouthwatering seafood while enjoying the stunning sunset views over the Aegean Sea.
Top Tourist Attractions in Bozcaada - Bozcaada Castle, Amadeus Winery, Bozcaada Museum, and more.
12. Bursa - Relish the Charm of Skiing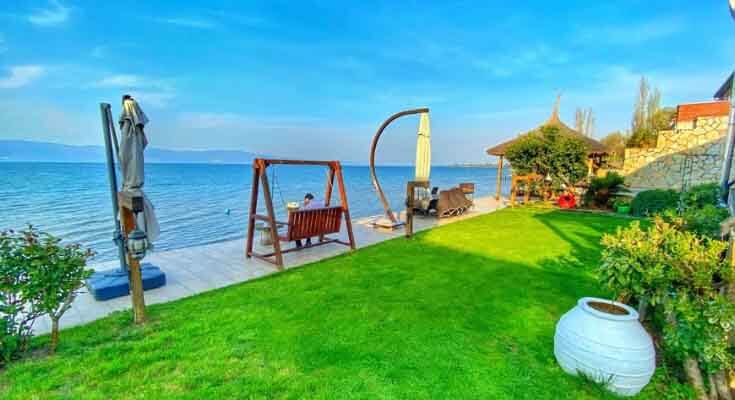 Bursa is jam-packed with monuments, mosques, and other tourist attractions. It is one of the historical cities in Turkey. Bursa is settled at the foot of the mighty mountain of Uludag and offers plenty of things to do for travelers. If you and your partner are visiting Turkey in winter, then Uludag has some major winter sports for you to enjoy. It is also home to Turkey's most popular ski resort.
Bursa Teleferik cable car operates all year round, where you two can add some mountain scenery to your honeymoon itinerary. Also, you can spoil your partner with a skiing experience in Uludag.
Top Tourist Attractions in Bursa - Bursa Teleferik, The Great Mosque, Green Tomb, Koza Hani, and more.
13. Yalova - Delve in Too Many Things To Do
Yalova is a perfect summer retreat for all honeymooners. It offers many things, including picturesque landscapes, thermal springs, gorgeous campsites, hiking, trekking, & biking routes, and more. Besides, there are two famous beach destinations in Yalova which are famous among tourists.
You can relish massage and hot springs with your partner to have a relaxed and quaint honeymoon. Yalova is one of the excellent honeymoon places in Turkey for the ultimate fun and calm experience.
Top Tourist Attractions in Yalova - Erikli Waterfall, The Moving Villa, Yalova Coast, and more.
14. Golden Horn - Encounter the Best Sunset of Your Life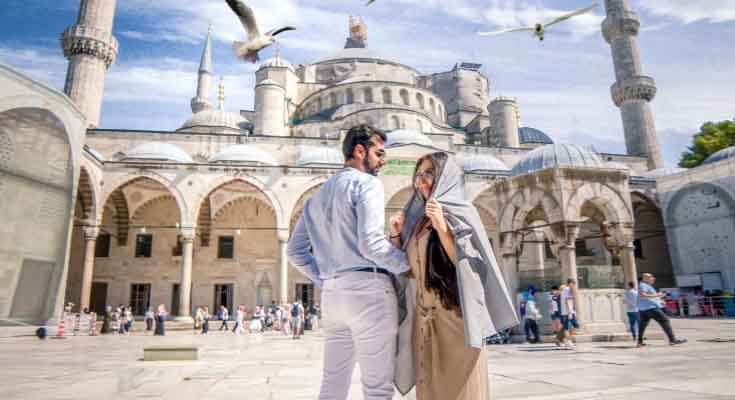 If you and your partner love watching the sunset, then head straight to Golden Horn in Istanbul. It will be the most romantic experience of your honeymoon that you could ever imagine. The sun goes down among the domes, hills, and minarets, making enchanting views for the eyes and soul. Further, you can visit Golden Horn Park to explore more.
Top Tourist Attractions in Golden Horn - Taksim Square, Blue Mosque, Bosphorus Bridge, Galata Tower, and more.
15. Grand Bazaar - Take Memories Home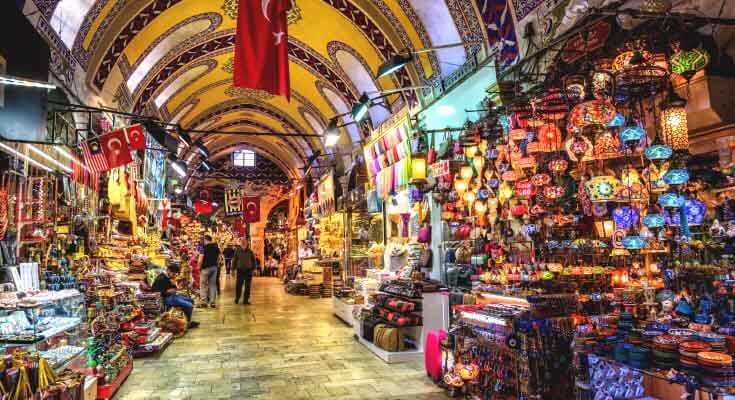 Don't you want to take a memory of your first honeymoon home? You sure do. Then, go for unique antiques and souvenirs shopping at Grand Bazaar. This place is also Turkey's one of top attractions. It is a sprawling network of indoor market streets selling gifts, leather, jewelry, and more. You will be going to find something exciting and amusing in this market. Every section of this market is unmissable.
Top Tourist Attractions in Grand Bazaar - Flea & Street Markets, Sehzade Mehmet Mosque, and more.
16. Princes' Islands - Stroll Around the Nine Islands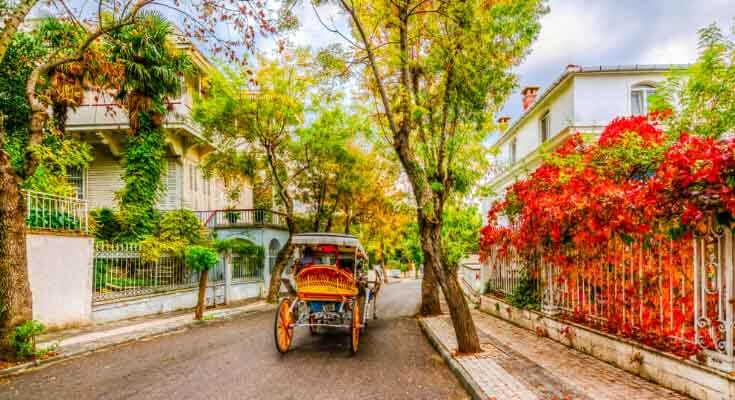 The Princes' Islands is a rare site having a chain of nine small islands in the sea of Marmara. All fuel-driven wheels are banned here, which makes this place an oasis of tranquility and peace. You can walk on the island through narrow streets bound by untouched pine forests and wooden victorian cottages. The Princes' islands set a perfect example of life away from the hustle-bustle of the city.
Top Tourist Attractions in Princes' Islands - Pavilions, Hamidiye Mosque, Greek Orphanage, and more.
17. Kas - Satiate Your Soul with Little Pleasures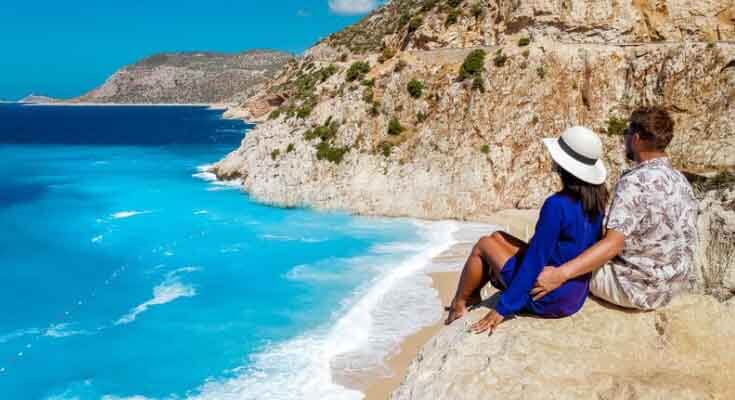 Kas is one of the best honeymoon destinations in Turkey for honeymooners who want to experience the simple pleasure of sand and sea. It is a gorgeous little town nestled among turquoise coasts. Kas offers a more worldly yet lazily experience than other beach destinations in Turkey.
This bohemian gem provides incredible things to do. Such as watching a sunset from the big pebble beach, strolling through Kass cobblestoned streets, listening to live music on the cozy patio at night, and more. You can also visit the ancient Antiphellos theater in Kas.
Top Tourist Attractions in Kas - Kaputas Beach, Big Pebble Beach, Hellenistic Theater, and more.
18. Hierapolis - Spoil your Partner with Romantic Treats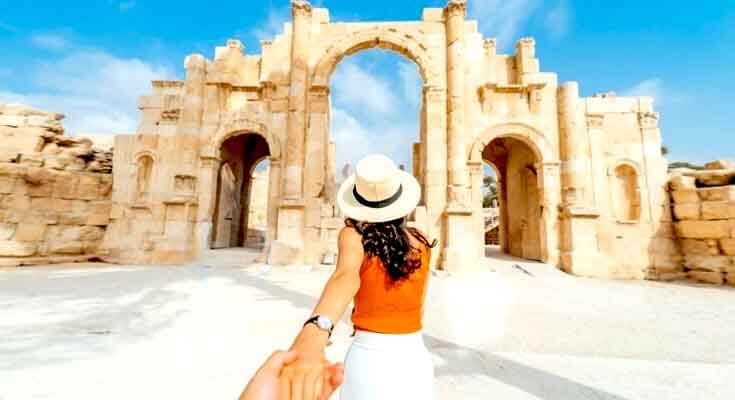 Hierapolis is a remarkable place to visit, especially on a romantic getaway. It is an ancient roman city acclaimed to be established in the 2nd century, situated in the Buyuk Menderes valley. Here you can plan romantic dinner dates, take casual strolls, and give pleasing surprises to your partner in the land unknown. Besides exploring the roman city, you can check out terrace-shaped natural springs and visit the Hierapolis museum.
Top Tourist Attractions in Hierapolis - Necropolis, Frontinus Street, Martyrium of St Philip the Apostle, and more.
19. Celsus Library - Unearth the Ruins of Ancient Roman Library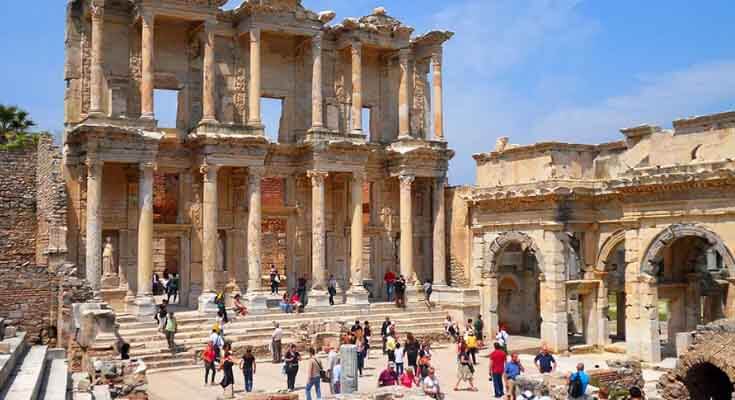 Celsus Library is a historical landmark in Ephesus, Turkey. It is a second-century roman library ruin. The wonders here are incredibly gorgeous. This library is the third-largest Roman library in the world. The well-planned and ornate style of the library depicts ancient Greek architecture. It is one of the dream honeymoon destinations in Turkey for couples as it perfectly offers the ruins of the historic era.
Top Tourist Attractions - Replica Statue of the Four Virtues; Sophia, Arete, Ennoia, and Episteme.
20. Duden Waterfalls - Let Your Love Float Along the Air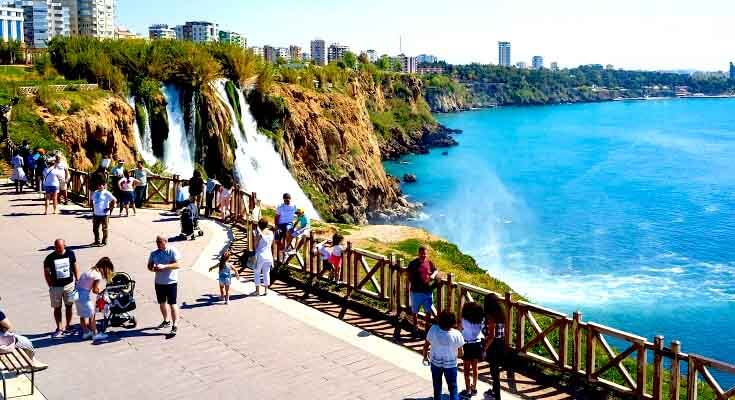 Witnessing Duden waterfalls while holding each other's hand is the most surreal experience. Duden offers breathtaking scenes of a waterfall stream that goes into the sea beside the verdant park. The scenic views will allow you to get closer to nature and each other.
Your visit here will not be boring as you can get a number of restaurants, ice cream stands, and fun activities like zip lining. This place should definitely be on your Turkey honeymoon bucket list.
Top Tourist Attractions - Perge, Kaleici, Yivliminare, and more.
Book Turkey Honeymoon Package at Dook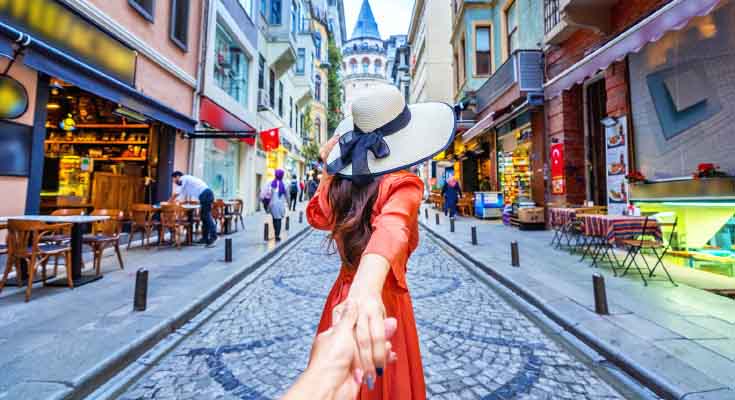 Turkey is a phenomenal destination for couples to relish their honeymoon tour. From Istanbul to Sirince to Antalya, Turkey offers a fulfilling time at the most romantic places with adventure and thrill. As the travel world unveils itself, Dook has incredibly personalized tour packages at budgeted prices.
We have a wide range of Turkey honeymoon packages, conclusively tailored to your travel style. These tour packages are an ideal fusion of all the famous tourist attractions and things to do in Turkey. With these Turkey packages, you can relish every place and plan your honeymoon ahead to get pocket-friendly offers.
Get to Know: Best Indian Restaurants in Istanbul
Explore More: Cafes in Turkey