Located on the shores of the Caspian sea. On the crossroad of Europe, Asia and Middle East. Largest city on the Caspian sea. 28 m below the sea level and so lowest national capital in the world. Largest city in the world below sea level. Freestyle wrestling regarded traditionally as national sport. Football and chess, the most popular games here. These all together are only small description of Baku city in Azerbaijan. Yes in this article we will explore this wonderful city Baku.
Baku is 21st century city with 2000 year of dynamic history located on the shores of Caspian sea. The city can be seen in two parts. The downtown area and the old inner city. Little over 2 million population, about 25% people in the country Azerbaijan live in metropolitan area of Baku. Baku in recent times is reaching new heights. The country, culture and people here are amazing and one who travels to this place will realise this immediately. Baku city is the scientific, cultural and industrial centre of Azerbaijan. In recent past Baku has become an important venue for international events. It hosted the 57th Eurovision Song Contest in 2012. 28th June of 2015 only was the concluding day of European Games held here. It will host European Grand Prix 2016 and Euro 2020. Baku is known by its nick name 'City of winds'.
Around the year1860 only around 14000 people were living in Baku and since then population here has gone up and above 2 million in 2012 making Baku the largest city in the Caucasus region. The city has many amenities that offer a wide range of cultural activities, drawing both from a rich local dramatic portfolio and an international repertoire. It also boasts many museums such as Baku Museum of modern art and Azerbaijan State Museum of History, most notably featuring historical artefacts and art. Many of the city's cultural sites were celebrated in 2009 when Baku was designated an Islamic Culture Capital. Azerbaijan for centuries has been known for its world class artists, music and writers. And in recent years Azerbaijani performers like Aysel, Farid Mammadov, Sabina Babayeva and others have significantly boosted the Baku's music gathering international attention.
Places to See in Baku
Baku is now one of the most famous tourist destination in the Caucasus region. Any part of Azerbaijan from its architectural and historical point of view can attract tourists but Baku provokes tourists for its own beautiful sights. Some of the must see tourist attractions in Baku are:
Old Town (Icheri Sheher)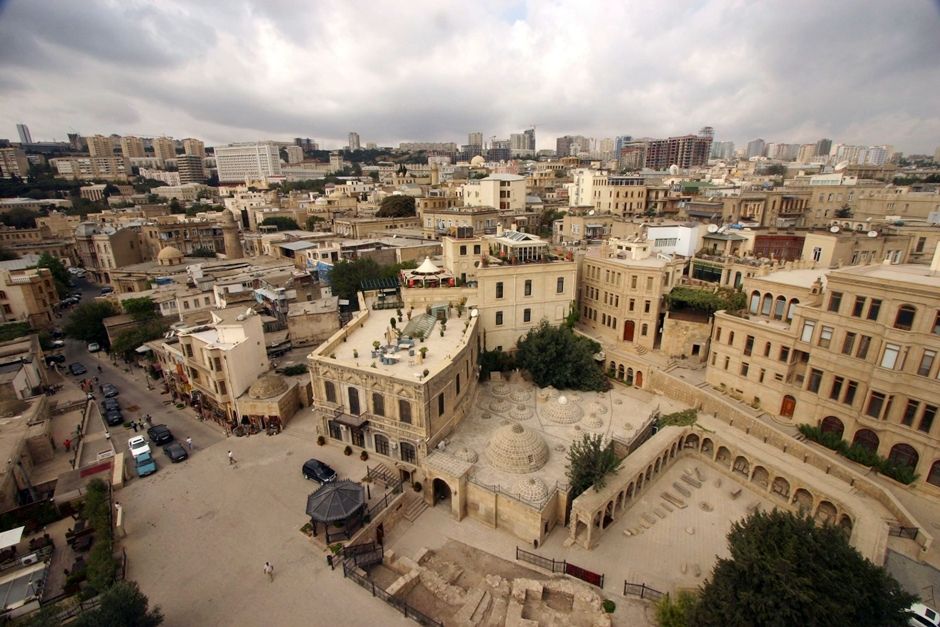 There are a number of interesting sites within Baku's walled fortress, the Old City (a UNESCO World heritage site), which can all be seen on foot.
The Palace of the Shirvan Shahs is the medieval palace which is the highlight of the Old City and a must see for any tourist in Baku. Maiden's Tower is a mysterious and eccentric tower which was built somewhere between the 7th and 12th centuries and may have served as a fire beacon, defensive fortification, astronomical observatory, or Zoroastrian temple.
Atashgah Fire Temple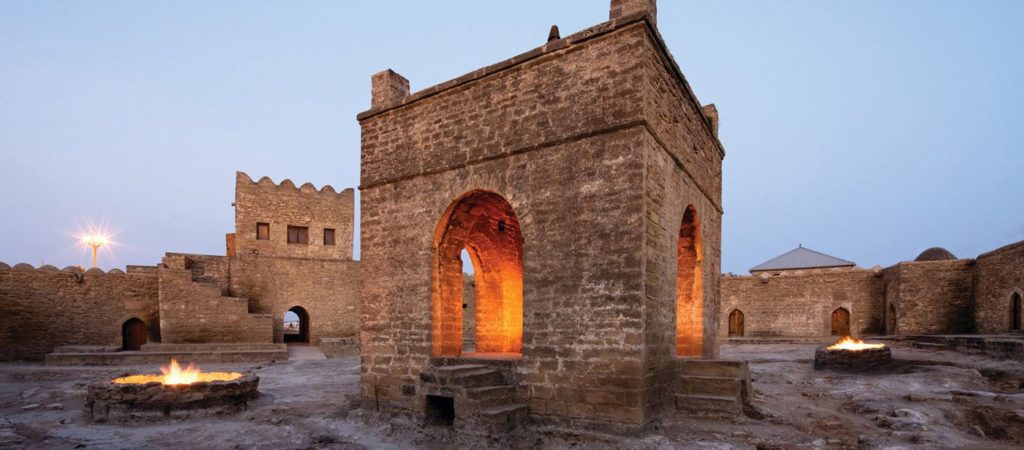 The Atashgah Fire Temple or the Fire Temple of Baku is situated at Surakhani near Baku. This castle-style temple was nominated for World Heritage Site status in 1998 and declared a historical-architectural reserve by decree by the Azeri President in 2007. The inscriptions in either Sanskrit or Punjabi state that the place was a Hindu place of worship, unlike claims indicating it was a Zoroastrian Fire Temple. Today, it houses a museum and is no longer used as a temple.
National Museum of History of Azerbaijan
It is the largest museum of Azerbaijan located in Baku. It was founded in 1920. There are four floors in some parts of the building. On the second floor of Taghiyev's residence, side by side there are two major ballrooms. One is based on Oriental designs (Mauritanian) style and the other, on Occidental design. According to photographs that are about 90 years old, one of the most elaborate rooms was Taghiyev's wife's boudoir(private sitting room). All of the movable furniture and paintings in this room have disappeared. Nothing remains today except the ornate mirrored mosaic ceiling. Today The museum has more than 2000 exhibits. Read More about National Museum of History of Azerbaijan
Yanar Dagh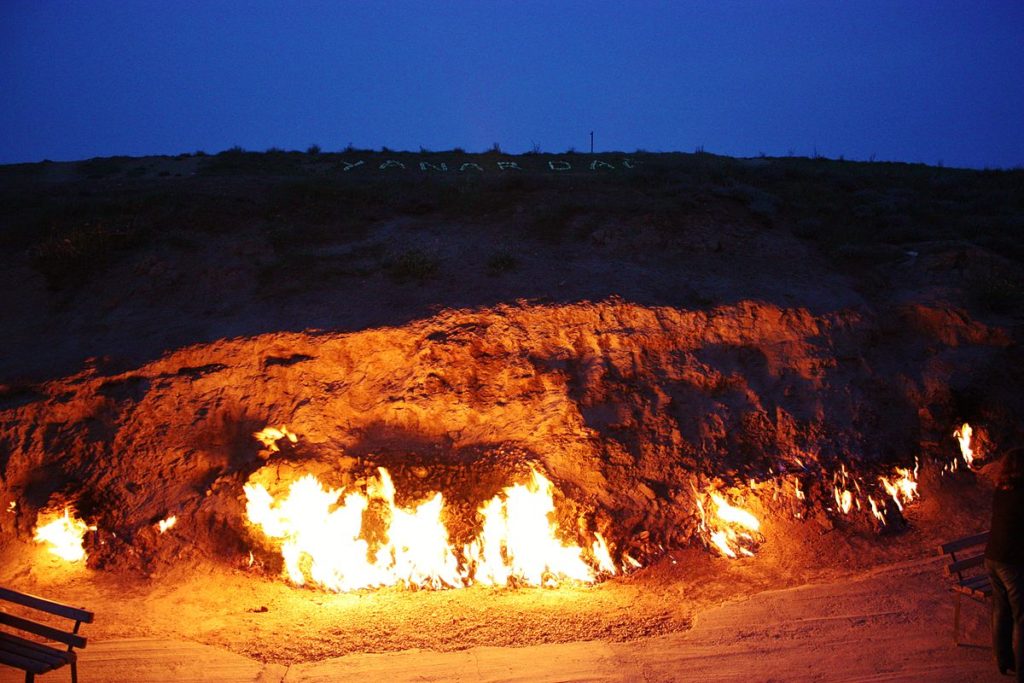 Yanar Dagh is a mountain that has been continuously on fire for one thousand years. The natural gas vents ensure that hot flames roar out of the sides of this hill even when it rains.
Qala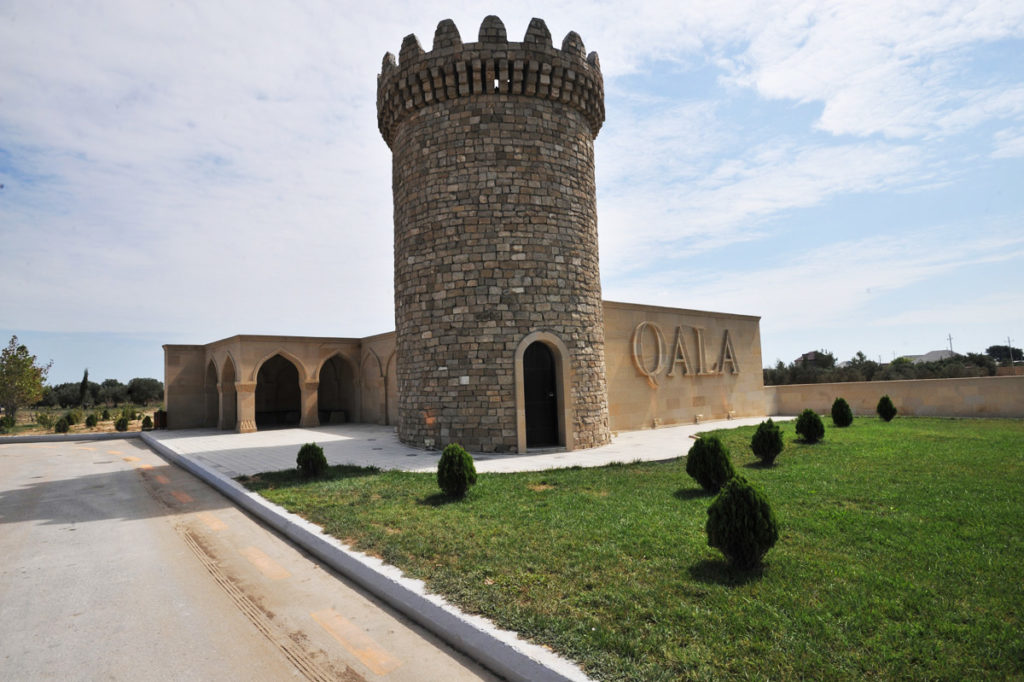 Qala has an open air Archeological and Ethnographic Museum. You can also find some camels, sheep and rabbits in the Museum. Next to it is a new build fortress from which you have a nice view of the city.
Baku Boulevard
It is known as National Park established in 1909 which runs parallel to Baku's seafront. Its history goes back more than 100 years, to a time when Baku oil barons built their mansions along the Caspian shore and when the seafront was artificially built up inch by inch. In 2010, a multi-story shopping mall park Bulvar, Baku Business Centre and 5D cinema were opened in this promenade as part of Government's regeneration policy to boost shopping and leisure in Baku. The square has often been the scene of public meetings, cultural gatherings, celebrations, ceremonies, parades, concerts and has lately become the venue for the city's extensive New Year celebrations. Read more about Baku Boulevard
AF Mall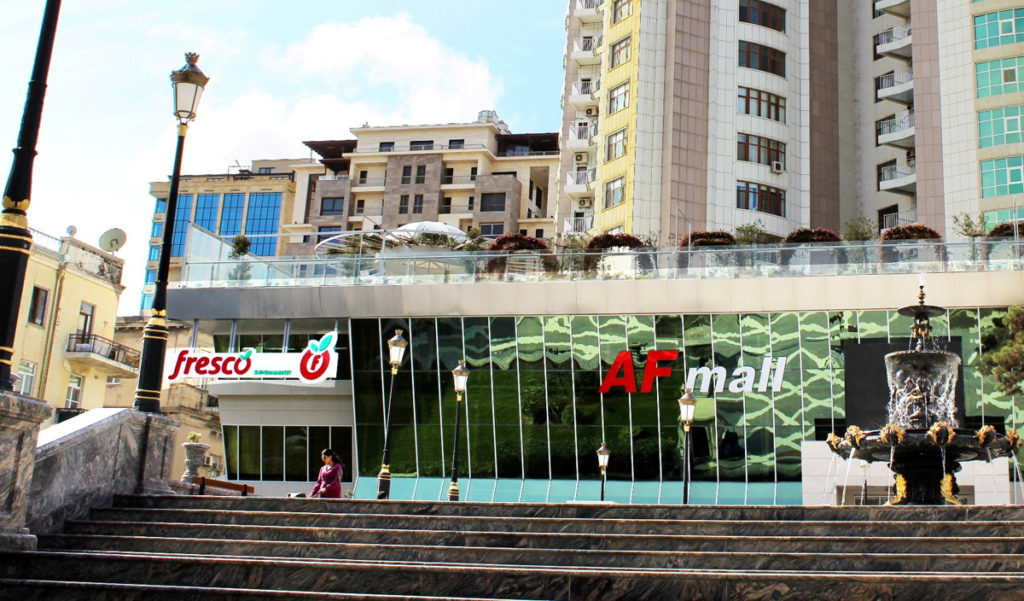 It is located in the heart of the city just off the Torgovaya on Samed Vurgun St 34. This brand new mall has many trendy shops, summer lounge with tropic garden and pool on rooftop opening by the end of 2011.
Park Bulvar Shopping Mall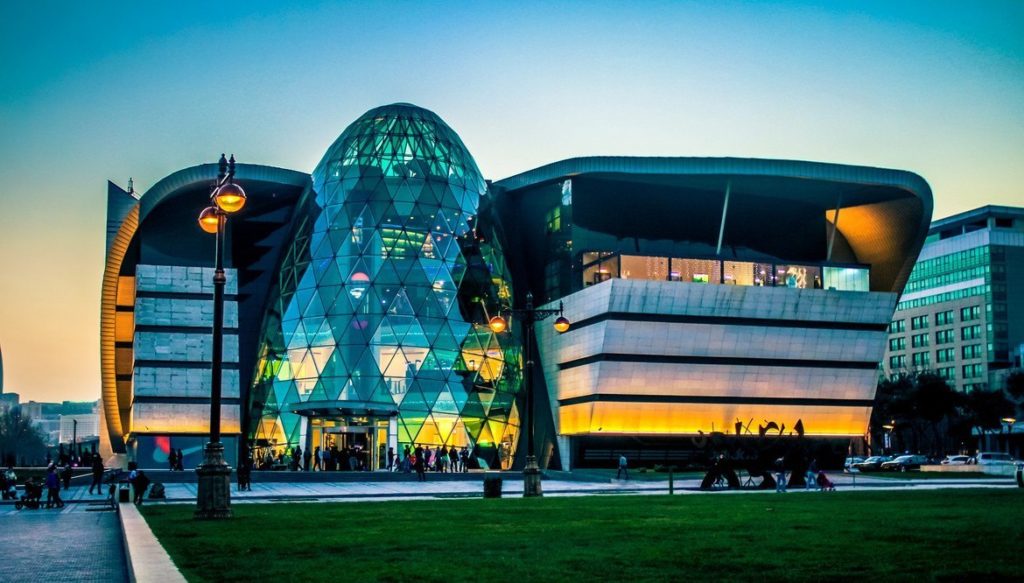 Along the boulevard, right across Park Inn Hotel. This brand new mall has many trendy shops, a cinema, a planetarium, a bowling alley and many cozy cafes. There are many famous fast food chains located there, such as KFC and Sbarro.
Things To Do in Baku
When you are in Baku you can go for Boat tour of the city. You can enjoy national opera and Ballet. You can visit Baku entertainment centre. There you will find a shopping centre, bowling alley certified by AMF, health club, conference venue with a capacity of 350 people, and various restaurants and clubs. Near the near the Icharishahar metro station, inside the walls of the old city, you can enjoy bath at Hamam Mehellesi, the oldest public bath in Baku. There are AF beach club and Amburan beach club, where you can enjoy swimming, fast food, water sports, beach football and other games.
Urban Baku for Travellers Delight
Many renowned world hotel chains have a presence in the city. Baku has many popular tourist and entertainment spots, such as the downtown Fountains Square, the One and Thousand Nights Beach, Shikhov Beach and Oil Rocks. Baku's vicinities feature Yanar Dag, an ever-blazing spot of natural gas. On 2 September 2010, with the inauguration of National Flag Square, Baku became home to the world's tallest flagpole, according to the Guinness Book of Records. However, on 24 May 2011 Baku lost this record by just 3m to the city of Dushanbe in Tajikistan.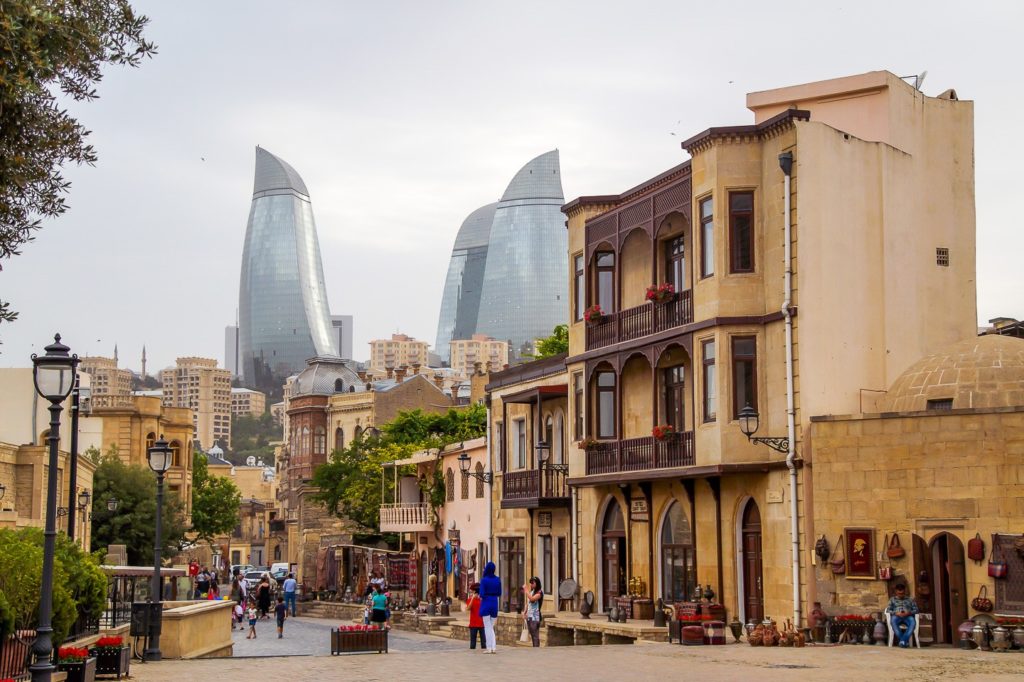 Baku has several shopping malls for traveller's delight. The most famous city centre malls are Park Bulvar, Metro Park, 28 MAll, Aygun city and AF mall. The retail areas contain shops from chain stores up to high-end boutiques.
The city is listed 48th in the 2011 list of the most expensive cities in the world conducted by the Mercer Human Resource Consulting. Its Nizami Street is one of the most expensive streets in the world.
How to Get There
So if you plan to visit this lovely place called Baku in Azerbaijan you can plan your tickets to Heydar Aliyev International Airport which is served by major airlines in the world including Lufthansa, Qatar Airways, Turkish Airlines and similar airlines of the world.
You can book your Baku Tour Packages at Dook International, A leading tour operator for Baku offering tour packages at lowest price with best accommodations.