Ladies Special Tour to Russia and Kazakhstan
The Best 10 Days Women's Special Tour to Almaty-St. Petersburg-Moscow
Almaty, St. Petersburg and Moscow are 3 must-visit cities. For many travelers, Almaty is a cool holiday destination where they have enough of natural and man made attractions to explore. On the other hand, two historic cities St. Petersburg and Moscow are 2 most historic and beautiful cities in Russia and they have attracted visitors for many years and continue to do so.
We were privileged to arrange a Group Tour for 52 Ladies to these amazing tourist destinations on a 10 day trip between 28th July and 6th August. You can also experience the best travel experience with our Women's Special Tour.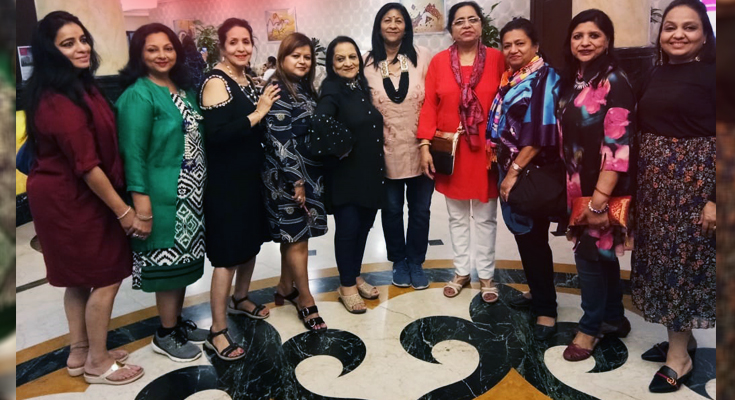 Day 1-3: Almaty, Kazakhstan (28th July – 30th July)
The most amazing city in Kazakhstan and entire Central Asia has a lot to offer. The group arrived at Almaty Airport by KC 908 at 15:50.
Place of Stay
The group stayed with great comfort and the best facilities at the Ramada Hotel, at Kazybek Bi Street, Almaty. Transfers, dinner, lunch, and breakfast were all arranged for the group included in Ladies Special Tour.
Ramada Hotel
Ramada Hotel, a 4 Star world-class hotel in the heart of the Almaty city, holds a very high reputation among visitors whether they happen to be business travelers or leisure travelers. There are 160 plus spacious rooms with the most comfortable space and facilities such as the internet, LED TV, coffee and tea set up, 24 hours room service, SPA, and Fitness center and more.
So, the Indian group of ladies had a nice and comfortable stay at the Ramada Hotel in Almaty on Women only tour to Russia and Kazakhstan.
Sightseeing
1. Shymbulak Ski Resort
Shymbulak Ski resort is a super cool tourist attraction, near the Almaty city. There are 3 ski lifts at the resort offering everyone spectacular views. Shymbulak is the largest ski resort in entire Central Asia. Located in the upper part of Medeu Valley, Shymbulak ski resort is a popular skiing destination.
2. Medeu
Medeu is an outdoor skating and bandy rink located in a mountain valley near Almaty. Medeu is known as a beautiful and splendid location sitting at the height of 1,691 m. People come here not only for skiing experience but also for the best natural sightseeing experience.
Shopping Experience
Almaty is a great place for shopaholics. There are huge shopping malls and shops in each part of the city. Central Market is the best place to shop and quite popular among locals and visitors. The group went on a shopping tour after lunch in Almaty and they had great fun.
Explore More: Attractions in Almaty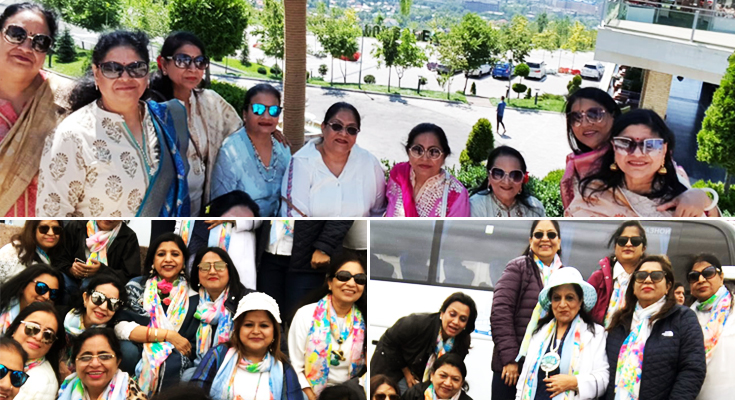 Day 3-6: St. Petersburg, Russia (30th July – 2nd August)
The group on a Russia special women tours was flown to St. Petersburg on 30th July afternoon, by KC 876 at 18:15 hours. Then they were transferred from airport to Indian restaurant and they had a comfortable overnight stay in the world-class hotel Park Inn by Radisson Pribaltiskaya. The group stayed here till the morning of 2nd August.
Hotel Park Inn by Radisson Pribaltiskaya
Park Inn is a 4 star hotel and a very popular among foreign visitors. It is located in the Ulitsa Korablestroiteley, 14, Sankt-Petersburg, Russia. With over 1100 AC rooms and a complimentary wireless internet connection, you are always connected. Other than that the hotel has all the modern facilities such as fitness center, concierge services, and gift shops, 3 restaurants, 24-hour room service, buffet breakfast, business center, express check-out and your favorite drink at a bar and newspaper in the lobby.
St. Petersburg City Tour
The group enjoyed a city tour in this wonderful city. You can also enjoy the best city tour experience in St. Petersburg with the best ladies tour packages.
1. State Hermitage Museum
This is one of the top museums of art and culture in the world. You can spend substantial time with each painting, sculpture or artifacts kept here. Da Vinci, Raphael and Rembrandt's paintings are the most popular ones here. The museum was founded in 1764.
Know More: Hermitage Museum
2. St. Isaac's Cathedral
This is a spectacular building in St. Petersburg. It has a massive golden dome worth seeing from outside and it is even more beautiful from inside. Currently, the cathedral is functioning as a museum.
Know More: St. Isaac's Cathedral
3. Fine Art Square
Fine art square is in the center of St. Petersburg. It is an open area where people gather to have a good time. There are multiple buildings around the square such as Saint Petersburg Philharmonia, Mikhailovsky Theater and Russian Museum.
4. Church of Resurrection on Spilled Blood
This is one of the most famous buildings in St. Petersburg. Exterior and the interior of the building is super impressive and you must experience it from inside where it is richly decorated in gold with many fresque painting.
5. Smolny Cathedral
This is another beautiful building and one of the most beautiful churches in the city. The convent's main church, a blue-and-white building, is considered to be one of the architectural masterpieces.
Know More: Smolny Cathedral
6. Bronze Horseman
This is a statue of Peter the Great in the Senate Square in St. Petersburg. The specialty of the statue is its pedestal thunder stone which is the largest stone that has ever been moved by humans.
7. Drawing Bridges
This is probably the best experience in St. Petersburg for the ladies on their tour with the best Women Tour Packages and everyone in general. The show of the opening of bridges starts with wonderful music and lights at midnight. People in thousands gather here every day to experience this wonderful event.
Read More: Palace Bridge
8. Peterhof Park & Palace
This is an impressive series of palaces and gardens in St. Petersburg. This is a UNESCO World Heritage Site and a must-visit place. The palaces and parks of the 18-19th century were the former royal countryside residence. Today it has over 170 fountains and 4 cascades. Millions of people come to visit this beautiful place.
9. Shopping Trip
On 5th August, the vibrant group of ladies was taken to the shopping trip in St. Petersburg, where they had a great time as St. Petersburg is a great place for shopping. You have western shops and Russian shops both in the city. Malls and local shops all attract visitors a big time.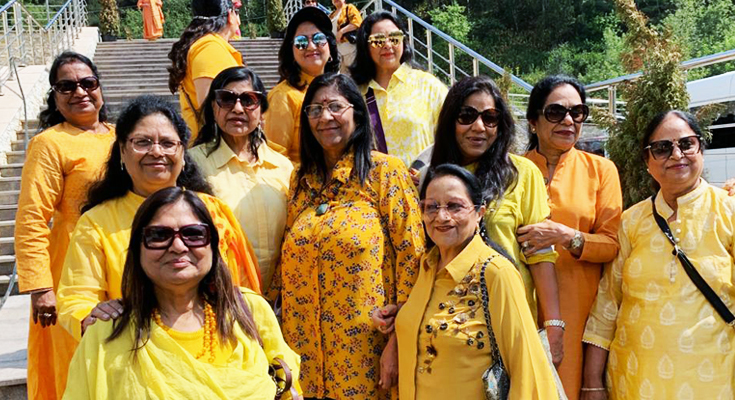 Day 6-8: Moscow (2nd August – 4th August)
On the 2nd August, the group on Russia Women's Special Tour left the hotel in St. Petersburg after breakfast and took Sapsan train to Moscow. Around 13:00 hours they reached Moscow and they were transferred then to Indian Restaurant there for lunch. Then they check in the Holiday Inn Sokolniki hotel.
Highlights in Moscow
Comfortable Stay at Holiday Inn Sokolniki Hotel
This is a 4-star hotel in Moscow located at the Rusakovskaya Ulitsa, 24, Moskva, Russia. Located near the popular Kremlin, the hotel has 500 plus modern rooms with AC, central heating and laptop and writing desk. The view outside over Sokolniki Park is also spectacular from the rooms. There is a daily bar open for breakfast and a café bar open for tea, coffee, and wines. Other than that all the facilities are available in the hotel.
Sightseeing and Experiences
Moscow Metro Tour with Arbat Street
The group on a Ladies Special Tour got a chance to enjoy a wonderful Moscow Metro tour on 2nd August evening. Moscow Metros are known for best-designed metro stations wherein you can spend some time to just experience the beautiful artwork at the stations. There are 212 stations and the total length of the route is 360 KM. They walked on Arbat Street which is a historical place in Moscow. This is one of the oldest and most popular walking streets in the city. Only 10-minute walk from Kremlin, Arbat Street is a vibrant place full of shops selling souvenirs and Russian artwork and plenty of cafes and restaurants there to have a good time.
Panoramic City Tour
On the 3rd August morning, the group left for a city tour where they came across popular places such as Lenin's Tomb (outside view), St. Basil's Cathedral, Red Square, Sparrow Hills, Moscow state university, and victory park.
1. Lenin's Tomb
Lenin's tomb is one of the most popular travel attractions in Moscow located few steps away from the popular Kremlin wall. The place holds embalmed body kept for several decades of the legendary Russian man Vladimir Lenin. Millions of people visit the tomb every year. Our group of women traveler on a women only tour to Russia got a chance to see the tomb from outside.
Read More: Lenin's Tomb
2. St. Basil's Cathedral
The colorful domes and vivid decoration of St. Basil's Cathedral make it a favorite tourist attraction in Moscow. The Cathedral was built in 16th century and it is a popular church in Red Square, Moscow. St. Basil's Cathedral is also a significant symbol of Russia. The cathedral has now become a museum.
Read More: St. Basil's Cathedral
3. Red Square
Red Square has several city sights and thus a very busy place crowded with locals and foreign visitors. Sights include names like St. Basil's Cathedral, The Kremlin, Senate Square, Lenin's Tomb, GUM shopping center, State historical museum and so on. Red Square is a city square and most of the major streets of Moscow city originate in the square.
Read More: Red Square
4. Sparrow Hills
Sparrow hill is one of the highest points in Moscow located on the right bank of Moskva River. This is an amazing elevated point which gives everyone a chance to experience a spectacular view of the city from the top.
5. Victory Park
This is located in the western part of Moscow city and one of the most popular tourist attractions. Located on Submission Hill, the park was made in the honor of the Soviet Victory in World War II. Today, Russia's victory day celebration takes place at Victoria Park on 9th May and there are monuments such as Triumphal Arch, Victory Monument, and Central Museum of the Great Patriotic War worth visiting within and outside the Victory Park.
6. The Kremlin
The Kremlin is the most popular tourist sight in Moscow city. The group visited this iconic building in Moscow on the Russia Special Women Tours. The complex is quite big and has many things to explore. These include Armory Museum, The Grand Kremlin Palace, Patriarch Palace, Ivan the great bell tower and more.
Read More: The Kremlin
7. Moscow Circus
On the 3rd August evening, the group went to see Moscow circus, one of the oldest and popular circuses in the world. One of the two buildings of Nikulin Circus and Bolshoi Circus is referred to as Moscow Circus. The famous Bolshoi circus can accommodate over 3300 people who can enjoy performances every day in the afternoon and evening.
Read More: Moscow Circus
8. Izmiloski Market & Shopping and Arbat Street
The Ladies Tour Packages would not have been complete without shopping experience. During the morning hours of 4th August, the group visited the famous Izmiloski market for shopping. The market has shops selling handmade crafts, unique souvenirs and beautiful items such as fur hats, traditional toys, and antiques.
Explore More: Attractions in Russia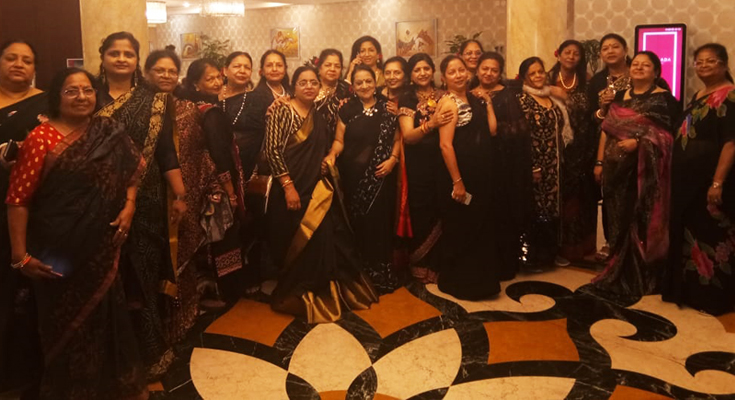 Day 8-10: Almaty, Kazakhstan (4th August – 6th August)
The group left for Almaty from Moscow on the 4th of August evening. The group arrived Almaty on the 5th August morning where they had early check-in and breakfast at the Ramada Hotel.
Kok Tobe Tour
The group was picked up for Kok Tobe Tour at 11:00 hours and they had a great time at Kok Tobe mountain trip as part of Women Tour Packages. Kok Tobe is the highest point in Almaty at the height of 1100 meters. Everyone must visit Kok Tobe for a scenic and panoramic view of the city and also enjoy a cable car ride to the top. At the top of Kok Tobe, there are some restaurants as well, offering you food and drinks.
Shopping at the Shopping Mall
The group got a chance to spend some money to buy their favorite items from the shopping mall in Almaty.
Coming Back to Delhi
Finally, the group left for Delhi on the 6th of August from Almaty airport.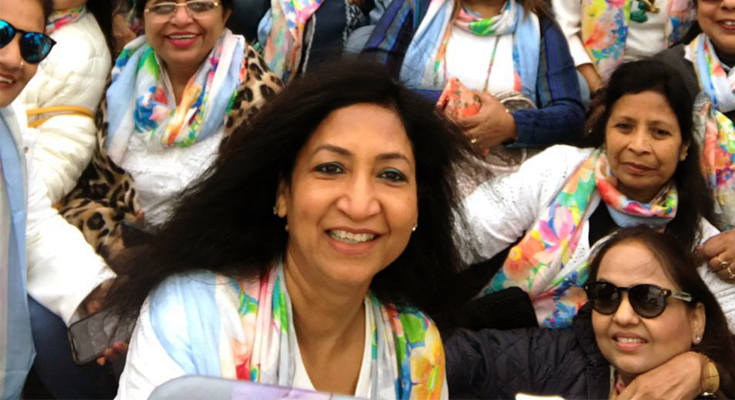 Highlights of the Complete Tour
52 Ladies Only
• 03 Nights - Almaty
• 03 Nights - St. Petersburg
• 03 Nights - Moscow
Duration:
28th July - 06th Aug
Arrangements and Inclusions of the Trip:
•
Comfortable stay in 4* Hotels
•
Check-in and check-out facilities
•
Easy and comfortable transfers
•
Breakfast, lunch, dinner
•
Shopping at popular markets and malls
•
Gala Dinner with Belly Dance
•
Leisure activities
•
Designated emergency contact personnel in Almaty, Moscow, St. Petersburg and India
•
English Speaking Guide and more. Contact
Dook International
for
Best Women's Special Tours
to CIS & European Countries.