Special 8 Days Women Only Trip: Unraveling 3 Marvel Cities of Uzbekistan
Uzbekistan is an emerging travel destination in the Asia region. Earlier people did not prefer to go to Uzbekistan for a vacation but the situation has changed rapidly in the last few years. There has been substantial work done on infrastructure, curbs on corruption, assuring safety, easy visa access and other things that made Uzbekistan a favorite travel destination in recent times. Dook International being a pioneer travel company for CIS and European countries had a wonderful opportunity to arrange a women only tour to Uzbekistan recently. Group of 15 women went on to Uzbekistan for a 7 Nights and 8 Days trip from 25th September to 2nd October 2019.
Day 1-2: Delhi-Tashkent & Tashkent City Tour
Group reached Tashkent Airport at 17:15 hours on 25th September, where our airport executive received them after custom clearance which took about 1 hour. After that, the group was straight transferred to Hotel. Dinner was arranged at 20:00 hours at Hyatt Hotel and then the group had overnight stay in the hotel.
Come Day 2, the group was transferred to
Tashkent City Tour
after a morning sumptuous breakfast.
Tashkent
Tashkent is the capital city of Uzbekistan. Tashkent is an ancient city on the Great Silk Road. Tashkent is Uzbekistan's political, economic, cultural and scientific center. Tashkent is also a perfect tourist destination in entire Central Asia. When you travel to Tashkent, you can explore some beautiful sights in the city such as Independence Square, Tashkent Broadway, Amir Temur Square, Abdulkasim Medressah, Chorsu Bazaar, Kukeldash Medressah, Fine Arts Museum of Uzbekistan, IIkhom.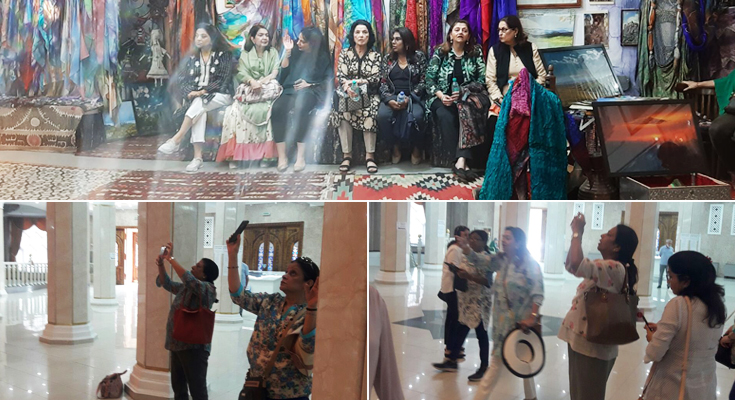 Major Sightseeing for the Ladies Group in Tashkent:
1. Independence Square
Independence Square is in the heart of the Tashkent City, a favorite go out and rest venue for the locals and also for the foreigners. The most beautiful fountains here contribute majorly to make it look beautiful. This is a historical place in Tashkent, Uzbekistan.
2. Tashkent Broadway
This is located near Amir Temur square. Locally this is called Saligokh Street, popular as Broadway. Broadway connects the two main squares Amir Temur square and Independence Square in Tashkent city. This is also one of the greenest parks here covering a huge area with lots of trees and fountains. There are shopping centers, restaurants, fashion stores, and cafes. You can buy handicraft items, souvenirs, and other items on and around Broadway Street. Group got a chance to see this place here on their Ladies Special Tour.
3. Amir Temur Square
Amir Temur Square is a historical place in Tashkent, Uzbekistan. Amir Temur, an outstanding commander, and statesman from the 14th century is represented through a monument right in the center of the square. There is a small area with fountains and greenery. The square is surrounded by the buildings of Uzbekistan hotel, University of law, the Amir Temur museum, famous Tashkent Chimes and the Forums palace.
Read More: Amir Temur Square
4. Monument of Courage
The monument of courage is the symbol of the strength of the Uzbek people. It was built on the 10th anniversary of the earthquake that devastated the entire city in 1966. On a granite podium of black labradorite, the date April 26, 1966, has been carved on one side. And there is a carved clock face showing the time 05.24h on the other side. There is a crack in the cube which symbolizes the rift the land of Tashkent experienced.
5. Romanov Prince Duke Residence
This is another attraction in the center of Tashkent city. The Romanov Prince Duke Residence was built in 1891 and it was made in a very trendy style of that time. This one storey private residence has a beautiful interior design.
6. Alisher Navoi Opera and Ballet Theater
Alisher Navoi Opera and Ballet Theatre in Tashkent is a must-visit place. You will love the performances by famous conductors and musicians, artists and singers here. And if you don't love this art you can simply cherish the beauty of the architecture of Alisher Navoi opera and ballet theatre.
7. Tashkent TV Tower
Seeing the beautiful city of Tashkent from the observation deck of the Tashkent TV tower is a unique experience. Tashkent TV Tower itself is an architectural masterpiece and what makes it even more special is its revolving restaurant that serves national Uzbek as well as European cuisine, with bars where you are offered a wide range of drinks.
8. Tashkent Metro Tour
Enjoying the metro ride in Tashkent on ladies special tour packages was a great experience for the group. Tashkent Metro was inspired by Moscow and St. Petersburg Metro and when you see each station of Tashkent Metro then you need some extra time to feel the beauty of it. Each station is gorgeous and they are all different from each other.
Other Tourist Spot Visits:
On the second day, the group also spent little time visiting Memorial of Repressions Victims with the traditional ornaments and Hazrat Imam Complex in the Old City of Tashkent.
Day 3-4: Tashkent - Samarkand
The group had an early buffet breakfast and then they were transferred to the Railway Station to take a ride of Bullet Train "Afrosiyob" (fast train between Tashkent-Samarkand) to reach Samarkand. In Samarkand, the group checked-in to the hotel and after fresh up they were taken to "Mubarak House" for the lunch.
Samarkand - Crossroads of Culture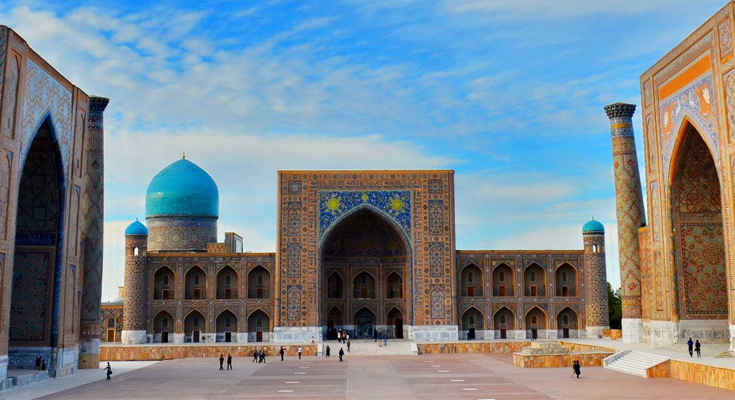 The historic town of Samarkand is known as crossroad of cultures. This is also one of the oldest inhabited places in Central Asia. Timur made Samarkand, capital of its empire in the 14th century. Samarkand as Samarkand - Crossroads of culture was listed as a world heritage site in 2001 by UNESCO. Today Samarkand is a historic and popular travel destination in Uzbekistan and a group on women only tour got a chance to experience the city pretty well.
Post Lunch City Tour of Samarkand
1. Registan Square
Registan at one point was the heart of ancient Samarkand of the Timurid dynasty. Registan square and other buildings of the Timurid period were the results of coming together of craftsmen and builders from across the empire in the late 14th century. Registan Square is a great architectural piece.
2. Gur Emir Mausoleum
Gur Emir is a Mausoleum of Asian conqueror Timur in the city of Samarkand, Uzbekistan. This was built in the 14th century. The monument that was built in 1403 has now only remainings of it, not the entire piece. The structure is famous because it is simple and the appearance of the monument is huge. This site is included in the Ladies Tour.
Read More: Gur-e Amir
3. Bibi Khanum Mosque
This is one of the most important monuments in Samarkand. The story behind the making of the mosque is interesting. This mosque was built by Timur's favorite wife Bibi-Khanym in honor of his return from India. This is a beautiful mosque.
4. Local Bazaar
Central Market in Samarkand is located next to the Bibi Khanym Mosque. It has craft workshops, shops of dried fruits and nuts, traditional sweets, dairy product and more. The nearby Chai-khanas (a place for tea drinking) is a great place to drink tea and fill the Samarkand hospitality.
5. Evening visit to Valentina Romanenko Art Workshop and Studio (Fashion Show)
Valentina Romanenko Art Workshop is the quintessence of the rich experience of Samarkand masters in silk, painting, and embroidery. There you can see a collection of scarves, dresses, bags and other garments made by old technologies handed down by Uzbek masters from generation to generation, watch costumed folk show and, of course, buy any dress you like.
6. Ending the Day
The group of women only tour on the first evening in Samarkand was taken to PLATAN for dinner and then they had overnight stay in their hotel at Samarkand only.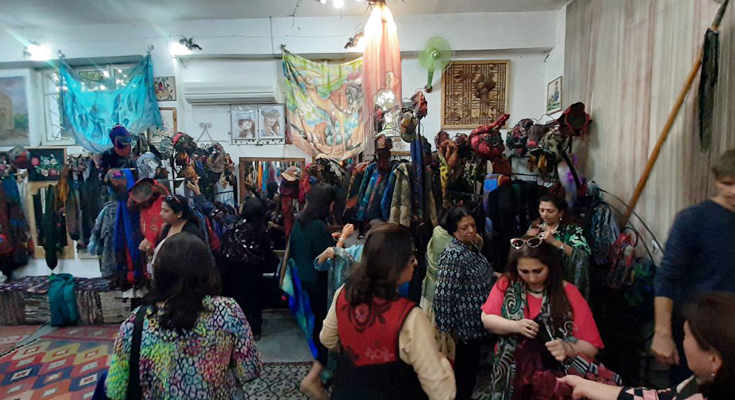 Second Day - Full Day Samarkand Tour
The next day on day 4th after the breakfast, ladies group went on for a
city tour of Samarkand
.
Sightseeing:
1. Muslim Scholar Imam al-Bukhari Musuem
The museum of Imam al-Bukhari is named after the great theologian of the East Imam al-Bukhari. Today it is a magnificent complex spreading on a vast territory and a pilgrimage site in Uzbekistan. There are mausoleums, mosques, hotels, pilgrim, souvenir shops and religious literature available here.
2. Khodja Akhrar Ensemble
Khodja Akhror was a famous leader of the Sufi order Naqshbandiya. He was an honored man by locals and considered as the spiritual leader of many rulers of those times. Today, this ensemble named after him is a pilgrim and tourist place where people come to find mental peace for some time.
3. Memorial Museum of Mirzo Ulugbek
Mirzo Ulugbek was the grandson of Tamerlane. He is also known as one of the greatest scholars of Central Asia. This memorial museum in his name has a collection of exhibits related to Ulugbek's heritage.
4. Mausoleum of Imam al-Maturidi
This is another architectural masterpiece made in the name of Islamic thinker Abu Mansur Mukhammad al-Maturidi. This is also one of the very popular pilgrimage sites in the world.
5. Lunch at SUZANI LOUNGE BAR and Post Sightseeing Transfer to the EI Merosi Show
The group was taken for lunch to the SUZANI LOUNGE BAR between the sightseeing and in the evening they were taken to EI Merosi show. This theater of Samarkand exhibit shows to draw your attention to the life, custom, and tradition of this region from the past to the present. This is a "show of costumes" from different historical periods. The Ladies group had an opportunity to witness this beautiful show in Samarkand.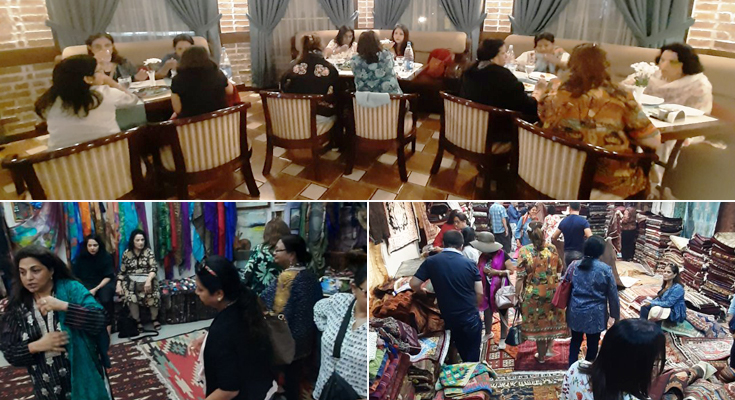 Day 5: Bukhara from Samarkand by Bullet Train
The group left for Bukhara on the morning of the 5th day from Samarkand and they arrived in Bukhara where they met our local guide and then they were transferred to the hotel for check-in. After some leisure time, the group was taken to BELLA ITALIA for lunch.
Local Sightseeing in Bukhara Followed By Dinner and Overnight Stay in Bukhara
Bukhara is a charming and spiritual center in Uzbekistan. Bukhara is full of stunning mosques and madrasahs, and a historic center that has been listed as a UNESCO World Heritage Site. The other enthralling part about Bukhara is that it always charmed poets and writers for its orient. Bukhara has big-hearted hospitable people who open their arms to every tourist. One must drink the local tea and dry fruits before the main meal. Located almost in the desert in Bukhara you can walk for hours and never feel exhausted about the place. The women on ladies special tour had a good time during the local sightseeing on day one in Bukhara and the 5th day on their Uzbekistan trip.
The group visited local sights such as Lyabi khauz ensemble, Magoki-Attori Mosque, Trade domes, and Ark fortress, Bolo-Khauz Mosque and Chor-Minor Madrasah. These are local historical sights worth visiting in Bukhara.
This was followed by dropping the group to the hotel in the evening for fresh up and then they were taken to OLD BUKHARA RESTAURANT for a tasteful and much-needed dinner. Then the group had overnight stay in Bukhara at their hotel.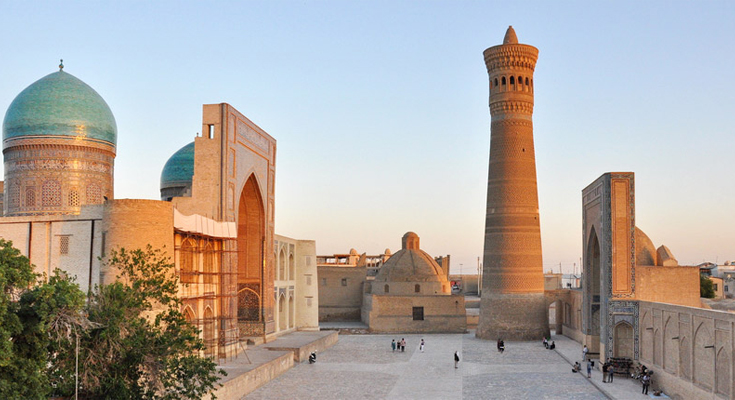 Day 6: Full Day Sightseeing
A full day sightseeing in Bukhara city was arranged for the ladies group of visitors. After the early morning breakfast, the group was taken for a walking sightseeing tour with a guide in the historic center of Bukhara, listed by UNESCO World Heritage Site.
Major Sights:
1. Ismail Samani Mausoleum
This is the oldest Islamic Monument in Bukhara and a tourist attraction because of its architectural beauty.
2. Chashma-Ayub Mausoleum
In the heart of Bukhara city, this is another religious building. There is a mausoleum and holy spring and a museum of water.
3. Magoki-Attori Mosque
This is also a historic mosque in the center of Bukhara. Magoki-Attori Mosque is a great example of Central Asian architecture during the Kara-khanid epoch.
4. Ulugbek Madrasah
This was built in 1417 and this is one of the oldest Madrasah in Bukhara. This is also a good place to spend little time.
5. Abdulazizkhan Madrasah
A beautiful Madrasah built a few centuries later than Ulugbek Madrasah is an integral part of Bukhara's outstanding architectural ensemble series.
6. Other Sights of Legendary
The city tour for the Ladies group also included other sights of legendary such as Kalyan Minaret, Kalyan Mosque, and Miri-arab Madrasah.
Lunch and Post-Lunch Drive Out of Bukhara City to Sitorai Mokhi-Khosa
The lunch happened at BELLA ITALIA and then the group was taken to the out of the city sight Sitorai Mokhi-Khosa – summer residence of Bukhara's last emir, and visit Mausoleum of Bakhoutdin Naqshbandi.
Dinner and Overnight Stay in Bukhara
At 17:30 the group was transferred for folklore show starting from 18:00 for 1 hrs and then dinner at Nadir Divan begi madrasah. They were transferred back to the Hotel for an overnight stay at Bukhara.
Day 7: Bukhara to Tashkent and Shopping at Chorsu Bazaar
Day 7 was comeback time to Tashkent from Bukhara for the Ladies group. They boarded the morning flight after breakfast and reached Tashkent around 12:10. Their lunch was at CARAVAN and then they were transferred to the hotel where they checked-in.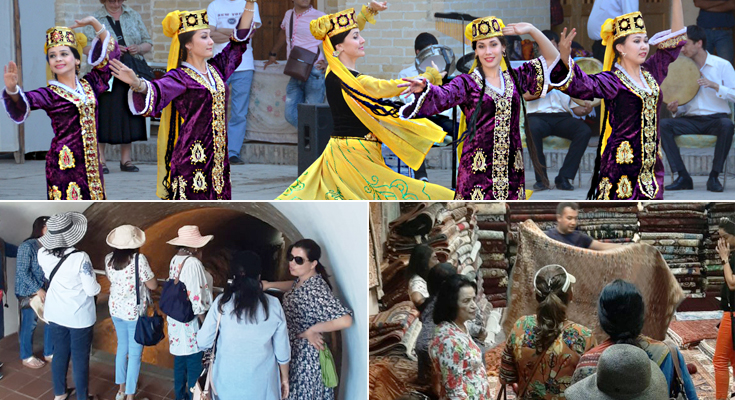 Now, comes the interesting part of the tour for the group. Finally, they had a chance to visit the most famous Chorsu Bazaar and TSUM.
1. Chorsu Bazaar
Chorsu Bazaar is the most famous and happening Bazaar in Tashkent. The hundred of years old Bazaar is a traditional bazaar with bright colors. Chorsu is the biggest and oldest in Uzbekistan. Located across the street from Chorsu Station of the Tashkent metro near Kukeldosh Madrasah, in chorsu all daily necessities are sold such as rice, sugar, white balls of Kurts, dried cottage cheese. Apricots, Almonds, pistachios, walnuts, and peanuts are other items for which salesmen shout loud and call you to check and buy them. Fruits and vegetables can be seen in abundance and of varieties. The bazar looks amazing with newly arrived fruits. You can also buy the goods of crafts, Jewelry, painted cradles, gold embroidery, quilted men's and women's caftans, national musical instruments and much more delicate goods here.
Read More: Chorsu Bazaar
2. TSUM
TSUM is the main departmental store in Tashkent. Group of ladies visitors had time to navigate through the items sold here which is located across the street from the Alisher Navoi Opera Theater. You can buy silk and souvenir items from TSUM for your home and your loved ones.
3. Darwaza Mall
The trip could not be complete without hitting a mall in Tashkent. So, the fond shopping group of ladies was transferred to Darwaza Mall in Tashkent city. This is one of the upscale malls in Tashkent. You can buy anything you want here such as fashion brands, shoes, clothes, bags, etc.
4. Farewell Dinner at "Le Grand Plaza"
Last evening of the tour, the group was transferred to Le Grand Plaza hotel for a farewell with Gala dinner at their "Brasserie" restaurant. The group had a great time there before they had to leave Tashkent.
Day 8: The Concluding Day of the Tour
On the last day's morning the visitor group had their breakfast at the hotel and after that, they checked-out and transferred directly to the "Obi-Hayot" restaurant for lunch. Then the final drive and transfer to the Tashkent International Airport for onward journey to India happened.
Highlights of the Complete Tour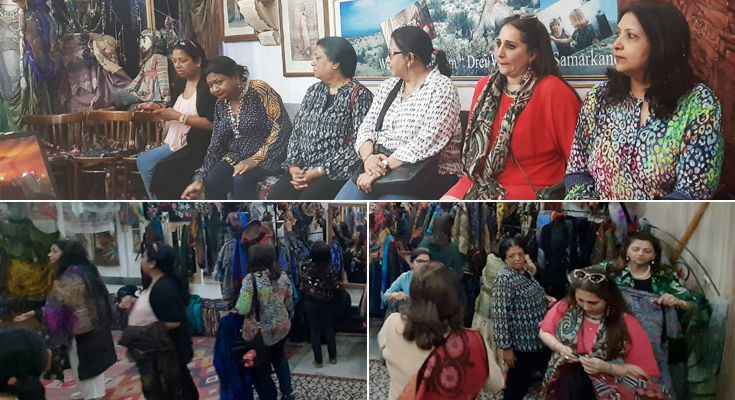 Number of Pax in Group: 15 Pax Duration: 7 Night /8 Days Start and End of the Tour: 25th Sep to 2nd Oct 2019 Day 1-2: Tashkent Day 3: Tashkent-Samarkand Day 4: Samarkand Day 5: Samarkand-Bukhara Day 6: Bukhara Day 7: Bukhara-Tashkent Day 8: Tashkent-India
Arrangements and Inclusions of the Trip:
• Hotel confirmation by reservation • Comfortable stay in 4* Hotels • Check-in and check-out facilities • Easy and comfortable transfers • Shopping at popular markets and malls • Leisure activities • English Speaking Guide and more.
Book Package: Uzbekistan Tour Package
Know More About: Top Attractions in Uzbekistan