Where to Go For Christmas: 5 Best Places to Celebrate Christmas
Christmas is that time of the year where you want to make the most of your holidays. This is a time where you want to enjoy yourself to the fullest. And one of the best ways to do so is to go on a foreign tour. Since we're talking Christmas, there are many countries which can make the list. However, we want to focus on only the most out of the way places. These places are not only among the most ancient origins of Christianity but they celebrate Christmas with great enthusiasm. If you are ready to get lost in a whole different world this Christmas read on!
5 Best Places to Celebrate Christmas 2023-24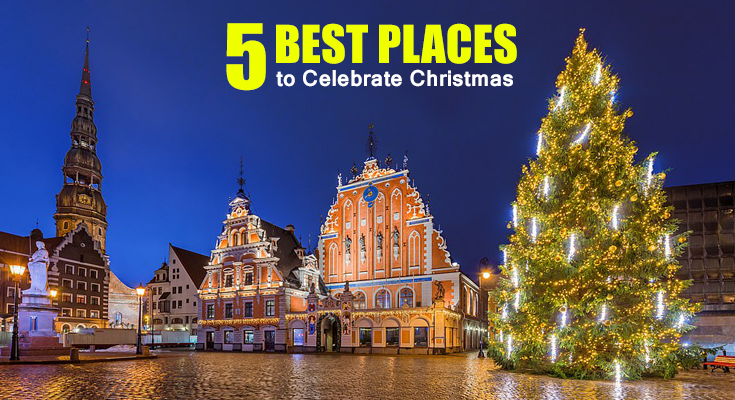 1. Lithuania

Lithuania is a major Christian country. About 77% of the population identifies itself as Catholic Christian. There are several other denominations in the country as well including Orthodox, Evangelical Lutherans, Greek Catholics etc. This makes Lithuania a great place to celebrate Christmas.

The three days of Christmas in Lithuania can be a major celebration. Lithuanians tend to keep things within their private circles. So, you might prefer going for a homestay if you are alone. Otherwise, if you are with family, you can have a very comfy Christmas at a relatively easy price.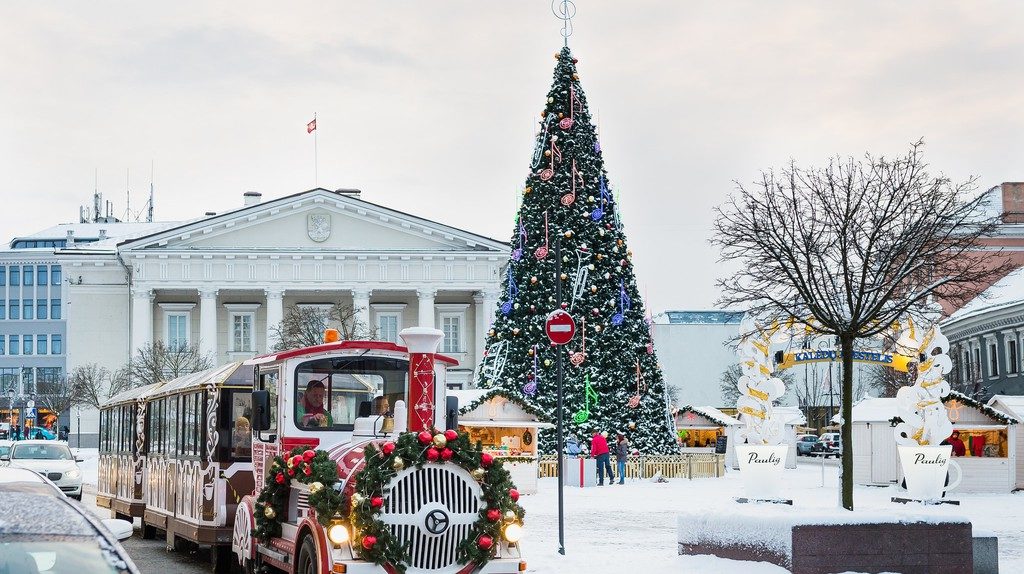 Aside from that, Lithuania has plenty of churches which offer a look into the country's religious past. They have their own architectural identity and style. This unique identity is symbolic of not just Lithuania but the local region as a whole.
The first Christian churches in Lithuania were built around the 14th or 15th century. These churches retained their importance even during Lithuania's time under the Russian empire. After this, they were part of the Soviet Empire during which time they came under communist threat of demolition. At this time, the priests of the churches led a resistance and successfully preserved many of the medieval churches.
Aside from Catholics, Lithuania also has Protestant and Lutheran churches as well as a few Evangelical churches. These churches stand out in the religious landscape as unique structures. They have their own aesthetic value and attraction for tourists.
Read More: About Lithuania
Book Package: Lithuania Tour Package
2. Latvia

If Lithuania is the symbol of a modest Christmas, then Latvia shows what a grand occasion it can be. This country has a 12-day celebration around Christmas where the Latvian Christmas tree tradition is the centerpiece. This tradition is a matter of some debate since some people say it was devised in Germany while some Latvian scholars accredit to early Christmas celebration in Latvia. According to many sources, the Christmas tree symbolic of the day was first set up on the Town Hall of Riga in 1510.
In addition to the Christian themes and events, Christmas also includes other pagan celebrations. One example is the Winter Solstice, which marks the shortest day of the year. This day is celebrated with the Yule Log where this log is celebrated as a symbol for the sun. Other important attractions in the Latvian Christmas include a very elaborate Christmas Dinner. Among the most important dishes are roasted meat, bacon rolls, and gingerbread. Another key delicacy is the famous Latvian gray peas dish. This dish includes rehydrated and cooked with onion, barley, and bacon.
Another key attraction in Latvia during Christmas is the market. This is a yearly ensemble where the best food makers and chefs in Riga come together to set up shop. You can find all the major and key dishes in the Latvian Christmas fest there. You can also look through some lesser-known foods that denote Latvia's past.
Book Package: Latvia Tour Package
3. Estonia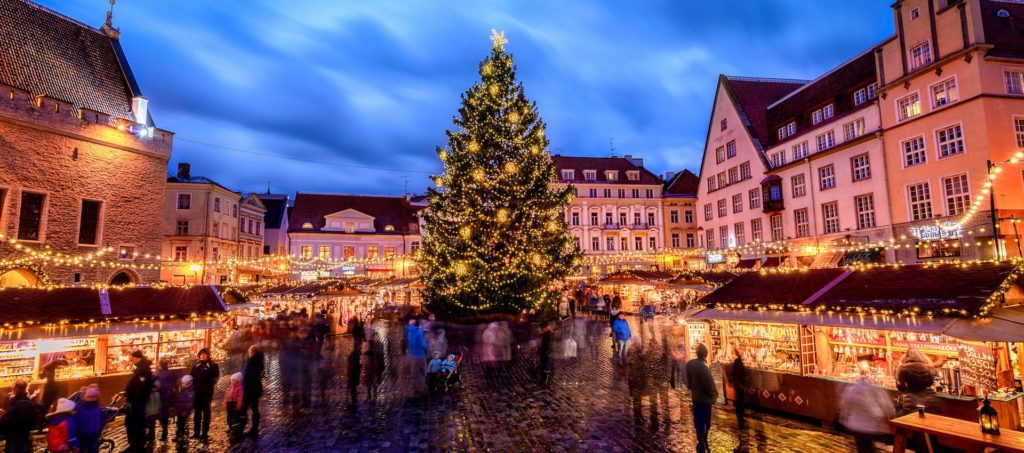 Estonia is among the most secular nations in the world and definitely the most secular on our list. This country had originally been Christian like its neighbours. However, in recent decades it has increasingly become more and more secular with a presence of many different religions and denominations. Still, Christianity remains the largest religion in Estonia with most of the believers identifying as Eastern Orthodox and Lutheran.
Christmas in Estonia can be a varied affair. How you will celebrate depends largely on whom you celebrate it with. The Eastern Orthodox Christians have a rather elaborate dinner. The Lutherans prefer a more closely held and sober celebration. If you are with family and friends then you should consider what kind of Christmas they would want.
Aside from the Eve itself and the day after, you can also explore the many picturesque churches in the country. This includes the iconic Alexander Nevsky Cathedral situated right in the heart of Tallinn, Estonia. There are plenty of other cathedrals as well where you can discover the history of Estonia and the ascent of Christianity in it.
Know More: About Estonia
Book Package: Estonia Tour Package
4. Finland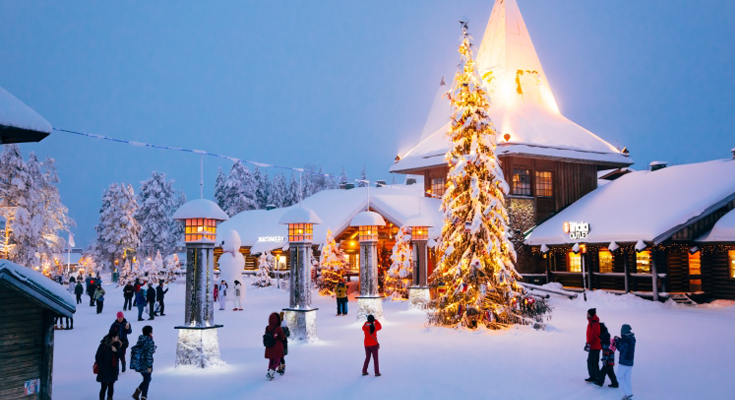 If jolly Christmases are your thing, then Finland is the best place to go. Nowhere else is the Christmas cheer more palpable than in the churches of Finland. Whether you like a more Orthodox setting or something much more modern and celebratory, Finland offers both in all types of variations.
One of the biggest highlights of Finland is its astonishing churches. A stellar example of the same is the Uspensky Orthodox Cathedral. It rises up to 13 green-topped spires and represents the Last Supper. Keeping in line with the grandiose theme, the internal décor of the cathedral is laden with gold. It is marvellous, glistening and befitting the church which holds the title of the largest European cathedral in the world.
Aside from the Uspensky Orthodox Cathedral, Helsinki is also home to two other prominent churches. This is the massive neoclassical Lutheran Churches and Temppeliaukio Church. The first one is a big 19th century cathedral. It is the star attraction of the Senate Square. The second one was designed by Architects Timo and Tuomo Suomalainen. They carved a small cathedral out of completely solid rock and placed a round-shaped roof on it. This is one of the few cathedrals with such a structure and the unique mix of constituents.
Explore More: Attractions of Finland
Book Package: Finland Tour Package
5. Russia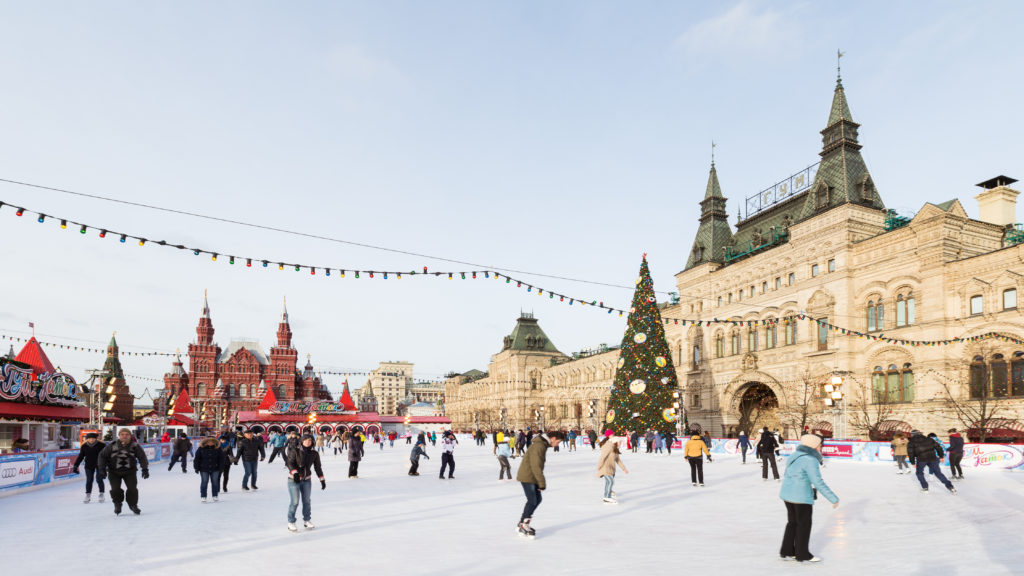 Russia has been consistently ranked as one of the largest nations in Europe by Christian population. This country is basically the home of Eastern Christian Orthodoxy. Massive and monolithic churches in Moscow and St. Petersburg are symbolic of the nation's religious past. They have such importance that even during the Soviet rule, they were not harmed by the government.
Now, in the 21st century, Russian churches are a lightning rod for the masses. During Christmas, the events are especially grandiose and celebrated with much enthusiasm. The Christmas events begin with many long services. These include Royal Hours, Vespers and Divine Liturgy. Families then return home for the Holy Supper on Christmas Eve. Some particularly devout families will also attend an All Night Vigil.
Russian Christmases can be both jovial as well as sober. As such, both revellers and the more religious tourists. You can even take part in both kinds of celebrations. Further, you can go to special communions held at iconic churches. This includes St. Basil's Cathedral in Moscow, St. Issac's Cathedral and the Kazan Cathedral in St. Petersburg.
Know More: Attractions in Russia
Book Package: Russia Tour Package
Do You Know Where to Go for Christmas in 2023?


You might be really excited by now thinking about all the
places you can visit this Christmas
. You can choose any of the five cities and you can also for a custom 2 or 3 city tour. Get professionals to plan your tour package for yourself and your loved ones.
Dook International
offers exclusive
Christmas packages
. You can customize your own and also get extras add-ons as required.
Travel to your dream Christmas destinations
with us this year and make the most of it at unbeatable prices!