Incredible journeys to Lithuania with DOOK!
No matter your travel style, we have a Lithuania package tailored for you
Lithuania Tour Packages
Explore Lithuania with DOOK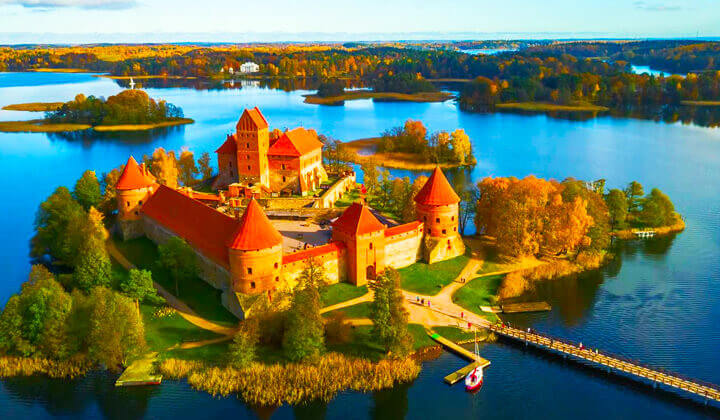 Lithuania is a country in the Baltic region in Europe. Lithuania is also one of the 3 countries together known as Baltic States which include Lithuania, Latvia and Estonia. Lithuania is located along the southeastern shore of the Baltic Sea. Lithuania shares borders with Belarus to the south and east, Poland to the south, Latvia to the north, and Kaliningrad Oblast to the southwest side. Once in 14th century, the Grand Duchy of Lithuania consisting present day Lithuania, Belarus, Ukraine, and part of Russia and Poland, was the largest country in entire Europe. But all of these nations separated and during the World War II, Lithuania was occupied by Soviet Union followed by Nazi Germany. However, Lithuania was first Baltic State to declare itself independent in 1990 before Soviet Union formally dissolved. Since then Lithuania has done quite well as a country.

For quite a few years now, Lithuania has been a famous tourist destination in Europe and Baltic Region. You can also go for a Lithuania Tour and enjoy a great trip to this amazing location. Lithuania is attracting millions visitors every year for its great history, pristine nature and sea beaches along with spa resorts.
---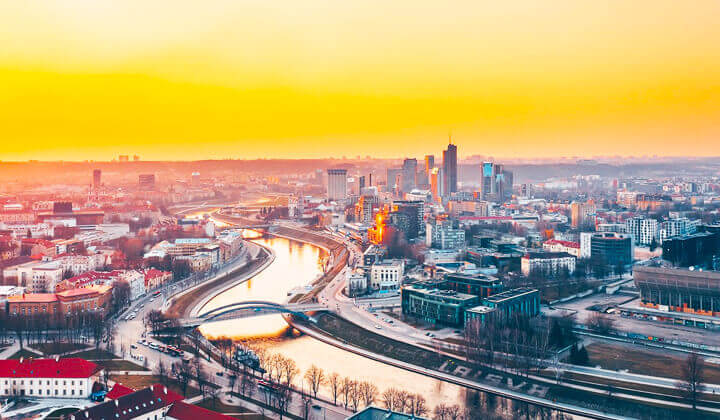 Lithuania Tour Packages

Lithuania is a developed economy and tourism contributes majorly to the growth of the country. Lithuania is ranked as 'very high human development' country by United Nations. Lithuania also has a great history worth exploring. Geography of Lithuania is a mix of moderate lowland and highland and that has got some very popular tourist attraction points for the locals and visitors from all over the world. Today, if you plan a trip to Europe then you should also plan a Lithuania Trip.

Big cities like Vilnius, Klaipeda and Kaunas make amazing tourist attractions in Lithuania. Those who look for special attractions can enjoy bicycle tourism offered in Lithuania which visitors like very much. There is also Lithuanian Seaside Cycle route for this. Apart from this hot air ballooning is also very popular thing to do in places like Vilnius and Trakai. Lithuania is also popular for seaside resorts and there are plenty to have a relaxed time. Druskininkai and Birstonas are popular spa towns in Lithuania.
---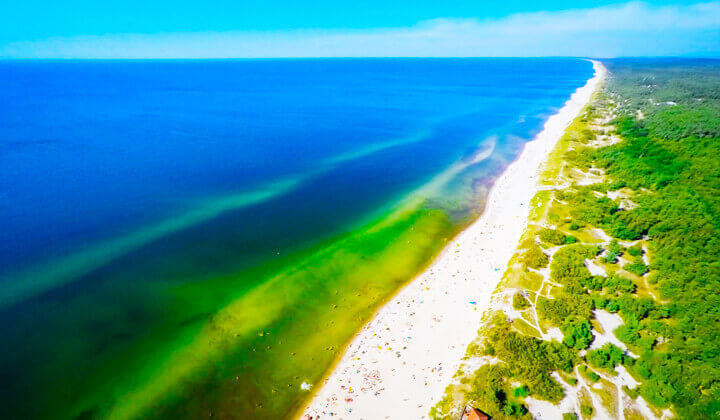 Top Tourist Places and Things to Do in Lithuania

There are several places you should visit in Lithuania when there with best Lithuania Package. Some of those are mentioned here for you.

1. Vilnius City

Vilnius is the capital city of Lithuania and one of the best tourist attractions in Lithuania. Vilnius is a very well preserved medieval time town and one of the largest in this category in entire Europe. Vilnius is known for its rich history, great architectural heritage and more. Vilnius's Gothic architecture is worth exploring in buildings here and don't forget to visit attractions like Vilnius Cathedral, St. Anne's Church, the Presidential Palace and Jewish quarters. Along with inheritance people enjoy the urban café culture of the city on their Vilnius Tour.

2. Curonian Spit

Curonian Spit is a famous sand dune spit in Lithuania. This is 98 KM long, thin and curved sand dune spit separating the Curonian lagoon from the coast of Baltic Sea. Curonian Spit is also a UNESCO world heritage site and a famous tourist destination in Lithuania.

3. Kaunas City

A bit further from capital city Vilnius is Kaunas city. This is not just the second largest city of Lithuania but also cultural capital of Lithuania. The city boasts of several museums with Devil's museum being one of the most popular tourist attractions in Kaunas. Apart from museums in the city, you can also visit other attractions of Kaunas which include Kaunas Cathedral Basilica, the Kaunas Castle, and Vyautas Church and Pazaislis Monastery.

4. Trakai Island

Trakai is a lake resort and historic city in Lithuania. The island is distanced only 28 KM west from Vilnius. It is placed between hills, forests and lakes and famous for Trakai castle. This centuries old stone castle was started building in 14th century and it was a cradle of Lithuanian statehood that time. Today, Trakai attracts visitors for its beautiful lakes, yacht trips and walking tour of the city.

5. Hill of Crosses

Hill of Crosses is close to Siauliai city in northern Lithuania. The hill is famous as a pilgrimage place. There are thousands of different types of crosses exist here in different sizes from small crucifixes to large crosses made from metal and wood. The place is popular as a place of paying tribute to devotion of many people in Lithuania and remembering those who died in the Lithuanian uprisings. This makes the Hill of Crosses a symbol of Lithuanian nationalism and beliefs.

6. Hill of Witches

For sculpture loves hill of witches in a must see attraction in Lithuania when they are on a Lithuania Tour. This famous outdoor sculpture gallery is located near Judokrante in Lithuania on the forested sand dune near Curonian Lagoon. The hill of witches falls along the Lithuanian Seaside cycle route making it even more attraction point. There are around 80 wooden sculptures here.

7. Druskininkai

Druskininkai is a popular spa town in Lithuania located on the Nemunas River. When you are on your Vilnius tour you can come to this relaxing spa town. Town is surrounded by natural forest reserve. Druskininkai has snow arena, one of the biggest indoor skiing slopes in Lithuania and Europe and Druskininaki also hosts international art festival.

8. Visaginas Town

Visaginas town is located on the north eastern edge of Lithuania. This is the youngest town in the country on the shore of beautiful visaginas lake, major attraction of the town. The special thing about the town is that the center of the town can be reached in 8-10 minutes from any corner of the town.
---
Other Tourist Places to See in Lithuania are:

• Užupis
• Rumsiskes Open-Air Museum
• Neringa Municipality
• Aukštaitija National Park
• House of Perkūnas
• Lithuanian Sea Museum
• Lithuanian Zoo
• Palanga Amber Museum
• Panemune Castle
• Pazaislis Monastery, Kaunas
• Ninth Fort, Kaunas
• Orvidas Garden
• Kaunas Museum for the Blind
• Žaliakalnis Funicular Railway
• Grutas Park

Vilnius Tour Package: One of the World's Largest Medieval Towns

Vilnius is the capital city of Lithuania. This is also the most popular tourist attractions of one of Baltic States Lithuania. Vilnius has several must see places and some of those are:

1. Vilnius Old Town

Vilnius old town is among the top largest surviving medieval old towns in northern Europe region. This is a UNESCO world heritage site. The old town of Vilnius is known for winding cobblestone streets, beautiful churches and several historical buildings. Some of the names as special attractions of old town of Vilnius are Pilies Street, Gediminas Castle, Vokieciu Street, Vilnius Cathedral and St. Anne and Bernardine's church.

2. Vilnius Cathedral

Vilnius cathedral is an obvious attraction in Vilnius because of its six columns and three figures adorning the top. The cathedral was built between the 13th and 15th century. The cathedral is also considered the most important place for Catholics in Lithuania. There is square surrounding Vilnius Cathedral where numerous festivals and events are held throughout the year which locals and visitors love to attend and witness.

3. Vilnius Cathedral Bell Tower

Vilnius cathedral bell tower is one of the tallest and oldest towers here in Lithuania. When you visit Vilnius with Best Vilnius Package, you must visit Vilnius old town and here in the old town you must see Vilnius Cathedral bell tower. You must see a beautiful panoramic view of the city from the tower. Height of the bell tower is 52m and the cross is 57m. You can see exposition of bells, old clock of the city along with pictures of reconstruction of tower and cathedral both.

4. Vilnius Town Hall

Vilnius town hall is in the old town in the square with the same name. It is a historic town hall which has been reconstructed many times. Today, you should visit the town hall to see its Gothic cellars that have been preserved. The Vilnius town hall square here is very popular as it hosts some major annual fairs like Kaziukas Fair. Several concerts held here also attract people to the square.

5. Vilnius TV Tower

Vilnius invites everyone to see its tallest building in Lithuania - Vilnius TV Tower. The height of the TV tower is 326.5 m and is clearly visible fixture on the city space of Vilnius. There is a revolving circular observation platform where you can go and enjoy spectacular views across the whole city and also Elektrėnai which is 25 miles west.

6. Presidential Palace

Presidential palace is located in old town of Vilnius. This is the official work place and residence of the president of Lithuania and a sight worth seeing on Vilnius holiday package. The gleaming white palace looks stunning with lights on in evening. When you are visiting this classic palace, don't forget to watch the changing of guards at the presidential palace at 6 PM every day. On Saturdays, one can see the interiors of this historical building and also the office of the president.

7. Botanical Garden of Vilnius University

Botanical garden of Vilnius University is the largest garden in Lithuania. The garden has rich collection of plants with over 9000 in numbers. Apart from beautiful flowers, the garden also has Old Park with ponds worth visiting. Several cultural events, concerts and art exhibition take place in the Botanical garden every year. You can also enjoy riding on horseback or go for a ride in a carriage.

8. National Museum of Lithuania

National museum of Lithuania was established 1952. The museum attracts visitors who love to explore the historical elements of Lithuania dating back to 13th century. This is the oldest museum in Lithuania. There are items on permanent display which highlights the cultural and ethnographic life of Lithuania. You can see recreations of clothing, paintings, an executioner's sword and much more. There are temporary items on display in the museum also.

Other Tourist Sights in Vilnius Include:

• Three Crosses Monument
• Museum of Genocide Victims
• Church of St. Anne
• Church of St. Peter and St. Paul, Vilnius
• Gediminas Castle Tower
• Gate of Dawn
• The Bastion of Vilnius defensive wall
• Church Heritage Museum
• Europos Parkas
• Pilies Street, Vilnius
• Vilnius Museum of Illusions
• Palace of the Grand Dukes of Lithuania
• Dominican Church of the Holy Spirit, Vilnius
• Radziwill Palace, Vilnius
• Vilna Gaon State Jewish Museum
• Walking Path by the Neris River
• Hales Market
• Bernardinai Garden

Explore More: Vilnius Tourist Attractions

Dook International's Best Lithuania Tour Package

Europe is not just about big names like UK, Germany and France. There are several beautiful locations here like Baltic States. One of the Baltic region country is Lithuania which is beautiful and a must visit destination. Dook offers best Lithuania Tour Package from India. You can buy the package from us and enjoy a great Lithuania Tour to experience beautiful beaches, spa resorts, old monuments, cobblestoned streets, bustling squares, beautiful old town of Vilnius, cool urban café culture and more. You don't need to worry about ticket booking, food, stay, visa, guide, sightseeing or anything else as Dook will take care of everything. You just pack your bags and enjoy the trip to Lithuania. If you have any query you can ask us anytime.

Read More! Top Tourist Attractions in Baltic States