Incredible journeys to Latvia with DOOK!
No matter your travel style, we have a Latvia package tailored for you
Latvia Tour Packages
Explore Latvia with DOOK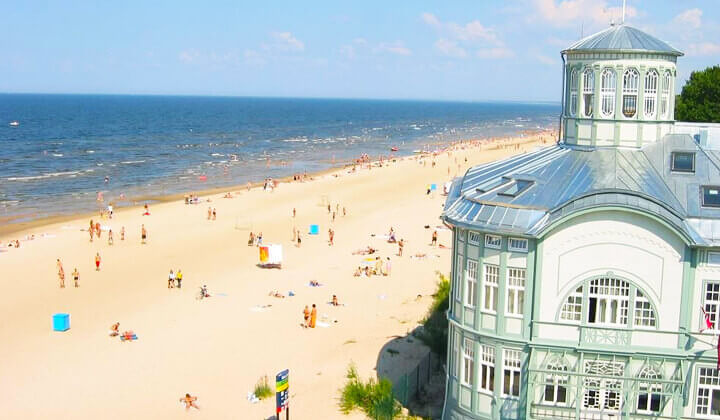 Latvia is a beautiful country in Northern Europe. Located in the Baltic region, Latvia is referred as one of the Baltic States. Latvia shares borders with Russia to the East, Sweden to the West, and Estonia to the north, Lithuania to the south and Belarus to the Southeast. Latvia is a historic and culturally rich country. Latvian song and dance festival is quite an important event in the culture and social life of the country. Latvia became independent in 1991 and since then there is democracy and it is highly developed country as per the United Nations Human Development index. So, all this and more make Latvia a popular tourist destination in entire Europe.

Latvia Tourism and Tour Packages

When you go for Latvia Tour you actually go for a wonderful lifetime experience. If you are looking to explore the best in Baltic region then Latvia has to be one of favorite travel destination. Latvia has both urban and rural attractions and there is natural beauty along with old castle ruins as well. You simply have to buy the best Latvia Tour Package and you can enjoy the country's several tourist sites. Latvia has very modern and well-connected infrastructure so much so that one can travel anywhere by trains or buses. And yes, Latvia is beyond Riga, the capital city, as many people leave the country after they have seen Riga. You should not make this mistake.
---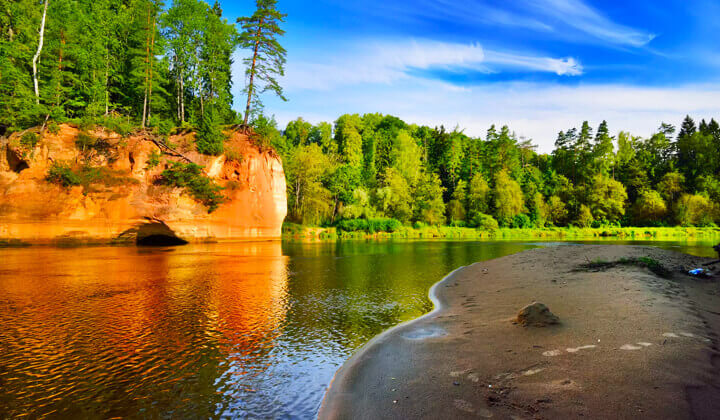 Top Tourist Places in Latvia

First and most popular place in Latvia people visit or rather land, on their Latvia Tour is Riga. Riga is the capital city of Latvia. But many people make a mistake of leaving Latvia after they have spent their Latvia tour time in Riga. Riga is for sure the most famous town in Latvia and for valid reasons. But there are other places in Latvia as well which are worth a visit when you are in Latvia with the best Latvia Holiday Package.

Jurmala, 25 KM west to or 30 minute drive to Riga is a resort town in Latvia. You should visit the town for miles of sandy beaches, swaying pine trees, fresh air, lots of fun and more.

Gauja National Park is the largest and oldest park in Latvia. And one of the most popular attractions of Gauja National Park is Zvartes Rock. Zvarets Rock is a scenic sandstone outcrop located and most popular attraction in Gauja National Park.

Cesisis a small town in Latvia. The town is built on series of ridges above the Gauja River. Cesis Castle is one of the most popular attractions of the town. This fortified wooden castle is the most iconic and superbly preserved castle of medieval times in Latvia. You must see this amazing castle which is also one of the most visited heritage sites in Latvia.

Sigulda is a small town just 53 KM away from Riga. The town is famous for old Sigulda Castle, Tarzans Adventure Park, and The Aerodium. People come here on their Latvia Trip to see the ruins of old Sigulda castle which was originally built in 1207. You can be here to step back in time and experience many historical events.

Daugavpils is located in Southeastern part of Latvia and it is the second biggest city in Latvia. The town is urban and charming too. You can be here to enjoy everything that you expect in a modern city. Daugavpils fortress is one of the most popular attractions of the town. The castle has sustained many wars and still intact and unchanged.

Jelgavais located only 41 KM from Riga in the central region of Latvia. When you are on a Latvia Tour, you should be here also and see some attractions here which include Jelgava Palace and Victory Park. You can do Parachute Jumping and skydiving here also.

Kuldiga is known as "The Latvian Venice". You will see river flowing along the walls of many houses here which is amazing. Apart from this cultural and historical heritage sites like Kuldia Castle and Duke Jacob's Castle in the town attracts the visitors.

Liepaja is a city of music sitting on the coast of Baltic Sea. The third largest city of Latvia, Liepaja has two major points of interest for visitors. One is the city center and two is the Karosta, the northern part of the city. Both of these have amazing beaches which you must enjoy.

Apart from these beautiful towns and attractions there are several other Attractions in Latvia. The list includes Ventspils, Rundale Palace and Museum, Kemeri National Park, Cape Kolka, Turaida Museum Reserve, Latgale, Razna National Park & Razna Lake, Mezotne Palace, Aluksne, Bauska and Courland.
---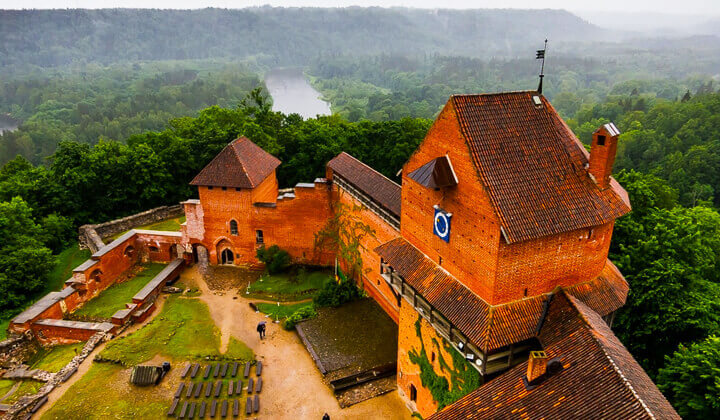 Riga Tour Package: Explore the Best of Riga

Riga with one third population of Latvia, is the most popular and visited city in Latvia. Riga is also the largest city among the Baltic States. Riga is popular for its old town which is a UNESCO World Heritage Site. Old town of Riga has over 800 buildings made of Art Nouveau architecture style. This architecture style is known for intricate building facades, carving of flowers and mythological creatures with ornate doorways and windows. These buildings say many stories. So, you must visit old town of Riga on your Riga Tour. But if you are a new age cool things searcher, then Riga have plenty of them to offer as well. You will definitely enjoy the nightlife of Riga. You must also explore natural side of Riga when you are here with your Riga package. There are fairytale castles, adventure sports, and miles of sandy beaches and much more in Riga attracting millions of visitors every year.

Top Tourist Places in Riga

Founded in 1201 by a German, Riga has been a part of many different states. You can explore the historic part of the city in Riga old town. But after the independence in 1991, Latvia has risen rapidly and Riga has become very high growth city. It has extremely modern infrastructure which allows you to have a great Riga Tour experience. Riga has many places to explore.

Riga Town Hall Square that stands today was rebuilt completely after its buildings were destroyed during the World War II. Riga Town hall square has several buildings. One is the town hall, which is a 3 story building with a tower and clock on it. This town hall was the place where all the problems in town were discussed and solved. Another structure here is Blackhead house. It was first mentioned in 1334 as the new house of big guild, a group of merchants who used to rent it. Later on, it became an association of young bachelors, unmarried merchants and captains of the ships. Another structure is the statue of Roland who used to be a fair judge.
---
Riga Old Town is super attraction of Riga. It is the oldest part of the city, the heart of the city and also most popular among tourists. It has hundreds of buildings and many of them have statues of cultural monument. Riga Cathedral and St. Peter's church are two buildings that are quite amazing and offer you superb panoramic view. Apart from these, you can also enjoy your time at good restaurants and cafes here.

St. Peter's Church in Riga is also among the top sights people see when they are in Riga with Riga Tour Packages. The church the oldest in Riga and famous for 130 m tall Gothic Tower, the tower clock, bells, seven roosters and the church building. You can see art exhibitions here, attend, concerts, see the original interior design and see the history of the church on stands and screens

Riga Dome Cathedral or Saint Mary's Dome Cathedral dates back to 1211. This is avenue where major concerts were hosted for hundreds of years. The church has Romanesque, early Gothic, Baroque, and Art Nouveau features.

Riga Motor Museum is a place where you can go if you love to explore vehicles and technological advancements in it. Riga Motor Museum is the biggest antique vehicle museum among all the Baltic countries and you should visit the museum to explore old and latest vehicles and technologies used in them.

The Ethnographic Open-Air Museum of Latvia is an open air museum in Riga. It is located on the shores of Jugla Lake. Several cultural events are hosted here. You can also attend folk concerts and traditional and crafts festival at the Ethnographic open air museum.

Riga Zoo is for all those who want to explore natural heritage of Riga. Riga Zoo, located on the bank of Kisezers Lake¬. Riga Zoo has over 4000 animals and thousands of visitors come here every year to be in the harmonious environment of the zoo.

Other Places to See in Riga includes Latvian National Theatre Riga, Latvian National Opera and Ballet, Latvian National Museum of Art, Taka Spa, Rigas Art Nouveau Center, Nativity of Christ Cathedral, Riga, Riga's Central Market, Laima Clock, Riga, National Library of Latvia, Riga and Vērmanes Garden Riga.

Dook's Latvia Tour Packages

Now, when it comes to exploring Latvia, you start searching for best Latvia Tour Package or Riga Tour Packages from India. Well, your search should stop with Dook International's best Latvia Tour Packages. We offer you the best itinerary, landing to Latvia, Transfer to town, hotel accommodation, food, local guide, currency exchange service, visa assistance, sightseeing experience and every little thing that makes your Latvia Tour the best experience of your life. You simply have to get in touch with us to start the long lasting relation with us.