11 Best & Amazing Hiking Destinations in Africa That Will Satiate Your Craving of Adventure
Every ardent hiker should prioritize their upcoming excursion to Trekking in Africa. Every hiker can find a variety of landscapes and habitats on the continent, and most excursions include breathtaking views and locally grown, vibrant flora and wildlife. The continent includes volcanoes, canyons, gorges, and coastline mountain ranges waiting for your next big adventure from Kenya to South Africa and up to Morocco.
As there are so many wonderful places for hiking or trekking picking out an awesome hike location for your next adventure trip is quite a difficult task. Thus, in no specific ranking, we have made a list of the 11 best hikes in Africa in the hopes that one of them would motivate you to plan your upcoming vacation.
1. Mount Kilimanjaro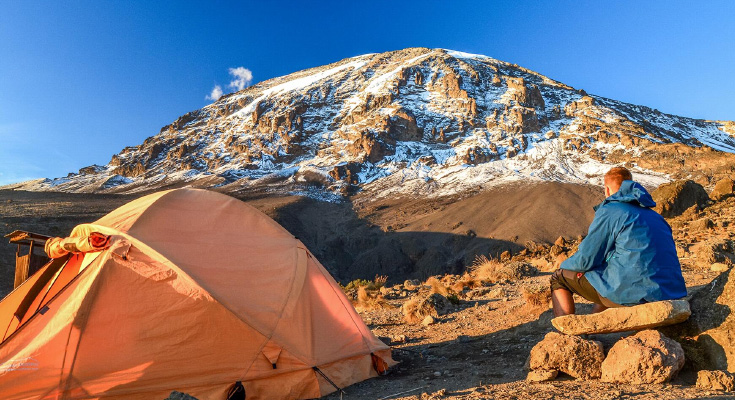 A truly thrilling experience! The 5895-meter-tall Kilimanjaro in Tanzania, the highest peak in Africa, is the world's tallest freestanding mountain and dominates the landscape unlike any other mountain. Kilimanjaro is a formidable endeavor that is completely doable for the adventurous traveler or ardent walker seeking something new. A climb up Kilimanjaro - that translates to "mountain of the springs" - offers the chance to see five diverse habitats from bottom to summit because of its exceptional location just below the equator. You may ascend Kilimanjaro in a matter of days, passing through grasslands, tropical rain forests, alpine meadows, moorlands, and desert uplands before reaching snow and ice.
With an average temperature of 22 degrees C in Moshi and peak temperatures of roughly - 7 degrees C, the two primary seasons are usually December to March and June to October. Rainfall typically occurs in April, May, and November, however in modern times, climate change has altered this pattern, making rainfall occasionally occur earlier or later. Since the northern side of the mountain is more protected from the rain, we continue our Rongai climbs during downpours.
2. Mount Toubkal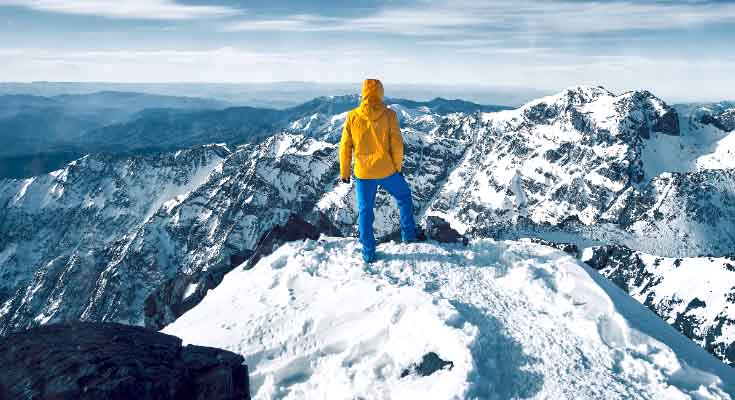 Mount Toubkal dominates the Atlas Mountain Range in Morocco and is located at 4,167 meters above sea level. The Toubkal Trek, a popular destination for adventurers requires a 2- to 3-day commitment and is ideal for travellers with limited time. Even though the climb isn't particularly difficult, it does need some endurance and a large amount of height gain (including sleeping at high altitudes), therefore conditioning and altitude training are advised.
As you ascend into the Atlas Mountains, discover rocky valleys and alpine meadows, converse with Berbers in distant settlements, and savor a traditional cup of mint tea. Despite being a popular trekking location, the welcoming atmosphere and raw terrain have not been altered. Although it is possible to accomplish this climb without a guide, having guidance will help you avoid getting lost and guarantee a place to stay on mountain treks in Africa.
Book Now: Morocco Tour Packages
Explore: Top Morocco Attractions
3. Mount Kenya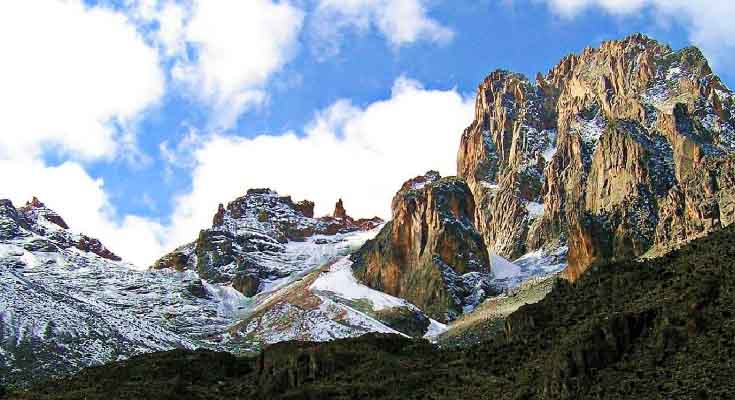 Mount Kenya is the second-tallest peak in Africa and a much less busy journey than the nearby Kilimanjaro. Its slopes are covered in a thick bamboo jungle, alpine moorland, and frozen glaciers. The one-week trip to the top passes through areas of dense forest where monkeys, antelopes, elephants, and buffalos live. To avoid frightening the animals, hikers should take care to make noises (such as clapping or hooting) as they approach them.
Most hikers ascend to Point Lenana (16355 feet, 4,985 meters), which offers breathtaking views of glacial lakes and the rock towers of Batian (17060 feet, 5200 meters) and Nelion (17021 feet, 5188 meters), two peaks reserved for experienced mountain climbers because reaching the summit beyond the forest requires technical climbing through rocky, icy terrain. January to February and July to October are the ideal times to climb Mount Kenya. Numerous cabins and camping alternatives are available on the mountain to stay in.
Book: Kenya Tour Packages
Know More About: Best Kenya Attractions
4. Fish River Canyon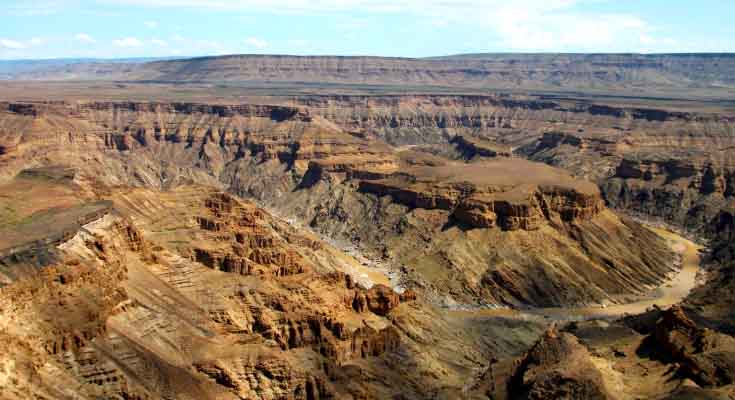 The Fish River Canyon Hike is the second-largest canyon in the world. Through an 85-kilometer hike, you may learn about Namibia's untamed river canyon's billions of years of geological history. You will get to explore the meandering river as it passes rock formations, sculptures, sulphur hot springs, and rock fields. Unexpectedly, there is a tonne of wildlife in the Fish River Canyon, including antelope, snakes, scorpions, hyrax, mountain zebras, and more.
It takes some athleticism and serious planning to complete this tough excursion. There are no amenities along the path, so hikers will need to carry all of their supplies and meals. Even though there is plenty of water available along the trail, hikers need water purification tablets or a purifier. Although the walk itself is strenuous, getting a hiking permit and making campground bookings through Namibia Wildlife Resorts may be more difficult. Due to the intense heat, this trip is only possible from May to September because there is no shade.
5. Simien Mountains, Ethiopia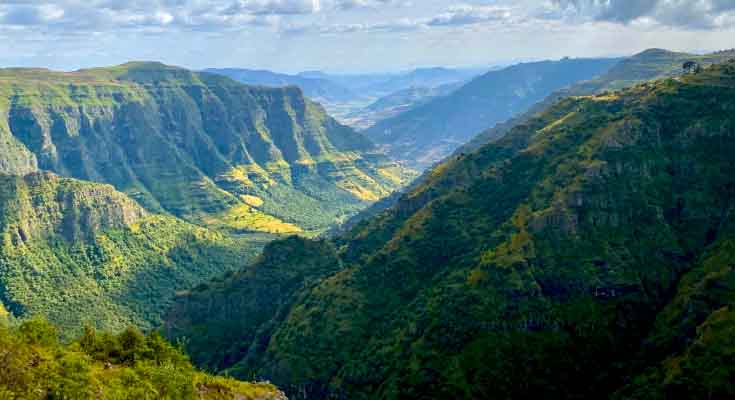 Many of the summits in this extensive range in northern Ethiopia, which is a UNESCO World Heritage Site, rise above 13,000 feet (4,000 meters). The cliff-hugging Simien Trek, which is renowned for its exceptional alpine scenery and distinctive fauna, leads trekkers through the park's enormous gorges and valleys and up close to exotic animals including gelada monkeys, Ethiopian wolves, and the threatened Walia ibex.
The trail also passes through several Ethiopian farms and towns, providing a window into the way of life in the nearby highland communities. The best times to go trekking in the Simien Mountains are from September through November and from December through April.
6. Otter Trail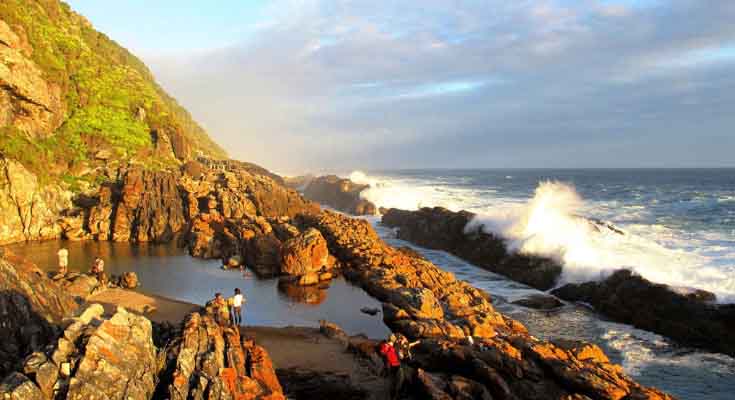 In South Africa, the Otter Trail is the most well-liked trekking path. This Garden Route walk, which is 42.0 km in length and goes from Tsitsikamma to Nature's Valley, passes via falling waterfalls, lush forests, gorgeous beaches, and over craggy coastal headlands. Hikers will appreciate the chance to cross tidal rivers, which can only be done during low tide while taking in the scenic grandeur of the coastal area.
As a result of the popularity of this breathtaking route, the Garden Route National Park has instituted a reservation system to protect the ecology from abuse. Hikers are required to make an Otter Trail reservation at least a year in advance as a result. At every overnight stop along this amazing journey, there are cozy huts for lodging. Add this hike to your bucket list; it's unquestionably one of the most breathtaking on the continent.
Know More: Best Cities in South Africa
7. The Drakensberg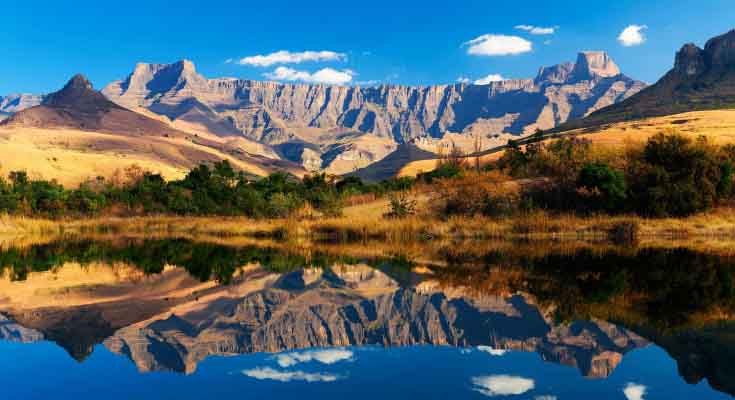 The tallest mountain range in South Africa is known as the Drakensberg, which in Zulu means "barrier of spears." Bird watching, horseback riding, day hikes, and visiting San Rock Art are all perfect in its lower elevations. Higher pass treks are more challenging. The "Drakensberg Traverse," a 2- 3 week trip that includes several of the Drakensberg's massive peaks and stunning pinnacles, including the Tugela Falls, which plunge over 3000 feet.
Explore: Southern Africa Tours
8. Mount Meru Trek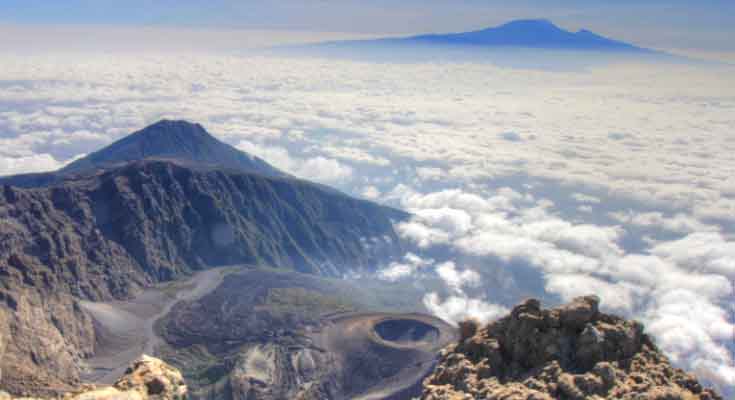 On the Mount Meru Trek, climb to the top of the second-highest peak in Tanzania and the fifth-highest mountain in Africa. The Momella Route, a 45.0 km track through the untamed wilderness of Arusha National Park, is the only recognized route to the peak. This challenging climb investigates the lush montane forests, volcanic craters, and alpine deserts rich with a variety of wildlife, including warthogs, giraffes, monkeys, buffaloes, leopards, elephants, and a diversity of bird species!
Because of the abundance of species in the area, a game ranger is required to go with trekkers and their guides. Be aware that this route serves as a popular warm-up for the renowned Mount Kilimanjaro Trek, which is located 70.0 kilometers to the east of Mount Meru. Additionally, the mountain huts that line this path fill up quickly, so make your reservations as soon as possible or use a tour operator.
Book: Tanzania Tour Packages
9. Rwenzori Mountains, Uganda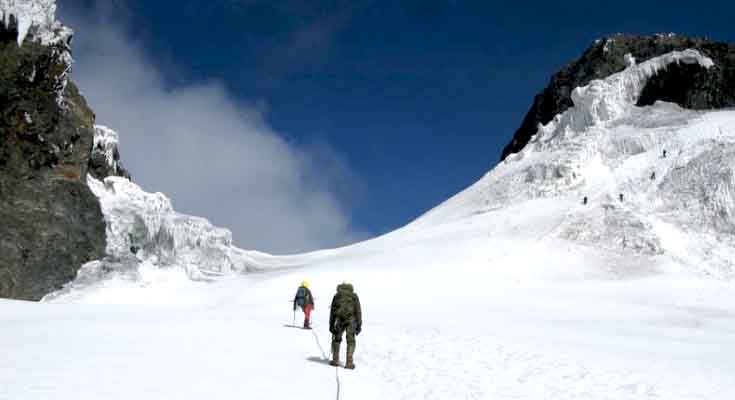 The Rwenzori Mountains (Mountains of the Moon), which are situated just north of the Equator, share a border with the Democratic Republic of the Congo (DRC) and Uganda. Mount Stanley, Africa's third-tallest mountain, is the highest mountain in the group and has twin summits that are each over 5,000 meters high. The heights are covered in permanent glaciers.
The Central Circuit, which takes 4–10 days to complete, is the principal route to Mount Stanley's peaks. Along the roads are simple cottages. December to February and June to August are prime trekking months.
Explore: Top Uganda Tours
10. Mount Cameroon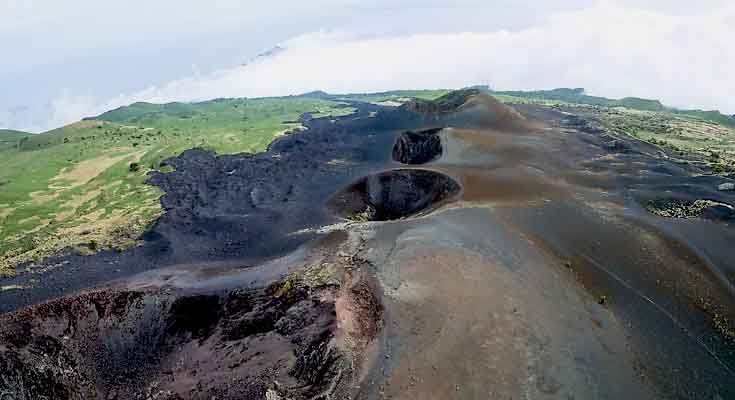 West Africa's highest mountain, Mount Cameroon, or Mongo ma Ndemi ("Mountain of Greatness"), is 4,040 meters high (13,255 ft). The most recent eruption of Mount Cameroon, an active volcano, occurred in 2000. The mountain has several trails. The Guinness Trail, so named after an annual marathon event that Guinness Beer used to sponsor, is the oldest and steepest trail.
On this 2-3 day hike, porters and guides are required. On the main paths, you can find simple cottages and campgrounds. The main road eventually reaches the rocky top after passing through agriculture, a rainforest, montane forests, and a savanna.
11. Amatola Trail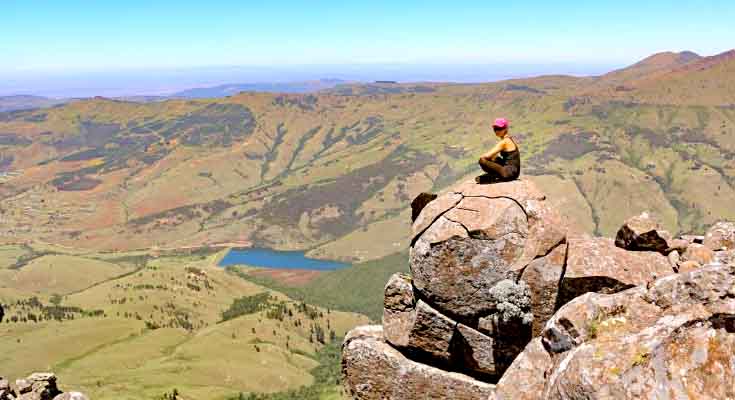 It is noticeably more difficult than the aforementioned Otter Trail, South Africa's Amatola Trail is another magnificent trekking route. This walk travels 100.0 km from Maden Dam near King Williams Town to the settlement of Hogsback, showcasing the otherworldly splendor of the continent's southern portion. Discover the amazing Amatola Mountains, native forests like the Malan Forest, grassy plateaus, narrow gorges, flowing waterfalls, and much more. Known as one of South Africa's toughest hikes, the Amatola Trail necessitates some conditioning and training before embarking on the journey. You'll be put to the test physically and psychologically by this inclining trail, but the breathtaking view and sense of accomplishment at the conclusion are unmatched! Although the trail is rough and technical, hikers will enjoy the pleasure of staying in shelters as they travel from hut to hut. Please take note that a hiking permit is necessary and may be obtained online at the Amatola Trails website.
Explore More: Top South Africa Attractions
Book Africa Tour Packages at Dook International
This was the list of some of the mind-blowing and best hikes in Africa that will satiate your adventure hunger. Trekking in Africa will leave you awestruck with its beauty and thrilling adventure experience. So, after going through the list if you are planning to visit one of the destinations then you can check out our South Africa tour packages.
Dook offers highly customized trip packages at reasonable pricing. We offer a variety of hiking tours in South Africa that are specifically designed to fit your travel preferences. The prominent hiking destinations in Africa are all perfectly included in these vacation packages.
Read More: Best Places to Visit in Africa
Get to Know About: Best African Wildlife Safaris