Incredible journeys to Uganda with DOOK!
No matter your travel style, we have a Uganda package tailored for you
Uganda Tour Packages
Explore Uganda with DOOK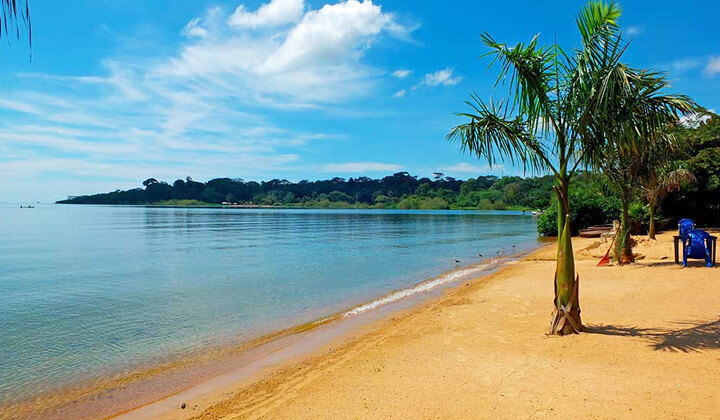 Uganda: The land of the African Great Lakes

Wander through the region of Lake Victoria with Dook's Uganda Tour Packages

Uganda is a small country in east Africa with a population of around 4.59 crore. It's also home to some of Africa's most beautiful and diverse landscapes, including the Rwenzori Mountains and Lake Victoria, the world's second-largest freshwater lake as well as the country's coral reefs and national parks.

Uganda has a long history, dating back to the 13th century when it was first inhabited by Nilotic peoples. Today, Uganda is divided into six administrative regions like Central, Eastern, Northern, Western, Southern and Islands Districts.

The tourism industry in Uganda has grown tremendously in recent years. It's due to the country being at the forefront of sustainable tourism development. It is being recognized as one of the only three countries in Africa with a certification from Ecotourism International. In addition to its natural beauty, Uganda is also known for its rich cultural heritage and diverse cuisine.

Apart from the country being a magical one, the people of Uganda are known for their creativity and resilience. Their culture is rich with traditions, art, music, and literature. Due to the similarity in Indian culture basically in the culinary aspect, the influx of Indian travelers is at all-time high. We guarantee a smooth vacation with Dook's Uganda Tour Packages from India.

Capital: Kampala
Languages: English, Swahili
Currency: Ugandan shilling
Driving Side: Left
Best Time to Travel: Between December and February and between June and August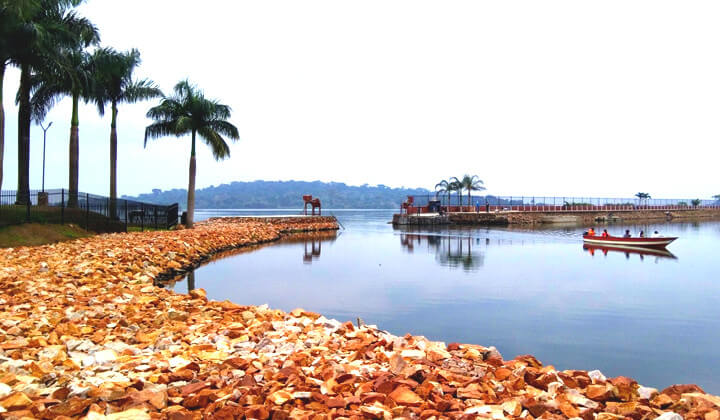 Explore Uganda

Uganda has been called "the last true wilderness" in East Africa. It's also known as a great place for wildlife lovers with over 400 species of birds, monkeys, elephants, hippos and other exotic animals. With so many incredible places to visit in Uganda, you'll never get bored! Check out Dook's Uganda Packages if you're interested in learning more about Uganda or planning a trip there. It has some amazing cities perfect for anyone who wants to learn about the culture and history of this beautiful country!

1. Kampala - The land that nestles the archaic wonder, Kasubi Tombs

The capital city of Uganda, Kampala is one of the fastest-growing cities in Africa. It is also home to some of the most beautiful modern architecture and public art. It also witnesses a steady stream of visitors seeking out its cultural richness. Kampala is both a melting pot and a microcosm of Uganda. The wide range of people living in Kampala reflects the country's diversity, which ranges from the beautiful Mount Elgon to the arid plains of Ntungamo and Lake Victoria. Kampala's population comprises of many different ethnic groups, including those from northern Uganda and the Great Lakes region. One of the historic and cultural symbols, the Kasubi Tombs is a UNESCO World Heritage Site that you can explore on your Uganda Tour!

2. Gulu - The marketing center of Northern Uganda

Gulu is a beautiful place in the middle of Uganda. It is one of the most culturally diverse cities. The people of Gulu are incredibly welcoming to visitors and have a reputation for being some of the friendliest in Uganda. The city has a number of interesting historical sites, including St Joseph's Catholic Cathedral and Fort Patiko. There are many reasons that Gulu deserves your attention: it hosts numerous cultural events, including festivals celebrating Ugandan music, literature and dance. Its restaurants are renowned throughout Uganda. Moreover, it is a place where you can experience real African life!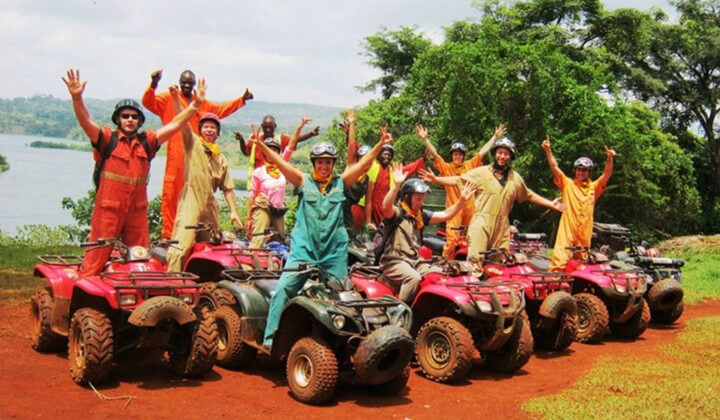 3. Entebbe - The official residence of the President of Uganda

Entebbe is located on Lake Victoria. The peninsular region has a population of about 67 271 people. It is the home of the famous Uganda Virus Research Institute. Not only that, the national zoo, Uganda Wildlife Education Centre is also situated in the city. One of the reasons that Entebbe has become so popular is because of its beautiful lakeside setting and its numerous tourist attractions, including the majestic Kigungu, Bugonga Church and Entebbe Golf Club, just to name a few! Try out one of Entebbe's many hotels or resorts, if you're looking for something more relaxing than sightseeing!

4. Mbale - The land of the Bamasaba tribe

A haven for outdoor souls, Mbale is a popular destination for eco-tourists and adventure seekers. With its vibrant culture and beautiful scenery, it's clear that this little town has something special to offer. The city has an abundance of natural sights to explore from the mighty Mt Elgon Culture and History Museum to the Pian Upe Game Reserve where you can hike through gorgeous forests and wildlife. Mount Elgon, Nyero Rock Paintings and Sisiyi Falls are some other attractions that you can explore on your Uganda Tour! Head over to Lake Moyo National Park if you're looking for more adrenaline-pumping activities like hiking or biking through rugged terrain. Furthermore, you'll find plenty of opportunities to get your heart pumping!

5. Jinja - The source of the Nile

The city of Jinja is a place where you can find all kinds of people and cultures. It is located in the center of the country, near Lake Victoria. The city has been inhabited for at least four thousand years. During this time, it has been through many changes and renovations. Today, Jinja has expanded to include modern edifices that are designed to reflect its culture and heritage. Our Uganda Packages will let you explore some amazing attractions in Jinja from Itanda Falls renowned for its white-water rapids to Samuka Island located on Lake Victoria to the east of Jinja. It is a harbor for birds like tiny egrets.

Top Bucket List Experiences in Uganda

When you think of Uganda, you probably imagine the lush green forests and the endless blue skies. While that's true in many ways, there are also some pretty interesting things going on here. This is a country with a rich history, full of fascinating stories and legends. Uganda might have a long list of experiences exclusively for you if you're looking for an amazing adventure vacation that combines beauty with history and culture with nature!

1. Go gorilla trekking at Bwindi Impenetrable National Park

Are you aware that there are only 720 species of mountain gorillas left alive today? With our Uganda Holiday Packages, you get to interact with the local mountain gorillas. You may get a close-up look of the creatures in their natural habitat at Bwindi Impenetrable National Park. Consequently, going in search of gorillas is a fascinating and very unique experience that is rightfully at the top of many travelers' wish lists!

2. Go canoeing on Lake Bunyonyi with our Uganda Holiday Packages

The second-deepest lake in Africa, Lake Bunyonyi, is the perfect place to go canoeing, if thrilling adventures are your game! It is also a great place for quad biking, relaxing and bird viewing. While the lake is bordered by lush, terraced hills, the various islands that are scattered across the water are what really set it apart. Not only that, Lake Bunyonyi is one of the few lakes which is free from bilharzia, a prevalent parasite found in southern Africa and the absence of crocodiles makes it an ideal aquatic spot for swimming.

3. Queen Elizabeth National Park is perfect for wildlife safari

It is one of the most beautiful parks in the world. If you have time then you should definitely consider spending a few days exploring its many attractions. Walking trails through lush rainforests, snorkeling along coral reefs with colorful fish swimming around your legs and gazing into crystal clear waters below are few of the experiences to consider. Queen Elizabeth National Park is a paradise for any wildlife enthusiast. The park is home to 96 mammal species comprising of lions, elephants, rhinos, cheetahs, buffaloes, warthogs, so on and so forth.

4. Explore the salt mines of Lake Katwe with Dook's Uganda Packages

Situated in close proximity to the Queen Elizabeth National Park, Lake Katwe is known for its high-quality salt mining. Formed as a result of volcanic eruption, the lake not only serves Uganda's economic needs but also influences its tourism due to the beautiful structures formed by the salt pans at the edge of the lake.

5. Indulge in the serenity of Lake Victoria

The lake has been a source of tourism for decades. In fact, Lake Victoria is so popular that it's known as "the body of endless water" in Kenya and "home of the gods" in Uganda. It is home to many species of fish, including Nile perch and tilapia. There are also many types of birds and mammals living in or around the shoreline.

Tourists come to enjoy its crystal-clear waters, abundant wildlife and the beautiful Lido beach from all over the world, especially India. They enjoy fishing, canoeing, kayaking, playing volleyball and swimming as well! Our Uganda Tour Packages from India have received great reviews from our Indian tourists regarding their trip to Lake Victoria!

It's time to pack your bags and meet the Rothschild's giraffes with Dook International

Travel to Uganda with Dook! We, at Dook International, offer a chance to see the beautiful country from a different perspective and it's easy to do so. Through our Uganda Tour Packages, we will take you on an adventure through Africa. We will help you find the perfect safari for your vacation so that you can experience the sights and sounds of this incredible country to its core.

Moreover, you don't have to worry about planning any part of your trip, we'll take care of everything! We know how hard it is to find someone who knows what they're doing when it comes to travel planning, so we've made sure our staff is well trained in both the areas. Our team has years of experience working with tourists from all over the world and has helped many people plan their vacations to Uganda. We look forward to helping you experience the beauty of this country in person!
Explore More: Top Attractions in Uganda
Know About: Best Countries to Visit in Africa