Incredible journeys to Kenya with DOOK!
No matter your travel style, we have a Kenya package tailored for you
Kenya Tour Packages
Explore Kenya with DOOK
The kaleidoscopic shades of Kenya
Drive through the vast wilderness of this African jewel with Dook
When Rudyard Kipling said, "One cannot resist the lure of Africa", the readers certainly felt a strong desire to discover more of this superbly diverse continent. And just as versatile as Africa's land is, its crowning jewel Kenya is worth every moment of journeying around the country.
Kenya, or favourably called 'magical Kenya', is the biggest and the most diverse country in East Africa. It has always been listed among the top emerging and distinctive destinations in Africa known for its savannah, exceptional game viewing experiences, wildlife safaris, rare bird sightings, the welcoming mix of tribes and so much more! This tantalising mélange of offerings has shown a huge potential to entice the new age travellers across all segments. As a result, Kenya has surfaced on top as the third-largest tourism country in Africa, after South Africa and Nigeria.
From the deep Rift Valley to the hustle-bustle of the capital Nairobi, from the crystal clear beaches to wide-open savannahs, from budding food scenes to cultural fiestas, Kenya is certainly a dream travel destination. Apart from its spectacular natural beauty, Kenya is a blessed home to its exotic wildlife and offers some of the best game viewings in the world, including the hard-to-resist sightings of the "Big Five". Maasai Mara Game Reserve, Samburu National Reserve, Shimba Hills National Reserve, Sweet Waters Game Reserve and Amboseli National Park are among the country's top and recognised safari destinations.
While you can soak yourself in the perfect natural setting and opt for witnessing endless game viewing, a rendezvous with the different tribes, local dine-in experience and camping with them will give an authentic African feel! The variation of the landscapes that this wildly beautiful country offers is truly incredible.
While booking your Kenya tour, realising the core spirit of this African jewel is important. Therefore, at Dook Travels, we hand weave your itineraries into unique Kenya holiday packages that feels like an experience of being in the laps of wilderness, similar to the thrills and chills you see on the Discovery channel!
Explore our Kenya travel packages available on our website to understand the options matching your travelling preferences.
Capital: Nairobi
Languages: Swahili and English are the two most widely spoken languages
Currency: The Kenyan shilling (KES)
Driving Side: Left
Best Time to Travel: Between July to September (famous for observing the Great Migration of wildebeest). December is also an ideal month due to pleasant and short rains.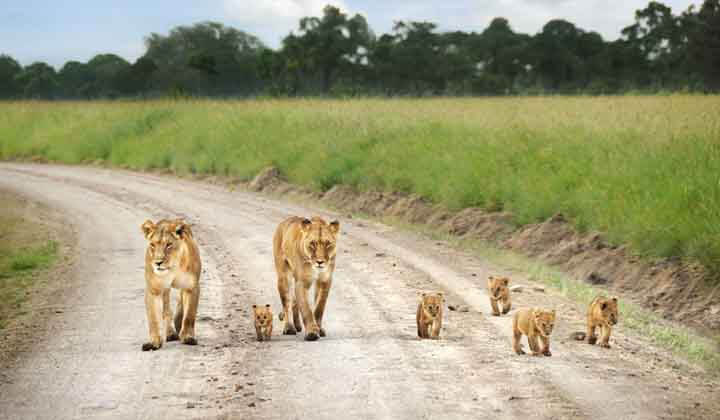 Explore Kenya:
Kenya has a spellbinding effect on those who travel here. To call a Kenya trip mere a holiday is to underrate the destination's magnetic appeal. For some, it is love at first sight and for the other few, it is an everlasting memory. Just as Ernest Hemingway claims to be spellbound by the charm of Africa's wilderness that he wishes to explore with a leisurely pace in his fiction 'The Green Hills of Africa', Kenya, on similar grounds, lures you for an unhurried exploration that eventually leaves a yearning to discover more.
Over the last decade, Kenya has seen a steady increase in its travel and tourism growth. With some of the best safaris and natural wonders like beaches, rolling hills and savannah landscapes, it has easily become one of the favourite corners of the world and an absolute made-to-explore destination in Africa. People fly in from around the globe to witness the majestic flora and fauna, take instagrammable pictures and have an adventurous time on the land of the wild.
Whether you choose to laze around on the beaches, visit a Masaai village, explore the undisturbed forests or savannahs, climb Mount Kenya, trek the Mt. Kilimanjaro or go on safari to spot the 'Big Five', you will experience exclusivity and beauty everywhere you travel.
If you are all excited to write your adventurous travel story, so are we! Bringing together the best of this magical country, our Kenya tour packages are aimed at offering extraordinary escapades. Check out one of our popular itineraries here.
Nairobi: World's safari capital and Africa's urban escapade
This thriving capital city, which was once an uninhabited swampland, is now one of Africa's fastest-growing and largest cities. While it is famed as a unique urban escapade, the undisputedly beautiful safaris offering sights of exotic wildlife have made it secure a top spot as the most premium safari capital of the world. Nairobi is also one of the only cities in the world with a safari park within its borders.
This broad-based capital surprisingly has its wildlife attractions, with a fabulous national park and several reserves dedicated to the welfare of elephants, giraffes, rhinos and more. The travellers can enjoy a classic African wildlife jaunt at the Nairobi National Park which is a mere 15-minute drive from the city centre. Here, you come up and close with the animals including wildebeest that meander freely under the sun-soaked grassy landscapes. If you are a cultural buff, the city is also home to several great stops including the extensive National Museum.
Furthermore, Nairobi comes as a pleasant surprise to those who love to go with the flowing never-stopping energy as it harbours a buzzing nightlife and a great cafe culture.
Believe it or not, Nairobi, with its rich assortment of multicultural, natural and historic features, makes for a worth-exploring destination.
Our Kenya packages available online will give you a brief glimpse into what all this crowning jewel of Africa has in the offing!
On the wander-list: Nairobi National Park, David Sheldrick Wildlife Trust, Giraffe Centre, Nairobi National Museum, Ngong Hills, Karen Blixen Museum, Karuna Forest, The village market.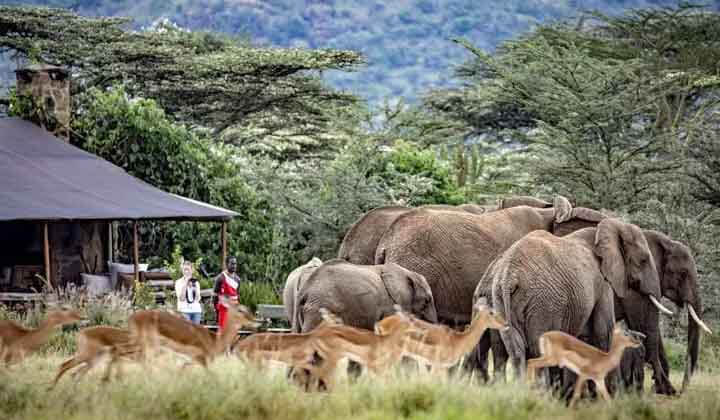 Mombasa: The coast life is calling and you must go!
A beautiful coastal city of Kenya located along the eastern coastline of the Indian Ocean, Mombasa, is a popular getaway for travellers and a known tourism hub of the country. Its mishmash of cultures, sandy beaches and scenic natural beauty has been the major draw card for both locals and foreign travellers who flock to the destination at different times of the year.
Mombasa has long been known as a home to famous beaches that flaunt some of the world-class resorts, becoming a hip spot for beach lovers. The beaches here are breathtaking and engulfed by a lush tropical cover and palm groves while the long stretches of white sands and clear waters make your jaw drop in awe. Diani Beach is one such popular choice you will see on most of the itineraries. Additionally, the imposing Fort Jesus standing over the busy harbour and Wasini Island are famous for day tours and some of the delicious seafood servings.
High-end resorts, beaches, strolls in the Old Town or a day spent onboard a dhow. Whatever your reason to visit Mombasa is, our customised Kenya Tour packages have you covered!
On the wander-list: Bamburi Beach, Fort Jesus, Old Town, Mamba Village Centre, Diani Beach, Shimba Hills National Reserve, Kisite-Mpunguti Marine Park, Mombasa Tusks.
Laikipia: Away from the tourist trails, closest to the wilds
The close competitor of Masaai Mara, the incredible Laikipia Plateau, sprawls on the edge of the Northern Kenyan Frontier stretching to the northeast of the Great Rift Valley. Previously a collage of huge ranches and still an important district protecting the wildlife, Laikipia is now where some of Kenya's most encouraging conservation success stories are unfolding.
Steeped in history from the colonial days in Kenya, this is a significant natural area from both a safari and conservation perspective. Over time, as the conservationists have made efforts to create a place for communities and wildlife to exist hand in hand, the luxury safari tourism experience here is supporting the incomes of the local Maasai communities. All of the conservancies provide an exceptional safari experience and each of these seven are far from the beaten track and ideal places to relax in total wilderness. While you are out on a safari, you are sure to have the closest yet the most mesmerising encounter with the endangered species and the wildlife exclusive to the land of Africa.
On the wander-list: Lewa Wilderness Conservancy, Borana Ranch, Il N'gwesi Group Ranch, the Lekurruki Group Ranch, Sabuk Wilderness, Loisaba Wilderness, Sosian Ranch.
Top Bucket List Experiences:
1. Step foot on the savannah of the Maasai Mara
A fact well-known to the world that the concept of safaris was born in the African savannah and out of the few places that were famed around the world for their exotic wildlife and wilderness, Kenya's Maasai Mara always topped the charts. It is one of Africa's greatest wildlife reserves and the land of breathtaking vistas. And together with the Serengeti National Park in Tanzania, it forms the world's top safari big game viewing eco-system.
While here you experience an iconic African wilderness on a series of walking safaris or just camping out in the bush, the wildebeest migration on the other hand is nothing short of amazing. You can also pay a visit to a Maasai village where you interact with the Maasai and get a glimpse into their culture, traditions and unique way of life. If you wish to relish in the absolute peace of immense vistas, revel in the soft colours and wonder how amazing is the wildlife here, the hot air balloon tours are also organised that let you float silently above it all that looks like nothing but a dreamland!
There is no reason why you won't get stunned by its remarkable kaleidoscope of wild and rugged landscapes, warm and welcoming people and an exciting display of the wild side of life. Dook endeavours to place you away from the tourist hordes whilst ensuring you experience the wilderness in all its splendid glory.
2. Have breakfast with Giraffes
Imagine having breakfast with giraffes peeping inside your window for a quick bite. These Rothschild giraffes pay a frequent visit to the Giraffe Manor in the morning and evening. Giraffe Manor is an exclusive boutique hotel set on 12 acres of private land in a Nairobi suburb and serves as a home to many endangered Rothschild giraffes. Apart from the impromptu and scheduled feeding sessions, these playful creatures like poking their long necks into the windows in the hope of an extra treat, before they retreat to the forests.
Giraffe Manor can be booked for the night or as part of a complete tailor-made safari with The Safari Collection. It has a splendid façade, stylish interiors along with verdant green gardens and sunny terraces. Walking into the Manor's precincts is similar to walking into a movie scene from Out of Africa.
3. Revel in the bird-watching paradise
With over 1000 recorded bird species, Kenya pops up as a birdwatcher`s paradise. Teeming with birdlife, diverse habitats, spectacular scenery and a supporting cast of the 'big five' game, the city has an extensive bird list and a thriving eco-tourism industry.
Kenya's national parks are the ideal centres for bird-watching in the country – while the Maasai Mara is known for the rosy-throated long claw and magpie shrike, the Samburu offers the rare views of the shining sunbird. Nairobi is where you will find the northern pied-babbler and Pangani longclaw in abundance. These sights and sounds of the birds are so much incredible that you will be wonder stricken! But the casted spell is not complete until you see the colourful crowds of pink flamingos whose massing makes for surreal photographs.
4. When in Kenya, the iconic game drive safari is highly recommended!
Along with the ones popular in Tanzania, Kenya Game drives in Masaai Mara and other national reserves are counted amongst the most unforgettable travel moments. The abundance of wildlife, the spectacular landscapes and gently rolling hills are sure to catch the eye of an explorer.
Travellers, while on this quintessential African safari experience, can expect to encounter large numbers of animals around the year including the Big 5. If lucky enough to experience nature's greatest spectacle, the Wildebeest Migration from Serengeti is a sight to behold. From July to November each year, over two million immense herds of wildebeests and zebras thunder across the savannah plains driven by instinct. The excitement builds further during the crossing of the Mara River when the animals face treacherous water currents, crocodiles and even lions waiting at the banks to surprise attack on them.
Also, if you remember the postcards of Africa where you see herds of elephants against a scenic facade of the snow-capped Mount Kilimanjaro, it is certain that Amboseli National Park will offer another laid back, memorable game viewing experience. Lake Nakuru, Samburu Game Reserve, Nairobi National Park, Mount Kenya National Park are the other few top choices when it comes to never-experienced game drives.
5. Visit Lewa Wildlife Conservancy and support local communities
Now listed as a leading role model for sustainable wildlife conservation in East Africa, The Lewa Wildlife Conservancy is a UNESCO World Heritage site committed to keeping both the wildlife and its communities safe. The conservancy boasts 55,000 acres of savannah and is home to the Grévy's zebra and more than 70 black rhinos, as well as elephants, lions and cheetah.
What makes it a must-explore attraction in your Kenya tour package is the fact that you will be directly contributing towards wildlife conservation and community development. The revenue received from this responsible tourism flows back into the conservation of the wildlife and their natural habitats, ensuring that people will be able to experience Kenya for years to come.
This unique experience aiming at the wellbeing of communities and wildlife can be combined along with our family special Kenya holiday packages. Get a glimpse here.
6. Don't miss out on meeting the cheerful locals
A lot has been written about the rich wildlife of Kenya, but the welcoming Kenyans and the tribes here deserve a special mention too! Even though several different ethnic groups and religions are dotting the entire region of Kenya, the people here are friendly and ever-smiling. Their big smiles and the friendly Jambos (greetings) around every corner, goes a long way in making Kenya a welcoming destination to all who visit!
Special experience-rich itineraries are now being crafted that are focused on familiarising the tourists with the tribes and the traditions they hold on to. From throbbing drums to colourful beads, from their staple foods to handicrafts made from natural materials, you will have a lot of memories with them to take back home.
Tick off these extraordinary bucket list experiences with Dook
There's ample to write about Kenya but there's much more to experience. Keeping your experiential journey to Kenya in mind, Dook Travels creates bespoke itineraries that eventually help you to tick off the experiences that have been there on your bucket list for a long!