Top Hot Air Balloon Safaris in Africa
Here's what you can expect on a Hot Air Balloon Ride in Africa.
The older we get, the more our never-ending bucket list sneaks up on us, and it seems to get longer every year. The fact that many people consider taking a hot air balloon ride to be a must-do on this daunting list is virtually a dead giveaway.
Why not make your trip even more memorable by taking a hot air balloon ride over some of the most stunning landscapes in the world since you've traveled all the way to Africa to witness the incredible scenery and richness of wildlife?
The destinations provide perfectly beautiful views, and offer you guided nature walks, thrilling land-based game watching on the savannah in vintage safari vehicles, and a hot air balloon journey to cap off your discovery. In order to see the Great Migration, these safaris offer you the best options.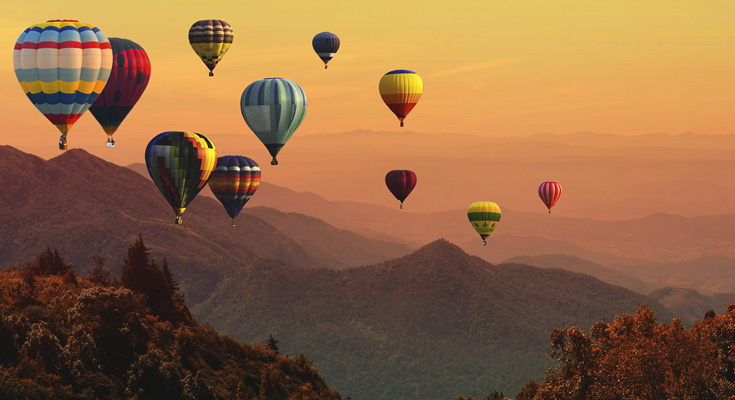 What can you expect?
You should be ready for an extremely early wake-up call because hot air balloon rides typically take off at sunrise! You will be picked up at your hotel and transported to the launch site by a representative of the business you have selected. When you arrive, your pilot will start the balloon as you are given a safety briefing on the ground.
It's time to board! As soon as everyone is inside the basket, the balloon will start to gently ascend. Before you know it, you'll be in the air, just in time to enjoy the magnificent sunrise from your bird's-eye perspective.
For an hour, you'll float through the air above the treetops with the endless savannah plains in front of you, keeping a look out for wildebeests, elephants, lions, and other animals in their natural habitat below.
What's best? When you land, the experience doesn't end! Back on solid ground, you'll be treated to a freshly prepared champagne brunch served in the African bush, replete with beautiful china and linens.
Here are some great places in Africa to have this incredible experience:
1. The Serengeti and the Maasai Mara, Tanzania/Kenya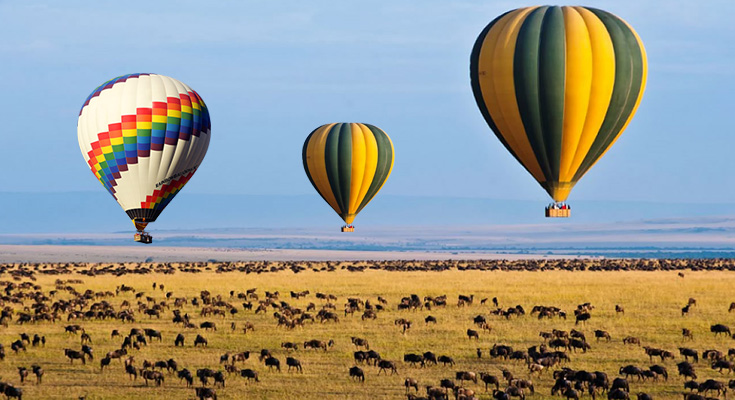 The great plains region of East Africa, which includes the Masai Mara National Park in Kenya and the Serengeti National Park in Tanzania, is well established for tourists and offers a large selection of balloon safari companies as well as some traditional safari landscapes and wildlife. One of nature's most magnificent sights, the great wildebeest migration, may be viewed from the air in this region, along with the accompanying gazelles, zebras, lions, and hyenas. Even a remote possibility exists of seeing the Big Five in an hour from the air! In other parts of East Africa, the enormous Selous Game Reserve and Lake Manyara National Park, both in Tanzania, offer a variety of balloon safari companies as well as breathtaking scenery to view.
Explore: Top Kenya Tour Packages
2. The Okavango Delta, Botswana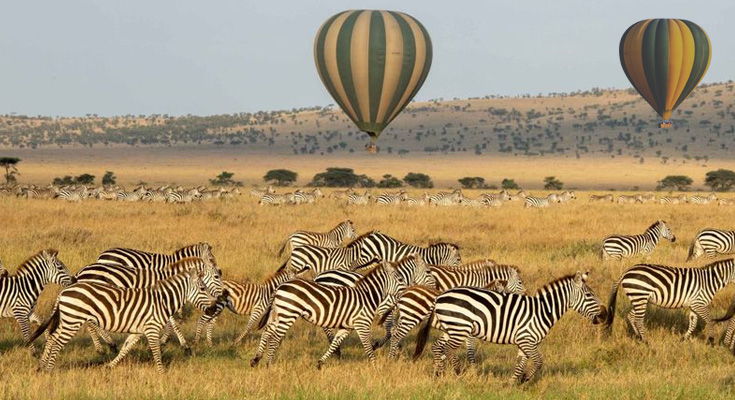 The Okavango Delta in Botswana has year-round greenery and is a home for wildlife and birdlife. Here, hot balloon safaris can be scheduled through your lodge or from Maun, the region's tourist hub. When traveling in a hot air balloon over Namibia's Namib Naukluft desert, you may observe the 300-meter-tall Sossusvlei sand dunes, which spread for hundreds of miles. Along with the beautiful environment, the area is home to a variety of animals that congregate near water sources, including the chance to see the fabled Namib Desert elephants. The massive Busanga Plains, which are home to enormous herds of grazers, several large predators, and jaw-dropping vistas, are found in Zambia's Kafue National Park. Hot air balloon tours above the Cape Winelands are available in Cape Town, South Africa, whether you want to take a break from or extend your stay on a safari. This provides a bird's-eye view of the stunning wine-growing regions, where vineyards stretch in every direction.
3. Sossusvlei, Namibia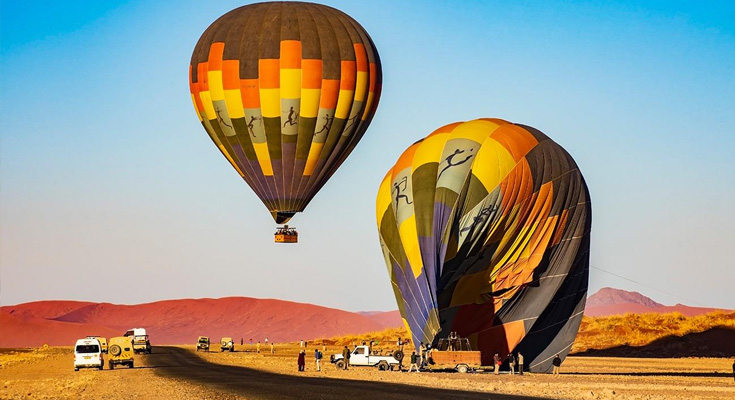 The oldest ballooning business in Namibia is Namib Sky Ballooning. Long before the first lodges at Sossusvlei opened, Eric and Nancy Hesemans' family-run business, which is based in the Congo, began in 1991. When making reservations for a hot air balloon flight in Namibia, Info-Namibia bases its decision on Namib Sky Ballooning's professionalism and years of experience. Despite a 27-year routine, the four pilots' enthusiasm - including that of the Hesemans' son Denis—during each flight is impressive. Namib Sky has a lengthy history and has completed more than 60.000 successful balloon flights in the desert.
Since the wind carries the hot air balloon, it also determines where it will land. The lodging where the passengers will be picked up receives the pilots' decision about where to take off in the afternoon before the trip. As a general rule, you will be fetched either at your accommodation or at a prearranged meeting place 45 minutes before sunrise.
Just before dawn, you set off to experience an incredible sunrise from the balloon a few moments later. You will get the opportunity to see the Namib Desert come to life during the course of the following hour.
An exquisite breakfast buffet with sparkling wine is waiting for you at the remote landing site. A genuine "Out of Africa" encounter. The pilot will give you your flight certificate before driving you back to the designated pick-up points in a beautiful area.
4. Tarangire National Park, Tanzania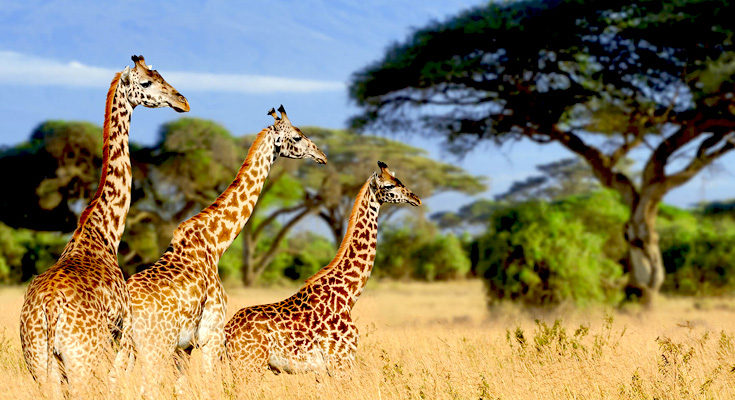 A hot air balloon ride in Tarangire provides the pinnacle of the African safari experience. You are a part of nature as you soar above the Tarangire on your African trip as the sunrise colors the plains pink. Your journey is determined by the prevailing winds, so no two flights are ever the same. In the early morning, game gather in large numbers along the silver ribbons of the Tarangire River and its tributaries. Herds of elephants, their suede-gray skins contrasting with white scimitar tusks as they look up at you from the safety of scrubby acacia woodlands, are also visible. In the distance, you may be able to make out the blue outline of the African Rift Valley Escarpment.
You might float low over a baobab to divert a Verreaux's Eagle Owl with a four foot wingspan that is settling down after its nocturnal hunt or see eye down onto a long-necked, knob-headed giraffe. You might also drift over dotted min-knolls of giant termite mounds, their black shadows lengthened in the morning light.
Book: Tanzania Tour Packages
5. Masai Mara National Reserve in Kenya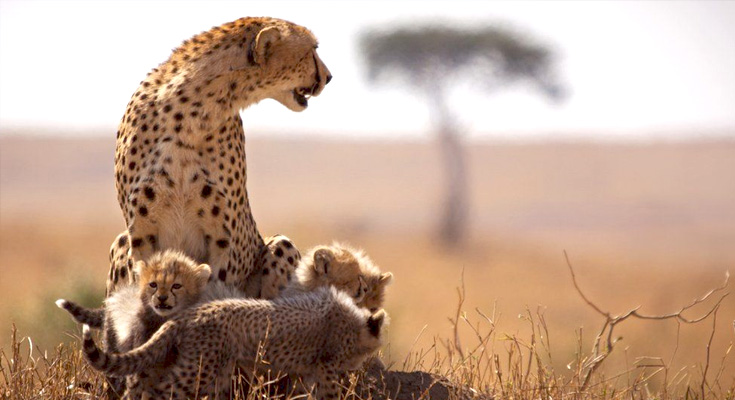 One of the best parts of visiting the renowned Masai Mara is floating through the air in a hot air balloon at dawn and taking in the peace as the vast grasslands spread out beneath you.
Wildlife may be spotted as you soar above the savannah, river, and woodlands. Upon landing, you'll be welcomed with a bush breakfast before taking a game drive back to camp. There are many hot air balloon companies in the Masai Mara, which is a popular game reserve.
Read More: Top Attractions in Kenya
6. Namibia – Sossusvlei & Namib-Naukluft Desert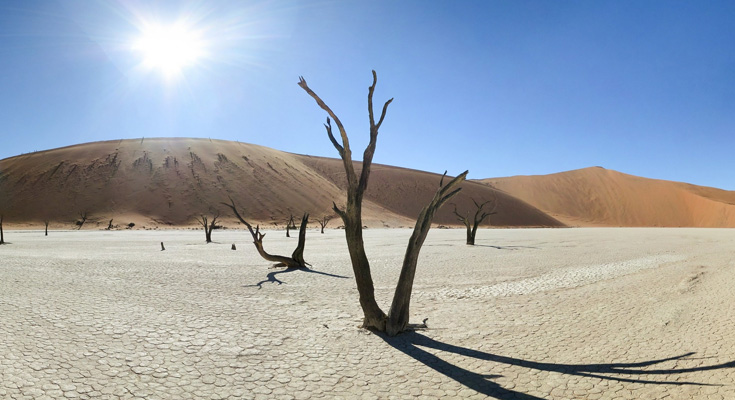 You can view mountains, deserts, and an area covered in acacia trees at Sossusvlei. Visitors are attracted to this area by the sparse but lovely terrain. The best view of Namibia's clear skies and breathtaking scenery comes from above, though. A great place to see desert animals in its natural habitat is the Namib Naukluft Park.
Other mentions -
7. Magaliesberg, South Africa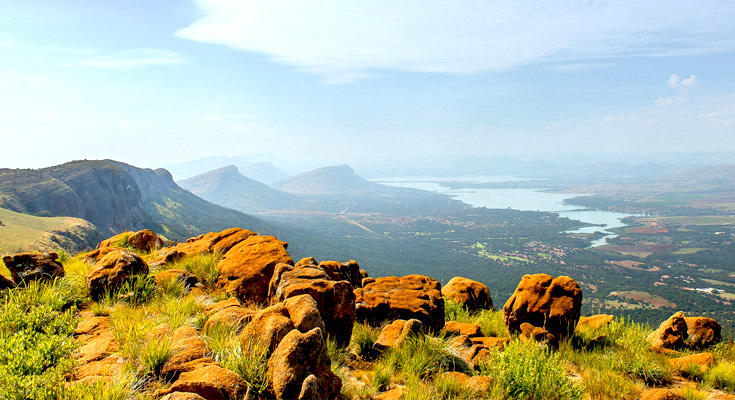 The Magaliesberg Mountain Range spans across two of our provinces, Gauteng and the North West, just a short drive from Johannesburg and Pretoria. It's a lovely getaway from city life where you may have lots of adventures and create memorable experiences that are out of the ordinary. These mountains formed over two billion years ago, making them almost 100 times older than Mount Everest. Despite their age, however, you can stay young at heart by exploring their valleys, climbing their cliffs, and cooling off by their waterfalls. What better way to see one of the most diverse World Heritage Sites than from a hot air balloon? Panoramic views of the surrounding ecosystem and the Cradle of Humanity are undoubtedly thrilling.
Explore: Top South Africa Packages
8. Drakensberg, South Africa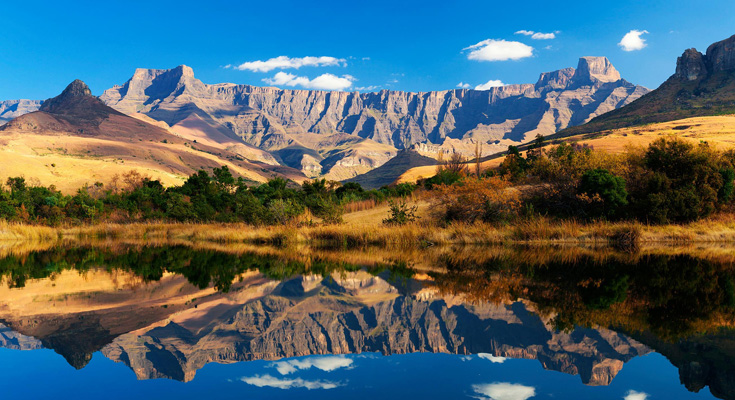 One of Southern Africa's most stunning geological features is the Drakensberg Mountains, which span 700 miles through two nations and five provinces of South Africa. One of the many hiking trails in the Drakensberg region is the ideal way to take in the area's breathtaking landscape, which is known across the world. Not to miss - hot balloon safari - without a foray into the clouds, a safari in South Africa will fall short of perfection.
Read More: Top Attractions in South Africa
With your visit to the best treks – you surely can't miss Mount Kilimanjaro.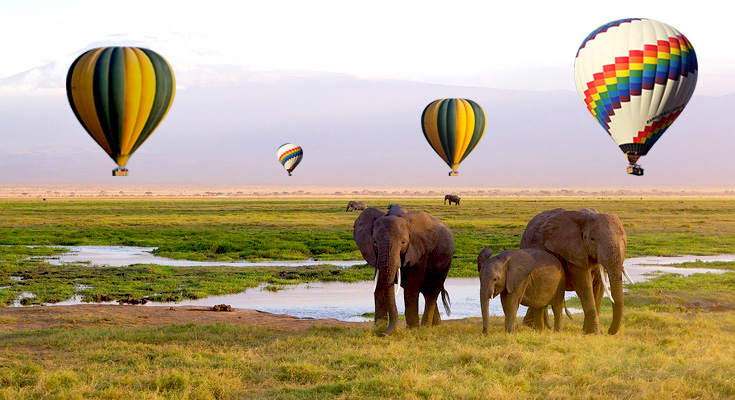 In the Kilimanjaro National Park, Mount Kilimanjaro is located in northern Tanzania. It is spread throughout a 100 kilometer by 65 kilometer region. Shira, Kibo, and Mawenzi are the three volcanic cones that make up the mountain, which is a dormant volcano. The tallest free-standing mountain in the world and the highest mountain in Africa are both named Mount Kilimanjaro. The main summit of Mount Kilimanjaro, known as Uhuru Peak, is 5,895 meters (19,341 ft) high. Mount Everest is slightly more than 2,950 meters (or 8,848 meters) higher than Mt. Kilimanjaro, at 29,029 feet. On the Kilimanjaro, climbers who take the quick routes get to the top in 4-5 days. Due to the likelihood of altitude sickness, Mount Kilimanjaro is a challenging and very dangerous peak to walk. One of the Seven Summits, Mount Kilimanjaro is the highest mountain in Africa (i.e. highest mountains on each of the seven continents). Although it is possible to obtain special authorization from the Tanzanian government to bring children younger than 10 years old on a Kilimanjaro expedition, the minimum age to climb Kilimanjaro is ten years or older.
Know More: Best Attractions in Tanzania
Tips for taking a Hot Air Balloon Safaris in Africa –
● It's best to try to make your balloon safari reservations at least two weeks in advance during the busy season.
● Look around before making a decision because some hot balloon safaris come with accommodations if you're planning your vacation alone.
● Wear layers of clothing so you may take some off or add more as needed because it will be cold in the morning and the air will be high.
● Since you will be going to and from the balloon, sandals and open-toed shoes are not advised. You should wear a pair of cozy sneakers.
● Watch for any games you're particularly interested in seeing, and if you do, ask your driver or tour guide to take you there on the way back to your hotel.
● Ask the business running the balloon safari what is included. After landing, there will usually be a brunch and transportation to and from your lodging.
● For the photography enthusiasts: As always, your chances of taking the "perfect" picture increase the more photos you take.
● Use a fast shutter speed, turn on whatever auto-image stabilization your camera offers, and/or raise your camera's ISO to avoid any blurring or tremor effects that may result from aerial shooting.
Book Africa Tour Package with Dook International
Plan your upcoming trip to Africa with the help of our travel expert. Being one of the most dependable travel agency for Africa tour, we have established our essential principles and are a stand-alone business that serves its clients' travel needs. Our custom-made Africa tour packages will make your trip to the continent worthwhile. The Africa holiday packages offer a comprehensive destination for every type of traveler, whether they want tradition, lifestyle, or wildlife. Book Africa Tour Package and visit popular destinations where you may admire the breathtaking beauty of the area. Africa is not simply a continent; it is also an ideal place to go, home to incredible diversity.
Frequently Asked Questions on Hot Air Balloon Safaris in Africa
1. Is hot air ballooning safe?
Even though each sport carries a unique set of risks, hot air ballooning is usually regarded as one of the safest ways to fly. Furthermore, the emphasis for this action is always passenger safety.
2. Is it cold on a hot air balloon safari?
Early morning flights are chilly on the ground, but once you're in the basket, it will warm up. It's best to layer your clothing so you can add or take away layers as the weather changes.
3. How many people fit into the basket?
This is dependent on the size of the balloon and the provider you choose. Smaller hot air balloons may only have room for 4 to 8 passengers, but some larger balloons can carry up to 16 or more. Before making a reservation, get in touch with the airline you intend to fly with if you'd prefer a private or intimate experience.
4. What to wear on a hot air balloon safari?
Although it will be chilly in the morning, the temperature will increase throughout the day. For this activity, warm layering clothing, a windbreaker, a hat, and long pants are ideal.
5. How much does a hot air balloon safari cost?
Several variables, such as the season and the location, will have a big impact on the price. Consequently, you should expect to pay more in popular safari destinations like the Serengeti, the Masai Mara, and Kruger National Park.
Read More: Best Places to Visit in Africa
Get to Know About: Trekking in Africa